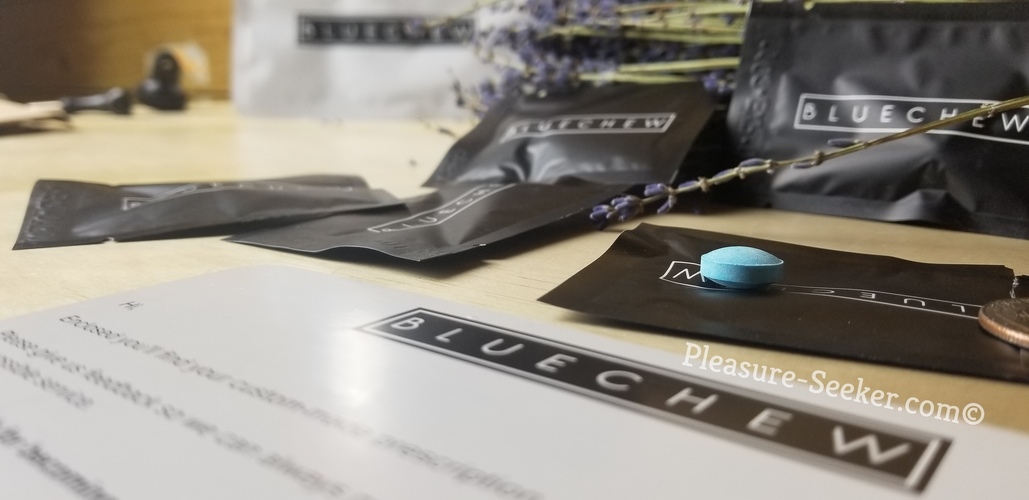 If you click links in this post I may receive a commission, this helps keeps our blog free to read.
​
Nothing sucks more than failing to get it up in the moment, or simply just staying up.
For me, it usually happens right after I work my ass off to get a hot date into my apartment, and I'm on the verge of having the sex of a lifetime.
Whether my ED stifficulties are caused by too many drinks, some form of performance anxiety, or stranger danger–I'm not sure.  I just know it sucks and leaves me in a funk for days afterward.
So when I saw an ad for BlueChew I was curious enough to give it a chance.  I figured if it didn't work, I could at least write a BlueChew review and have something new to put on the blog.
So What is BlueChew?
BlueChew is basically a subscription service that delivers chewable ED tablets monthly to your doorstep.  
So every month you're subscribed to the service, they deliver you sildenafil (the active ingredient in Viagra) or tadalafil (the active ingredient in Cialis).  They do the prescription via online licensed medical providers, so there are no clinic visits needed either.
According to their website, people use BlueChew for general ED treatment, including performance anxiety.
In the rest of this BlueChew review, I'll dive into the ordering process, some coupons I found, and how to cancel the subscription.
I'll also give you the steamy details of my experience with this stuff, so bear in mind that this review is a little NSFW in places! I mean, you should assume that ED pill reviews aren't SFW, but ya know.
The 1-month trial: 
I got my BlueChew subscription with this promo code, which gives a Free 1-month trial.  I had to pay $5 for shipping, but it's easy to cancel any recurring payments from their site.
Review of The BlueChew Ordering Process
First things first, you have to fill out a 20-question health assessment on BlueChew's website to make sure that you're not at high risk for any side effects. They have doctors in Chicago that look it over, and if you're approved, they give you your prescription.
Depending on the state you live in, you may also have to do a video interview with the doctor.  However, where I live in Minnesota there was only the online questionnaire.
Once approved, you also get assigned a specific licensed medical provider from BlueChew, who you can email with questions.
Within 24 hours I got an email saying I was approved. 3 days later, the BlueChew arrived. Easy enough!
Below is a picture of what the packaging looks like (I chose the Sildenafil tablets).  It doesn't have "BONER PILLS" emblazoned across the side, luckily.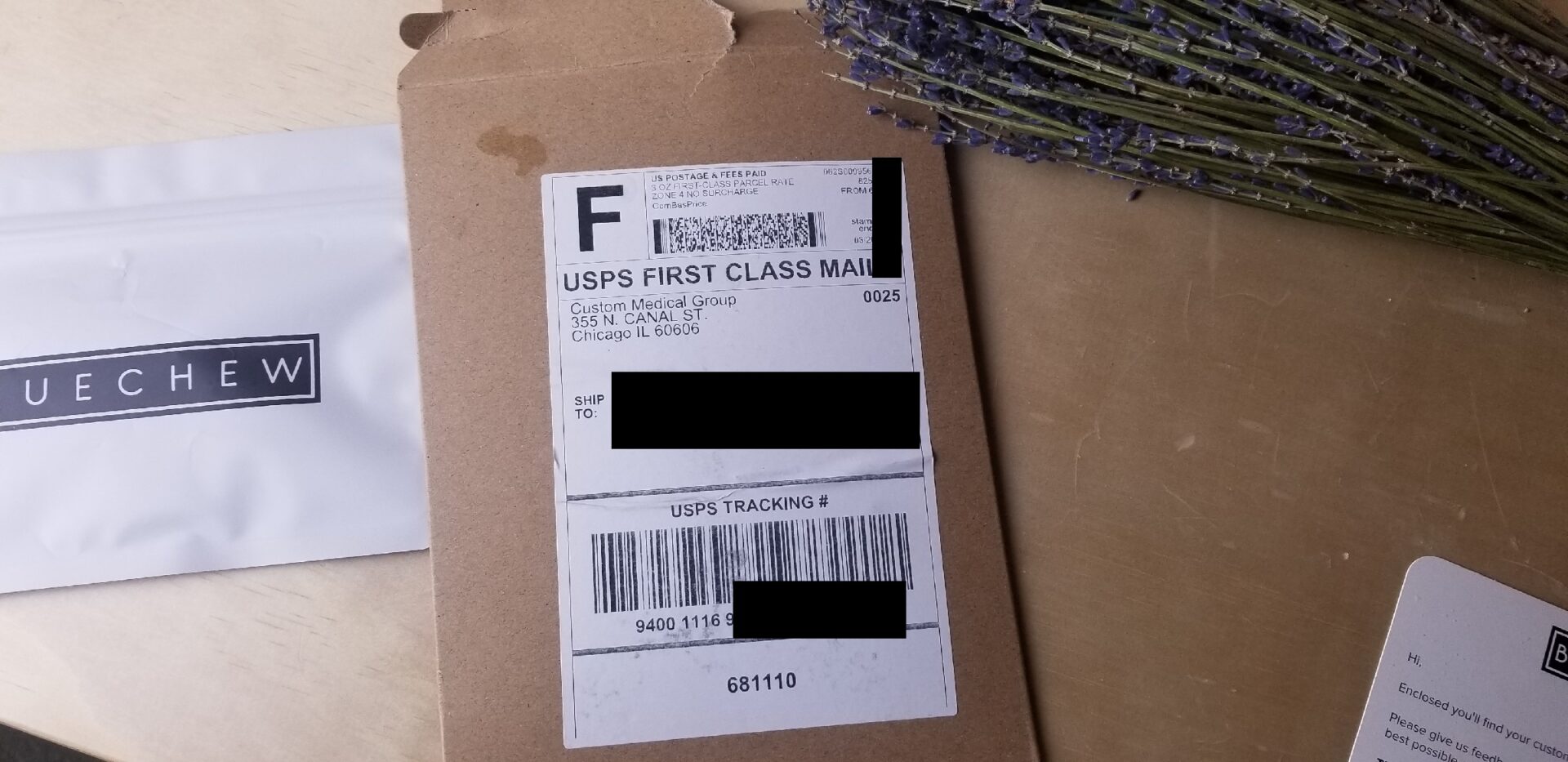 Review of What's in the BlueChew Package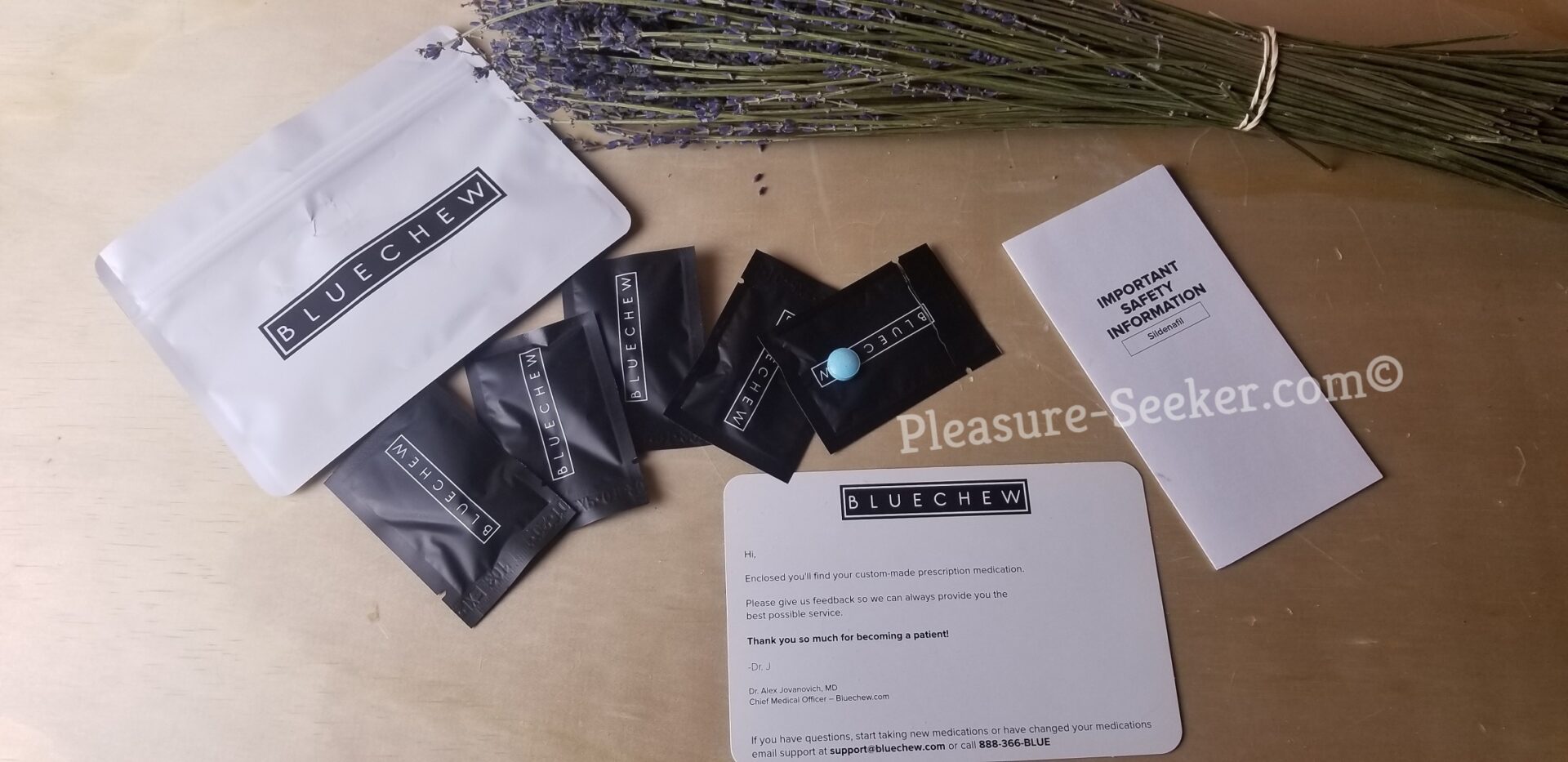 Inside the brown envelope, there's a "thank you" card, a safety information packet, and individually packaged BlueChews.
It's similar to other popular subscription services in this way – they really try to give you an experience every time you open up the packaging. It feels more thoughtful than your typical Amazon or eBay delivery.
Here's a picture of the thank you card.  It's from Dr. J, the "Chief Medical Officer".  His full name is also shown, I assume Dr. J is his rap name.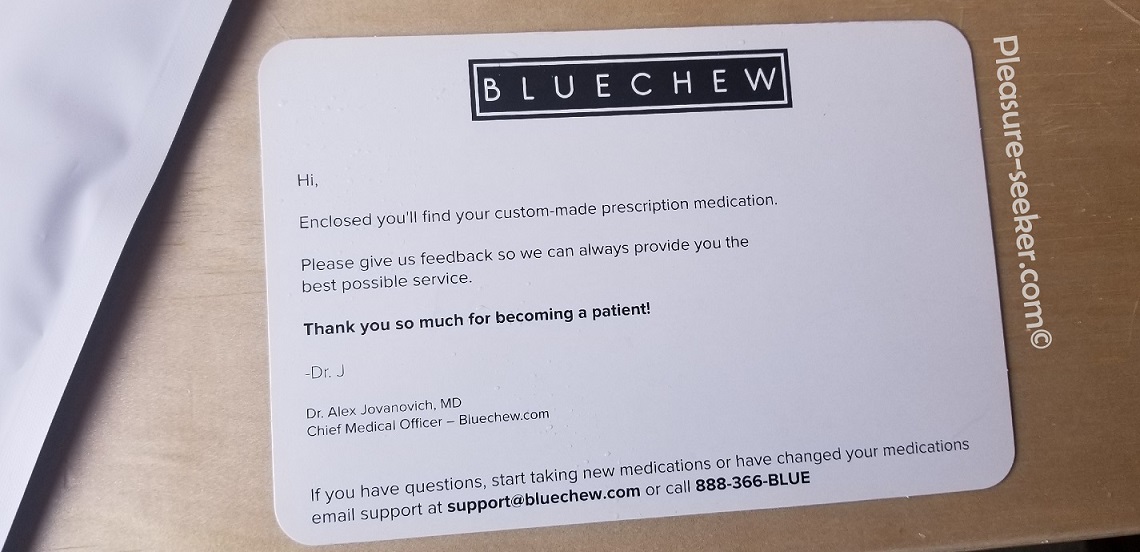 Chewing it and the effects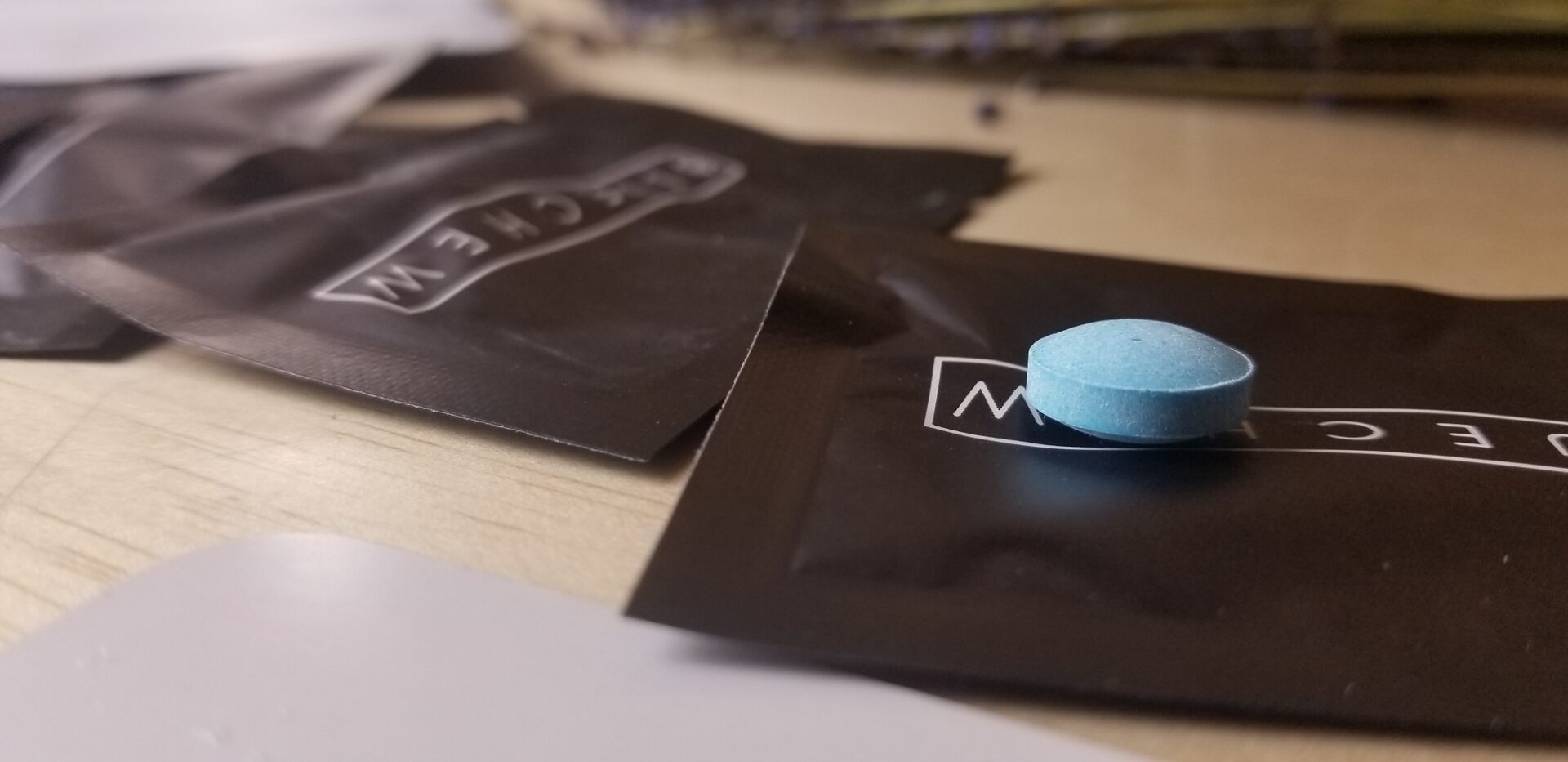 The tablet is about the size of a dime. It's not the tastiest thing in the world, but it's not bad either. It's a bit like a chewable vitamin or candy. There is some sugar/flavoring to improve the taste, but I guess it would taste gross without it.
By the way, they mention on their website that chewing these pills makes them take effect much faster in comparison to ED pills that you swallow since it's absorbed more quickly into the bloodstream.
With Viagra, for example, I have to wait about 30 minutes after taking it to see the effects, but with BlueChew I'm 100% rock hard in 15 minutes.
​It might not seem like that much of a time difference, but if sex happens spontaneously the 15 minutes faster is definitely a perk. Since each BlueChew is individually packaged they're easy to take on the go too, and I could definitely see myself storing these in my wallet next to where I usually keep my condoms.
Once I start having sex on a BlueChew tablet, I can keep going without any worry of losing an erection. Everything felt more intense.
Does BlueChew make you bigger?
No, but it does give me very hard erections. Most women [that I've spoken with] care more about the hardness of the cock than the size, so BlueChew can definitely help in that department.
Women can clearly sense the hardness of the penis and believe hard is good, harder is better.
Taking two BlueChew at once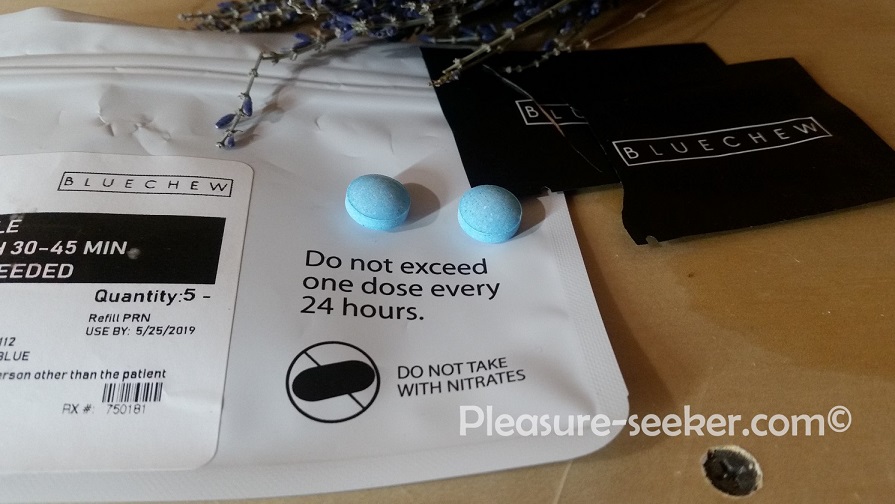 In the spirit of making a complete BlueChew review, I also tried taking two pills at once. You're not supposed to do this, but I'm always eager to push the limits of my sex life.
With 2 in my system, just looking at my partner made my erection so hard that it hurt.  It was kind of kinky that way; the hardness was a turn-on in itself. Soon my partner noticed the huge bulge in my white boxers – she slid them down and caressed my cock with her tongue and lips. It was one of the only times that I've ejaculated from a blowjob.
Although my cock felt like the hulk, I did go flushed red in the face and I had a bad headache the whole time.  Those side effects don't happen when I take only one, so I'm going to stay at one unless it's a special occasion.
Differences between the Sildenafil and Tadalafil BlueChew tablets
When you go on their website you'll have the option to get either Sildenafil or Tadalafil.
Sildenafil is the active ingredient in Viagra and stays in your system for 4-6 hours.  It comes in a black pouch and is the one I've been using.
Tadalafil is the main ingredient in Cialis and stays in your system for 18-24 hours.  It comes in a grey pouch.
It's recommended to take Tadalafil if you think you'll be having sex sometime that day, but aren't sure when.  If you're on a vacation in Hawaii, and never know when your partner might be ripping off your clothes during a given 24-hour window, then Tadalafil is a good option.
Sildenafil is better for taking right before a date or when you know you'll have sex sometime within 4-6 hours.
Even though it stays in your system for hours, that does not mean you'll have an erection for 20 hours straight.  You still need to have some kind of arousal/stimulation to get an erection, the medicine just greatly increases your body's sensitivity to any sexual excitement going on.
How to cancel the subscription
I was surprised at how easy they make it to cancel your subscription.  If you get the free trial I mentioned above, they'll send you an email 3 days before you are about to be billed for the following month.  If you click the link in the email or just reply they will cancel it for you.  Their support is pretty awesome.
When you log in to their website you can also cancel the subscription from the dashboard, change the number of tablets they deliver, or tweak the delivery spacing.  So you can set it up to have 10 BlueChew tablets delivered every 45 days, 90 days, 30 days, or a custom interval.
Here's the email they send me every month before I'm about to be billed again: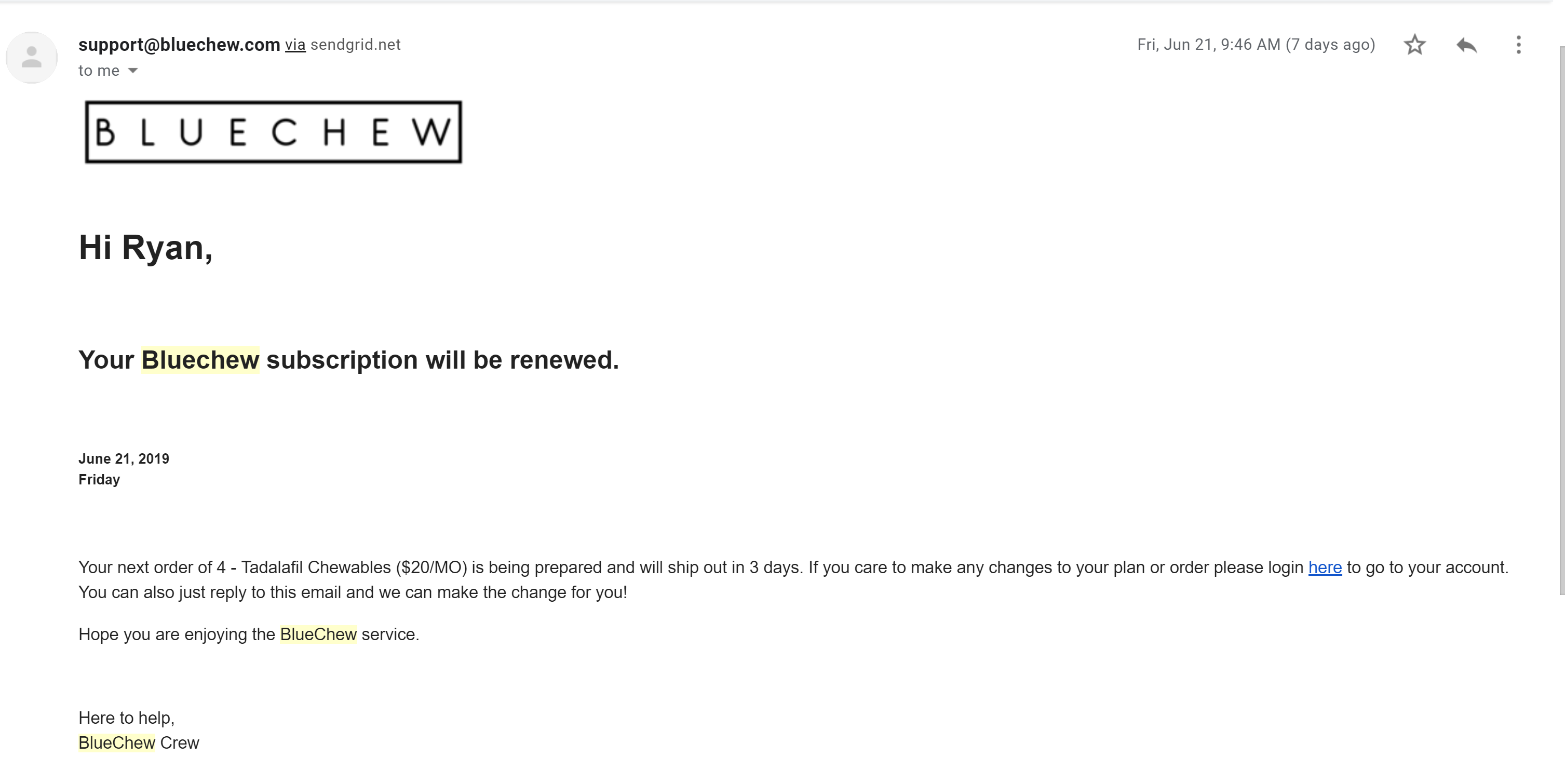 The Pros and Cons
The main downsides to BlueChew are the risks of rare adverse reactions, similar to most ED prescription medications, like headaches, flushing, and even temporary blindness in extreme cases. It has almost the same ingredients as Viagra or Cialis. The health analysis test they give you also helps weed out anyone with risks of side effects.
Other than that, it has tons of pros, especially the free 1-month trial they have which is a steal of a deal.  I was worried they would charge me like $100 or something crazy after the first month.  But they only charged me $20 after the 30-day trial and then sent 5 more tablets to my house again.  If you don't like it you can also cancel before the trial ends so you don't get charged, or use their 30-day money-back guarantee.
I think since the viagra patent expired in 2018 they are really pushing to become the big name in chewable ED medicine, so they are offering free trials because they plan on getting lots of people staying subscribed for years.  Compared to name brand stuff it's also way cheaper and is easier to get than if you went into the doctor.
That being said, here's a rundown of all the pros and cons.
Pros
Cons
I also read in other reviews that some people only need to take half for an awesome effect and can get twice the uses out of their subscription. 
Use this link to get the 1 month​ free BlueChew trial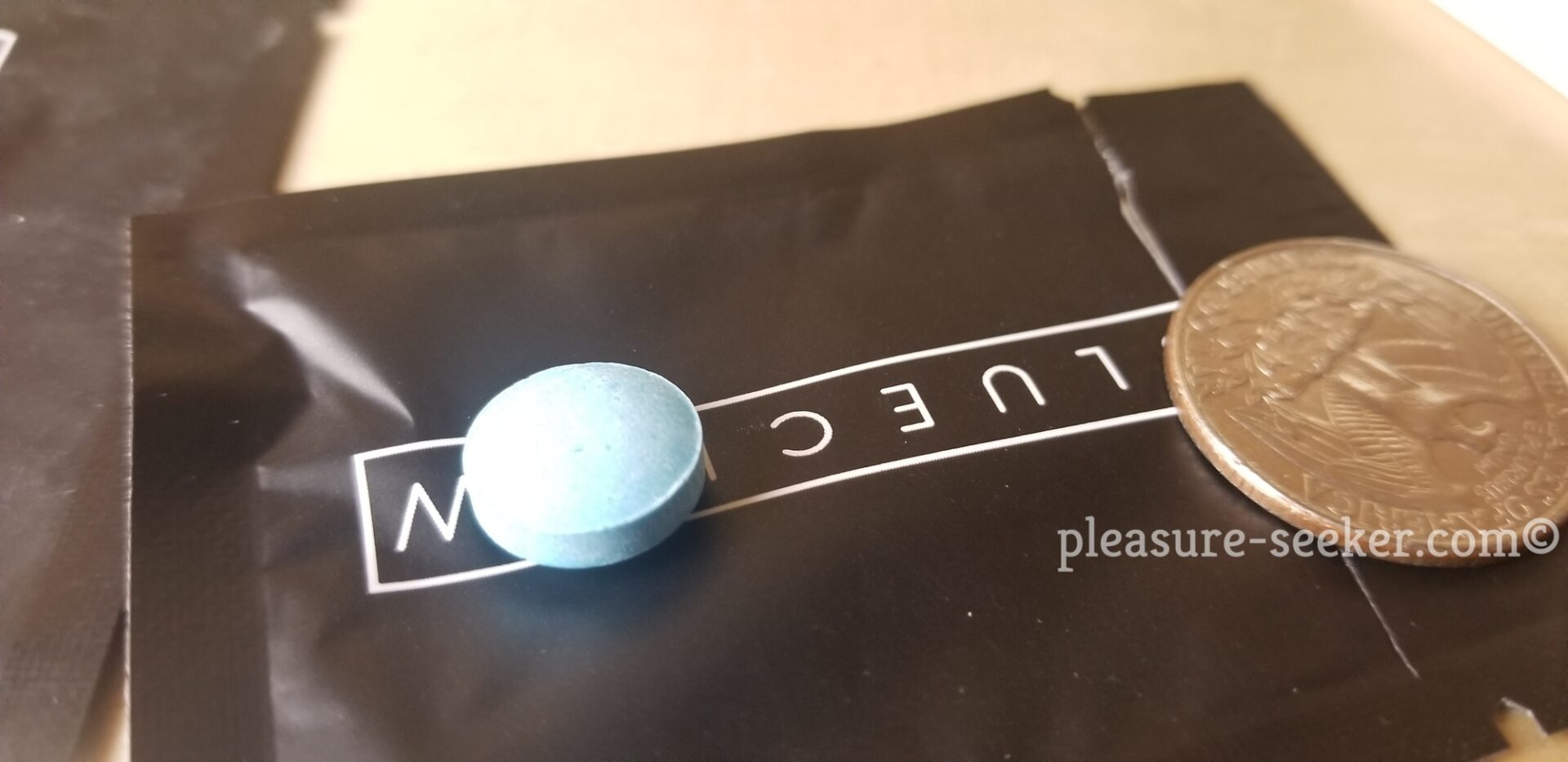 All in all, most male ED medications in the market today are pills that taste horrible and have to be swallowed whole.  BlueChew is a much better alternative in my opinion and might be the future of stay-hard and arousal pills.
BlueChew FAQ
This section will answer some of the frequently asked questions that I saw on forums, Quora, and other blogs.
What is BlueChew?
BlueChew is an erectile dysfunction chewable viagra and Cialis alternative tablet with a texture like candy that is easy to consume.
Is BlueChew Legit?
From the research I've done, the company's doctors are trained by reputable medical schools and are certified by the American Board of Family Medicine.
They are real, licensed providers doing excellent things for the community. They even mentioned they are on a mission to change a broken healthcare system in our society by helping men get access to cheaper ED medication.
The company is also based in Chicago, Illinois and all of the medication prescribed by their affiliated physicians and providers are made in the USA. The prescriptions are made by real licensed medical providers and you can email them with any questions during your subscription.
What Are The Ingredients?
Sildenafil
The same active ingredient in Viagra and stimulates the blood flow into the vessels of the penis to expand the muscles during arousal. Sildenafil itself stays active in your system for 4-6 hours and will only be triggered when you are aroused.
All 30 & 45 mg chewable tablets of sildenafil arrive in black pouches. You should take one 20-30 minutes before you have sex. 
Tadalafil
The same active ingredient in Cialis and the formula works by lowering the blood pressure safely to increase the heart rate during arousal for a stiff erection. It relaxes the prostate and bladder muscles for an erection that can occur easily in a 24-hour window. All 6 & 9 mg chewables ship in light gray pouches.
Rules for Taking these Non-Toxic Type-5 (PDE5) Inhibitors Ingredients
Try to take them on an empty stomach for the best results.
Take at least one 30 minutes before the sexual encounter.
Warnings on the BlueChew Packaging:
NEVER INCREASE THE AMOUNT YOU ARE PRESCRIBED TO TAKE!
NEVER TAKE BOTH A SILDENAFIL AND TADALAFIL BLUECHEW AT THE SAME TIME. DOING THIS IS POTENTIALLY LIFE-THREATENING!
However, the physicians ​don't prescribe both products if you are already taking one.
Are There Any Side Effects? Is BlueChew Dangerous?
Other than a rock-solid hardon – the risks depend on many factors.
Life-threatening risks are diminished because a prescription is needed to get these medications. They will view your charts and let you know the results within 2 days.
According to their website, you cannot take BlueChew due to the following:
If you take nitrates
If you take ritonavir
Do not have erectile dysfunction
History of drug use alcohol abuse
Deteriorating health
Allergies
Possible BlueChew Side Effects (Sildenafil)
Nasal congestion (stuffy nose)
Back pain
Headaches
Muscle pain
Nausea
Dizziness
Blurred vision
Upset stomach
Hot flashes in the face, chest, or neck
Diarrhea
Memory issues
Hearing issues (ringing in ears or loss)
Possible side effects of BlueChew (Tadalafil)
Lightheadedness
Coughing
Throwing up feeling
Acute pain in abdominal, arms, legs, or muscle
Indigestion
Flushing
Irritation in the throat
Low blood pressure
Prolonged erections
​Potential serious side effects
Heart problems
Fainting
Ringing in ear
Shortness of breath
Lightheadedness
Swelling in hands or feet
Painful erection that lasts more than four hours
Pain anywhere
Get BlueChew In The Mail
​The BlueChew packet arrives in a discreet package that looks like regular mail. No one will know what you are getting unless they ​open it up.​
If anything gets lost in the mail, BlueChew has a guarantee they will ship another order free of charge only one more time. However, you will get a USPS tracking number to track your package. Moreover, you can call the BlueChew phone number at 888-366-BLUE with questions.
International shipping is not available but they mentioned that it will be in the future. You can get a full refund within 30 days too if you are dissatisfied with your purchase.
​And of course, they have that 1-month free trial too, which is what I started with.
Other BlueChew Reviews
Here are a couple of reviews from the ​Reddit.
Review #1 – Tommy O. – BlueChew restored my confidence and put a spring in my step and wind in my sails.
Review #4 – Nathaniel L. – I feel like we both noticed the difference right away, and we were both excited.
Review #5 – Michael F. – My girl and I have actually looked forward more to our sexual experiences.
Review #6 – Zack C. – Ordering BlueChew is an absolute no-brainer for any man.
Review #7 – Shaheed C. – It gives me the assurance that I am going to perform. I'm happy, she's happy and we can make love the way we like to.
Review #8 – Donald S. – BlueChew has strengthened our relationship. It's like it's the honeymoon phase all over again.
Where To Buy It?
Try the BlueChew 1-month free trial here.
You can only get it at BlueChew.com! Keep in mind there is a list of states for legal purposes where this product is still unavailable.  These states have special laws that prevent ordering prescription medication from a doctor over the internet.
It is NOT yet available in the following states:
Arkansas
Delaware
Hawaii
Idaho
Louisiana
Maryland
Massachusetts
North Dakota
Oklahoma
Oregon
South Carolina
Hopefully, the staff can eventually bring the product to horny men in all 50 states!
BlueChew Viagra Prices
Prices depend on the prescribed treatment plan.
Active monthly plan ($20) – Monthly Six 30MG sildenafil chewables or Four 6mg tadalafil chewables

Busy monthly plan ($30 – Monthly Ten 30 MG sildenafil or Seven 6MG tadalafil 

Popular monthly plan ($50) – Monthly Seventeen 30 MG sildenafil, Fourteen 6 MG

Pro monthly Plan ($90) – Monthly Thirty-Four 30mg sildenafil chewables or twenty-eight 6mg tadalafil.
The 1 month trial works with each of the plans above. So you can get 6 sildenafil with your first order for free + the shipping cost of $5.
Keep in mind that insurance will not cover this product; however, according to the BlueChew pill reviews, the price is up to 80% cheaper than the retail price. So, the price is affordable enough for customers to buy it themselves, which costs significantly less than other prescriptions.
The Bottom Line
Overall, BlueChew is basically a chewable form of sildenafil, aka the same active ingredients in Viagra. Their subscription model makes it easy to access an ED medicine without a doctor's visit, and since the company is based in the USA, has good support, and is easy to cancel, it's very legit.  There are more companies popping up like BlueChew too ever since the Viagra patent expired in 2018, like Skyn Arise for example, which I'm planning on reviewing next.
Hopefully, you found this BlueChew review helpful, let me know if you have any questions about my experience by leaving a comment below, or share your own review if you've already tried it.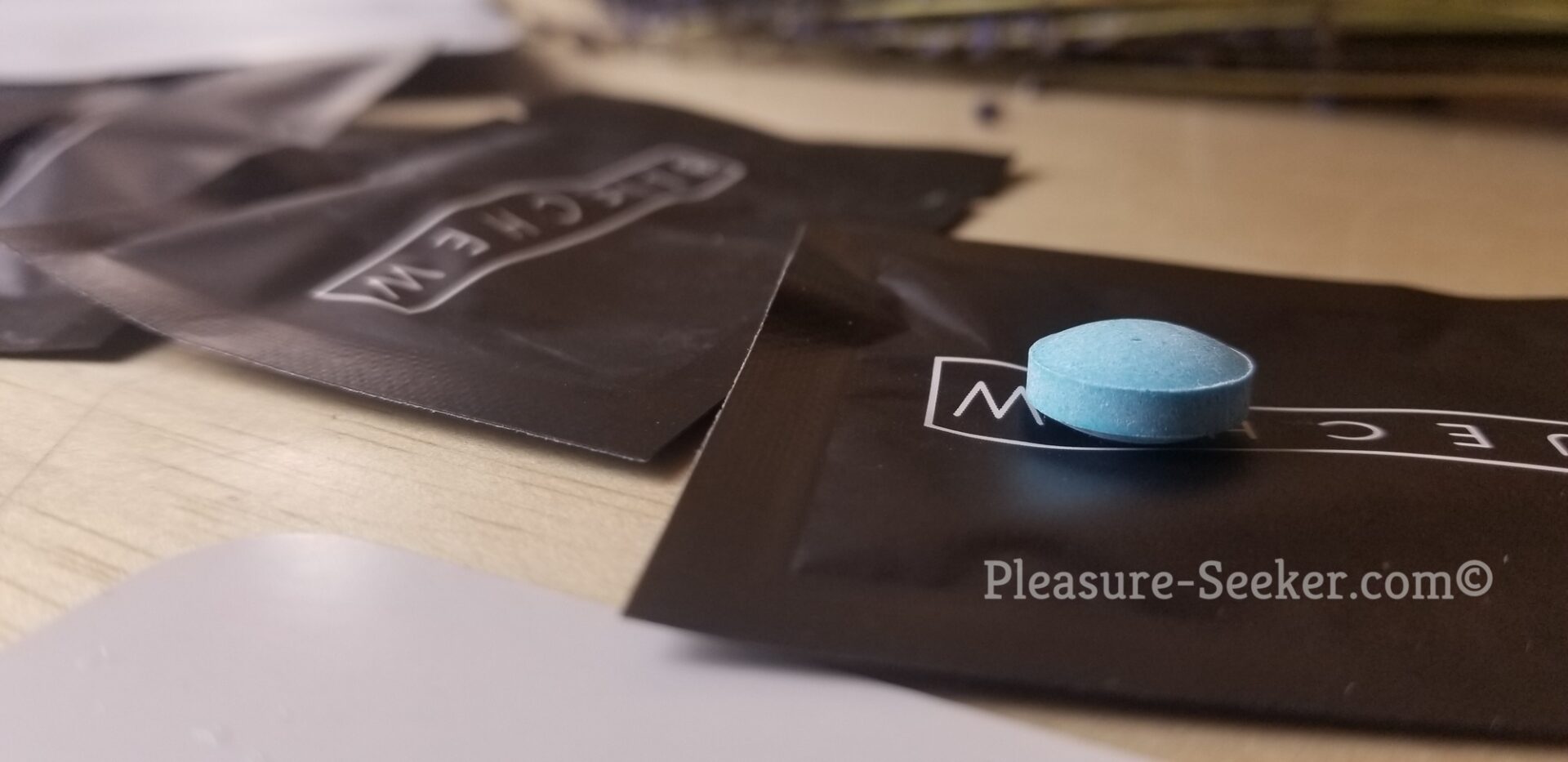 < The Xvideos Red Premium Porn Site Will Keep Your Dick Glued to the Screen
> FetLife Review – The Fetish Community is Waiting For You!