Over the past decade, Chaturbate has transformed the porn industry. This has given rise in dozens of cam sites like Chaturbate, each with their own unique models, shows, and experiences. If you like Chaturbate, then it's worth experimenting with the alternatives and similar sites. You might discover you like some even more than Chaturbate.com itself.
To help you out, we've compiled together a list of the best 9 websites like Chaturbate.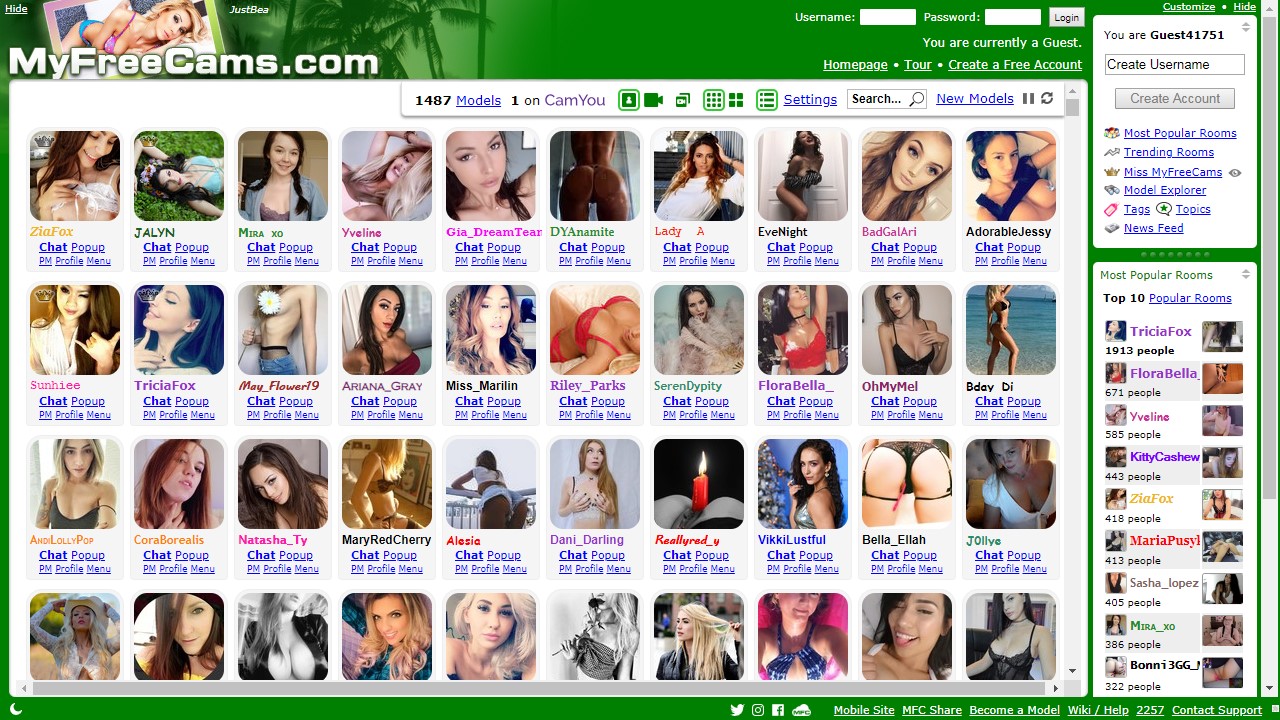 Myfreecams.com, aka MFC, is one of the most similar sites to Chaturbate. Although it hasn't reached the same viewership, it still offers a variety of cam girls who love to "chatterbate" and do niche shows.
MyFreeCams.com also has a lot of hangout-type shows, which is slightly different compared to Chaturbate. The site is not strictly reserved for porn shows and many cam girls choose to ''hang out'' with their viewers and providing them with company and conversation. A lot of porn conventions also decide to stream their booths directly on the site allowing viewers a back-stage "pass" viewing of how things work.
Despite all of that, the site is slightly outdated with a user interface that can be frustrating at times. Chaturbate.com, on the other hand, is easy to navigate and it's simple to find exactly what you are looking for.
Pros
MFC is a cam girl only site. Perfect for people looking for just that.
High earnings for cam girls. Models will earn about 60% of the money spent by viewers.
Option for less sexual cam shows with a great ''hang out'' feel.
Easy for shy cam girls to get into performing.
Cons
Messy user interface that is sometimes hard to figure out.
Customer service sometimes takes a long time to respond compared to Chaturbate.com.
Models are ranked by Camscore instead of rotating newer models to the front page. This will make it harder for new cam girls to gain a following.
Lower selection than Chaturbate.com.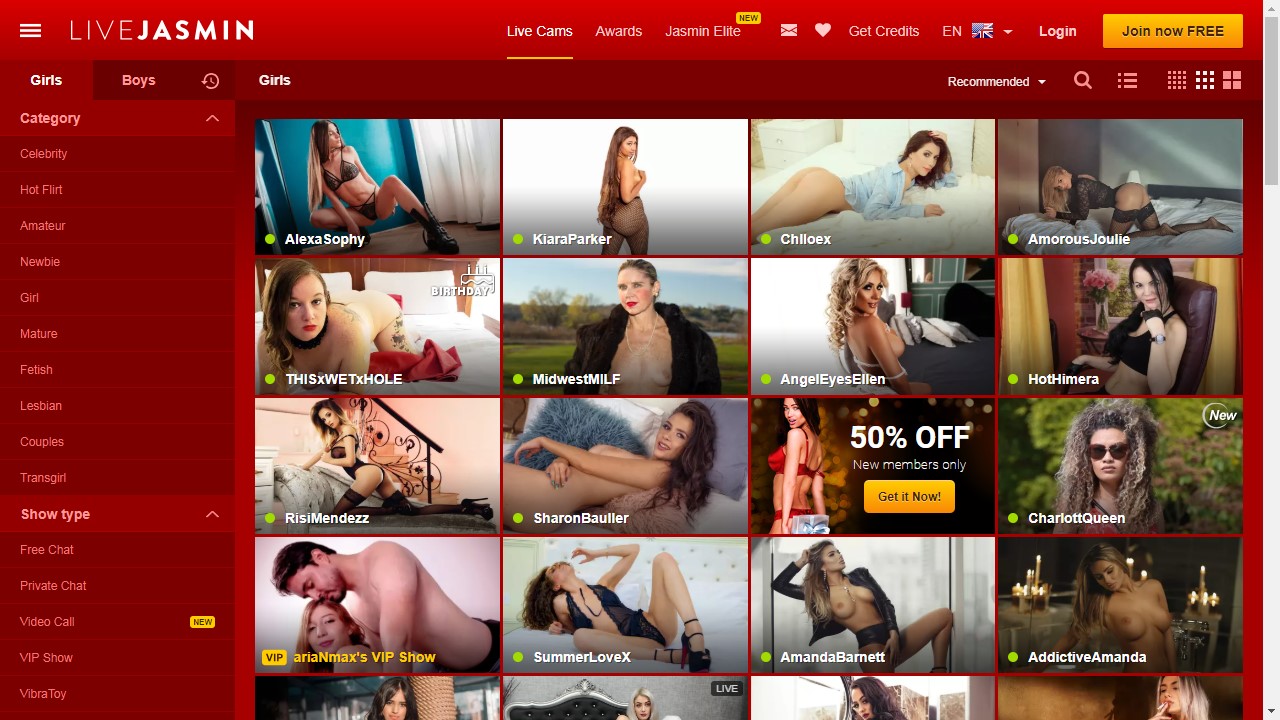 LiveJasmin is like a fancier and classier version of Chaturbate. Unlike Chaturbate.com LiveJasmin.com mostly relies on users spending money to view shows. As a nonpaying member you can join some rare free cam shows, but most of them have a time limit that will require you to purchase credits to continue watching.
At first, LiveJasmin.com can be a bit overwhelming, but the site has a sleek user interface and is easy to maneuver once you spend some time on the site itself. LiveJasmin.com offers a wide variety of cam shows with porn chat rooms like Chaturbate. The search option on LiveJasmin.com is also a bit overwhelming at first. You have over 50 options to search through to find exactly what you are looking for. The site is comparable to Chaturbate.com but leans more towards the pay-to-play business model.
Pros
Some of the biggest names in the porn industry chose to perform on LiveJasmin.com due to their premium business model.
Easy to navigate the sex cam site with lots of options.
Free Credit offer when first signing up to get you started.
Cons
LiveJasmin.com is expensive if you want a quality show or a private show.
Due to the premium model, it is harder for models to start earning decent paychecks.
Very few fresh faces. Most of the top models performed on the site for years.
StripChat.com is a smaller competitor to Chaturbate.com. At most times they have around 1200 active shows going on while Chaturbate.com sometimes has over 4000 shows active at one time. StripChat.com site is very easy to navigate and offers free shows without a time limit.
A new thing it's offering since last year is VR Camera chat, something that will surely become more wide-spread as Virtual Reality technology advances. VR Cam shows make the interaction between you and the cam model much more personal and intense by allowing you to look around the cam model's bedroom in 3D and even zoom and change angles.
Pros
Wide niche selection. You can easily find anything to suit your taste.
Affordable private shows.
Many fresh faces and beginner models.
Virtual Reality 3D cam shows. These highly interactive shows are the next step in the cam show industry.
Accepts a wide variety of gift cards.
Cons
No option to save a show for later, even with the most expensive membership.
At times the models here seem very unmotivated.
Overall a low selection of models compared to Chaturbate.com.
4) Cam4.com and Cams.com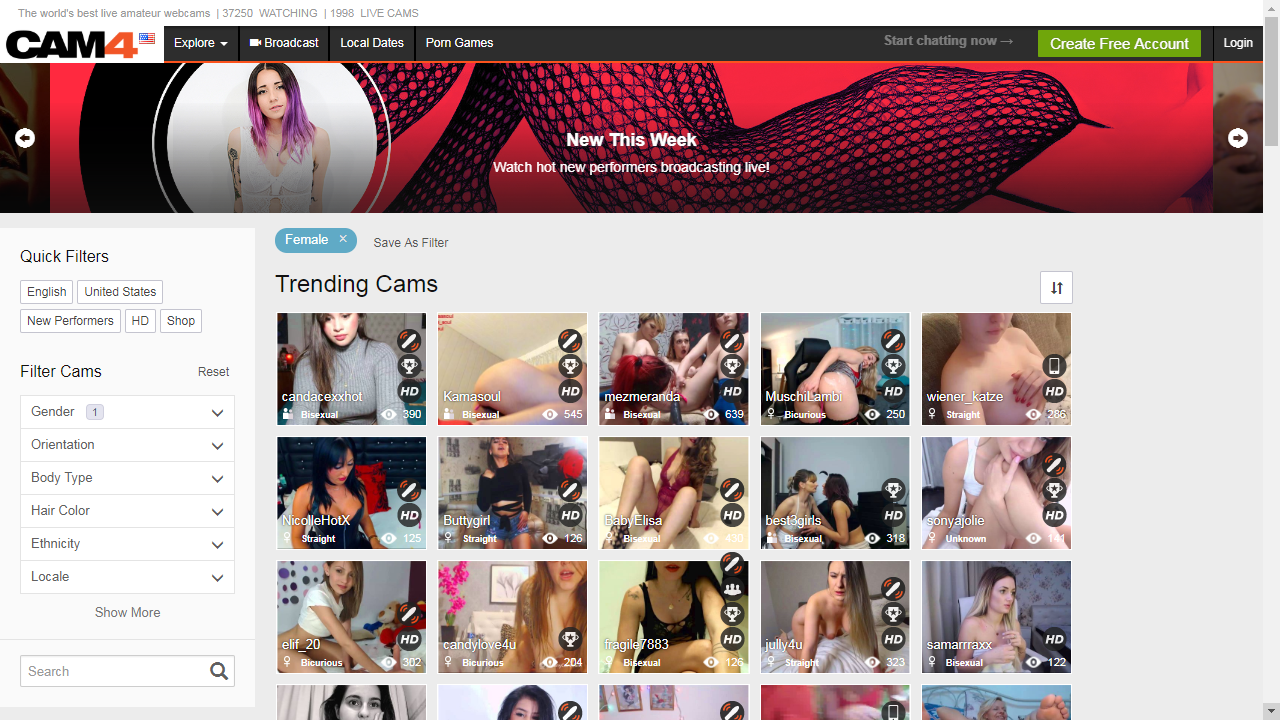 Cam4.com and Cams.com used to be big names in the cam show industry, but they have slowly lost viewers to other cam sites on the internet. Like Chaturbate.com, Cam4.com and Cams.com offer free shows without the need to spend money on tokens to get more action.
Many of the models on these two sites come across as rude when you don't provide them with tokens. Some models even end shows abruptly when they don't quickly receive the tokens they request and switch over to another site where members shell out more tokens for premium content.
Pros
Nice selection of sexy cam models
Easy to navigate site with lots of search options.
Cam model training videos that help models increase their earnings.
Cons
At times the models seem unmotivated
Models trying to earn money without investing the time getting to know their viewers
Not as many viewers as Chaturbate.com
Random ads during the live streams.
5) Jerkmate
Jerkmate is a similar Chaturbate replacement, but it differs in the browsing experience, user features, and of course the type of models you will find. Instead of choosing which cam girl or cam boy you want to see on Chaturbate, Jerkmate plays an adult roulette that randomly picks one for you. This only happens at the beginning of logging on the site, and from there you can choose any stream from a variety of categories.
Jerkmate has a lower viewership than Chaturbate and sometimes the number of chatters in a live stream which reach only double digits. Therefore, your texts will likely stand out since there are not many chatters competing with the model's attention.
Once you press any button that initiates a financial transaction, the system takes the money instantly from your account and deposits the "gold" inside the model's account.
Pros
User experience is plain and straightforward.
Language settings give everyone across the globe a chance to speak to the model.
Nice designs that are calming.
Cons
Randomly chooses streams at the beginning.
A smaller site compared to Chaturbate.
Tries to get you to pay for something at every turn.
6) Camsoda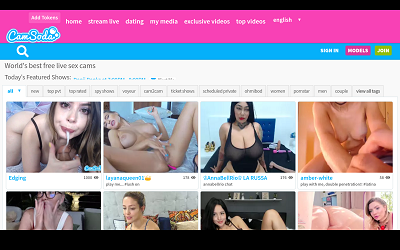 Although Camsoda has a similar layout compared to Chaturbate, it's more fun to use than that old worn-out Chaturbate design. The creators wanted to keep familiar features for people who have become accustomed using on Chaturbate but those features are more user-friendly on Camsoda.
Most cams that show in the featured list narrows down the top live porn cam girls. Preview pics stream in motion without you needing to put your cursor on them – Chaturbate does not have this.
You can get deeper information on the blog with interesting informative articles and some interviews of models talking about their personal lives, philosophies, turn-ons and turn-offs, and what they like in bed. It's always great to see another side of a model.
Pros
No credit card is needed to deposit tokens to sign up for an account.
Mostly women on the site and a small number of men and trans.
Users have more controls over what they can see and do on the website.
A bit cheaper to buy credits than on Chaturbate.
Cons
Lower viewership than Chaturbate, which might stifle how the model performs.
7) Bongacams
Bongacams is a mirror of Chaturbate. All the basics like sex shows and spy mode of thousands of streams are a couple of similar features. The number of cam viewers ranges from like 50 to hundreds and the most popular might have a thousand. The women are very slutty and down to do anything for a couple of tokens.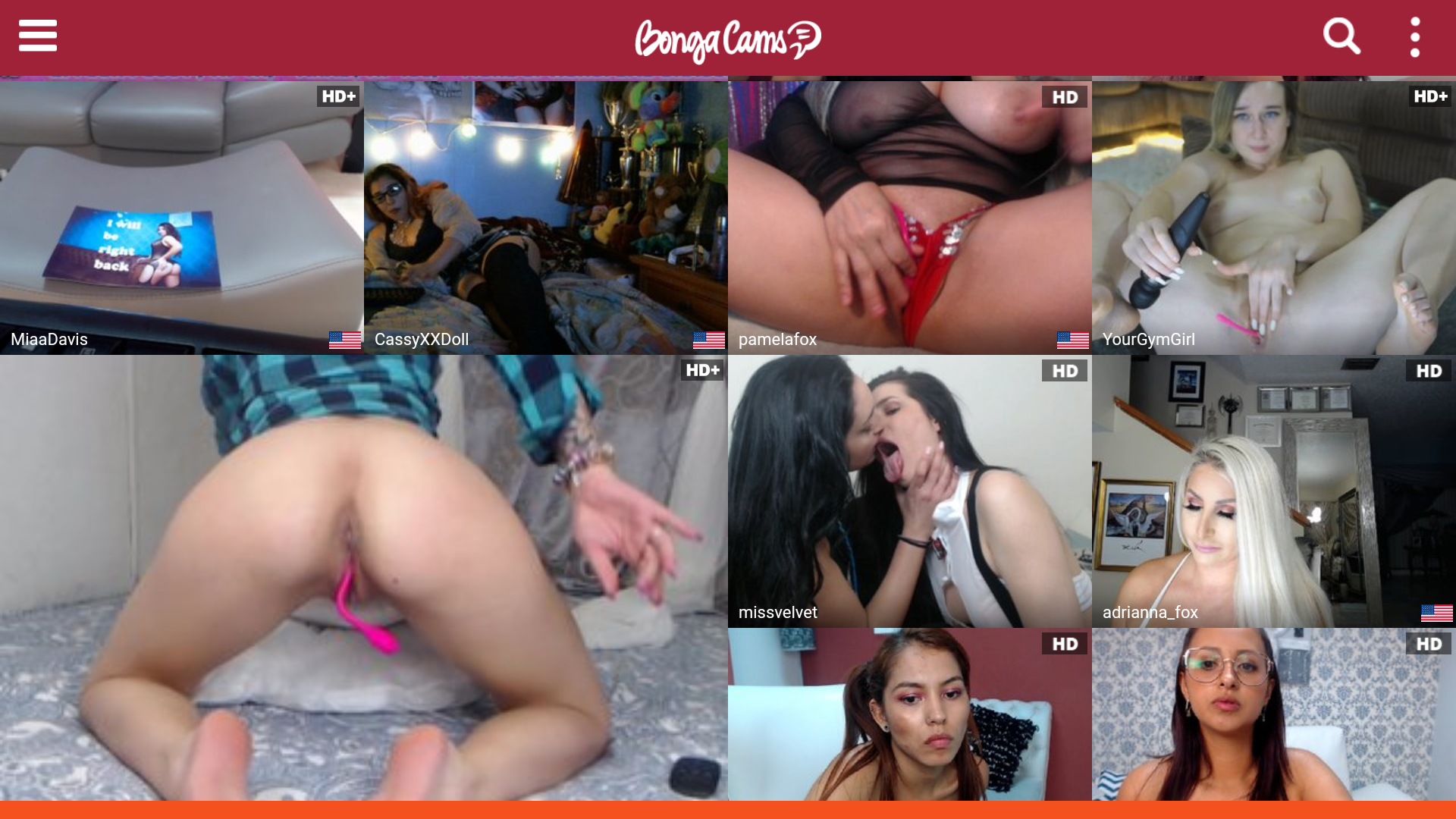 There are clickable tags in a row at the bottom of each cam. That is something Chaturbate does not have. All women have tags on their streams. When you click them similar cam shows that have those tags will pop up in the list.
Pros
100 tokens are given as a free bonus after creating an account.
High number of women on this website – way more than the males, couples, and trans models.
The window stream gets smaller as you scroll through the list so you can still watch the model  and search for another one.
Cons
There is an automatic private chat message from the model that pops up seconds after entering every live cam stream, "Wanna have some fun bb?" or "Have any special requests?" It's a bot.
Annoying pop-up window that flashes every 5-10 minutes asking to sign up for a free account.
8) ImLive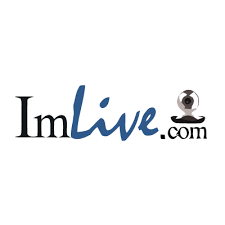 ImLive is very different from these websites like Chaturbate. The cam list is not crammed like Chaturbate: the models' faces are listed down the left side, a brief description of the profile in the middle of the page, and a Free Video Chat button to the right.
There is a way to have live virtual sex with the woman and please her directly than just a sweet "Thank you". The token depositor connects to the vibrator delivering a host of instant pleasures when you donate.
I love the detailed profile page showing everything about the model, including her turns-ons and turn-offs, languages spoken, body characteristics, and a list of her exclusive videos.
Pros
Can leave written reviews about the model.
Free credits when you become a member.
More organized than most of the other popular live cam girl sites.
Cons
Not many models to give you real-time pleasures
General layout is like Jerkmate and Streammate
9) Streamate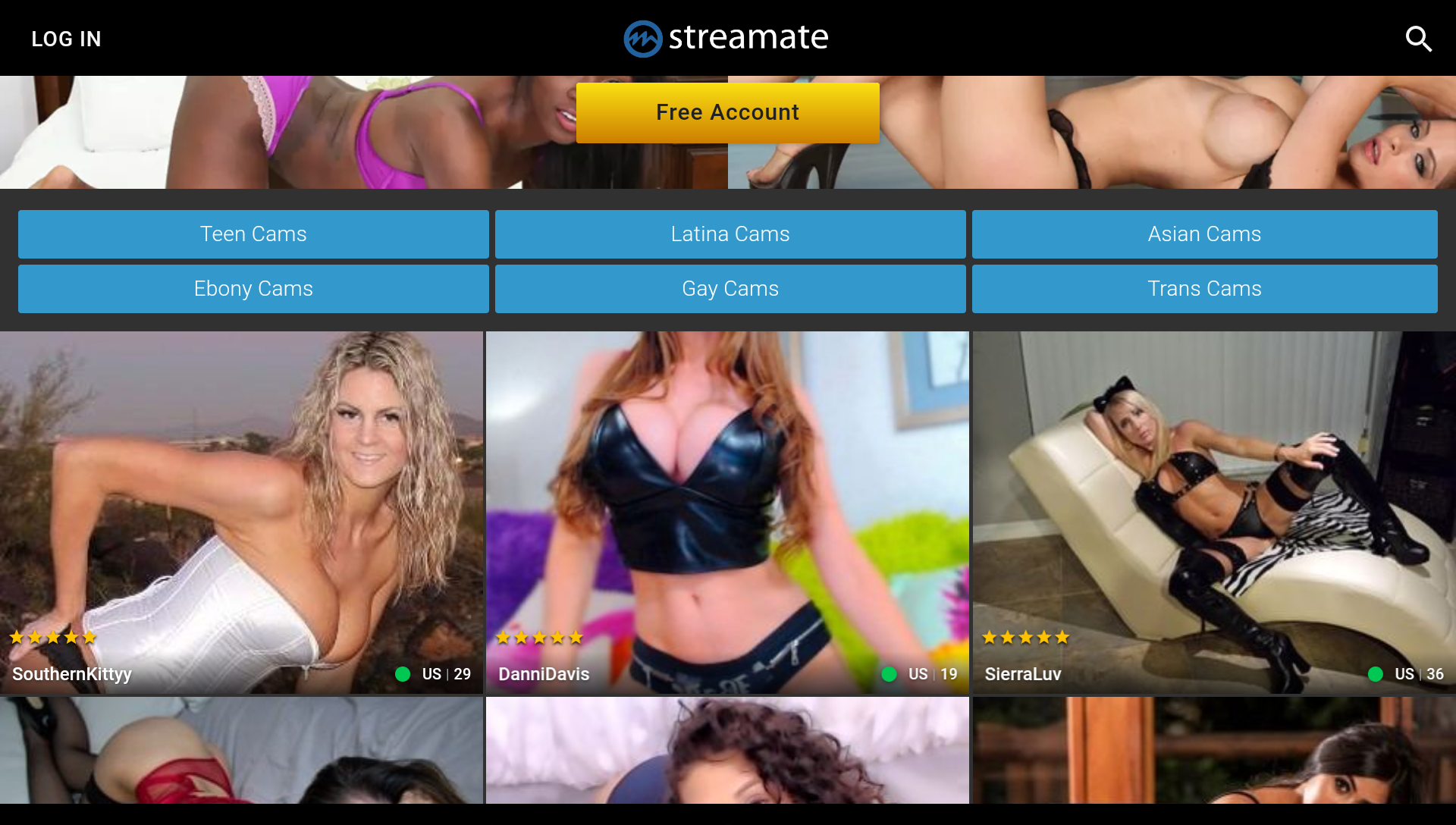 Streamate is very similar to Jerkmate but differs from Chaturbate. This website has sexier models than others. They also prefer to stream on Streamate because of the quality streams. There are many familiar faces that you saw on other cam sites like Chaturbate.
Pros
Tags at the bottom of the profile page for women related.
Easy to use.
Women look way better than on other Chaturbate alternatives.
Cons
Copycat of other sites (or maybe others sites copied it).
Same women you can find on other sites.
Final Word About Sites Like Chaturbate
As one of the biggest cam sites in the world, Chaturbate.com has built an incredible user base that increases each month. The websites above have some comparisons and differences. Chaturbate.com customer service is also one of the best in the industry with considerate representatives that reply promptly to any question or problem a member or model might have. When you have a desire to try something newer than Chaturbate, choosing one of these sites is the best.
> List of Live Cam Sites that Accept PayPal to Buy Credits