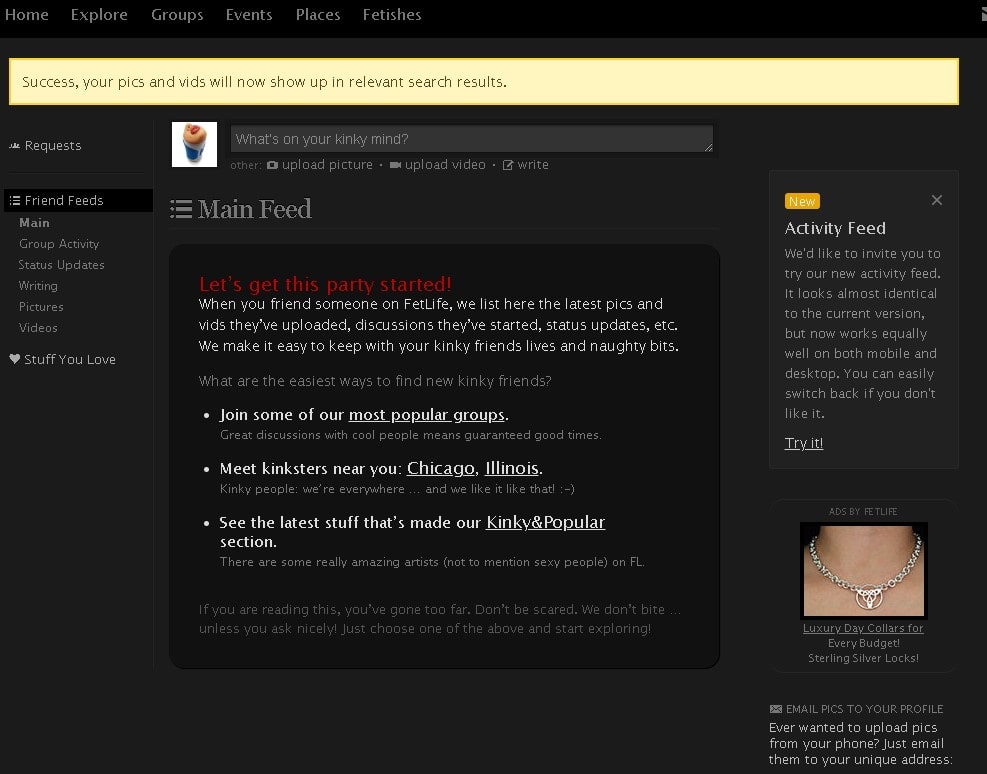 Open up your eyes. Expand your mind. Look around for a moment. There are fetsters everywhere.
Many kinky people are waiting in the shadows to follow your account. They are willing to share their self-shot porn videos, online pictures, love stories, sexual experiences, and upcoming events to the next big shindig. Nothing is average about FetLife com. Every person you find online is a unique specimen. We will cover the truth about what Fetlife com dating is about.
What is FetLife?
The general summary of Fetlife is a social media website for BDSM practitioners in the fetish community.
FetLife Review: Features
A positive environment for fetish users
Dark, cruel, and organically sexual
Have users flying under the banner of all sexualities, genders, and fetish orientations
Some people spend their entire day sending messages to users, so there's always somebody available for a conversation
Operated and controlled by regular people. There are no porn movie stars here. They are just regular folks who live right around the corner
Search for matches in every city and country on the planet; there is somebody interested in your fetish
Can write on others' walls while discovering what they are doing with their BDSM lives
FetLife Review: Pros
An inviting disposition that glues your eyes
Easy to retrieve lost information
Easy to hide what the website is all about; oblivious to the adults walking past your computer – unless they are fetish seekers themselves and recognize the dark page layout
All encompassing search parameters to locate your tastes
Will certainly find somebody into your kinky stuff
Looks intimidating upfront, but warms up to you after usage
So many damn events around the world will keep you busy throughout the year
Women don't look half as bad as the booger wolves that are usually 'represented' in the online kink community
Fetlife Review: Cons
Some fake profiles, but not many
People want to get paid for their BDSM practices, although they give off the impression they will do them for fun and free
Some people pretend like they are someone they're not
Uploading a photo of yourself is not required, so anyone can pretend to be anything
The entire website looks like a blog
Some photos are hijacked from popular internet porn webpages – I visited them all
No Android Google application or Apple iPhone app available for mobile use
A BDSM Social Media Network Site that Offers So Much More Than What Meets the Eye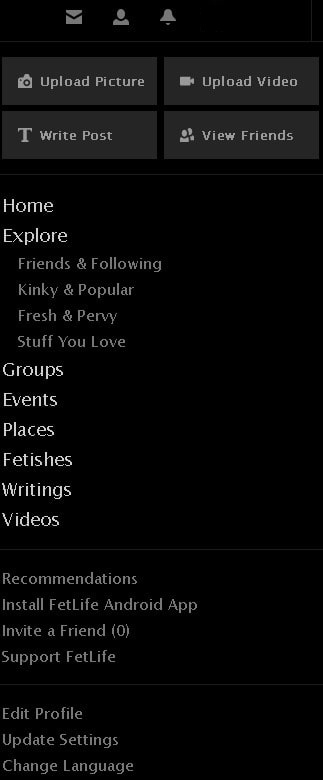 FetLife is the dark medicine serving as an antidote. It grabs hold of sadomachism with an embracing hug. The top half of the webpage is black then merges with the dark grey in the bottom half. Something powerful happens when these transitions meet. The expert color scheme conjure those feelings that put you in the mood to experience full-head BDSM action.
What Do the Numbers Say About a Porn Relationship Between a Friend Found on Fetlife?
I can speculate a question that might be on your mind. Will you meet someone on this social media network like Facebook for BDSM? The answer is yes. I accessed the webpage and taken a look at the numbers on the bottom of the screen. It says 8,400,000+ users are surfing the website at any time of the day. That's a lot of people! And those people share about 45 million pics and videos with each other daily. So, there is a lot of communicating going on. One thing that I like about Fetlife is people are very open to showing you who they are. They release their real selves with no inhibitions or regrets. Transparency is the normal mode for most people on here. When you get past the catfish, you will come to realize there are some beautiful as well as disturbed people here. One commonality is they all are interesting people.
There are 10 million discussions across thousands of Groups, Blogs, and Discussions sections related to fetish. These people might live in your country, city, or community. There is a search feature that pinpoints the exact locations of interested parties that might have something in common with you.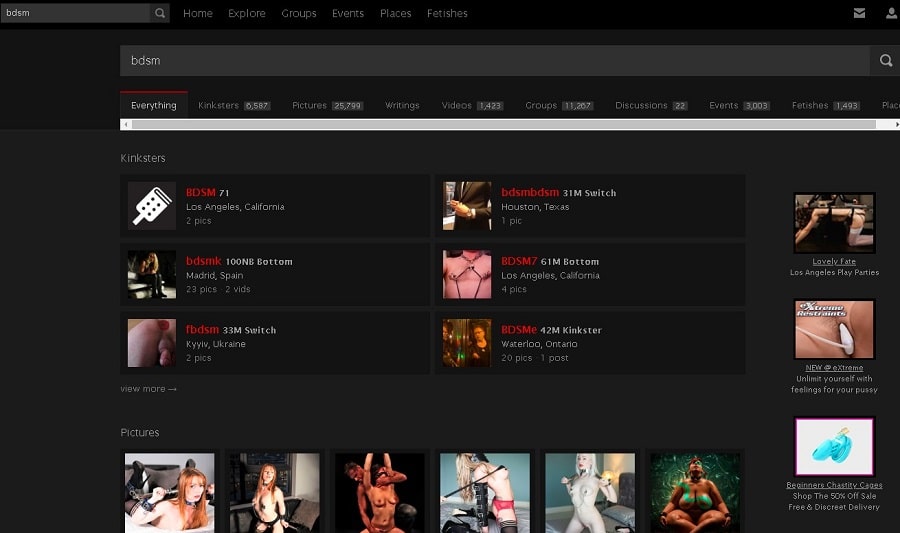 FetLife.com BDSM Network Login Experience Expectations
My Fetlife experience consisted of selecting a nickname out of thin air. Mine is bootyman321. Look me up.
People who have different genders will not feel left out. You won't find the majority of these selections on a census form.
r/fetlife Gender Select
Male
Female
Non-binary
Genderqueer
Gender-fluid
Transgender
Trans male to female
Trans female to male
Crossdresser / transvestite
Intersex
Femme
Butch
Non-applicable
People who consider themselves part of the fetish community often base their identity on their sexuality. There is nothing wrong with that. Hence, there is no limit to the classification in the Fetlife online community.
Straight
Heteroflexible
Homoflexible
Bisexual
Gay
Lesbian
Queer
Pansexual
Fluctuating/evolving
Asexual
Unsure
Non-applicable
Fetish seekers who study this lifestyle like a craft understand the importance of performing their job correctly in the bedroom. Mishandling BDSM practices can result in someone getting hurt. Everyone, whether it is a couple or several people taking part in a threesome, should know how to play their position like a football team. These are the many types of roles. Fetlife asks if you are one of them.
Dominant
Switch
Submissive
Master
Slave
Mistress
Kajira
Kajirus
Top (Gay)
Bottom
Masochist
Sadomasochistic
Disciplinarian
Finished
Kinkster
Hedonist
Sensualist
Exhibitionist
Voyeur
Daddy
Mommy
Baby girl
Baby boy
Aged player
Little
Middle
Big
Brats
Princess
Slut
Dog
Toy
Cougar
Bull
Hot wife
Cuckold dress
Cuckold
CuckoldQueen
CuckQueen
Sissy
Furry
Pet
Kitten
Pup
Pony
Handler
Spanker
Spankee
Rope top
Rope bottom
Leather man
Leather woman
Leather daddy
Leather mommy
Leather top
Leather bottom
Little boy
Little girl
Date black
Drag queen
Drag king
Evolving
Exploring
Vanilla
Absolutely amazing. Look that long list. These are the personal account question asked to get to know more about you before presenting your profile to the entire community. To be honest, I just wanted to meet the word count LOL! But, this list is important for people who need to classify their kinks and those who want to explore new ones they never knew about. This type of openness and possibilities are what make fetish life so important today's world of political correctness and respect.

About Fet-life: Read Post Messages Over the Internet from Around the World
Fetlife reaches around the Pacific and Atlantic oceans and pulls people into one central location to meet and chat. People with all faces, of all races, and all walks of life have fetishes. Many come to this website for internal expression. You might discover something you never knew about someone before now. One big problem with being an international entity like fetlife.com is government regulations. For this reason, countries with a massive religious influence will not allow their citizens to use the website. VPNs kick are the saviors that wiggle past these restrictions for those curious cats who feel like they got 9 lives. Good luck! You use this website at your own risk. Whatever punishment endured is not on us. We warned you. However, the process is easy to find kinksters in your city and state if you live in the USA – Land of the Free.
The Importance of Privacy During a Search
I am a very private person, especially when it comes to my fetish. I don't want anyone in my family, place of employment, or social circle to know the kinky stuff that I like. When you search for profiles to find people, many are not from the same place as you. Some will actually lie about their location by setting it to Antarctica because they value their privacy as well. No one lives in Antarctica. You would need to gain this person's trust to really get to know them before they expose their real location.
Umpteenth Amount of Free Photos and Videos
Humans get stimulated by visual cues. For some reason, fetish life users love to show off their goods. Some users have hundreds to thousands of streams and pics on their profile pages. Can you imagine how kinky these people are? Is viewing videos and pictures on fetlife free? You bet your last dollar it is!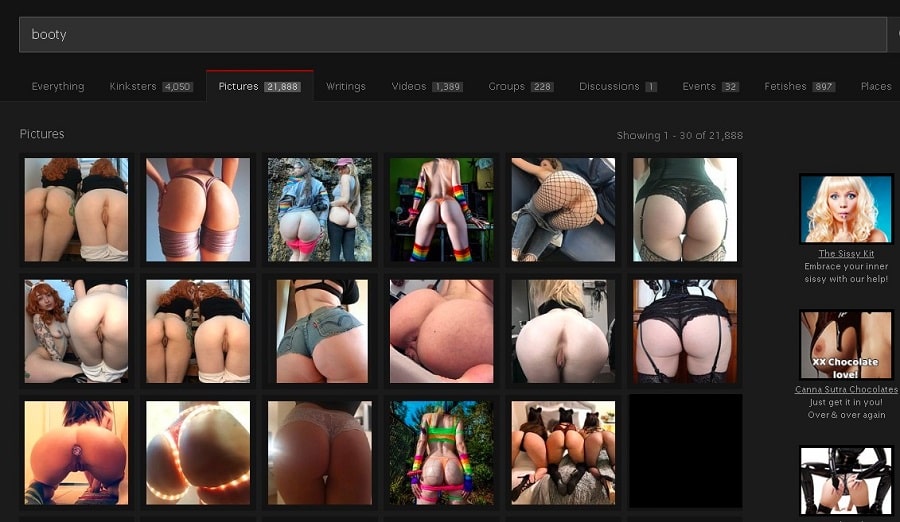 See the Members Only You Want to See
Some people only like to taste exclusive stuff. FetLife allows you only to see the members who have pics and videos on their pages. The ones that don't, doesn't even show up in the feed. If my memory serves me correctly, Fetlife did not have this feature before, so it is completely new. Taking steps in right direction shows that the website is progressing a lot. Moreover, the most popular searches will show first. It cuts through a lot of games.
The Ease of Using FetLife Net Chat
The website makes it easy to find certain stuff. Everything is labeled with time stamps. Your profile shows a list of people who have viewed your pages. When I typed in 'BDSM', I found all related subjects, including pictures, locations, and videos, along with groups and discussions and events that have that specific keyword.
Using FetLife com as a Dating App
I suggest you do not use it as a dating app. Generally, the people who are into fetish usually love sex. Therefore, they will likely not be faithful in a relationship. They do, however, make excellent friends to hang out with – go bowling or have a beer. Relationships? Not so much. The desktop browser version is good for searching for these people, but the mobile app makes it so much better. You can take your phone anywhere and pinpoint a location of a fetish person and meet them on the spot at like Starbucks. Your conversation history pulls up instantly. You can text them like you have their real telephone number. Events in your city will show on the map for you to attend. There is a breakdown for how to do this on the website if you are unfamiliar with the app installation. Fetlife is all about simplifying the features to meet your needs better.
About FetLife: Bots are at a Minimum
One good thing about this website is that there are not many bots. After giving the website a rest for some time and returning, I did not see any messages from anyone. That is a good sign that there are no bots on there. That is not the case with AdultFriendFinder where bots are a normal part of the society there.