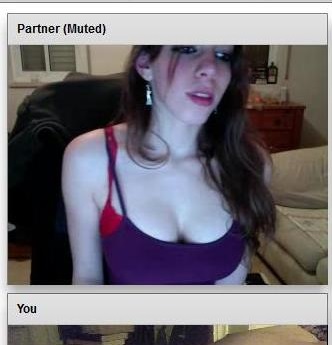 Calling all dickbeaters, calling all dick beaters, report to your nearest adult roulette cam site center for processing right now!
Listen up closely – see that revolver? The one with a bullet in a chamber, turn it, and put it where the sun don't shine. Pull the rigger. I mean, that is what ROULETTE is, correct?
Adult chat roulette, on the other hand, is a randomized computing system that connects you with other cams for adult freesex action. Oh, do I remember the days of chatting for long hours on Chatroulette waiting to connect with someone at random.
One frustrating aspect of video chatting on there that boiled my blood to the core of these dirty live cam roulette sites are the notorious dickbeaters with their penises standing at attention like soldiers, sculpted like statues. #Salute. Oh damn, I just admitted to looking. Hey, I didn't expect it!
The visuals would just penetrate my mind to the core as I clicked on the NEXT button lightning fast. And sometimes these guys would REPORT ME for jacking off AND I'M THE ONE WITH MY DICK IN MY PANTS NOT JACKING OFF. And to add insult to injury, Chatroulette would cooperate and ban me! Freakin' for what!?
While serving my "time," which is about 30 minutes or so in a digital jail cell, I was forced to click on all the penises on Chatroulette to help clean up the site. What did I even do for this to become my reality!?
Word of advice, fellas. WOMEN DON'T LIKE SEEING THAT SHIT! Hellloooo! Wait, well, let me put things into perspective. SOME women like seeing that shit, but most don't when they're on a dating roulette site looking for a nice conversation. That is why the women mostly abandoned these sites because they don't like feeling forced to look at your Peter-Wacker.
However, all you disgraceful dickbeaters will be pleased to know that your small danger noodle seems to be highly sought out on the majority of the sites below.
We would like to present the best adult roulette sites reviews to show your little pee pee (wee wee) freely. Let it all hang out!
Shagle
Nude Chat X Roulette Site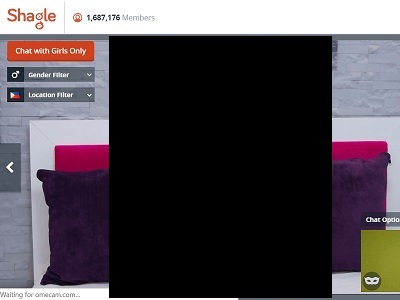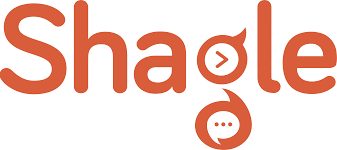 Highlights & Features
Joining is free

SegPay billing

Paid membership-only features

Play/Pause button

Microphone and video settings
WTF is this? Shagle, fraggle, naggle, haggle – I would never use it again. The counter says it has about a million monthly users and hundreds of thousands new visits daily. I call bullshit.
One fact that's undoubtedly true is the astronomical number of dickbeaters who proliferate the site! They are abundant like weeds in my front lawn.
I came across four cams of guys with either their shirts off with man-tits hanging or showing full-blown jerking action. After coming across about four guys, a girl came on. But guess what… The cam quality of each girl was so advanced that it looked to be too high of quality – almost movie-like, so obviously they are fake cam streams probably from another site. When you talk to you these women they never respond back. That's a clear indicator that I'm right.
There is, however, a "Chat With Girls Only" button, but you need to upgrade to a verified member and pay $20 a month. I refused to pay so I don't know what's beyond this window.
With every negative, there is a positive somewhere. The positive is that every cam has a country flag and the name of the state the dick beater resides, and a symbol representing the sex of the jacker. Another positive benefit is the strict terms that prohibit showing drugs, exhibiting violence, especially against animals, and stuff like that.
You know what… Speaking of moral obligations, I got suspended for 3 days for showing nudity, of which I did not show. What happened was I had my hand in front of the camera so the dickbeater wouldn't jack off to my handsome mug. And the system took a snapshot of the palm of my hand and miscalculated it as foreskin. Not cool! Shagle, you need to invest more money replacing your current mechanisms to implement a better dick-detection system. #Facts.
Too bad, because filtering the gender of the person didn't matter either. The system automatically spools cams randomly of all sexes so if you pick women, you'll still see guys. The amount of penises here would overpopulate the stars of the universe.
Pros
Professional user layout is surprisingly beautiful

Search by male, female, or couple filters
Cons
Dickbeater central

Dick-detector will ban anything

No women's land - nothing but men and fake 1 on 1 sex cams (hopefully, I'm wrong)
Omegle
Free Chatroulette Alternative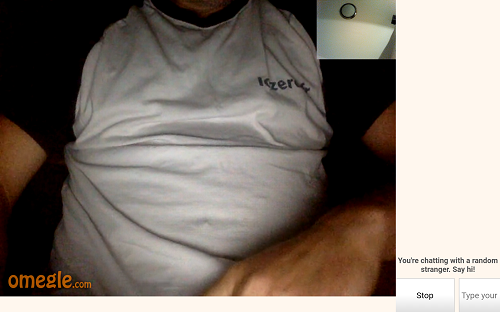 Highlights & Features
Omegle poses a question for both parties to discuss in Spy Mode

College students can register with their school emails for college roulette cam chatting
I've used Omegle too many times than I can count. I will often see advertisements on random webcams on Chatroulette. I don't know if there was a real person on the other side of the cam or just a randomized message, but I have a vivid memory of the Omegle site.
One great feature about Omegle is that you can get into the cam to cam dirty chat roulette action without signing up for an account or applying for a membership.
It works by clicking the blue Next button to allow Omegle to grant access your camera and microphone and continues showing spooled results.
You have two choices of communicating:
Video or Chat.
Video – You can see and hear the other person, and vice versa, and type to them.
Chat – Text only. They cannot see nor hear you but can see what you typed, and vice versa.
Omegle is a nice place to party and bullshit. The Europeans jack their wankers over the London bridge at night and the Americans spank their monkeys with a United States flag hanging on their bedrooms' wall.
Pros
Most basic site with simple controls

No identifying information will show

Women are highly valued, but they are rare
Cons
Can be recorded without your consent and posted on YouTube, especially if you do some crazy shit worthy

People will say some crazy stuff to you

Strangers disconnect very quickly

A bunch of men showing a bunch of penises like they are going out of style

Supposed to be Omegle for adults, but there are young people under 18 on there
Jerkmate
Cam2Cam Chatroulette Style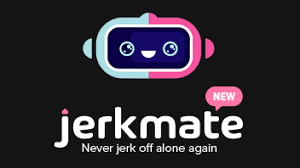 You already know my motto: Jerkmate is the best mate, so get to jerkin' baby!
Jerkmate, in fact, differs from Chatroulette and resembles more of Myfreecams or Chaturbate where women actually show for money. So you will see some boobs and ass, but you gotta pay some money. Moreover, you can show your danger noodle with full acceptance, but you gotta pay for that too. That's right, you gotta pay to show your sausage. At least you get to choose between women, men, or trans, and, they are real people!
Pros
Real cams

Okay to show your dick
ChatRandom
Random Adult Webcam Roulette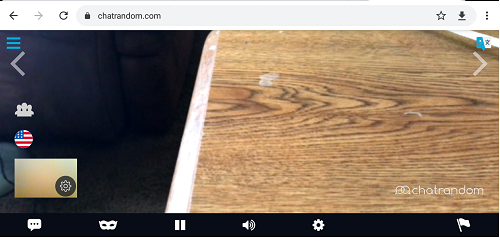 Highlights & Features
Google Play chat roulette mobile app

Instructions show you how to chat with strangers
A straight copycat. Felt like I visited this nude cam to cam rollette site before. Oh, that's right, I did previously in Shagle. Same setup and everything but with different colors.
ChatRandom says that it has almost three million registered users. Again, is this true? All I see is dick beaters, and the same 3 to 4 guys in the spool with a couple of 'professional' cam girls stuck in between, who are obviously not really on the site.
Pros
Very fast website

Millions of downloads (surprised the shit outta me) and the majority of people like it - 3.9 out of 5 stars on Google Android
Cons
Fake free sex roullette cam models who are probably not on the website

Too many men on this sex roulette cam site

Mobile browser version freezes
SlutRoulette
Live Cams Sexy Girl and Boy Roulette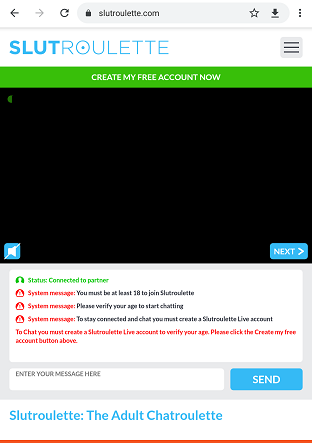 Slut Roulette is a cool free random sex chat name, but not a cool cam site. The moment the webpage pulled up I was instantly disappointed.
The first thing that went through my mind was, "oh no, not another one of these fake naughty roulette sexcam sites, again!"
You will see the usual professional high-resolution models who will not respond because they are not on there. The difference with this dirty cam chat site is that you can see the model's name and Google the information showing they are streaming on another site and probably getting hijacked by SlutRoulette or someone on Slutroulette or maybe Slutroulette has a hookup with the other cam site, which proves my theory altogether. Sure enough like clockwork, an example is Pinklipz who was broadcasting on Livecams.com and for some reason, her stream was on SlutRoulette. Is it possible that she was broadcasting on two sites at once? It's possible, but likely not probable. You need to sign up for a free account and then upgrade to a premium membership using a credit card just to type to this person to make sure they are real. I didn't go through all of this because I don't have time. You might see a few of these cams with a bunch of dickbeaters mixed in. Been there, done that.
Cons
The free roulette video chat cams seem to be fake

Cam shows in black on the mobile browser version
Flingster
Dating Chat Random Roulette Sexfree Site - Sike!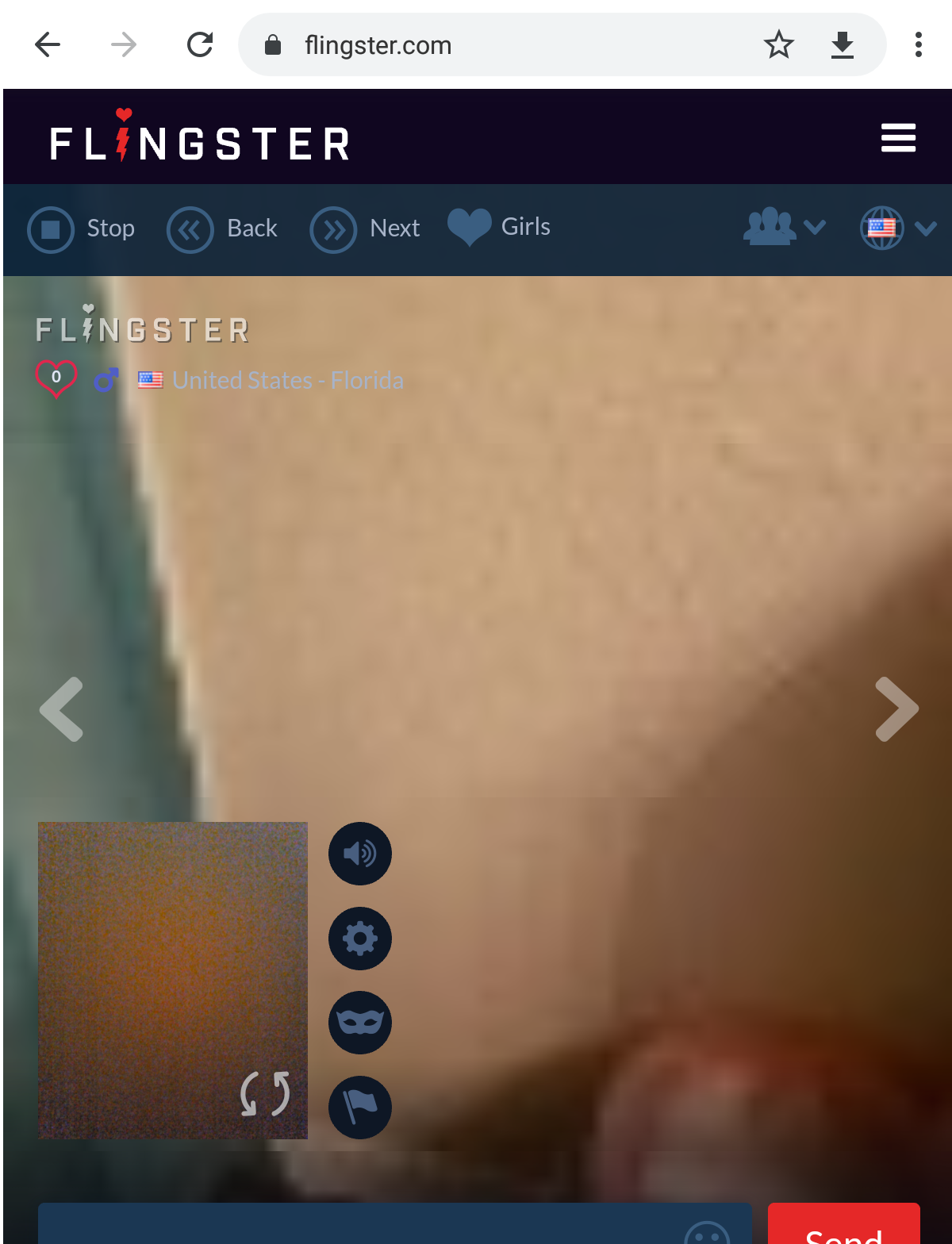 Highlights & Features
Male, female, or couple selections - but dudes are littered across the online sex cam chat rooms

Almost like a dating site because it matches people.....with dicks

A warning page at the beginning saying that the person has to be 18 years or older

Shows the location and state of the unmutual masturbating party
Flingster is a site like Dirty Roulette, in fact, they are one in the same because if you go to dirtyroulette.com you get flingster.com.
I wasn't gonna put this site in the list but changed my mind because you need to know about it.
I believe this is an adult gay roulette site because I have seen penises back-to-back like a freight train. Nonstop dick pulling that seems to go on forever. And most of the guys on there look like they've consumed too many bologna sandwiches, so don't be surprised of protruding bellies overlapping the fiddling.
My free cam-to-cam adult chat ride was only like 5 minutes because there were those infamous high-resolution fake cams popping up after every 4 cams.
I felt like someone finally gave me CPR from getting drowned with dicks who were attacking my mind like sharks in bloody waters because the system has a mask to put over your face but still show your basic info. At least people can't see who I am! I can remain hidden.
But there are no girls on there, so if you are a soy boy who loves choking your chicken, then this is your site.
Pros
I love the design, it looks devilishly sexy - too bad you are showered with dicks

Keeps it real - does not upload fake cam girl shows - *respect*

Free and easy to use
Tempo Cams
Chatroulette Alternative with Sexy Fake Cams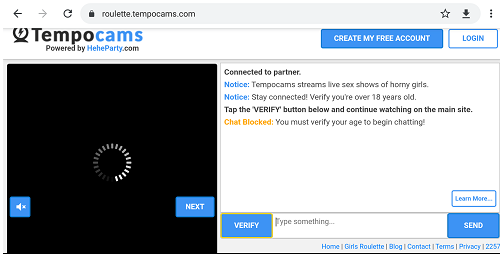 Highlights & Features
Webchat cam sex seems to be connected to Chaturbate somehow

Looks more like a dating site, but with no hookups

Blog exists showcasing articles covering a variety of sex-related topics

More of an adult cam site

Has shemale roulette, trans roulette, and hentai roulette alternatives
This site is a great Omegle alternative and Chatroulette alternative, but it has so many fake cam streams from other sites. Hey, look on the bright side, at least it's of naked girls and penises are absent.
I love the introduction design with a dropdown box asking the type of roulette experience you'd like; girls, hentai, shemale, gay.
Every cam is of a sexy woman doing something special. Unless you like the idea of jacking off to fake horny naked cams thinking they're real, you might shun this site and that's ok. Don't expect anyone to respond to you at all because they won't at least not verbally. I didn't sign up for a "free" account to test out the text features. You'll be better off visiting Jerkmate or something.
Cons
Girl roulette cam streams faker than $3 bills

Required to create a free account with your credit card to chat with some girls that aren't on the site

Verify age before chatting that redirects to Chaturbate registration for some reason
Jizz Roulette
Best Gay Roulette Site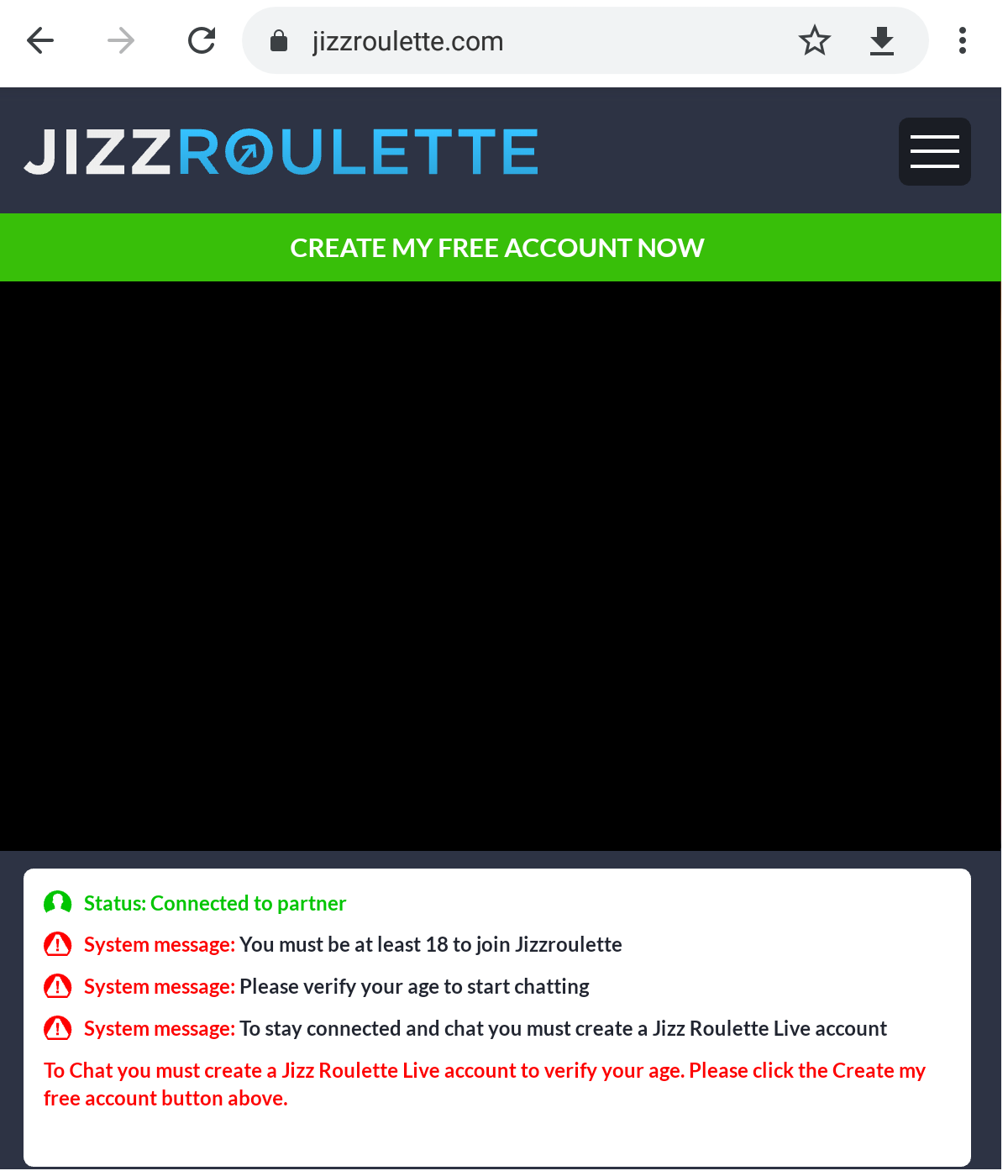 Highlights & Features
Spool of the same men pleasuring their cream sticks - like 7 of them

Free account asking for nickname, password, username and credit card - I wouldn't trust putting my credit card details in this site with a ten-foot pole

Various categories for the men, such as bisexual, Asian, big cock, muscles, twinks, cock
Oh man, what is this? Cock-a-doodle doo day? I just Googled one of the guys on this cam site and it comes straight from a website called CamUltimate. Definitely fake cams unless they're broadcasting on two cam sites, which I highly doubt.
What the heck, you can see their cams but they can't see your cams. What kind of shit is this?
Cons
Popup webpage constantly asking if I'm over the age of 18 - YES!

Nothing but men on here jacking off and they are not paid models

Demanded to register an account to chat with these fools

Forced credit card subscription to join this dick-beating sanctuary - no thanks
So Which Dirty Roulette Site Is the Best?
Dicks are dancing in mind now, not in a homosexual way. Just understand that the truth will set you free!
Although I would love to say something positive about these adult webcam sites, I can't. Things have changed from 2013 when these sites were full of real girls, and now it's like a ghost town with zombie dicks looming around aimlessly.
Has to be the worst review I have written in all my life. I mean, there are some good cam sites on here but they are full of soy-boy beginner, professional masturbators. The women you see are likely streamed cams from other adult sites. Sad face.
You might have some conversations with some weird alien-looking type of dude who belong in the costume changing rooms of the sci-fi thriller or horny perverts who look like they are on the verge of a mass shooting, committing suicide, or ending up in the next To Catch A Predator or Hansen vs Predator episode (I'm dead serious). I have nothing else to say, this is done.
What do you think? Am I over-exaggerating? Am I looking at the glass half empty? Leave a comment.
> The Top 11 BDSM Sites: The Best Communities and Personals to get Kinky