We live in the weirdest timeline.
There are plenty of examples to back this up, but one has to be the fact that we have the latest and greatest in engineering for male sex toys, but there is still a hesitancy from men to enjoy them.
It isn't their fault.
The stigma of men, or anyone rocking a penis/prostate, being weak or pathetic for using sex toys is built on antiquated and silly ideas that are rooted in the self-harming tenets of toxic masculinity.
We say those ideas can kick rocks and that you should absolutely try one of these killer male sex toys.
Quick Look at Our Top 10 Male Sex Toys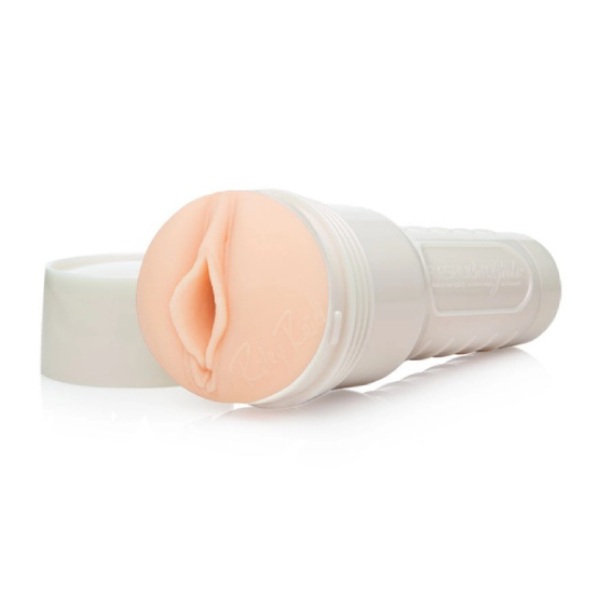 Best Male Sex Toy Overall
Fleshlights are one of, if not the most, popular male sex toys ever. Combining that with one of the world's most popular porn stars makes this a no-brainer for our Best Overall pick.
2 sleeves modeled on Ms. Reid's anatomy
Fleshlight's functional design gives grip & suction
Textured sleeves easy to swap out and clean
$79.95
While other entries on our list have more bells and whistles, Fleshlights are impressive in part because of their simple design and functional engineering.
Easy to use, quick to clean, and discreet enough to throw in a backpack, Fleshlights are top of the line when it comes to pleasing your penis.
On top of all of the benefits of a basic Fleshlight, the Riley Reid edition lets you live out your fantasy of boning a bona fide star.
The Utopia sleeve has an opening modeled faithfully on Reid's vagina with a highly detailed texture inside. The Euphoria is based on Riley's butthole, with a very different, but just as exciting, textured interior.
>>Take a look at this highly-reviewed male masturbator on Fleshlight's site here
2. Aneros Vice 2 – Best Prostate Pleaser Around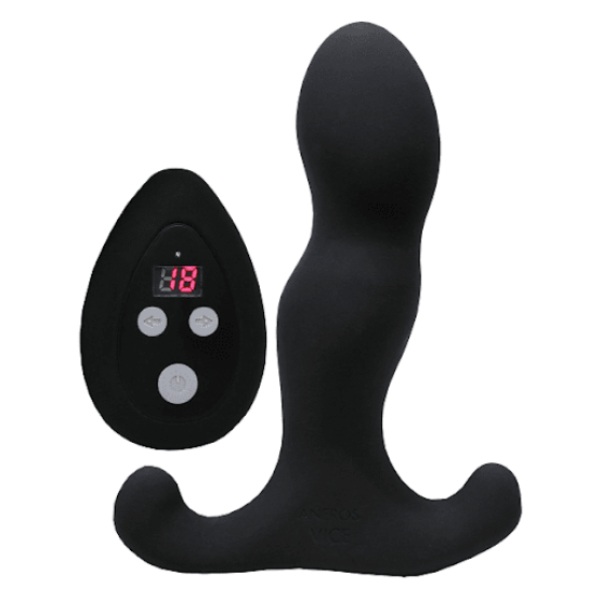 The Aneros Vice 2 is a remote-controlled prostate massager that just hits the spot for hands-free fun.
18 vibration patterns, 4 levels of intensity
No-frills remote makes it easy to use alone or with a partner
Designed to please the prostate & perineum
$119.99
As far as prostate massagers go, the Aneros Vice 2 has everything you need to achieve those whole-body, knee-quaking, eye-rolling orgasms that only prostate play can provide.
It's one of the best men's toys for a reason!
With a smooth silicone exterior and ergonomic design to perfectly hit your P-spot, the Vice 2 and its remote are USB rechargeable so you never need to go hunting for batteries in the heat of the moment.
The remote makes this a great way to enjoy a hands-free experience whether you're alone or having fun with a partner. The remote even comes with a "joy button" so you can customize your own pleasure pattern.
>>Experience prostate pleasure like never before
3. Lelo Tor 2 – Put a Ring on it!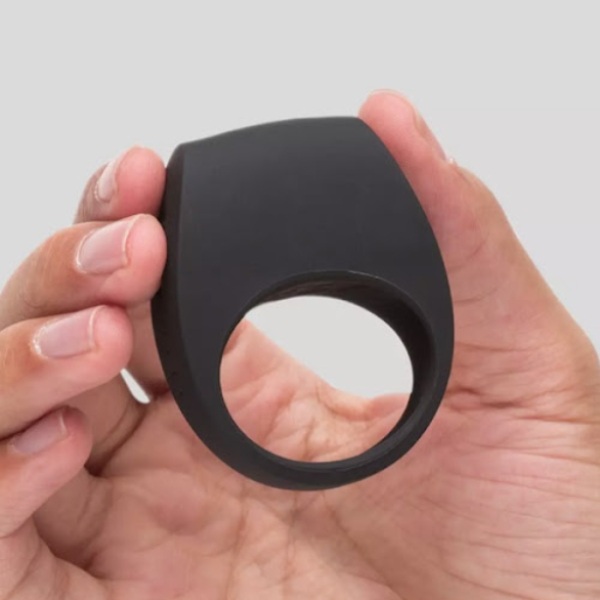 Intuitive button controls
Comfortable fit for any size hardware
Six settings of vibrations for you and your partner
Built to last for only $109.65
Cock rings are a great way to buttress your boner and intensify your pleasure, but the Lelo Tor 2's design and features take things to a whole new level.
Lelo's Tor 2 vibrating cock ring is made from 100% body-safe silicone for a comfortable grip in addition to being waterproof for fun in the shower, tub, pool, ocean, carnival dunk tank, or where ever.
Cock rings already bring a bit of spice to the table by giving you harder and longer-lasting erections, but the Tor 2 is also hiding a powerful vibrator inside to give you and your partner quite the buzz.
With 6 different vibration settings and an intuitive 2-button control, Lelo Tor 2 will turn you into one sexy cyborg.
>>Buy direct from Lelo's site for a great deal on the Tor 2
Check out WebMD for more info about cock ring safety.
4. Autoblow 2 – This IS the Droid You're Looking For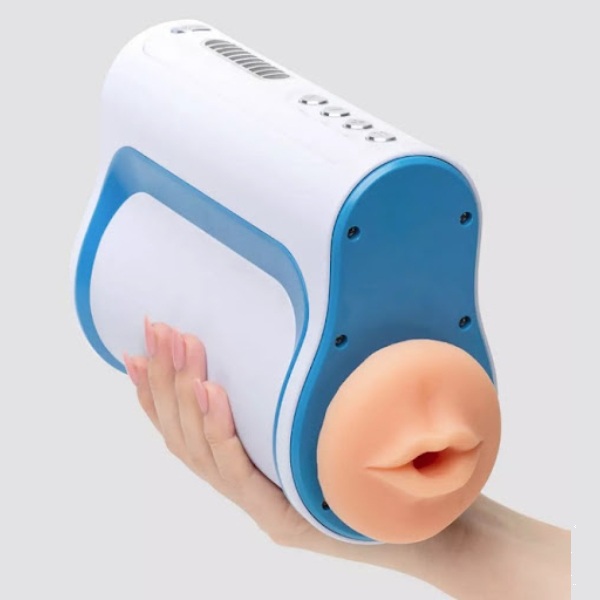 While it may not be the life-like androids we've all dreamed about, this AI-driven bit of kit is one of the most advanced male sex toys on the market today.
Yes, you read that correctly. It's a smart machine for blowing you. Like, how cool is that?
Uses AI-based programming to simulate real blowjobs
Almost infinite stroke variations
Can sync with VR and Online videos
$199.95
The makers of Autoblow 2 claim they have used machine learning to train their blow-bot on thousands of hours of bj footage to provide the most realistic oral experience.
Once connected to wifi, your Autoblow 2 can use a provided library of settings, your own freestyle motion paths, listen for your voice commands, or even sync up to your favorite VR porn for maximum immersion.
The unit that goes on your unit is bulkier than most male masturbators, but that is a small price to pay for the latest and greatest in male sex toys.
If you buy directly from Autoblow's site, you can grab the Autoblow 2 for a surprisingly affordable price along with different sleeves and even a "VR headset" for your phone to get the most out of your Peen-3PO.
>>Get Head From an Automated Male Masturbator Tonight!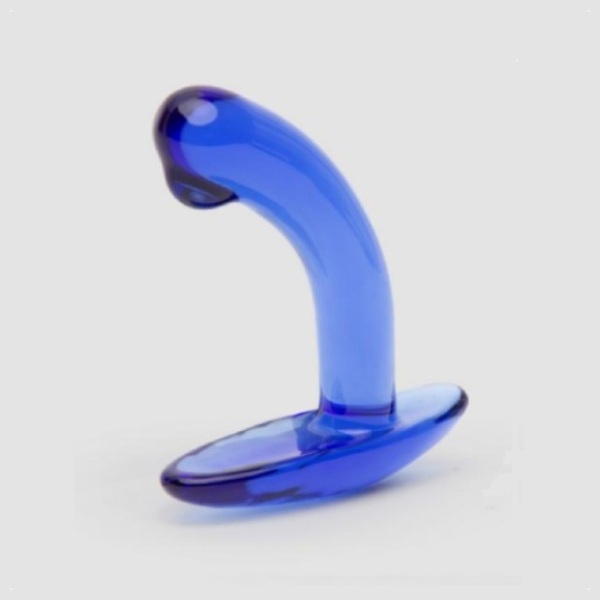 Going from high-tech to as simple as it gets, Lovehoney's Glass Booty Buddy is a fantastic prostate massager that is as elegant as it it is effective.
Borosilicate glass is shatter-resistant, sturdy, hypoallergenic
Cool blue colour
Curved with an added nub for precise prostate pleasure
Very affordable at $24.99
Some might raise an eyebrow at the idea of inserting something glass inside their most sensitive hole, the Booty Buddy is made impressively strong thanks to the borosilicate-based glass and its sturdy structure.
Speaking of structure, the "T" handle that sits outside of your body on this men's toy is easy to manipulate, adds some nice pressure on your taint, and keeps everything securely snug as you enjoy yourself.
The choice to use glass is also a major benefit when it comes to those with more sensitive skin, as it is both hypoallergenic and can be used with any type of lube.
>>Take a gander at the beautiful Booty Buddy Men's Toy here
6. Lovense Max 2 – Male Sex Toy for Long-Distance Lovin'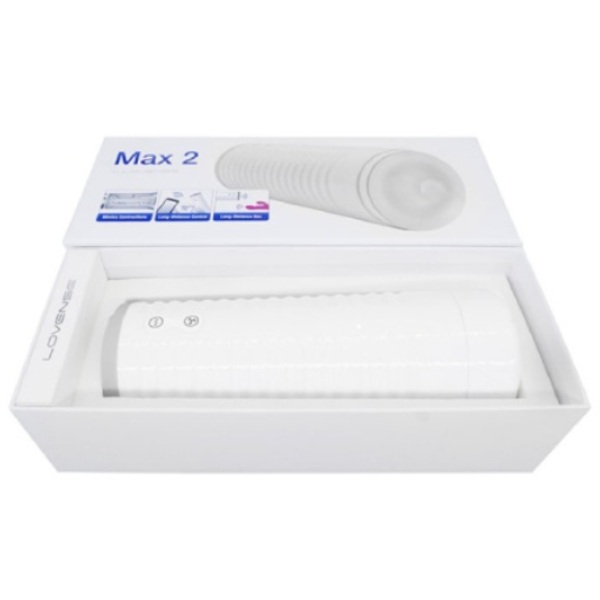 Best men's toy for Long Distance Relationships
Lovense continues their tradition of innovation with their Max 2, a male masturbator that easily connects to their outstanding app from anywhere with wifi for global good times.
Dual stimulation of vibration & contractions
Sync with other Lovense products over Wi-Fi
App-controlled for customizable sensations
$99.00
Lovense Max 2 is thoughtfully designed to give you the most control over your fun, whether you're flying solo or flying thousands of miles from your partner.
Combining app-controlled vibrations along with gripping contractions, the Max 2 feels incredible with the basic app controls, but variety is the spice of life.
And the Max 2 is very spicy.
Between the app's presets, music sync, freestyle, VR and video syncing, and the ability to sync your movements with a partnered device, there is no chance of things becoming stale with this male sex toy.
There are too many features to list here, so run over to Lovense and get ready to have your mind blown.
>>Get the Lovense Max 2 Male Masturbator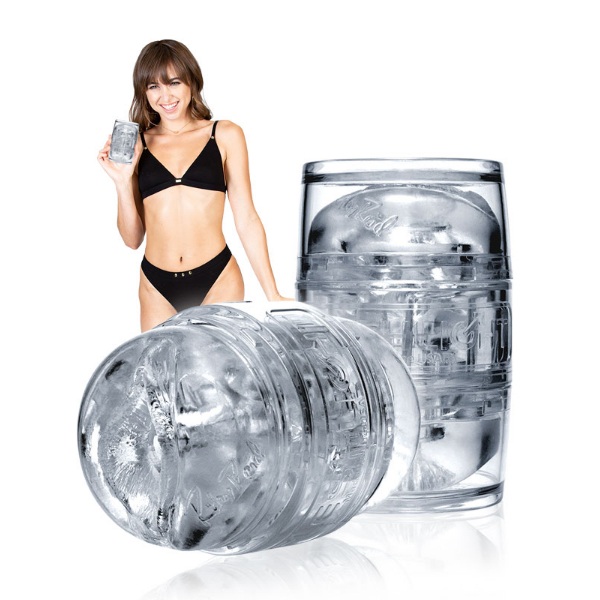 Our girl is back with another mind-blowing male masturbator that can be used solo or with a partner for added excitement.
Features both Riley's vagina & butt
Short enough that a partner could use it as a stroker
Easy to clean
Great value for $39.95
Do sex toys for men need to be modeled after porn stars money makers? No, but it is rad as hell.
With the Riley Reid Quickshot, you get two holes for the price of one with one side recreating Reid's vagina and the other modeled after her anus. The whole device is just under 4.5" long with an open end, so your partner can stroke and suck away.
Combine all of that with Fleshlight's signature SuperSkin textured sleeve, and you'll understand why it's called the Quickshot.
It may not have all the electronic pizazz of other modern male sex toys, but who can argue with getting to enjoy Riley Reid's ass and pussy for less than $50?
>>See for yourself over on Fleshlight's Male Masturbator store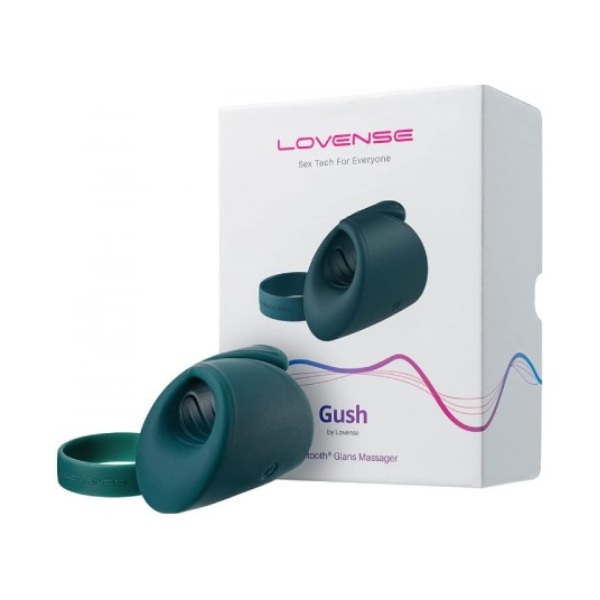 Best men's toy for Travel
The Lovense Gush is one of the best sex toys for men who need to pack light (or hide things easily)!
Small, light, & quiet
Body-safe silicone that is waterproof
Includes silicone band for added pressure
Only $99.00
Playing with your penis was already awesome when it was just your hand, but this male sex toy levels up the fun while being just as travel-friendly as your own meat hooks.
The Gush wraps around your dong while providing pleasing vibrations that build over time. The Gush also comes with a silicone band that gives more pressure and excitement whether you're stroking or just letting the device sit there and do all the work.
It may sound simple, but this male masturbator also boasts Lovenses connectivity features so you can tailor your tingle.
>>See why the Gush will Make You Gush Tonight
9. Tenga Flip Zero – Reinventing the Wheel (of Male Sex Toys)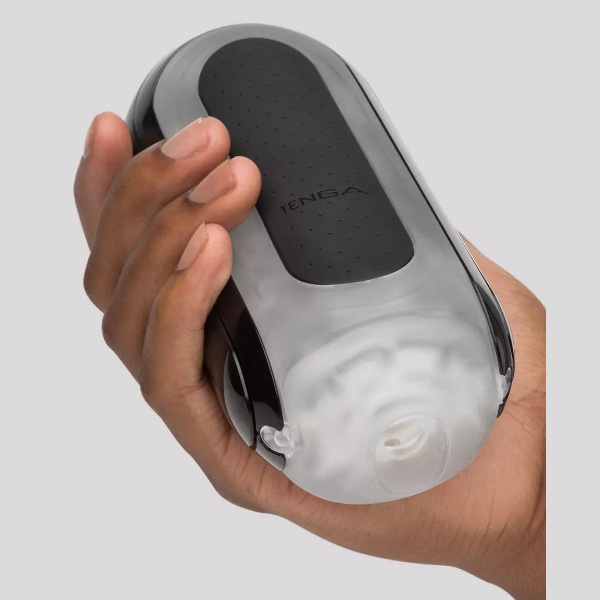 Most Innovative Male masturbator
Tenga Flip Zero changes the game with their unique folding design that makes cleaning, lubing, and using the male masturbator a breeze.
Folding design makes cleaning & lubing easy
Intense insertion sensations
Compression creates a sucking sensation
A steal at $99.00
Most sex toys for men follow a simple form to match the uncomplicated design of a penis. Basically, they come as a silicone tube to slip into.
Tenga flips this idea on its head by designing the Flip Zero to open like an old cell phone, featuring a highly detailed interior texture and one-way air valve so you can control the pressure and suction.
The opening hinge also gives the insertion point more pressure for added sensations.
The flip-open design also lets you get maximum lube coverage without it leaking everywhere.
>>See this engineering marvel for yourself on Tenga's website.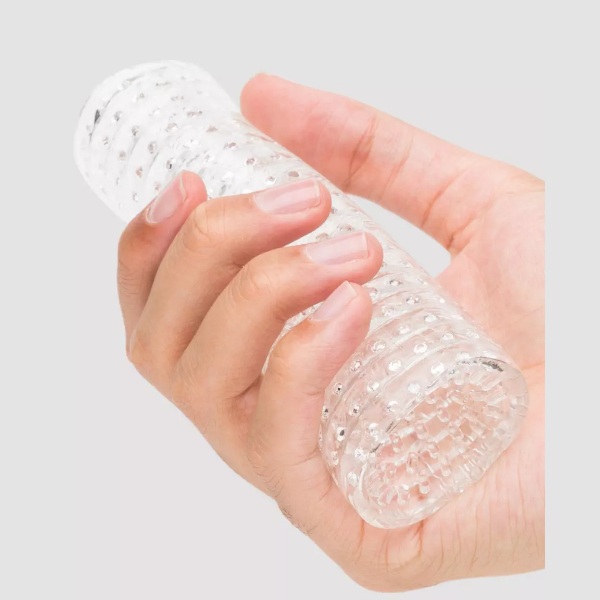 Best men's toys for People Who Don't Want Bells and Whistles
Basics Clear Textured Stroker is as simple as it comes. This male sex toy is a silicone sleeve with a textured interior to add a little something extra to your spank sessions.
Body-safe silicone male masturbator
Easy to clean
Fits all penis sizes
Absurdly affordable at $9.99
It's always nice to see when something does what it says on the tin, even when it comes to male sex toys. This textured stroker may be "basic", but there is nothing wrong with basic when it works this well.
With a soft but exciting texture inside, this stroker can be used when you're alone or with a partner for a hand-jibber that is anything but basic.
The open end doesn't give any suction, but it does mean you can go to town on yourself without the risk of slamming your dick headfirst into a wall. The open end also ensures even people rocking a massive hog won't have issues fitting in.
I'm told that's a big problem.
>Get back to basics with this simple male masturbator!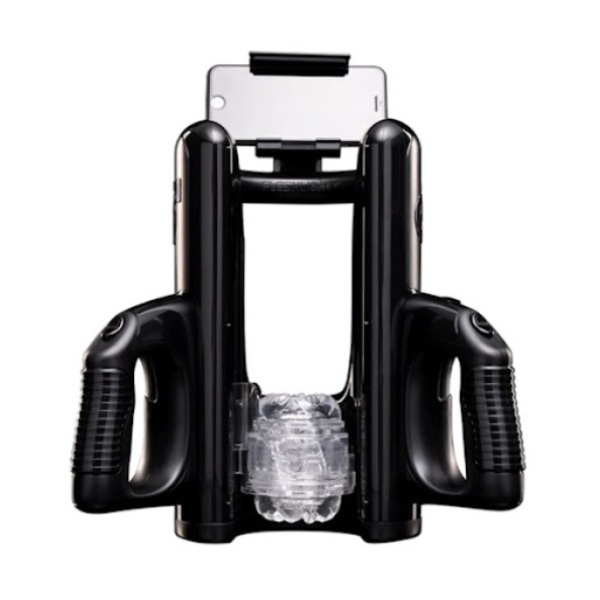 Best men's toy for Enhancing Oral Sex
Fleshlight's Quickshot Vantage is a great male sex toy for taking things up a notch, especially if you have a playmate.
Compact design lets your penis poke out for more play
Double openings make it easy to clean
Guys with super-girthy dongs (more than 5") might have trouble
$34.99
This stroker has everything you could want for enhancing masturbation, but what makes this toy stand out is how you can use it to make blowjobs even better.
With your wang going all the way through, your partner can suck and slurp while the intensely textured sleeve strokes your shaft. The Superskin material feels even smoother than silicone, giving maximum comfort.
Another benefit of the open ends is that cleaning this thing is a cinch as water can just flow through naturally.
>>Take ad-Vantage of this incredible male sex toy, available in Fleshlight's store now.
12. Lovense Edge 2 – Electric Booty Boogaloo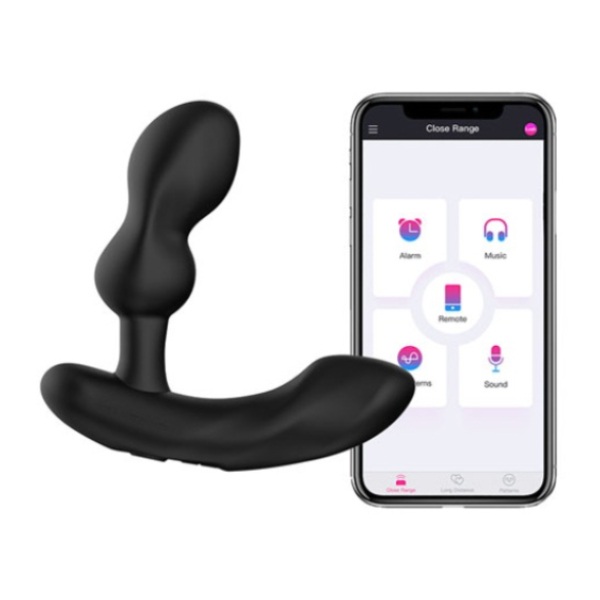 Best App-Controlled Prostate Vibrator
The Lovense Edge 2 outdoes its predecessor with more advanced features and functionality so you and your partner can bring each other to the brink anytime and anywhere.
Dual motors for both the prostate & perineum
Silicone is body-safe, waterproof & easy to clean
Improved app connectivity
Available on Amazon for $129.00
Men, or anyone with a prostate, can immediately see why this toy is so cool. Precision design for maximum stimulation on both your prostate and your gooch with independent motors gets even better when you add the near-infinite variety the app offers.
Linking to the app also means the distance between you and your beloved is no longer an issue. Let your lover play your butt like a DJ as they change up the intensity and vibrations from anywhere with Wi-Fi.
>>Get the Lovense Edge 2 Anal Men's Toy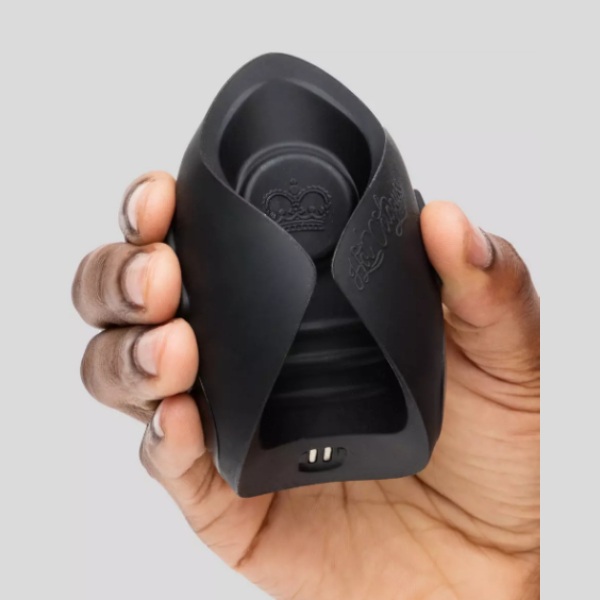 Best Male masturbator for Solo Missions
The Kiiroo Hot Octopuss X Pulse Solo Interactive Male Masturbator does sound like a lost Anime, but this vibrating male sex toy will have you going Super Saiyan in no time.
Easy to travel with
Syncs with thousands of 2D & VR videos
Can partner with other Octopuss Xs for fun with a friend
Higher-end sex toy at $179.99
The KHOXPSIMM (wow, that didn't help at all) may sound intense, but that's only because it is.
Wrapping around your penis, the male masturbator device vibrates with Kiiroo's patented PulsePlate technology and offers five different patterns at 8 intensity levels.
Like most sex toys for men, the power is in the palm of your hands with the Octopuss X's app connectivity. The device can even connect with another Octopuss X for partnered penis play.
Not the most important thing, but I do love the embossed crown on the inside of the sleeve. Makes my dick feel like a little prince.
>>Explore male masturbators over at Lovehoney
14. Cobra Libre II – More Than "Just the Tip"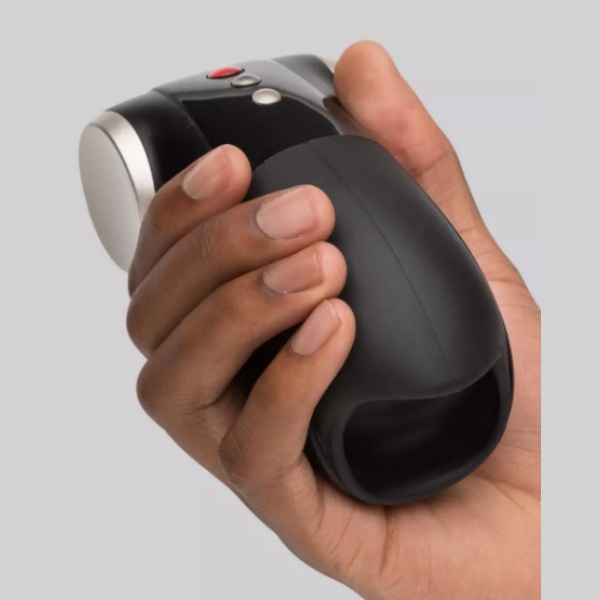 The Cobra Libre II is a sex toy for men that focuses on the most sensitive bit of your bits: the penis head.
Dual motors for maximum excitement
Can be used when you're flaccid
Waterproof
Priced at $129.99
The focused vibrations provided by the Cobra Libre II may only cover a small portion of your penis, but it makes the most of that minimal landscape.
Obviously, the tip of your penis is the most sensitive, so it makes sense that this male sex toy would do the trick, but there is so much more that can be done with this toy than a focused burst of pleasure.
The dual motors bring enough power to the party that your partner could join in on the fun by grinding on you while the device is on. If you are the one having their back blown out, using the Libre II will help avoid awkward reach-arounds.
>>Get the Cobra Libre II men's toy here
Best Men's Toy for Leveling Up Your Jerk Sessions
The TRACEY COX Supersex Stroker is a tight-fitting and clear male masturbator that is perfect for anyone who wants a little something extra when taking care of their own business.
Open ends to fit all sizes
Ribbed and textured interior for maximum sensation
Textured exterior for better grip
Affordable at $29.99
Everyone needs to release a little stress every now and again, and a quick rub-and-tug will do the job. The TRACEY COX Supersex Stroker will do more than just tide you over, it will make you feel like you spent the day at a spa with how good it feels.
Silicone strokers like these are everywhere, but I especially appreciate the thought put into making the outside extra-grippy for letting lubed hands get down to business.
>>Try for yourself by picking up this male masturbator today!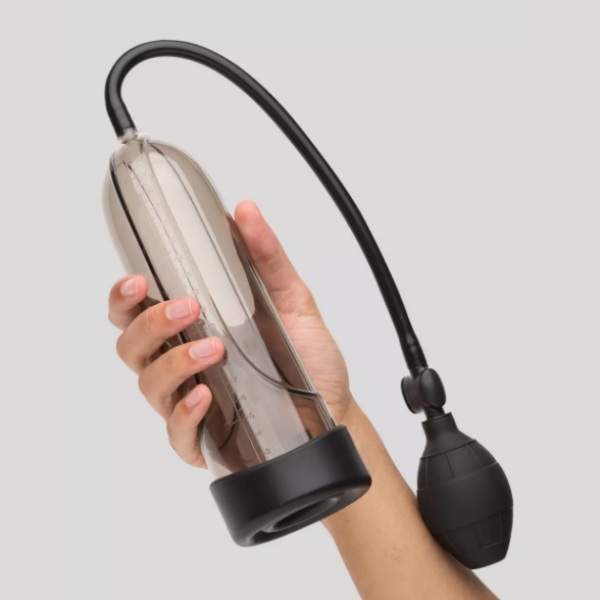 If penis pumps are your bag, then you can't go wrong with the TRACEY COX EDGE with automatic suction.
Compact automatic design
Silicone sleeve for comfort and suction
May enhance erections and stamina
Quality buy for $99.00
Penis pumps are a special genre of male sex toys because they act like a "gym" for your junk, using suction to force blood into your penis and temporarily making it seem bigger and harder.  
Many folks looking to bring more to their boner use penis pumps, but more than that it just feels good. The EDGE pump actually has a sleeve available just for fun.
Another cool feature of the EDGE penis pump is the fact that it is automatic, while most penis pimps have that little squeeze ball they use to take your blood pressure.
>>If you're considering getting a pump, we recommend checking out the EDGE here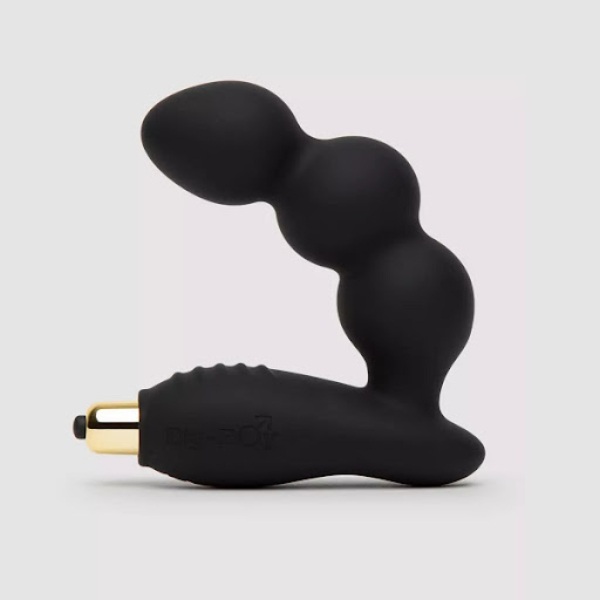 Best Men's Toy for Advanced Prostate Players
The Rocks Off Big Boy is a bigger, badder prostate massager for those who already have some experience with butt play.
Bulbous shape for added sensation
Removable vibrator
Pleases the perineum as well as the prostate
Available on Amazon for $41.89
Big Boy is an apt name for this girthy male sex toy boasting 8 inches of length. Add the bumpy, bulbous shape and the slight bumps on the taint-tickler, and you have a winning combo for your booty.
The removable bullet-style vibrator gives you plenty of added options and makes cleaning the toy even easier, letting you get into every inch of the toy. The silicone material provides a comfortable fit while being body-safe.
>>Grab this men's toy for yourself here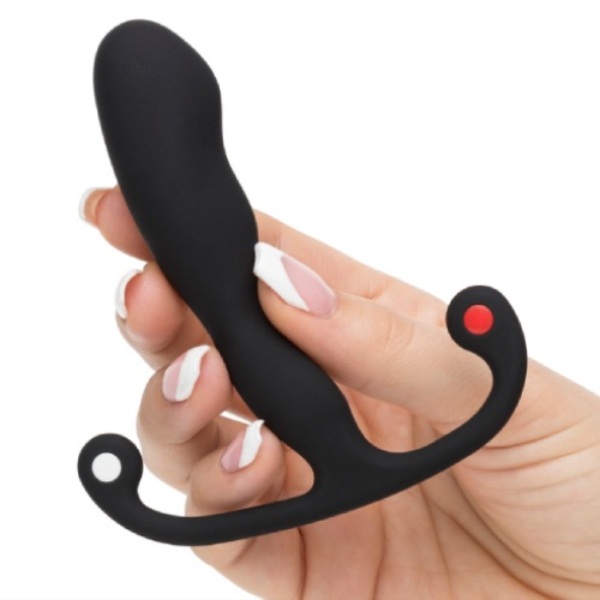 Best Basic Prostate Massager
While it may not have the added benefits of vibration, the Aneros Helix Syn Trident is perfectly designed for maximum backdoor fun.
Ergonomic design for accuracy and comfort
Smooth silicone coating
Outer handles offer a secure fit
Worth every penny at $55.99
The Syn Trident is one of those male sex toys that doesn't need to be complicated to be amazing. The perfectly designed body gives you pinpoint accuracy while the handles on the outer end keep things from slipping too deep.
The handles also provide added pressure on the gooch for extra sensation. Trident's silicone body makes it comfortable and easy to clean.
>>Pick up these men's toys for yourself over at Aneros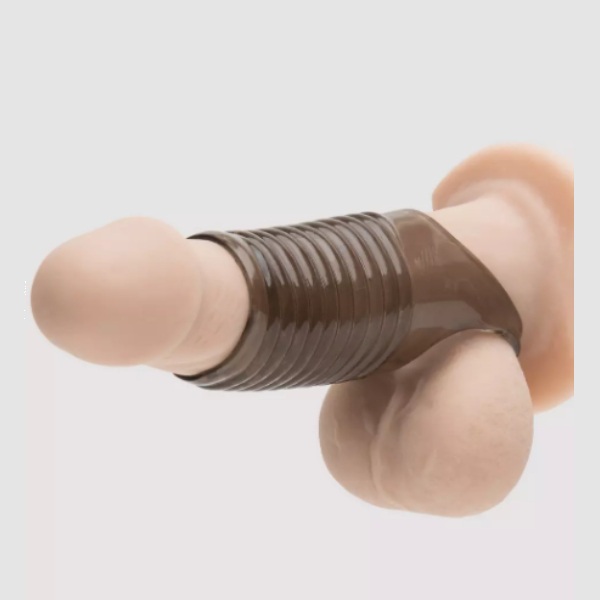 Best Textured Penis Sleeve
This is a different kind of male sex toy for people with a penis to add a bit of spice to their, already I'm sure, impressive package.
Ribbed for everyone's pleasure
Snug but comfortable fit
Ball ring adds secure fit during sex
Only costs $14.99
Unlike male sex toys that are focused solely on the person putting the toy in or on themselves, the Lovehoney Stimulation Enhancer is meant to be enjoyed by everyone involved.
Meant to be worn during partner play, this textured sleeve boasts some intense-looking ridges that crank up the sensations while you pump away. The ring around your sack will keep the sleeve in place no matter how hard you are throwing that D.
>>Check out Lovehoney's affordable male masturbator here
20. Lelo Billy 2 – Your Best Butt Buddy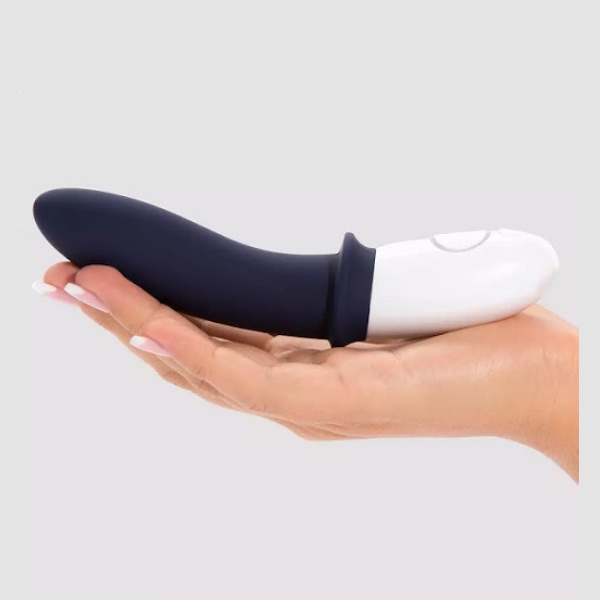 Best Men's Toys for Solo Anal Fun
The Lelo Billy 2 doesn't mess around when it comes to prostate please with its intuitive controls and ergonomic design, making it a great pick for your first electric prostate massager.
Completely waterproof for fun in the shower or bath
Intuitive 4-button control
Premium silicone body that feels warm to the touch
Worth the $149.00 investment
While not as curvy as some other prostate massagers, the Billy 2 certainly hits the spot. The price tag might be higher than expected, but as the old saying goes, you do want to invest a bit on something going inside your butt.
It's also one of the larger anal sex toys for men, if you're into that!
The intuitive functionality is a major plus for the Billy 2. The raised buttons on the outer handle let you switch up the intensity and patterns without needing to scramble and fumble about.
>>Check out this high-performance male sex toy
21. Aneros Progasm – Analog Anal Awesomeness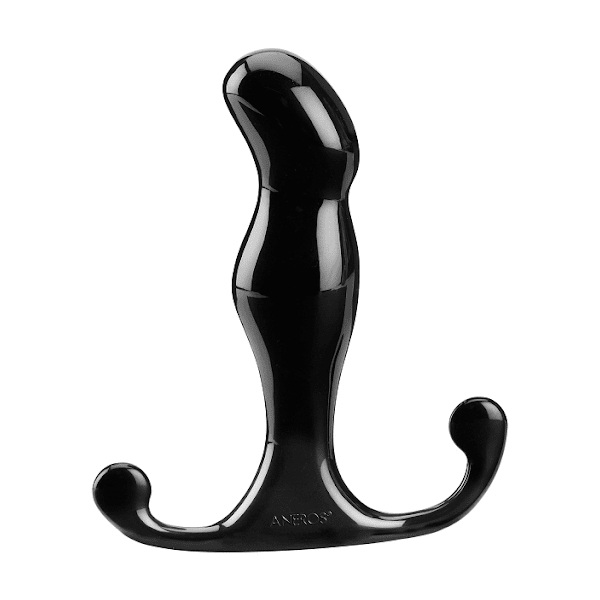 Best Prostate Massager for Newbies
With all of the style of modernist sculpture, the real beauty of the Aneros Progasm prostate massager is its simplicity.
Rounded end for easy entry
Solid build
Handles offer secure fit and easy manipulation
Solid buy at $14.99
No batteries or remotes needed here. The Aneros Progasm is simple as can be without sacrificing a mind-blowing experience. Shaped perfectly to fit securely while you have fun, the bulbous tip hits your p-spot with insane accuracy.
As the name implies, it's intended for users who aren't knocking on the P-spot for the first time! Why? It's large, stiff, and requires some muscle control to really kick things off.
The outer handles are wide enough for your hands to grip and move the massager around, but not so big you feel like you're passing a boat anchor.
With one tip of the handle putting pressure on the taint, the other provides an acupressure sensation to the tip of your tailbone to send shivers up and down your spine.
>>Pick up these men's toys for yourself at Aneros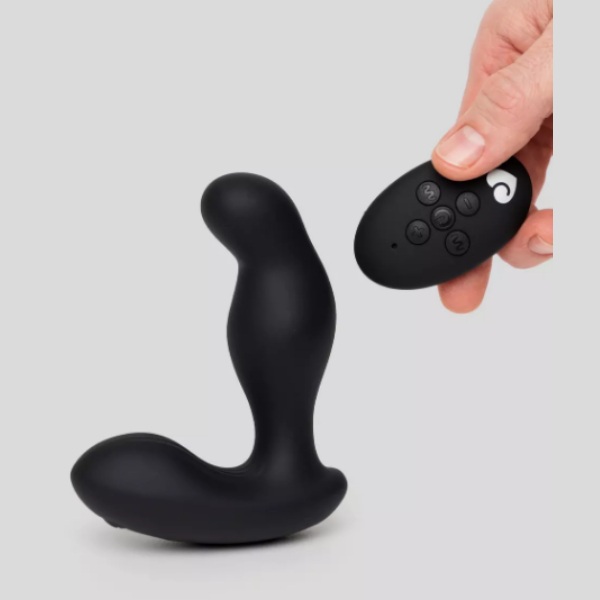 Best Rolling Prostate Massager
This male sex toy will make you feel like you have more than an Ace up your sleeve with the High Roller's rotating head.
3 vibration speeds & 7 patterns
Rotating head massages your prostate for you
Premium silicone exterior
$79.99
We've looked at a lot of prostate massagers and similar sex toys for men, but Lovehoney's High Roller stands out thanks to the wonderful addition of a rotating head that does all the hard work for you.
The head smoothly massages your prostate, providing a hands-free experience. You can use the intuitive remote to switch up the vibrations and stroking patterns while the flared base keeps everything where it should be.
>>Push your chips in and grab your own High Roller over at Lovehoney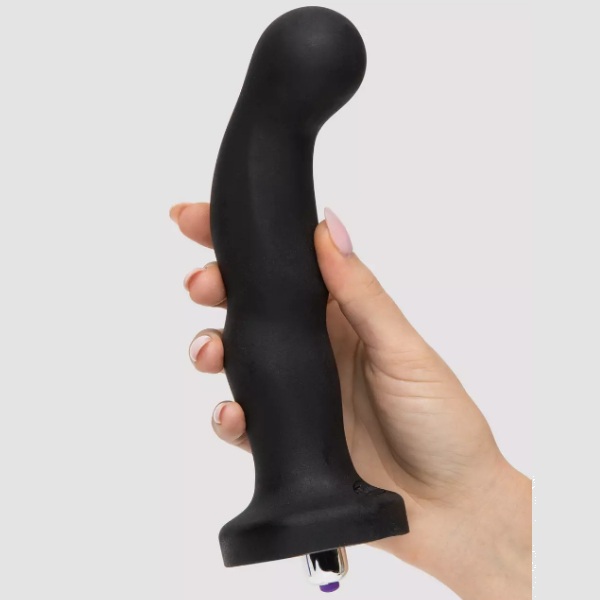 Best male sex toy for Couples
The Tantus Silicone P-Spot Anal Vibrator has more going on than you'd initially think.
Removable bullet vibrator
Unique shape for maximum pleasure
Can be used as a strap-on for pegging
Solid buy for $59.99
The TANTUS Silicone prostate vibe may look like an alien finger, but the fun you can have with it is out of this world. Designed to hit either the G-spot or P-spot, the smooth silicone build provides a luxurious feel while the bulbed end stimulates with accuracy.
The flat base holds a removable vibe that when taken out allows the TANTUS to be used with a ring for strap-ons, giving your penisless partner the reigns. Pegging is a fantastic way to explore new power dynamics and anal play.
All of that combined makes this a no-brainer when looking for new male sex toys.
>>Get to LoveHoney and give this men's toy a go!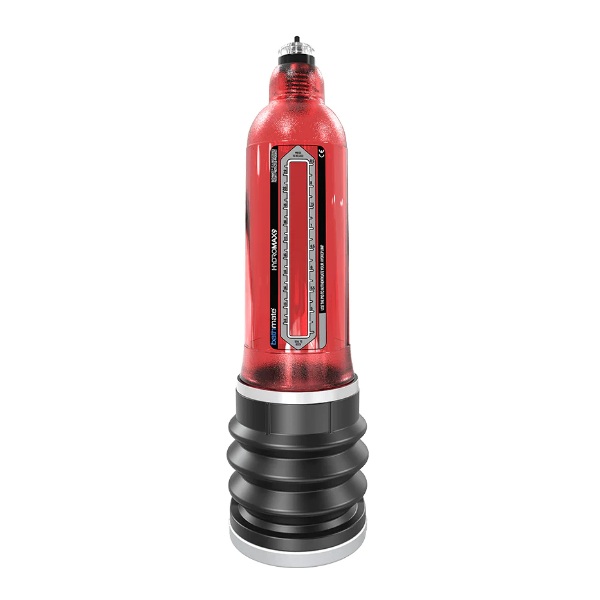 Best Penis Pump for the Well Endowed
Penis pumps already offer added length and girth, but what if you're already packing a pet iguana down there? The HydroMax 9 has you covered.
Made for those dragging around a max length of 9" and girth of 7.5"
Hydraulic manual pump
Measuring tool on the outside to track progress
A bit more of an investment at $209.99
It is hard to imagine someone hauling an absolute monster between their legs wanting to use a male sex toy like penis pumps. That might be true if their only looking to add size, but think about the amount of blood needed to keep that ship's mast upright.
It's a LOT.
This pump can help with its comfortable entry point and added measurement gauge to track any progress. The pump is not automatic, but instead of the typical pumping bulb, the intuitive seal lets you pump your junk like you normally would.
If you're packing heat and want to pour some fuel on that fire, definitely check out the HydroMax 2.
>>Get these unique men's toys here!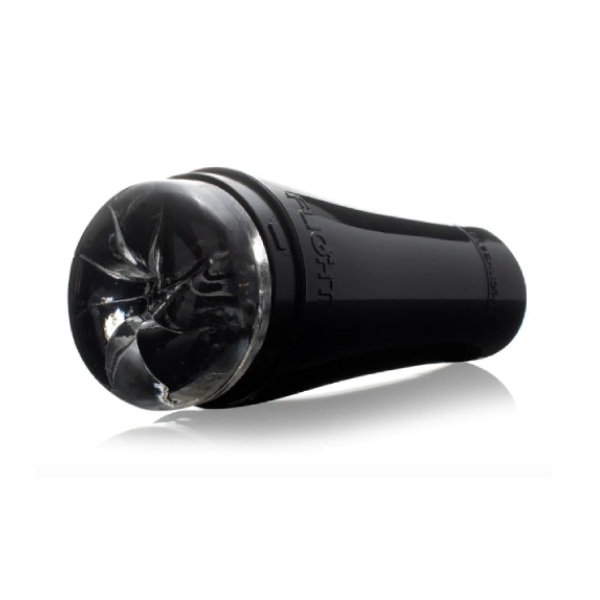 Best Beginners Fleshlight
The king of male masturbators is here with their basic but brilliant Flight Pilot.
Patented SuperSkin silicone-like material
Discreet design
Hyper-textured interior
A bargain at $54.95
The Fleshlight Flight series is an improved version of their original male sex toy, with a smaller and sleeker design so you can fly under the radar.
There may not be any vibrations or automatic movement, but the classic Fleshlight engineering is so good you won't miss those electronic additions.
The interior texture is an exciting combo of bumps, ridges, fingers, and varying widths to help your lil' pilot Charlie-Umbrella-Mike.
>>Join the mile-high club from the ground today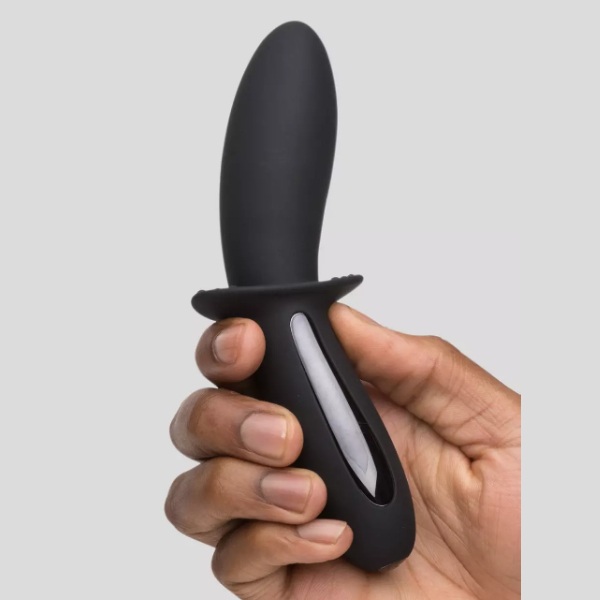 Best Straightforward Prostate Vibe
The Mantric P-Spot Vibrator may seem simple, but it packs a punch of prostate-pleasing power.
Ergonomic design
Waterproof silicone body
Rechargeable
Great value for $69.99
Much like the Billy 2, this male sex toy is a smooth operator with a club shape and control handle. The silicone coating makes for a smooth as silk entry while the hilt keeps everything in place.
The flared outer hilt also features small bumps for added sensation on your taint.
The fact that it's rechargeable means you won't be left high and dry in the middle of your fun and have to dig through that drawer for fresh batteries.
>>The Mantric can be found at a very reasonable and fun-to-say price here
27. FUN FACTORY Manta – The Magic Wand of Male Sex Toys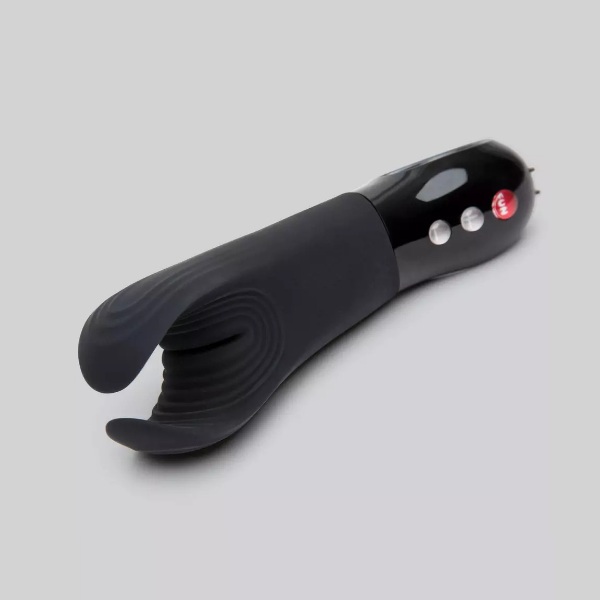 Best Vibrating Stroker Men's Toy
The unique design of the Manta may be the first thing that catches your eye, but wait until you see how this vibrating stroker can bring some added magic to the bedroom.
Great for solo fun & couples
Design helps hold lube on the toy
One size fits all
A worthy addition for $139.99
Most of the sex toys for men are shaped pretty similarly, but the Manta from Fun Factory does a bit of engineering sorcery to bring the best buzz to you and your playmate.
The top of the toy acts like a loose cock ring that wraps around your dick while sending strong vibrations through you. The ridged end not only helps focus the points of pleasure, but also holds onto the lube to avoid dry spots.
The unique shape also makes it ideal for adding some panache to blowjobs without getting in the way.
>>Check out the Manta on Fun Factory's website here.
Boys and Their Toys – Which are the Best Men's Toys?
2023 is a marvelous time to explore the world of sex toys for men. But which are the best male sex toys of all? Which men's toys stand above the rest?
With cutting edge technology and functional design, there's no shortage of fun to be had. Male sex toy procucts like the Fleshlight Riley Reid and Aneros Vice 2 are all highly rated, well tested, and just damn good.
Whether you're into anal play, want something to spice up your relationship, or just want to treat yourself with a mind-blowing wank, you'll find something to enjoy here with all of these lovely sex toys for men.
Stay safe and enjoy!