As male sex toys continue to increase in popularity, more men are opening up to the idea of experimenting with different types of sex toys for men.
The good news is that there is no shortage of quality sex toys to spruce up solo or couple's play. The bad news, however, is that knowing which sex toy feels best can take years of trial and error.
And you don't want that, neither do we!
To help you out, we look at different types of male sex toys out there, examining their top features, advantages, and possible drawbacks.
Let's dive in!
Male Sex Toy Products –  What Can I Expect?
There's a wide range of male sex toy products ranging from penis masturbators to prostate toys, penis vibrators, and even cock rings.
Let's take a quick look at some of the main sex toys for men on the market.
Male Masturbators
Male masturbators, popularly known as penis masturbators, are sex toys for men designed to stimulate the penis during solo play. They come in different types and sizes, with most featuring a compact design for both ease of use and portability.
Manual Stokers vs Automatic Male Masturbators
Manual strokers are similar to automatic male masturbators in that they feature soft, stretchy sleeves made of TPE, silicone, or other soft, hypoallergenic materials.
The main difference between the two types of sex toys for men, however, is that automatic male masturbators are designed for hands-free use because they are motorized.
Prostate Toys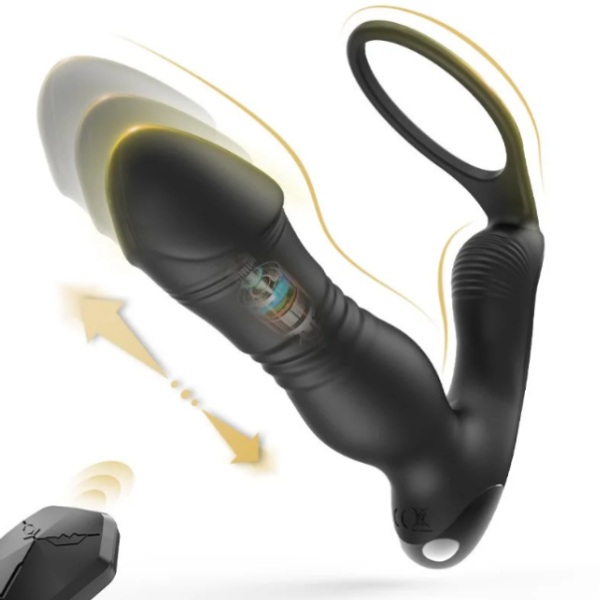 Also known as prostate massagers, these anal sex toys for men are primarily meant for prostate (P-spot) stimulation. They mostly feature a curved, bulbous design to provide maximum stimulation by targeting the prostate better.
Vibrating Vs Manual Prostate Massagers – What's The Difference?
The main difference between vibrating and manual prostate massagers is their functionality. Manual prostate massagers are simply slid inside the anus and secured in place by the usually flattened base.
These sex toys for men stimulate the p-spot as the user goes about their day-to-day activities. Alternatively, you can use your pelvic floor muscles to stimulate your P-spot with the toy.
Vibrating prostate massagers, on the other hand, come with varying vibration and speed settings that are adjusted via a remote or on the device.
These sex toys for men tend to provide varied and intense stimulation to the prostate and perineum and are mostly recommended for intermediate or advanced users.
Penis Vibrators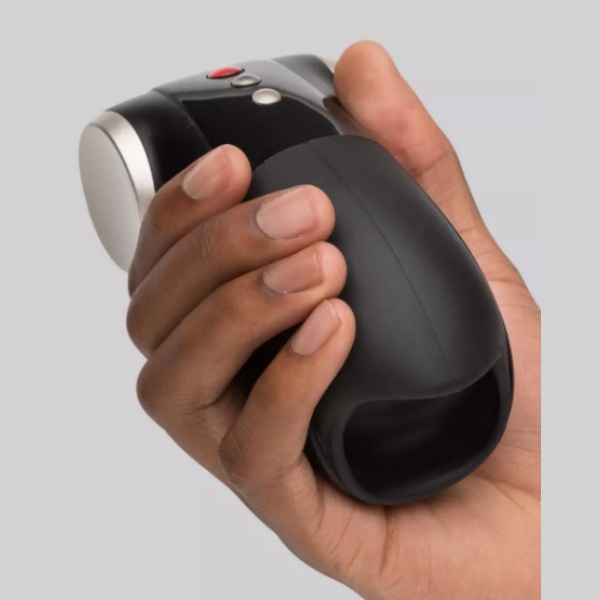 Penis vibrators are male masturbators that work by stimulating the penis through vibrating sensations. These male masturbators can be used for solo or couple play and usually feature motors that create vibrating patterns.
Unlike strokers that are mostly meant for manual play, penis vibrators are ideal for hands-free play and are battery-powered.
Cock Rings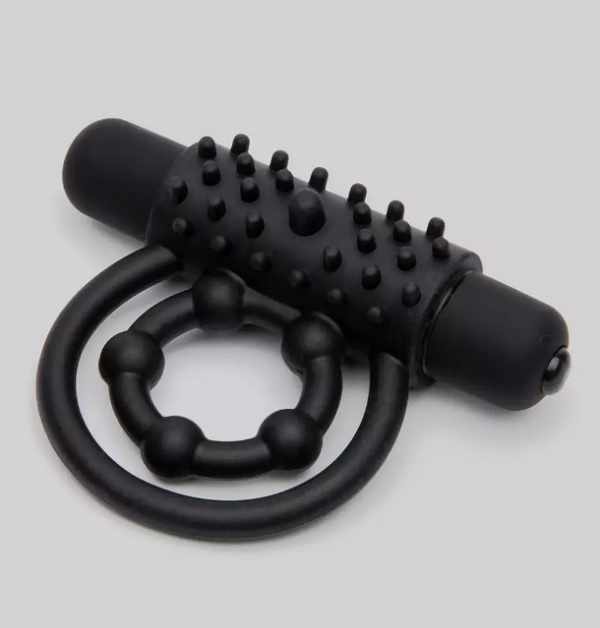 Cock rings are male sex toys that are usually positioned at the bottom of the penis. Some users place cock rings around the testicles and penis.
Cock rings work by restricting blood flow and come in a wide range of styles like vibrating cock rings, adjustable cock rings, or just simple bands.
Why Do Men Wear Cock Rings?
Men wear cock rings for a variety of reasons, top of them being to improve sexual performance by making erections harder.
While most men use cock rings to slow down ejaculation, others use cock rings for additional pleasure during solo or couple play. They can also be used to help ED (erectile dysfunction) and help some man to last longer before ejaculating.
For some, cock rings are a real lifesaver.
VeryWellHealth has more info on Cock Rings For Erectile Dysfunction.
First Look at the Best Sex Toys For Men
1. Lovense Max 2 – Best Male Sex Toy Overall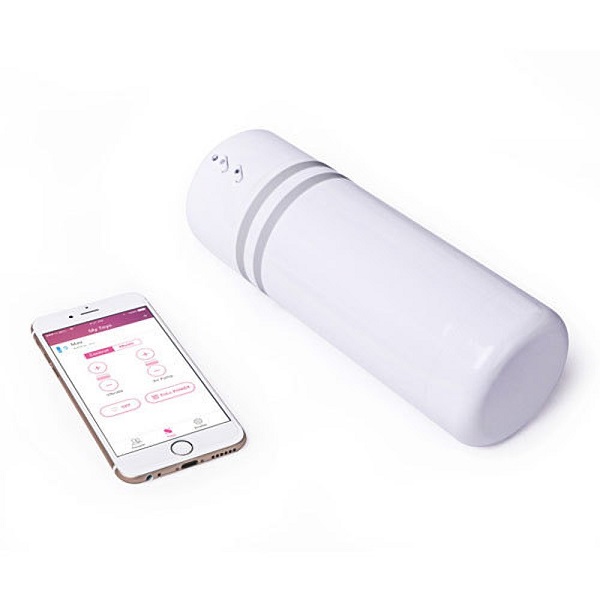 Top Features 
Adjustable contraction and vibration settings
Suitable for solo or long-distance play
Unlimited vibration patterns
Powerful battery (lasts up to 4 hours)
Cost
One of the best male sex toys online, the Lovense Max 2 is one powerful automatic vibrating/cock-sucking machine that's guaranteed to blow your mind away.
Despite its potentially intimidating design, the Lovense Max 2 is pretty easy to use as it only comes with 2 buttons. You can use one button to regulate the vibrating speed while the other helps you control the amount of suction.
Convenient.
Oh, and you'll love the multi-textured sleeve that's guaranteed to give you a heavenly sensation. While the package comes with a neutral hole sleeve, you can amp up your play by purchasing a vagina sleeve separately.
It's also perfect for solo play and long-distance control, while its digital integration makes it all the more appealing to connoisseurs of interactive adult games or videos.
One thing to keep in mind about this male sex toy is that it isn't entirely hands-free, as you'll need to stroke as you bring yourself to orgasm.
>> Take your solo or couple play to the next level with the Lovense Max 2<<
2. Fleshlight STU Lady – Best Male Sex Toy For Increasing Sexual Stamina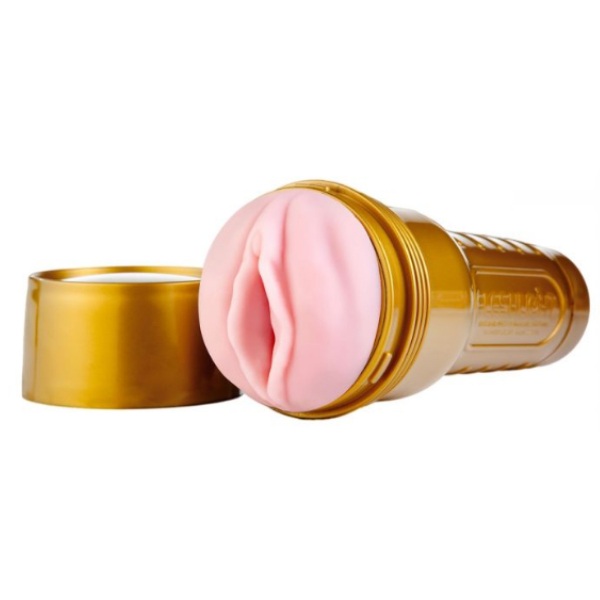 Top Features 
Lady orifice featuring the ultra-soft SuperSkin sleeve
Comes with instructions for use
Classy gold casing
Easy to clean and use
Cost 
Practice makes perfect, and the Fleshlight STU Lady is probably your best if looking to up your bedroom game.
Featuring Fleshlight's patented SuperSkin sleeve, you'd be forgiven for thinking you're penetrating the real thing.
It's easy to clean and use, so what more could you ask for?
No buttons, no potentially confusing designs, just you and the silky soft lady orifice, let the games begin.
Although easy to use, Fleshlight made sure to attach a detailed user guide to instruct you on proper usage and perhaps even more importantly, maintenance.
>> Get the Fleshlight STU Lady and build your stamina effortlessly <<
3. Autoblow AI – Best Male Sex Toy for Automatic Stimulation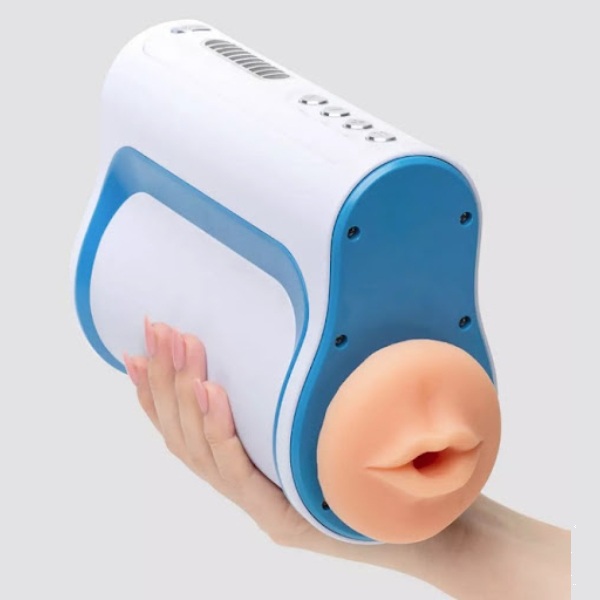 Top Features 
Uses AI to create a personalized experience
Interchangeable, easy-to-clean silicone sleeves
Designed for a full stroke (top to bottom) experience
Remote & voice control features
Cost 
Nothing beats sitting back as an AI-inspired male sex toy takes things in its own-hands, well at least figuratively.
Featuring 10 intensity levels, your work will be choosing the most fulfilling oral sex techniques from full stroke to bottom stroke, top stroke, and a lot more.
Automated blowjobs have never been better!
We like that the Autoblow AI isn't battery-powered, as its lengthy power cable means you can fire it up in different positions, without having to worry about the battery running out.
No need to worry about the Autoblow AI's rather intimidating look, as it's pretty easy to clean too. A nice bonus!
>>Check the updated price for the Autoblow AI<<
4. Lovense Edge – Adjustable, Easy to Use Prostate Massager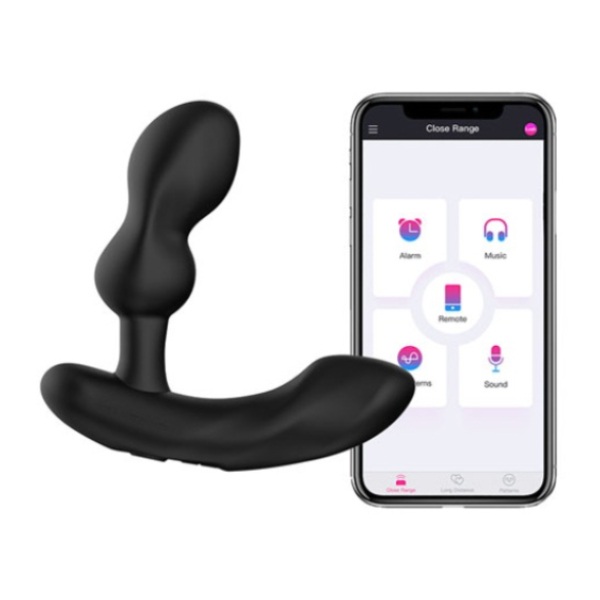 Top Features 
Adjustable and easy to use anal toy
100% waterproof
2-separate motors to stimulate the prostate & perineum
Bluetooth control and internet control (for long distance)
Cost 
The Lovense Edge remains one of the best prostate massagers in the game, and for a good reason too.
The anal toy comes in 2 adjustable sizes, which allows for proper customization. You decide how you want it to stimulate your prostate and perineum.
Convenient.
The smartphone control feature is also a massive steal, as it allows you to access thousands of vibration patterns while creating your own unique patterns. Plus, you can also adjust the intensity of the anal toy.
In a long-distance relationship? No problem!
Make use of the Lovense Edge's internet control feature that puts the power in your partner's hands, regardless of the geographical distance.
Couple's play has never been better, and quieter!
>>Get the Lovense Edge today for a tantalizing prostate massage<<
5. Aneros Helix Syn V – Best Prostate Massager For Beginners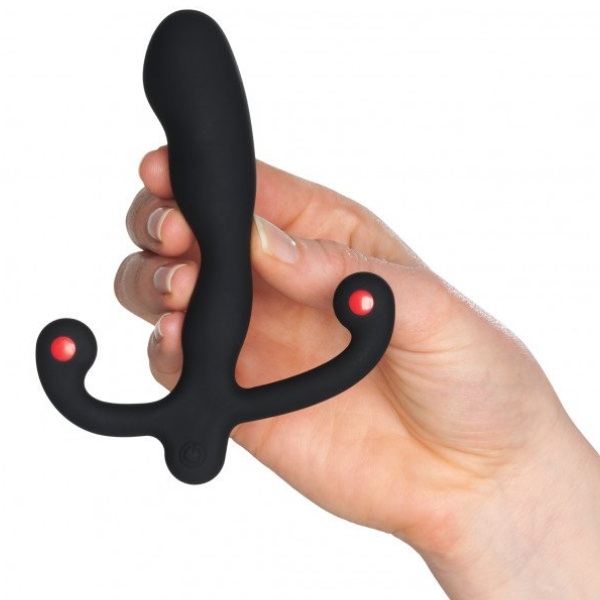 Top Features 
Angled head for intense stimulation
Designed for dual stimulation (prostate and perineum)
Easy to use anal toy
Perfect for hands-free use
Pricing
You don't get many comfortable and easy-to-use prostate massagers like the Aneros Helix Syn V, which comes with a 3.6-inch insertable length.
The anal toy is made of body-safe silicone that besides being easy to clean, is also hypoallergenic and durable.
But it's the angled head that makes the Helix Syn V stand out. Its design is perfect for the male body, providing a sensual, hands-free massage as you go about your business.
Your prostate and perineum couldn't ask for more.
Just slide the anal toy inside, and let it do the rest – as you 'rest' your muscles of course!
>>Check the best price for the Aneros Helix Syn V here<<
6. LoveHoney High Roller – Best Rotating Prostate Massager with Remote Control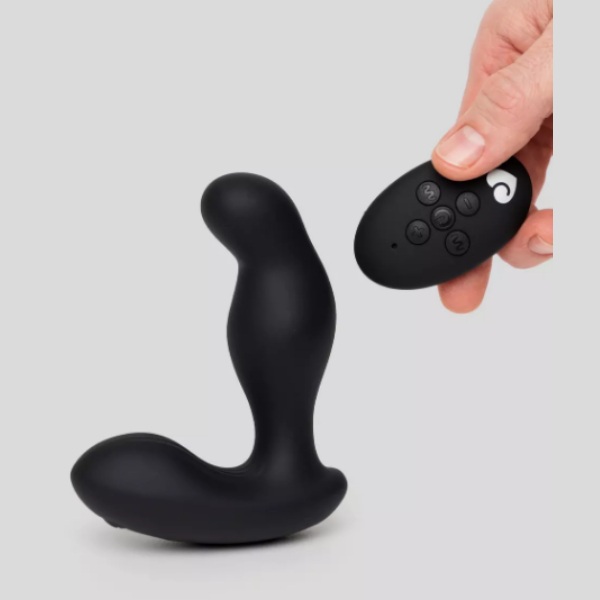 Top Features 
7 vibration patterns & 3 speeds
Curved shaft has a bulbous tip for enhanced play
Comes with remote control
Textured base for perineum stimulation
Cost 
Teasing and pleasing your P-spot is always a challenge, and that's where the High Roller cums in. Featuring a curved shaft and a bulbous (rotating head), the anal toy is designed for pinpoint stimulation.
In addition to the circular stroking motion, you can choose between 7 vibration patterns and 3 speeds to truly customize your experience.
Oh, and you'll love the rounded, well-textured base that provides that much-needed tingle to your perineum.
Just slide the anal toy in, and make the most of your remote control.
Remember that while the LoveHoney High Roller is waterproof and capable of handling large splashes of water, the remote isn't, so you might want to be careful with it!
>>Check out the best price for the LoveHoney High Roller here<<
7. Lelo Billy 2 – Most Versatile Prostate Massager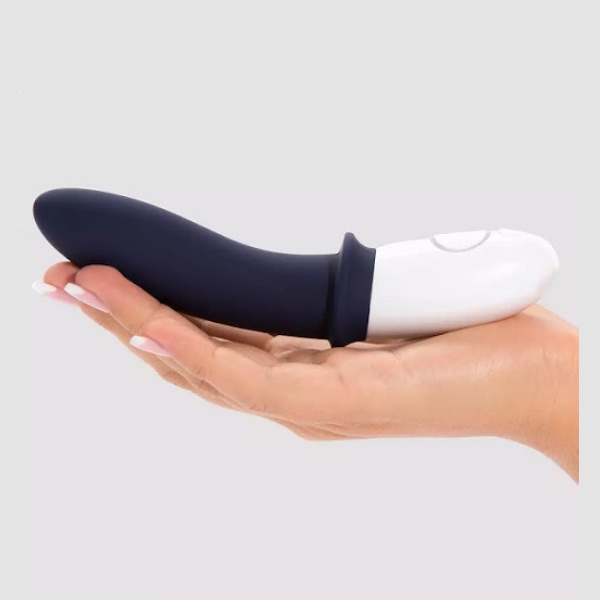 Top Features 
8 unique vibration settings
100% waterproof
3.9-inch insertable length
Whisper-quiet anal toy
Cost 
Designed for the more experienced user, the Lelo Billy 2 promises to take your prostate massage sensations to new levels, courtesy of its 8 vibration settings.
Finding your sweet spot has never been easier.
As a 100% waterproof anal toy made of body-safe silicone, the Lelo Billy 2 is the perfect companion for shower or bath play.
No need to worry about charging, as its 500 mAh battery will keep you sorted for up to 4 hours. 
Convenient.
And the anal toy is pretty quiet, too, regardless of the vibrating setting you choose. Just remember to apply a generous amount of lube as you let the Lelo Billy 2 give you the massage of a lifetime.
>>Check the updated cost of the Lelo Billy 2 here<<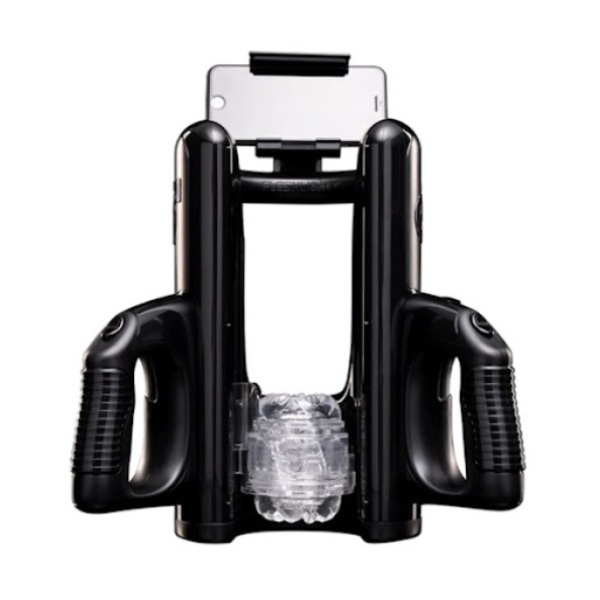 Top Features 
Compact design
Suitable for couple play
Both ends act as entryways
Clear case and sleeve
Cost 
The Fleshlight Quickshot Vantage is pocket-friendly – both in terms of design and cost. This compact male sex toy features a clear design that allows you to view all the action.
Plus, its open-ended makeup means all sides act as an entryway, making it the ultimate blowjob toy for solo or couple play.
Cleaning up is straightforward, as you'll only need to remove the open-ended SuperSkin sleeve and clean it using warm water.
Easy peasy!
One slight issue with the Quickshot Vantage, though, is that it may not be able to fit all penis sizes, especially if you have an above-average girth.
Either way, it's a fun toy to move around with, covert, and pretty affordable, too.
>>Check out the best deals for the Fleshlight Quickshot Vantage here<<
9. Aneros Progasm – Best Prostate Massager for Filling Sensations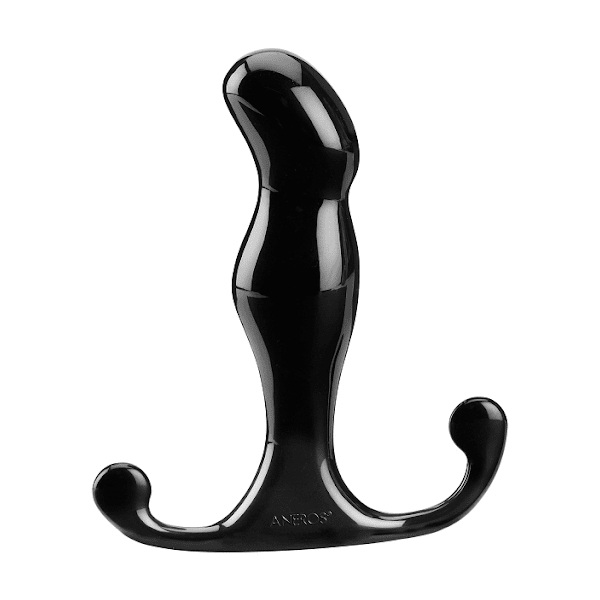 Top Features 
Angled head for intense prostate stimulation
Large midsection to provide extra sensations
Rigid construction
Well-balanced for increased responsiveness
Cost 
To be honest, the Aneros Progasm isn't the best male sex toy if you're just getting started with prostate play.
Its large midsection and angled head are better suited for intermediate and experienced users, as the rigid construction allows for more targeted stimulations.
You'll enjoy the 4-inch insertable length if you're looking for more filling sensations, while the silicone coating allows for comfortable play.
We'd recommend the anal toy if you're looking for something more than the typical prostate massager.
>>Take your prostate massaging game to new 'depths' with the Aneros Progasm<<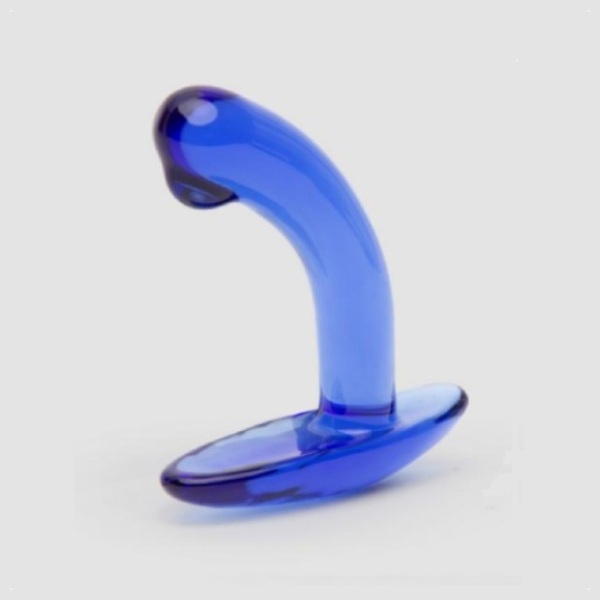 Top Features 
T-bar keeps the plug in place while stimulating perineum
Curved tip for targeted p-spot stimulation
Borosilicate glass is hypoallergenic & shatter-resistant
Cost 
Looking for some intense P-spot play and targeted anal stimulation? Well, you should look no further than the LoveHoney Glass Booty Buddy, your new best friend!
Designed to fit snuggly, the anal toy features a T-bar base (flared) that keeps it firmly in position during wear.
Plus, it's made from borosilicate glass that's suitable for temperature play. You can either warm or cool it before insertion to get those much-desired sensations.
Need we say that glass is compatible with any type of lube? Convenient.
With a 3-inch insertable length and a 2.25-inch circumference, you'll be touching your P-spot without much hassle, no matter your level of experience.
>>Check the best price for the LoveHoney Glass Booty Buddy here<<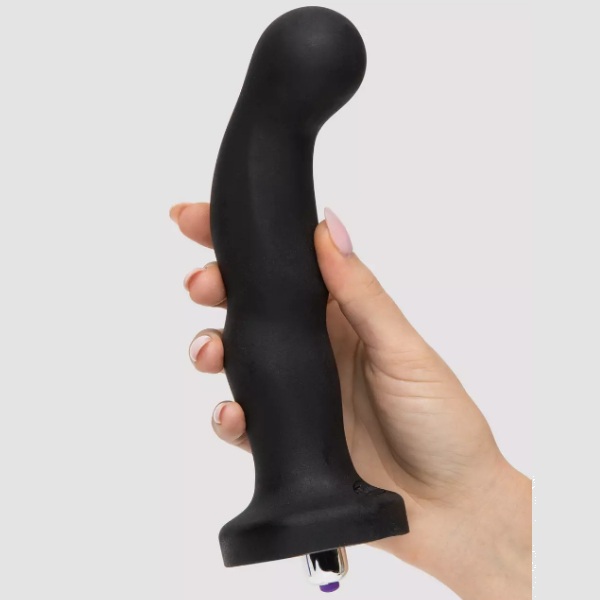 Top Features 
Sleek curvature for heightened sensations
Hypoallergenic and boilable
7-inch insertable length
Cost 
The Tantus Silicone P-spot Anal vibrator means business when it comes to perineum stimulation. It features an impressive 7-inch insertable length, which is perfect for more experienced users.
Its ball end is designed to tingle the prostate, as the intense vibrations bring you to orgasm.
Oh, and you'll appreciate the anal toy's sleek curvature that touches all the right spots as it slides and settles in.
One thing I like about the Tantus P-spot Anal vibrator is its ease of use and maintenance. This bad boy is not only boilable but also dishwasher safe, features that make it one of the easiest-to-clean sex toys for men out there.
>>Try one of the larger anal sex toys for men today!<<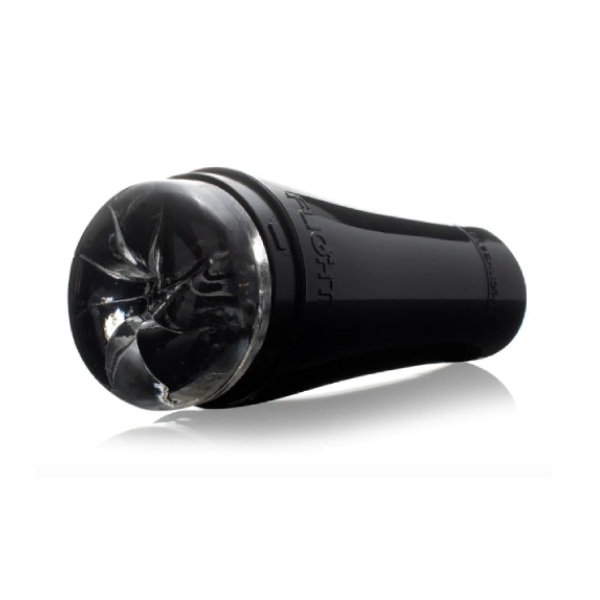 Top Features 
Compact & discreet
Perfect for travel, courtesy of its discreet case
6-inches insertable length
Cost 
Looking for a discreet male sex toy that's easy to carry around? If so, then you'll love the Fleshlight Flight Pilot, an adult toy designed with convenience in mind.
The Fleshlight Flight Pilot's exterior is made of hard plastic, which enhances its overall durability, while the interior features a sleeve made of SuperSkin, Fleshlight's patented material.
You'd be forgiven for thinking that the Flight Pilot is an air freshener or a coffee mug due to its design, which is a major steal if you want to keep things covert – as most of us do!
The bottom cap is removable, which makes cleaning up straightforward.
So if you're the type that loves compact male sex toys to move around with, the Fleshlight Flight Pilot might just be your best bet!
>>Buckle up and prepare for the flight of your life with the Flight Pilot<<
13. Aneros Vice 2 – Best Vibrating Anal Toy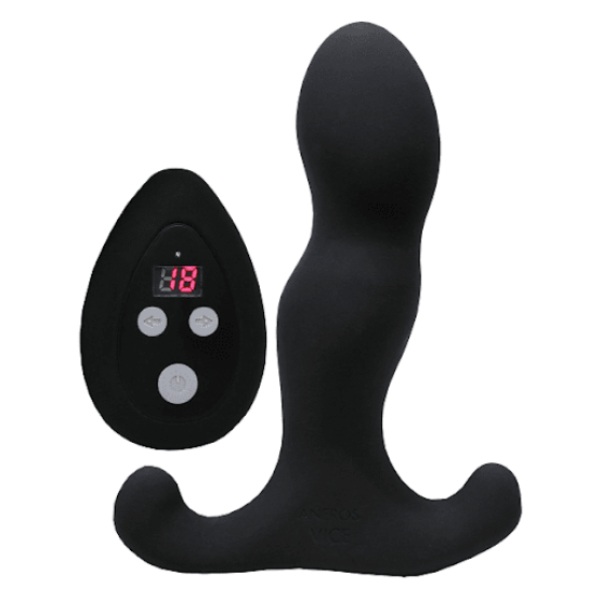 Top Features 
18 vibration patterns
4-speed selections
Wireless remote control
Cost 
It hardly gets better than the Aneros Vice 2 if powerful, diverse p-spot massages are what you're after.
Unlike most prostate massagers that keep things simple, the anal toy ups the game by incorporating an unbelievable 18 vibration patterns for the ultimate prostate sensation.
Let's not forget 4 speed selections that allow you to make the most of your sweet spots.
And if hands-free play is your cup of tea, then you'll appreciate the ergonomic wireless remote control that comes as part of the package.
Neat.
While the anal toy is guaranteed to bring your wildest fantasies to life, it's best left for intermediate and advanced users with enough experience.
>>Check the best prices for the Aneros Vice 2 here<<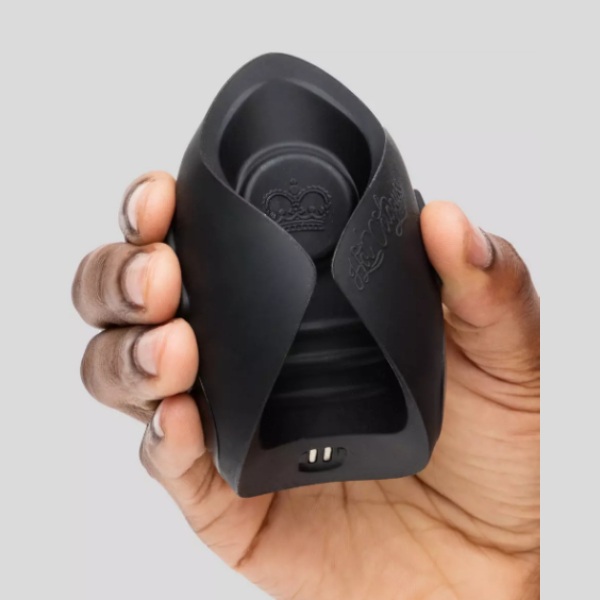 Top Features 
Turbo button for insane 4,450 rpm sheer power
Pulsplate technology for hands-free play
Can be used for stroking
6 vibration patterns
Cost 
The Hot Octopus Solo Interactive, as the name suggests, is super interactive to spice up your 'self-care' sessions.
You can easily connect to over 4,000 videos and feel like part of the action if you're big on VR and interactive 2D videos.
The 6 vibration patterns add to the male sex toy's appeal, while the Feelconnect app allows you to connect with a bi or gay partner and experience similar sensations through WiFi or via Bluetooth.
Size doesn't matter with the Kiiroo Hot Octopus Pulse Solo Interactive, as its flexible design can fit any penis, regardless of girth or length.
It's perfect for hands-free and can withstand a 60-minute session without the need for a recharge.
>>Check the best price for the Kiiroo Hot Octopus Pulse Solo Interactive here<<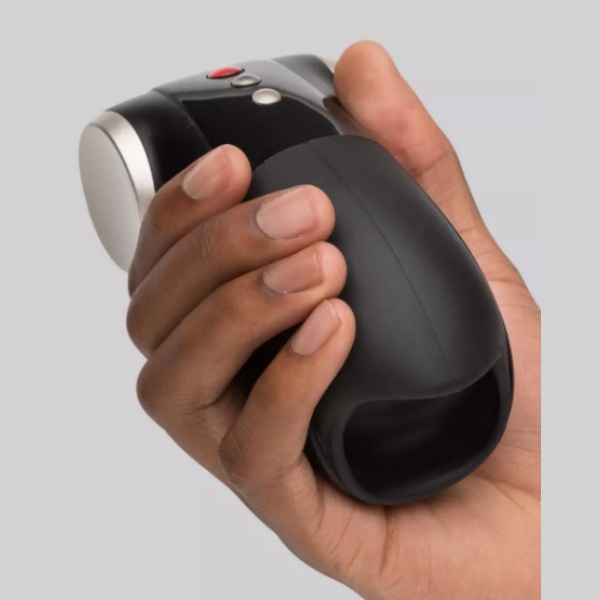 Top Features 
Designed for hands-free pleasure
100% waterproof
2-hour battery life
Ideal for couple play
Cost 
Whoever said male masturbators can't get better was simply lying or probably lived in a cave. Sex toys for men keep getting better, and the Cobra Libre II is perfect proof.
Featuring 2 rumbling motors that vibrate the head/glans of your penis, the Cobra Libre is one of the most unique male sex toys on the market.
There's even a small reservoir to catch your… fluids.
Just lay back and let Cobra Libre II treat you like the king you are. You deserve it.
One crucial feature that makes the Cobra Libre II one of the best male masturbators is its compact design, which allows you to tag it along your excursions, courtesy of its travel lock.
What's more, the male sex toy is waterproof and can retain charge for up to 2 hours.
>>Discover the best price for the Cobra Libre II here<<
16. Lelo TOR 2 – Best Vibrating Cock Ring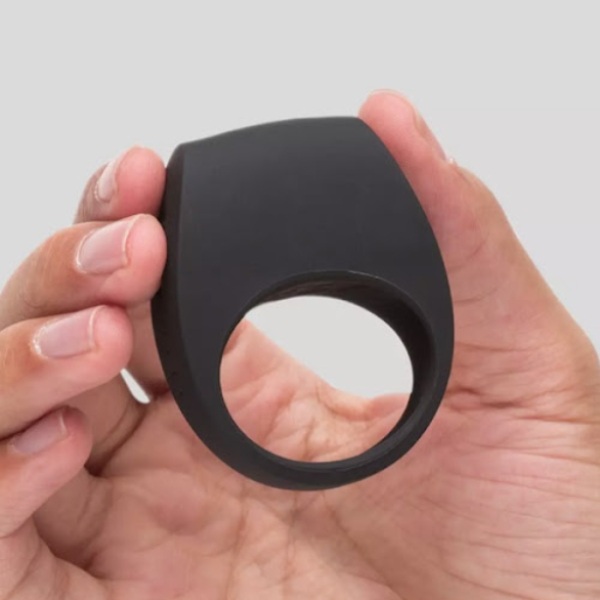 Top Features 
Flexible enough to fit all sizes
Couple-friendly
Highly intuitive interface (2 buttons only)
6 vibrating settings
Cost 
Featuring a simplistic 2-button interface, the Lelo Tor 2 is a game-changing vibrating cock ring that's perfect for both solo and couple play.
Don't be fooled by its tiny size, as the Lelo TOR 2 ranks as one of the best cock rings not only due to its convenient 6 vibrating settings but also due to its flexibility.
No need to worry about penis girth or length with this male sex toy.
Did I mention that the Lelo Tor 2 is 100% waterproof? So yeah, you can carry it anywhere, be it the shower, bath, or even jacuzzi as you enjoy some intimate moments.
It's pretty quiet, meaning it can keep a secret better than a third party you may choose to add to your sexual adventures.
And considering it vibrates and lasts up to 1.5 hours on full charge, you may seriously need to start thinking of the Lelo Tor 2 as a permanent fixture in your sexual adventures as a couple.
>>Get the Lelo Tor 2 to add some spark to your bedroom affairs<<
17. TENGA Flip Zero – Unique Male Sex Toy With Flip-Open Design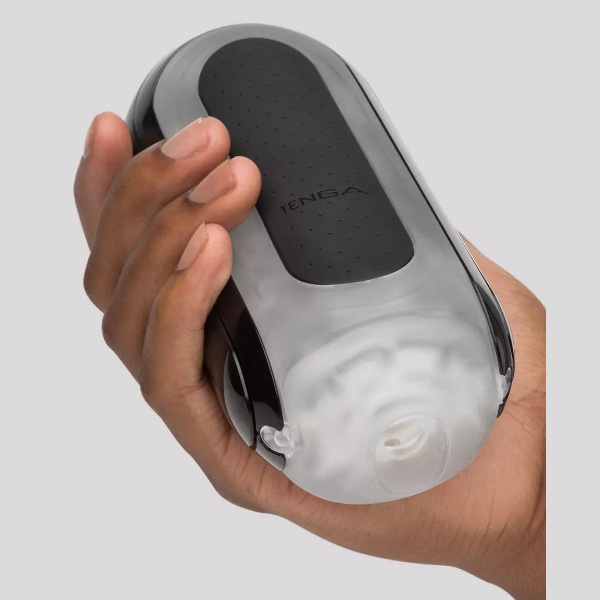 Top Features 
Unique flip-open design
Squeezable pressure pads for focused sensation
Integrated pivot allows for seamless insertion
Cost 
The Tenga Flip Zero made headlines primarily due to its unique design, which differs significantly from other male masturbators.
However, all factors considered, it's one of the best sex toys for men, especially when it comes to hygiene.
The flip-open design gives you access to all internal parts, which allows for a thorough clean – something that's usually difficult with most male masturbators.
Lubricant leakage is also a thing of the past with the Tenga Flip Zero, courtesy of its integrated pivot that houses the insertion point.
This tech-intensive male sex toy features 4 main components designed to enhance overall pleasure, the Ridge Wall, the Ripple Dome, the Triple Chain Gate, and the Layered End Orb
The Ridge Wall is the first contact point that hugs your penis from all angles as you enter, while the Ripple Dome is responsible for the grasping effect due to its rippling edges.
The Triple Chain Gate helps push air out as you thrust as the Layered End Orb envelops your penis for the ultimate sensation.
>>Check out the updated price for the Tenga Flip Zero here<<
18. Fleshlight Quickshot Riley Reid – Compact Male Masturbator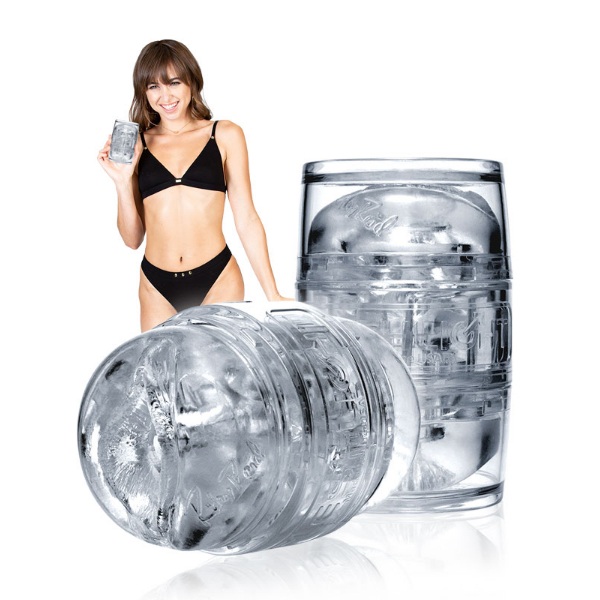 Top Features
Molded from pornstar Riley Reid's vagina & butt
Suitable for solo masturbation and couple play
Comes with sleeve caps for convenient storage (both sides)
Cost
Only a few sex toys for men are molded from top-rated adult stars' private parts, and the Fleshlight Quickshot Riley Reid is one of them.
It's probably our best chance of banging Riley (get in line), and the fact that it comes with the star's lady orifice and butt orifice only makes it among the most in-demand male masturbators.
The clear open-ended design, means you get to view all the action as you slide in and out of Riley… sorry, the male sex toy, from any side.
It's pretty easy to clean and the sleeve caps ensure the sleeves remain clean and safe for use.
Be warned though, that the Quickshot Fleshlight isn't recommended for people girthier than 5.5 inches (14cm). 
Besides the size restrictions, the sex toy's compact design means you can walk around with Riley firmly in your pockets, much to the envy of many.
>>Discover the best deals for the Fleshlight Quickshot Riley Reid here<<
Top Features 
Nodule-ridden, ribbed external design
Tapered interior increases overall pleasure
6-inches long & suitable for solo or couple play
Cost 
Trust Tracy Cox to come up with a unique male sex toy, since after all, her reputation as a renowned sex expert and designer of quality male masturbators precedes her.
Designed for both comfort and convenience, the Tracey Cox Supersex Stroker features a nodule-ridden stroker that allows for enhanced grip. On the other hand, the interior has ridges and is tapered to provide that extra thrill as you slide in.
You'll also appreciate the see-through design that heightens arousal as you engage in solo or couple play.
>>Elevate your self-play routine by getting the Tracey Cox Supersex Stroker today<<
20. Lovense Gush – Best Remote Controlled Penis Massager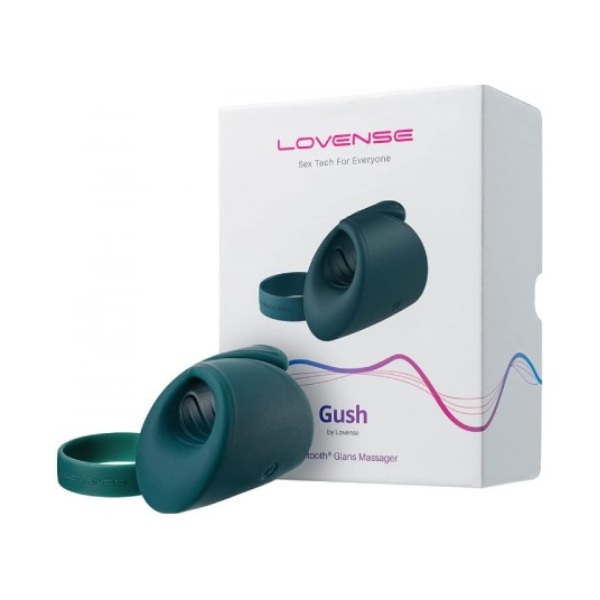 Top Features 
Adjustable to fit any penis size
Suitable for stroking or handsfree pleasure
Optional band for targeted stimulation or increased tightness
Unlimited vibration patterns
Cost 
There's no denying that Lovense is a powerhouse renowned for tech-intensive sex toys for men and women, and its penis vibrators don't disappoint either.
Although small in stature, the Lovense Gush packs impressive power, and its flexible design means all men, regardless of size, can join in on the fun.
Just slide the Lovense Gush over your penis head/shaft and choose your preferred settings via the Remote smartphone app. And if you don't feel like hands-free play, you can easily stroke the silicone-coated male sex toy until you orgasm.
Versatile.
Like other Lovense male masturbators, you'll also enjoy additional features like long-distance control, music sync, and unlimited vibration patterns, all of which you can access via the Lovense app.
Get into it.
>>Check the best price for the Lovense Gush here<<
21. TRACEY COX Edge – Top Rated Automatic Suction Pump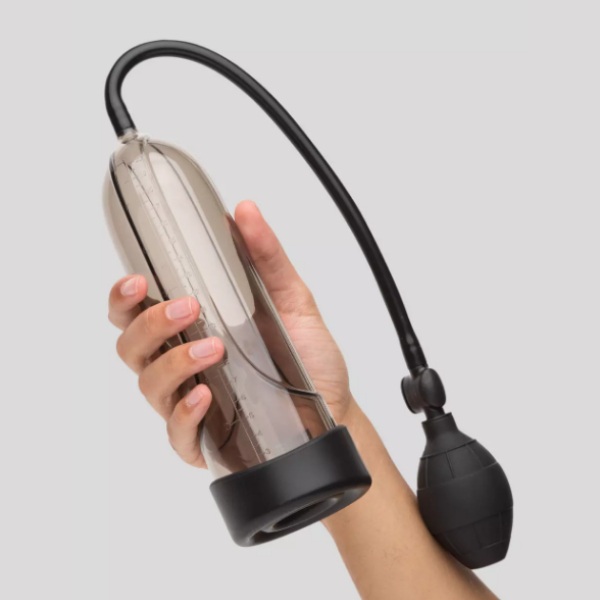 Top Features 
Automatic suction
3 suction levels with interchangeable attachments
Step-by-step guide by sex expert Tracey Cox
USB rechargeable
Cost
The Tracey Cox EDGE penis pump is one of the best male masturbators for improved sexual performance.
It's solely designed to help men get firm, lasting erections, effectively improving sexual performance.
The package comes with a quick-release button, a non-slip hold, and 2 interchangeable attachments. One attachment is specifically for pleasure, featuring silky smooth material to recreate a sex-like sensation.
>>Try out the Tracey Cox Edge pump to improve your sexual performance today<<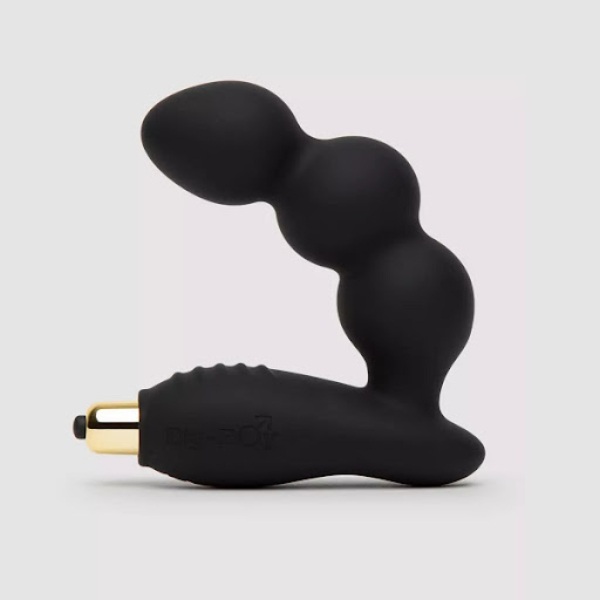 Top Features 
Bulbous design for increased stimulation
5-inches circumference and insertable length
Battery-powered anal toy
7-function vibrator
Cost 
The LoveHoney Rocks Off Big Boy is a revelation for the big boys. Not that beginners shouldn't try it out, but the 7 vibrating functions and bulbous design might be a tad too much to handle.
It's wide alright – a whole 5 inches to massage all pleasure points. As if that's not enough, the male sex toy features a firm design and a flared base that secures it firmly in your anus.
No time for worry, just play, endless play – until your batteries run out.
The anal toy is submersible and easy to clean, so you won't have to worry about damaging your new best friend. And he's a big boy alright!
 Sex Toys For Men FAQs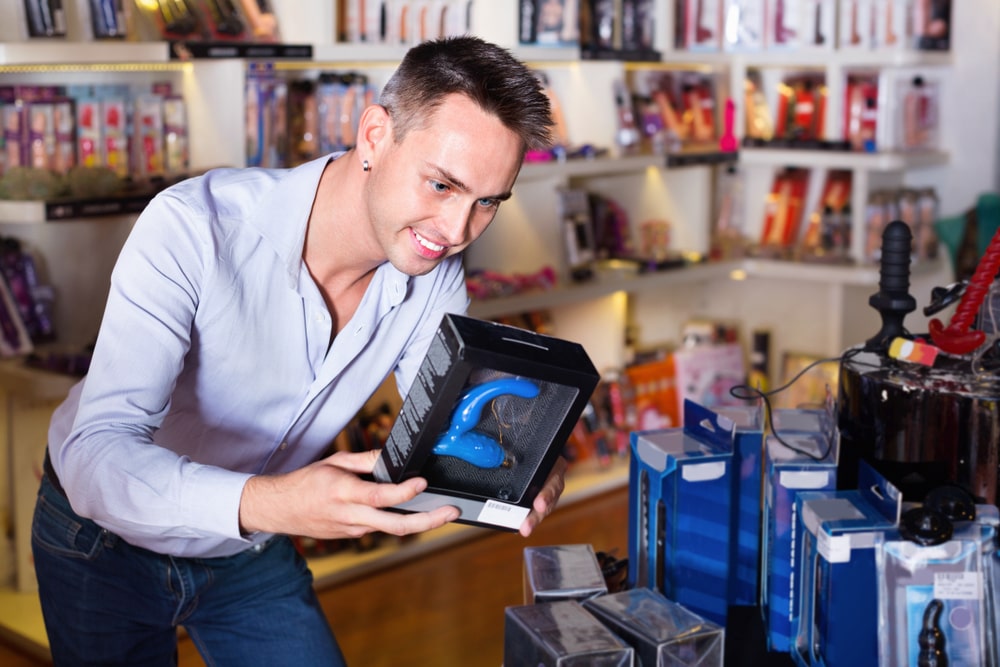 What Male Sex Toys Feel the Best?
The male sex toys that feel the best depend on personal preferences and the targeted erogenous zones.
However, some of the most popular sex toys for men include the Lovense Max 2, Fleshlight STU, and the Aneros Helix Syn V.
Cock rings like the  Lelo Tor 2 are also legit toys if you're into the stimulation that comes with cock rings.
What Lube Should I Use With Sex Toys for Men?
The best lube to use with sex toys for men is usually water-based lube due to a number of reasons.
First, they are usually compatible with different sex toy materials ranging from silicone to glass, rubber, and even stainless steel.
Water-based lubes are also usually hypoallergenic and non-toxic, so they are a lot easier to clean.
Which Male Sex Toy Feels Best? Wrapping Up
Now that we've gone through some of the best sex toys for men, you should be well-placed to choose one (or a couple) that work best for you.
The Lovense Max 2 is a great option if you're interested in an automatic toy that allows you to control suction and vibration patterns. It's also ideal for long-distance play once with your partner through the Lovense app.
You might also want to try the Autoblow AI if you want a versatile toy with multiple speed settings.
Whatever male sex toy you opt for, remember to clean up nicely after use. It's also advisable to use a generous amount of water-based lube to make the most of your solo or couple play.
Lastly, remember to check the user manual to learn the do's and don'ts of your sex toy.
Have fun!