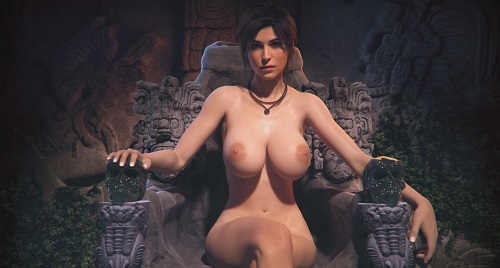 Before I discovered the pleasures of jacking off to 3D women in sex simulators, I did not expect their plump breasts, delightful asses, and extravagant sex acts that are out of this world were fully customizable throughout all the streaming scenes. This is the future!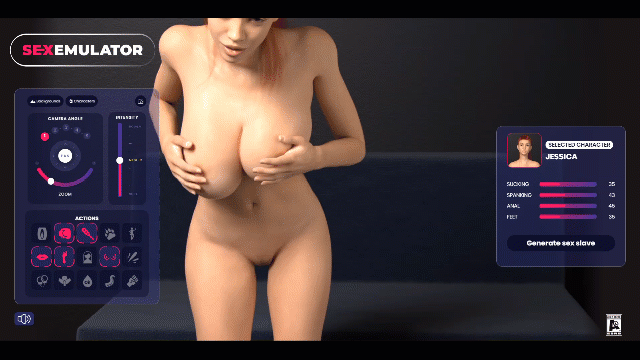 For anyone who has ever played
SexEmulator
, you know that it's one of the best hardcore XXX simulation games out there. There are many that you can pick from this
Top Porn Games
list, but only a few measure up to that big swangin' dick that SexEmulator sports around like a trophy. When you're hypnotized by these relentless sex scenes in this alternative reality the control is in your hands like a god to enhance every sexy parameter to create a better character, and modify their features better than you would in the Sims.
Sex Emulator – Character Building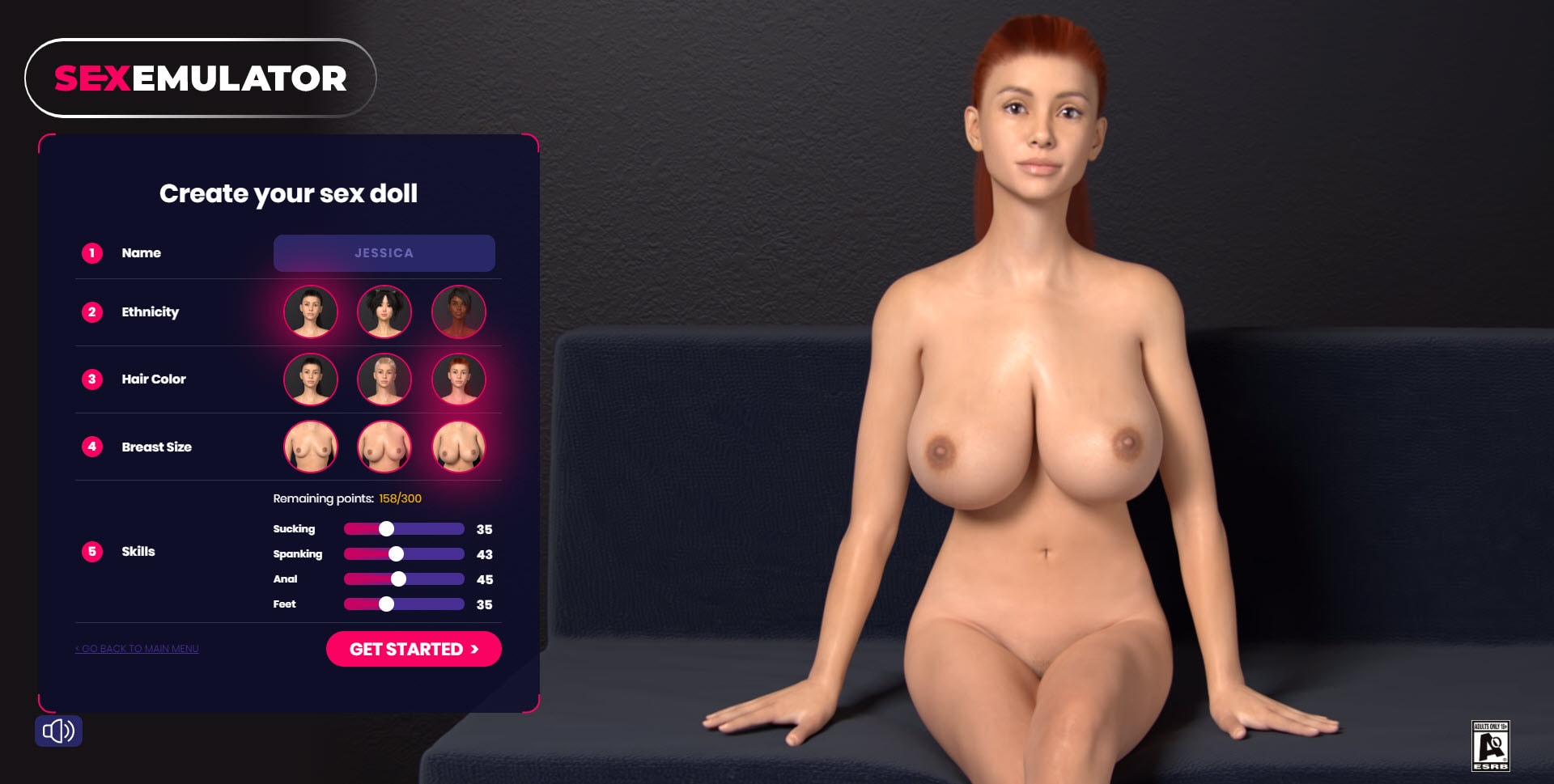 A very sexy girl with realistic morphological features greets you at sexemulator.com. Your voluptuous hostess might differ from mine, but my personal assistant was named 'Barbara' but come to find out their names change each time you log in. So her name might be Barbara, and when you refresh, and it's Teresa, and you refresh again and it's Brandy. I find that kind of tacky. The default is a Causation female with medium-sized breasts and a nice ass; all customizable.
If you can't hear her talk locate the speaker icon at the bottom left corner of the screen and press it to activate the sound. As you click-through the questionnaires, there are a couple of warnings about how addictive this game and notifications about updates within the browser. I guess we should call the Health Inspector!
Just like any simulation game, roaming around in multiplayer mode is the best fun you're going to have because you can fuck other players in your real life community. The next window is a compatibility test. Since I was using Chrome I could play the game instantly with the browser. However, if I wasn't using Chrome I would probably have to download the app causing me a headache, especially if I'm horny and don't want to be distracted with extra unnecessary work.
Changing The Free Interactive Characteristics of Your Adult Fuck Buddy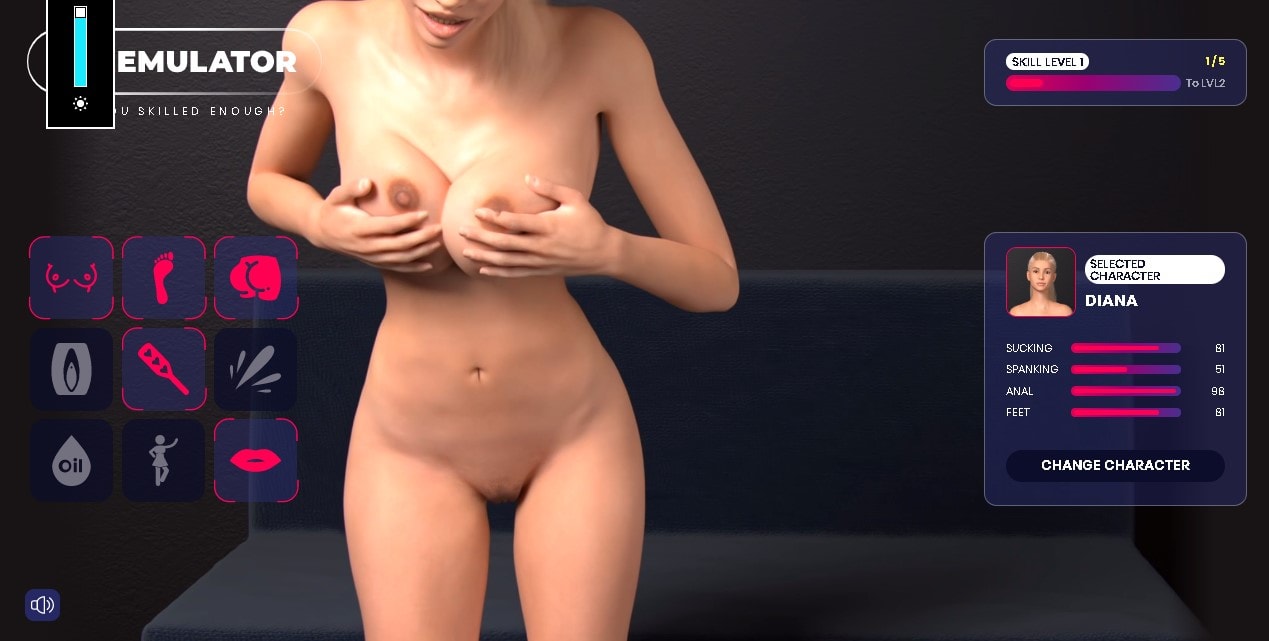 The character creation process begins with an up-close view of the woman sitting on a couch. It's like you're standing in front of her waiting for an oral service as she sits there teasing you with various sexual positions that you control through selected pictured boxes representing what you want her to do. For example, there is a paddle signaling spanking and a droplet symbolizing oil. After clicking on one of these boxes, the corresponding performance starts with her spanking her own ass or rubbing oil all over on her delicious body that can bite like an apple.
Ethnicity – Black, Asian, White
Hair Color – Black, Blond, Red
Tit Size – Small, Medium, Big
Sex Emulator Game Play: How Does it All Work?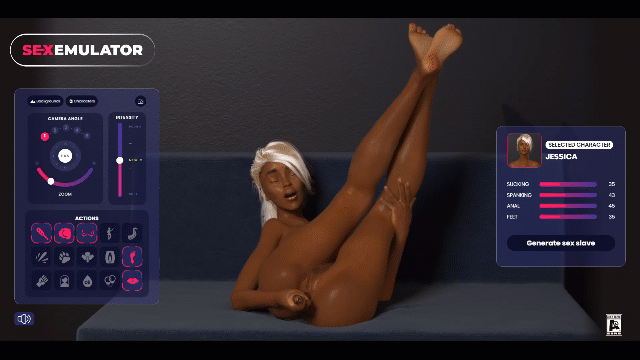 The woman talks to you in an erotically pleasing voice throughout the gameplay, but she basically repeats the same phrases until you get her to do something. She always motions for you to come to her with things like, "Hey, look over here. Hey you, mister. Yeah, you!" If you don't press any boxes to make her do things, she will mouth off these phrases in a loop, so you need to train her to keep her mouth shut. Remember something, this is only the character creation page. The full gameplay gets particularly complex with full sexual onslaught actions.
When you click the box with the pair of tits, she says, "so, you wanna see my tits. You like my tits." When I clicked the 'feet' box, she said, "oh, you're a foot man." And when I pressed the anal box she grabbed what seems to be a glassed dildo and started drilling herself, "oh, you like anal. I've been a bad girl." The camera angles can be adjusted and zoom in for a better view of these sex acts.
Here are some parody video games you will come across after purchase:
BDSM Discipline
Hustle Town
Batman: Hard Night Rises
Grand Fuck Auto
3D Sex Sims
Adult Mutant Ninja Turtles
How to 'Skill Up' in Sex Emulator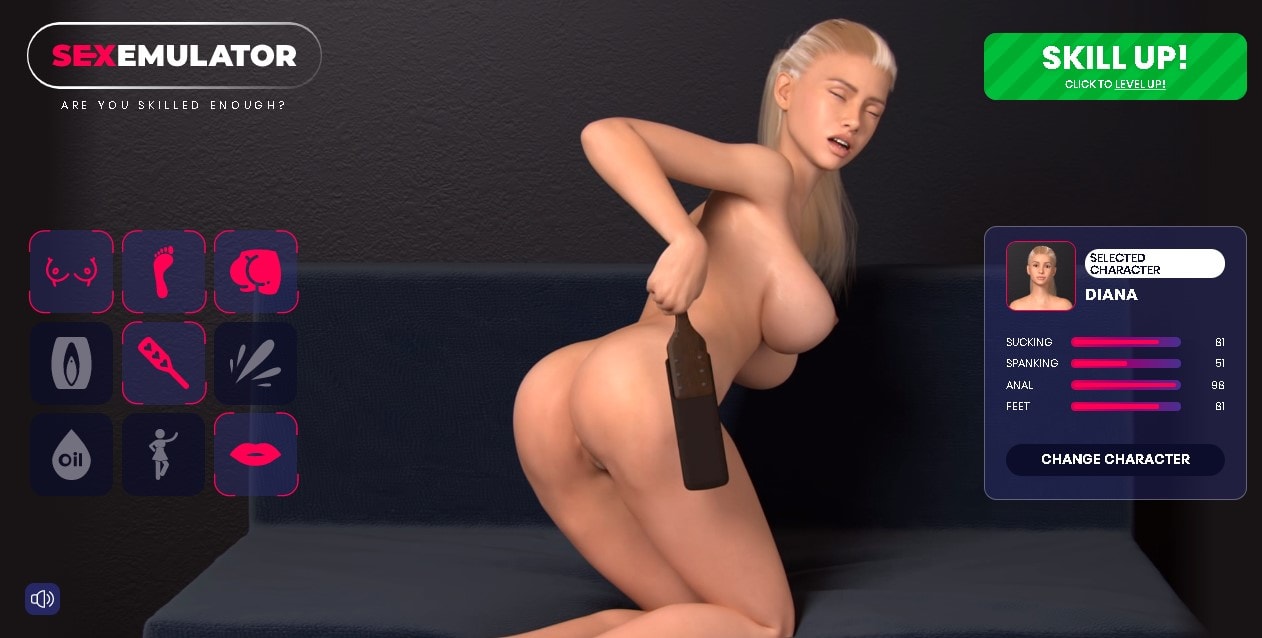 You can 'skill up' by clicking any of the boxes that make her do the corresponding actions. After she completes a certain amount of actions she levels up and unlocks new abilities, sex moves, customized scenes, and additional games.
Every time you click on a specific action you're training her to do these new things later as a sex professional doing more hardcore stuff like succulent blowjobs, plowing gangbangs, and full-blown threesomes with confidence.
SexEmulator XXX, Review of Credit Card Payments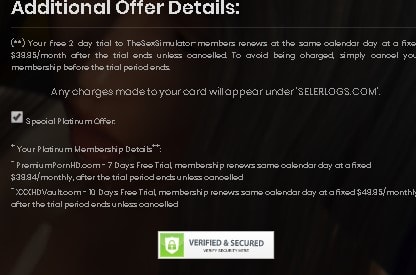 To get access to full SexEmulator gameplay a Visa and MasterCard is collected to verify your age first and pay for the trial. The system detected my United States IP address and I proceeded to become a free player by supplying my chosen name, email, password, and zip code.
However, let me give you a warning. Before you decide to pay, look to the right of the screen at the small letters about the two-day free trial and the $39.95 monthly fee you would eventually need to pay. When I used my debit card SexEmulator attempted to take the full $39.95, so I will assume that you can get a refund for the $39.95 before the 2-day free trial expires. But they're gonna take the money at the beginning.
Make sure to uncheck that Premium Offer box or else you would get charged up to $130 for PreinumPornHD.com that gives a 7-day trial and charges the full $39.99 when it expires, and XXXHDValut.com that gives a 10-day trial and charges $49.99 month when it expires. If you allow the payments, but change your mind and decide you don't want these services, you would need to call each company to get the payments canceled.
SexEmulator also preauthorizes a $1 charge with this payment. All transactions are handled by Dyno selerlogs, which is a recognizable company responsible for payment processing for many adult porn videos websites. However, a lot of people have strong feelings about the charging practices of this company.
If I was distracted horny and desperately wanted to play this game, I have would probably overlook the fine print and the small box so thank me later. As the old saying goes, "think before you speak." In this case, think before you beat your meat.
If you're a balla' balla' and money ain't a thang, then after you make payment, you are smothered with hundreds of games, thousands of videos to download, and a bunch of live sex cams and virtual reality streams to use with your VR porn goggles that would have your heart racing and lungs gasping for air.
Accessing Adult Sex Games Safely
You can safely input your details with the protection of a 256-bit SSL encryption and a Norton by Symantec professional security system. Additionally, https encrypted protection keeps third parties from viewing your financial details.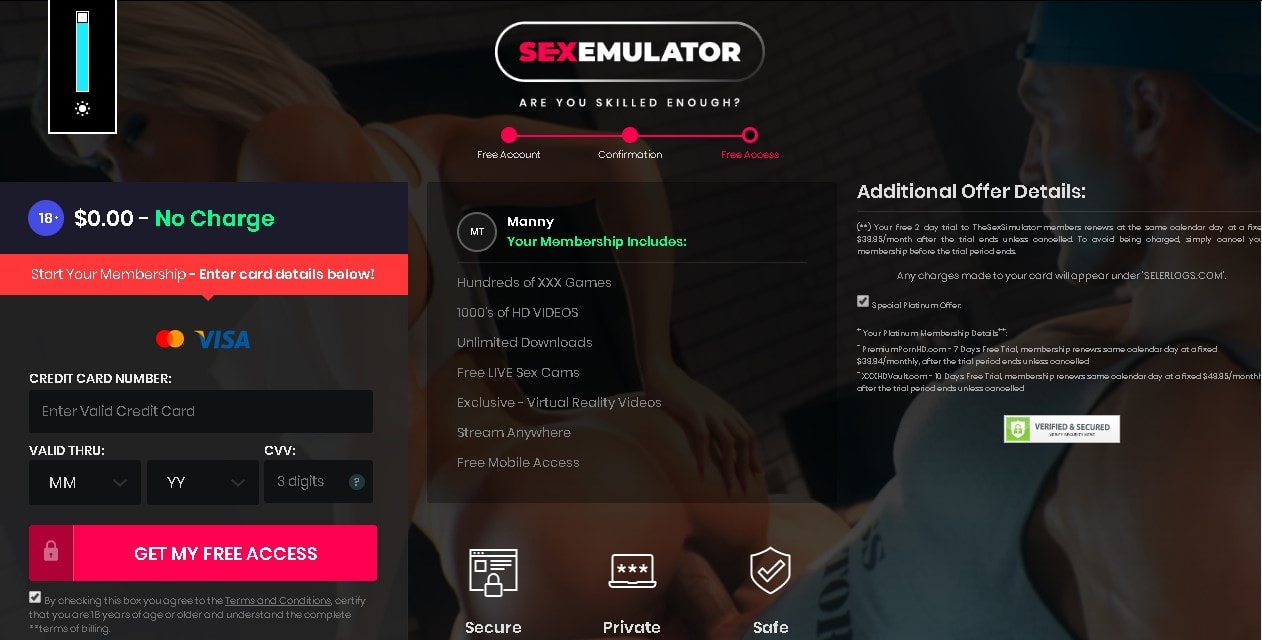 SexEmulator Pros
Characters have realistic features that look better than a human's
The character talks to you
You control how she has sex
Accessible for most countries around the globe
SexEmulator Cons
The woman's voice repeats the same things like a robot – technically she is – (I had to mute because it became boringly autonomous)
Only process credit card payments; no e-wallets like PayPal
Small fine print can trick you out of cash
Low rating with WOT (Web of Trust)
Intrusive age verifier
There is no login point on the homepage
Same voice for every race of woman you choose
Name changes every time you refresh
No Android or iPhone apps; would be cool to have that
Final Review
SexEmulator is a big ass tease. But I like it. Reminds me of watching real life streamed porn except with accentuated human features that are almost alien. Next-level shit. The graphics really got in my head to the point I wanted to jack off to SexEmulator simulated porn instead of regular porn. I kept seeing flashes in my mind from the game! This is undoubtedly a great game. Best fun hentai cartoon sex that you will get with realistic scenes and interactive features. I can fuck with it!
< Best Hentai Games
> 11 Best VR Porn Games: The Ultimate Guide To Adult VR Games