When thinking about watching high-quality VR porn shit, virtual reality niche sites such as SexLikeReal with a high score rating are the ones people run to for the most exclusive MP4 downloads money can buy. It is the most prolific with the largest library that I have seen yet and that alone makes it worthy enough of an entire review.
To find the variety of video options on the homepage is the comprehensive search bar at the very top of the window as the starting point. Type whatever your heart, mind, body, and soul desires and the system will use that information to sift through a huge list of wonderful VR porn movies according to tags and keywords connected to the scenes. So, if you feel like having a pair of big tits snuggling your face and swinging in front of your eyes, then type "big tits" and the output of all the related streams pulls up. There are over 1,000 pre-selected niche categories that will make your dick pop up like a spring.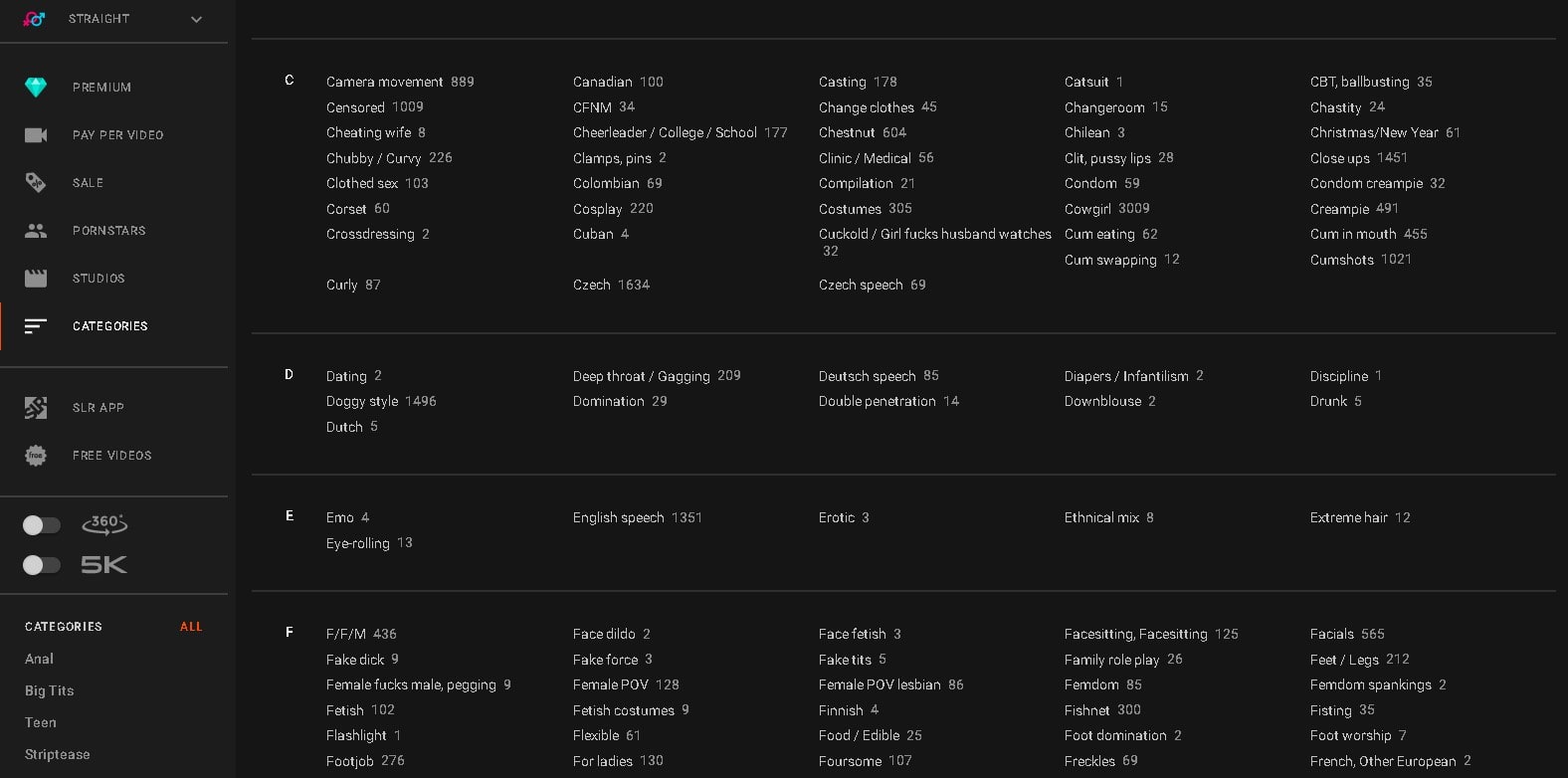 VR Porn Sign Up
You can join the more than 20,000 users who downloaded the SexLikeReal app. Having an account on file makes videos accessible and get email updates about new ones with upcoming release dates. The only data required to sign up to unlock the exclusive premium content is an email address, username, and password.
SexLikeReal Compatible VR Headsets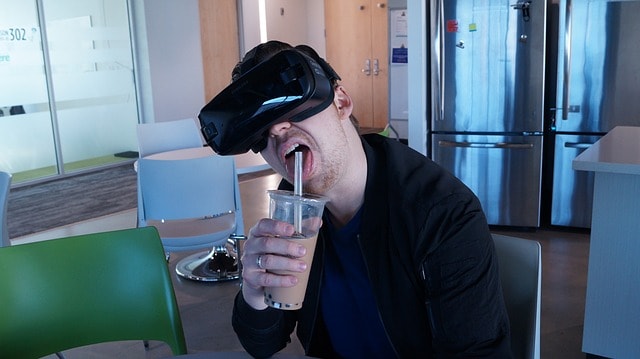 Most of the best headsets with mult-accessory systems are compatible to use on SexLikeReal.
Google Cardboard
Google Daydream
Oculus Rift
Oculus Go
Oculus Quest
Samsung Gear VR
Windows Mixed Reality
HTC Vive
Google Android & Apple iPhones
PC and Mac (downloaded through Steam, DeoVR)
SexLikeReal's Highest Videos Resolutions
The maximum resolutions to turn the view span is a stereoscopic 360° whip that shows through two lenses. So you can turn and move in any direction throughout the entire bedroom as you fuck the gal. The 180° view, on the other hand, stops halfway so you can see only what's in front of you and to the sides at about 20°.
The sound quality matches the video quality due to the binaural audio. It puts you in the same room as the performers. So each moan, sucking, slapping, and smacking sound enhances to a real 3D sex experience.
Resolutions reach up to 6K with extra crisp displays that you chew through. Although 60 FPS looks a bit artificial on video sites like YouTube, on VR porno it provides smooth sailing across the board.
Large Library of VR Porn Studios: No Subscription Required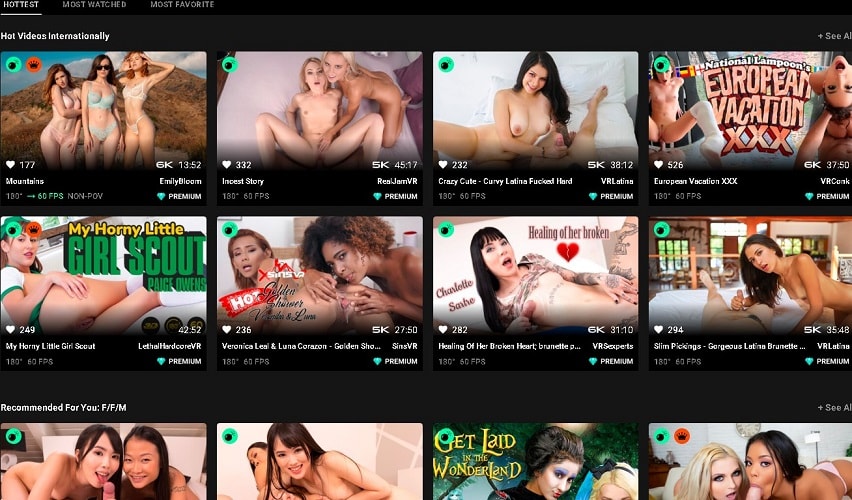 SexLikeReal does not have a studio and that is a reason they do not require users to get a subscription. The owners have open-access passes to other hot porn studios that produce thousands of steamy scenes with an update every day. Such as…
Everything's VR porno on SexLikeReal. No non-VR porn scenes, sorry.
You could sign up for individual subscriptions to these studios, but SexLikeReal provides the best value of the best content from all of them under an umbrella without the costly expenses. In other words, signing up for SexLikeReal is an all-in-one free access deal without paying month to month recurring fees.
Getting A Free SexLikeReal Experience
Before I get into the paid stuff, I just wanna tell you about the free stuff that Sexlikereal offers. You don't need to spend one penny and you can watch some hot-ass VR porn scenes for free by going to the Samples page.
These samples are not just 2-minute clips neither, they are full-length entire streams from 8 to 30 minutes. There are four videos with blowjobs, footjobs, big tits, fucking.
When a free account detects the system unlocks four more complimentary scenes which consist of gamer chick sex, foursomes, anniversary sex celebrations, and more. I personally got tired of watching those free videos after about a week, but my eyes grew bigger when I found out how many videos were actually in the SexLikeReal database.
5000+
As I said earlier, there is no membership so you would have to purchase these videos individually. But 16 extra videos unlock for free just for downloading the mobile app for Android and iPhone. Let's take a look what's in the database.
Sex Like Real Streaming Studios
The database features over 119+ studios with a bunch of clips and still images representing the content. Each studio has a slot next to the name that shows the number of overall likes they have gotten on their content, the amount of premium and non-premium scenes, titles categorized in alphabetical order, the number of porn stars they have on their team, and how much a user generally pays per video.
Each video has the number of likes it has gotten from paying customers, the span degree – be that 180 or 360, name of the title, and whether the video is free or premium. When you decide to press play on the video a 2-minute clip streams so you can investigate the content before actually buying the product. Here are some of the category niches that you will see.
Threesomes

Lesbian

Foursome

Masturbation

Hardcore

Solo

Parody
Alternative sexual orientation adult format scenes are available, but you will need to change the selection from Straight to Gay or Shemale.
When you click on a preview for any video it directs to a more detailed page covering these basics.
Specs
Name of the model starring in the video
Release date in format as mmm/dd/yyyy
Home studio where the video was produced
Tags found at the bottom of the video
Preview description bio

Model List
The model list is comprised of thousands categorized by Watched, Premium, Content, Hottest, and the number of scenes they have a feature. Each profile shows a single sexy picture of the model that you can click to open a detailed bio about their basic info.
First is the country of origin and their birth location. Next is their height and weight. And, their date of birth. Lastly, all the way to the right, is a window showing all the recent tweets from the selected model's Twitter account.
Sales
Very seldom is there an entire section with only videos for sale on VR porno sites, let alone hundreds of them. These deals run every day with savings up to 80% off of some videos. You will need to check back every day to see which ones have discounts because the sales run according to the date. For example, today will only features the "October 19th" sales.
The deals are organized by Hottest, Most Favorite, Recent, and Most Watched, which narrow down the search a bit. Keep in mind they are full-length videos. The last time I checked, there were 33 pages with 24 videos on each, so you do the math. There is nothing wrong with saving a buck or two.
Billing
SexLikeReal's billing is the simplest I have run across. Epoch (pronounced 'epic') is the main processor responsible for handling the financial responsibilities of most adult XXX websites. So if you are into the habit of using your credit card to subscribe or buy online porn you are probably already familiar with this company. And they are pretty easy to do business from my experience in terms of canceling memberships, something you don't need to worry about with SexLikeReal. Generally, I've never had a problem with Epoch. 
Verotel is another payment processor found on SexLikeReal responsible for handling certain payments. I've never had experience with this company, but based on the information from their website they are actively concerned about retrieving your lost credentials, handles unexpected charges with swift responsiveness, and assist with canceling a membership also.
SexLikeReal allows you to hoard all of your favorite videos in one Cart and processes one discreet bill for all that stuff. So you can say you ordered something from a seller on an online marketplace.
Billing processes with one of several methods.
PayPal
Paysafecard
Sofort
JCB
Discover
Amex
Visa
MasterCard
Lightning Network
Bitcoin
SexLikeReal Safety
You can feel safe knowing that as you surf through SexLikeReal the staff has summoned the protection of Norton Safe Web, SSL encrypted tech, Signed Code, which prevents the code getting tampered, Virus Total that slays viruses, malware, and constantly scan the URL, and Thawte security during the checkout proceedings on your side.
Accessible Blog
Having a blog makes a website more interactive and the one on SexLikeReal discusses a variety of subjects like sex toys getting ready to release, various VR technologies hitting the consumer market pretty soon, and instructions about how to use your VR headset.
Interactive Social Media
SexLikeReal has a Discord chatroom, but people rarely talk, a Reddit page with a minimal amount of updates (pass up), and a very active Forum about any VR porn subject.
Details About the Scene I Purchased
Say what you feel, but I am a Fast and Furious movie buff. So when I saw the VR Cock's parody of the Fuck & the Furious: Las Vegas Drift with Jasmine Gray, I had to buy it for the sale price of $4 when the retail is $10.
The scene starts with a woman wandering inside my garage and recognizing me, the winner of a race, and she wanted to show her appreciation with some expedited groupie sex. So, of course, I fucked her. She wandered into my garage wearing a flashy Japanese outfit. I had to hit it!
Pros
Cons
What Do I Think About Sex Like Real?
It's one of the best VR porno sites. And I'm not just saying this to kiss their butts or anything, I'm just thinking about watching the Fuck and the Furious tonight just to be entertained.
The facts are Sex Like Real is one of the best. It features the best videos from the most studios. The niches are in order making them easy to get. Paying for the video was super easy. Most importantly, there is no annoying recurring membership that I need to worry about taking my money when I least expect.
SexLikeReal Review: 10/10
Leave a comment and give us your review.
> HD Porn Sites: 4K Adult Movies for Big Screens