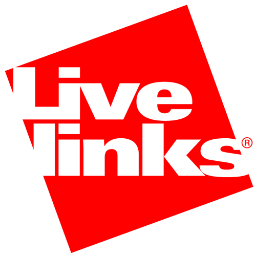 The First Amendment grants people the freedom to say anything without legal repercussions. Some would define it is a real democracy in the United States.
Live Links allows you to talk freely with strangers to flirt, date, and get some sex.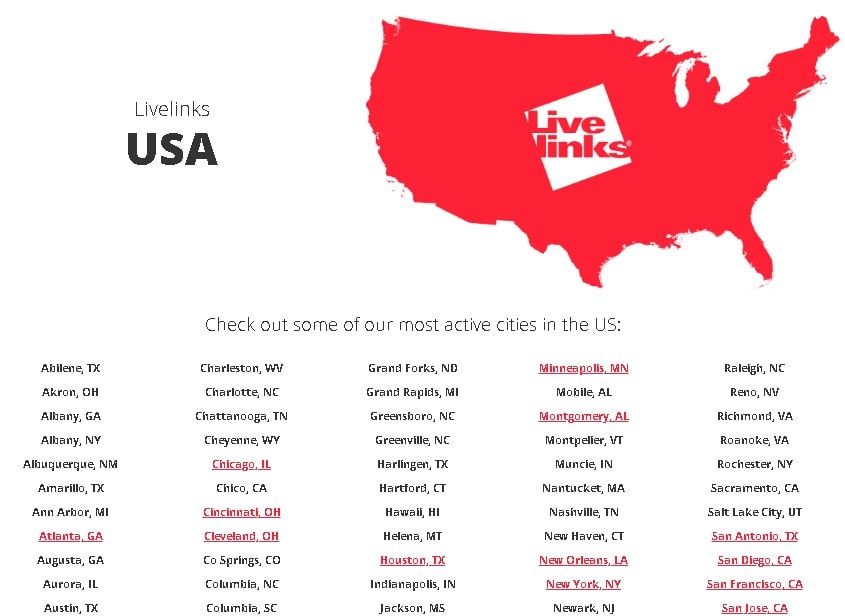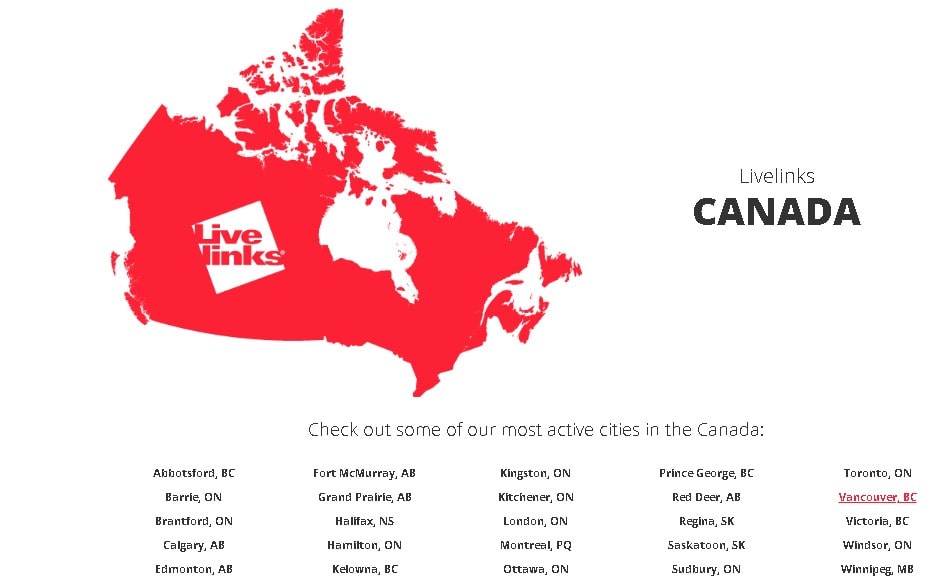 Telephone numbers in Canada and the United States appear in the list of over 1500+ cities. Thus, no matter where you go, you will always find someone to have a conversation.
There are two language settings to choose from on your first call. One is English, and the other is Spanish.
All callers must be 18+, but there is no age verifier to restrict underage persons from using the free minutes.
LiveLinks Chatline Online Dating Navigation
The Main Menu takes you to different places like the customer service section, free trial, and paid membership areas. You automatically agree to the Terms of Service when you call.
Pressing different numbers takes you to different parts of the website. There is a Keypad Tips section on the site and an audio version during the call.
Navigate the LiveLinks Chat System: Live Chat Keypad Tips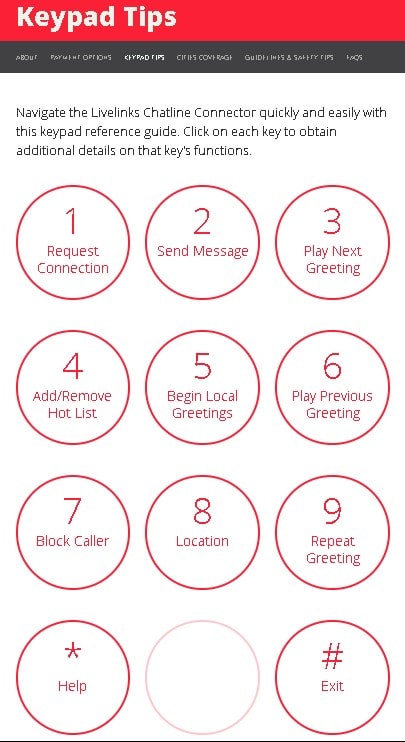 1 – Request connections for conversations with members
2 – Send messages to the members who left greetings that you like
3 – Skip to the next greeting
4 – File the greeting to your Hot List and save for later
5 – Rewind and replay the beginning of a greeting
6 – Listen to the previous greeting
7 – Block callers who you don't like or who are breaking the rules
8 – Hear the callers' locations (usually by the city name only)
9 – Repeat the greeting or go to the Main Menu choices
* – Help using the Live Connector
# – Leave Chat, go back to the previous menu, or divert to the Spanish line
0 – Doesn't do anything. You will get an error message to try your selection again
Walk Me Through How Does Live Links Work?
The #1 on the keypad is the main number to record a greeting and request connections for conversations if you like what you hear. A moderator reviews the greeting that posts in real time within seconds. Luckily, LiveLinks will save your greetings, so you don't need to re-record it every time you call.
You get the option to listen to 'Men looking for Women' or 'Women looking for Men'. If you feel intimidated about how to construct a greeting, there are samples for inspiration. The narrator advises saying who you are, your likes, and the reason you called the live chat line.
The first batch of messages is from people in your area. After listening to them, you can choose to hear greetings from people who recently left the line or are in nearby cities. Many of these messages are on other partylines like Vibeline and Fonochat.
LiveLinks Chatline Member Benefits
Guys have to pay for a membership, but ladies can talk for free. The membership expires in 90 days if you don't use it.
Send messages with priority speed
Get more talk time
Call from any phone number
Unlimited Hot List of women
LiveLinks Chatline Free Trial: 30 Minutes
The 30-minute free trial is valid for seven days from the same phone number you used during the first call. As you record greetings and listen to them, minutes deduct. Verbal cues inform you how many minutes remain, except when you are talking one-on-one with someone, in case you lost track of time.
Local Number LiveLinks Chatline Finder

What is the phone number to LiveLinks? You can find it above. The telephone number often changes throughout the years as the ones working. The ones working ten years ago are no longer working or direct to other Teligence partylines.
Because LiveLinks has a geo-locator, it takes the guesswork out of searching for your local number in the directory. Anytime you visit LiveLinks.com or call the toll free number, it detects your IP address or area code and generates the local number. Select 'Find your local number' or 'Not in (shows the name of your city)' and type the area code to get a local number if you plan on traveling to another city.
LiveLinks Chat Minutes Prices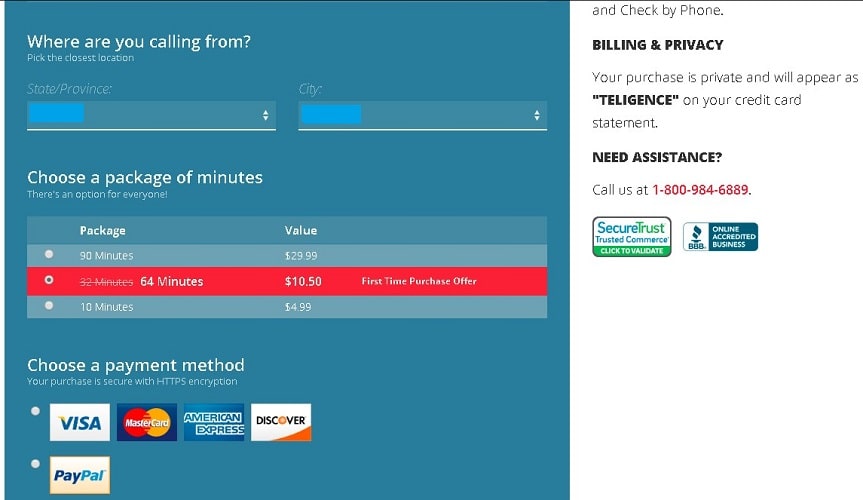 $4.99 – 10 minutes
$9.99 – 30 minutes (Get an extra 30 minutes if this is your first purchase, no matter the payment method used)
$29.99 – 90 minutes
Payment Choices
Cash – Western Union or PayPal.
Personal Checks – Tell the customer service representative the checking number, name, address, etc. None of this gets shared with anyone.
Charged to your home phone as a collect call
Major credit and debit card (including prepaid) – Online sign-up or through customer service.
All charges from LiveLinks will show as 'Teligence' on your statement.
Pay Per Minute: Live Chat
1-888-814- CHAT (2428) is a LiveLinks connected number if you prefer to pay for minutes at 59 cents/min. There is no connection fee, so the charging starts when start talking to people.
LiveLinks will pre-authorize approximately $40 the moment you enter the credit card in the phone system. Your time logs during the calls over seven days, and the amount of time you didn't use gets reimbursed to your credit card. Your information saves in the system for future purchases, so you don't need to log in each time to purchase something.
LiveLinks Social Media
Facebook – 2500+ followers
Instagram – 150+ followers
Security & Company
Teligence, a Vancouver, Canada company that operates many of the hottest chatlines like Red Hot Dateline, Vibeline, Fonochat, Interactive Male, and Lavender Line, owns LiveLinks. The company has been in business since the 1990s and still holds ground. If you have a problem, not only can the LiveLinks customer service help you, but also Teligence.
SecureTrust Trusted Commerce – Ensures the highest level of SSL encryption that protects your data.
BBB Accredited Business – Ensures this company operates under strict moral guidelines.
My Call
I was able to talk with ordinary people, but I didn't get a chance to see photos of them. I had to change my greeting to a more thoughtful one with substance to start getting messages.
Most greetings were people in their 50's and 60's, which makes sense because people around that age might shun modern technology because they lack computer wisdom and probably prefer the comfort of good-old-fashioned telephone calling.
I came across a young girl who talked about how she has a Playdough fetish to rub playdough on someone's dicks and inside their asshole. She giggled with what sounded like a friend in the background, indicating this was a prank greeting.
When I visited the Spanish side, there was no one in my area, which is odd because there is a huge Spanish community in my city. I would assume that you would need to call a number in places like California, Florida, or Texas where there is a high Hispanic population.
The system said that callers were blocked in my area. Maybe I pressed the wrong button, or they automatically chose the option when I called other lines and went to the wrong side (Lesbian chatlines).
Benefits of Using the LiveLinks Dating Service: Pros
Keep your identity hidden – Talk anonymously
Same system no matter which local number you call
Cool and funny commercials (Evangeline Lilly played in many of them – she went on to star in the hit TV show Lost and award-winning movies like Ant-Man and the Hobbit)
Direct dialer that connects to Skype, Google Voice, or Vo-IP when you click the telephone number
Pause system that delays recording your greeting – other chatlines don't have these features
Keypad tips and helpful prompts
Reminders about never giving our your personal information
Alerts about the minutes remaining in your free trial
Detects the silence over the phone and automatically stops recording the greeting
Local singles in my area
People are cooperative and level headed
People who host the website can apply to the Livelinks affiliate program to make money
Bad Things About Using the LiveLinks Phone Chat: Cons
Safety risks because any crazy person can pick up the phone and call
Hangs up abruptly on the toll-free 1 800 national number after giving the local number
No guarantee that you will hear greetings from women locally; there were only 3 in my area
Had to re-record a greeting after I hung up or went to another part of the system
The help area is like a maze easy to get lost
Underage kids use the free trial to play pranks
Reports of racism, which is evident by the lack of diversity in the workplace
How to Stay Safe on Chatlines: Low Rating Online Reviews

This review is alarming, if true.
What is Phone Chat & Do People Still Use Chatlines?
Phone chat is a portal with greetings to connect with people to talk about anything that comes to mind. Some chatlines have 1-on-1 systems, but others are partylines with a bunch of people in one room talking over each other.
People have strayed from using chatlines today because the internet makes it easy to communicate and meet people. Many choose to use social media or chat apps instead because they are way better than talking over the telephone, not knowing how the person looks. Moreover, some local singles stuck in their ways prefer simple telephone chatting with girls and guys.
LiveLinks still seem to hold ground among local singles, though, with over 350,000 calls daily in North America.
> HD Porn Sites: 4K Adult Movies for Big Screens