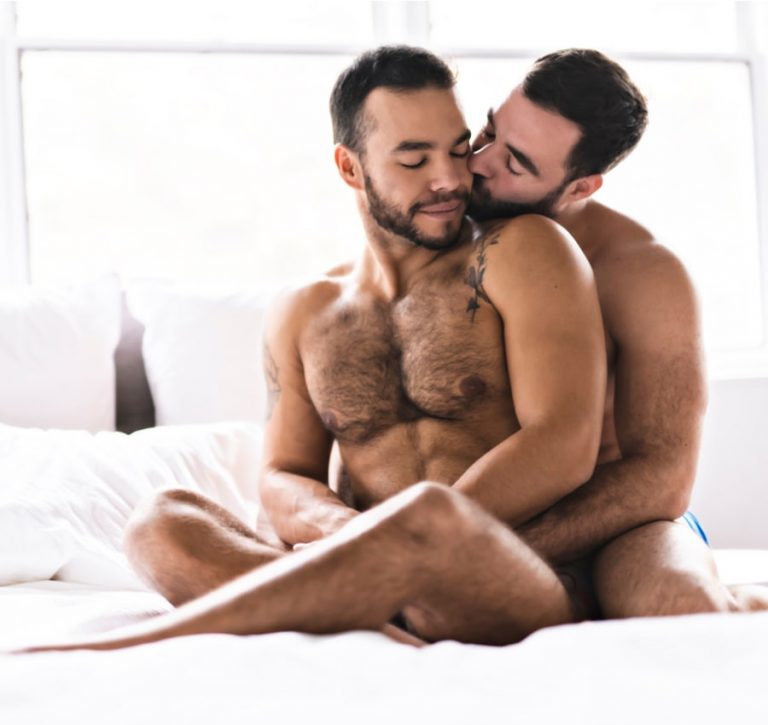 Being gay can be so frustrating. Guys on Grindr ghost you, they use unrealistic photos, and there's that whole awkward "who's the bottom?" situation.
So why not just skip the bullshit and hire a dude?
Here we look at the 6 best gay escort sites, whether you're into twink boys, daddies, or anything in between!
Top Gay Escort Sites and Services
Rent.men
Best Male Company Overall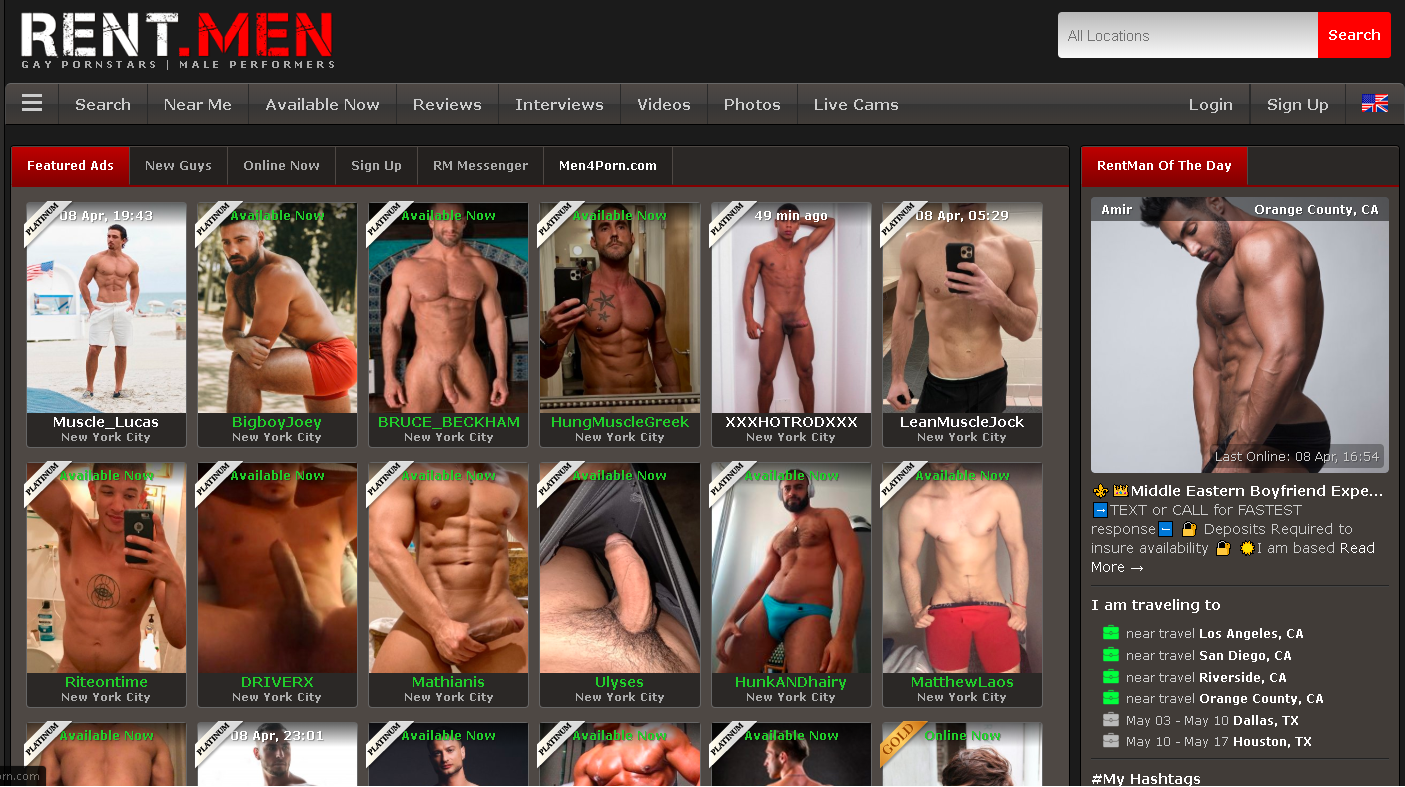 Highlights & Features
Very popular

Browse nude photos, videos, live cams

Interviews and reviews

"Near me" and "available now" options

Filters for massage, sex preferences, condom status, etc.
Rent.Men is probably the most popular m4m directory you're going to find online. This service boasts gay escorts from all over the world, with all shapes, sizes, ages, and ethnicities being represented.
Basically, if you know exactly what kind of man you're looking for, you'll find him on Rent.Men.
Guys can publicly post nudes, so you can see their ass/dick before chatting, and some even have past reviews from former clients on their profile.
I personally like the "near me" feature which allows you to see the guys closest to your GPS location. There's also an "available now" section if you're looking for a hot gay guy ASAP!
If all this wasn't enough, Rent.men features interviews with their models, exclusive NSFW photos and video content, and even has a whole camming site for their male escorts called Rent Men Live.
Pros
#1 gay escorts site

Read interviews & reviews of escorts

All ethnicities, ages, body types represented
Cons
Escorts tend to be more expensive

More popular in metropolitan areas
MintBoys
Best for Busy Places Like London and New York City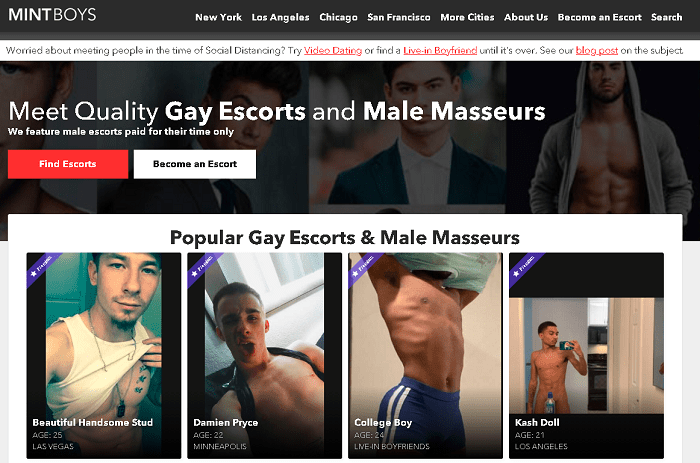 Highlights & Features
Popular in the big US cities

Very simple profiles and intuitive website

No rates or sex preferences – you contact the guy for more info

No nudes or NSFW content
Mint Boys is a bit of a strange escort website because it's very careful about sticking to the law. The profiles consist of a short written bio and basic height/weight information – it feels like you're on Plenty Of Fish instead of a gay escort directory.
The guys' profiles don't contain rates, sex details, or any NSFW pictures. You have to message a guy to find out more. Personally, I kind of like that – it feels naughtier and opens up the floor for flirty messaging.
There are tons of guys on there in big cities like Los Angeles, Chicago, San Francisco and New York, but don't expect to find many escorts in smaller towns and cities.
Cons
Very basic profile information

Nude photos not shown publicly
Hunqz
Find Tops, Bottoms, Massage, and Everything in Between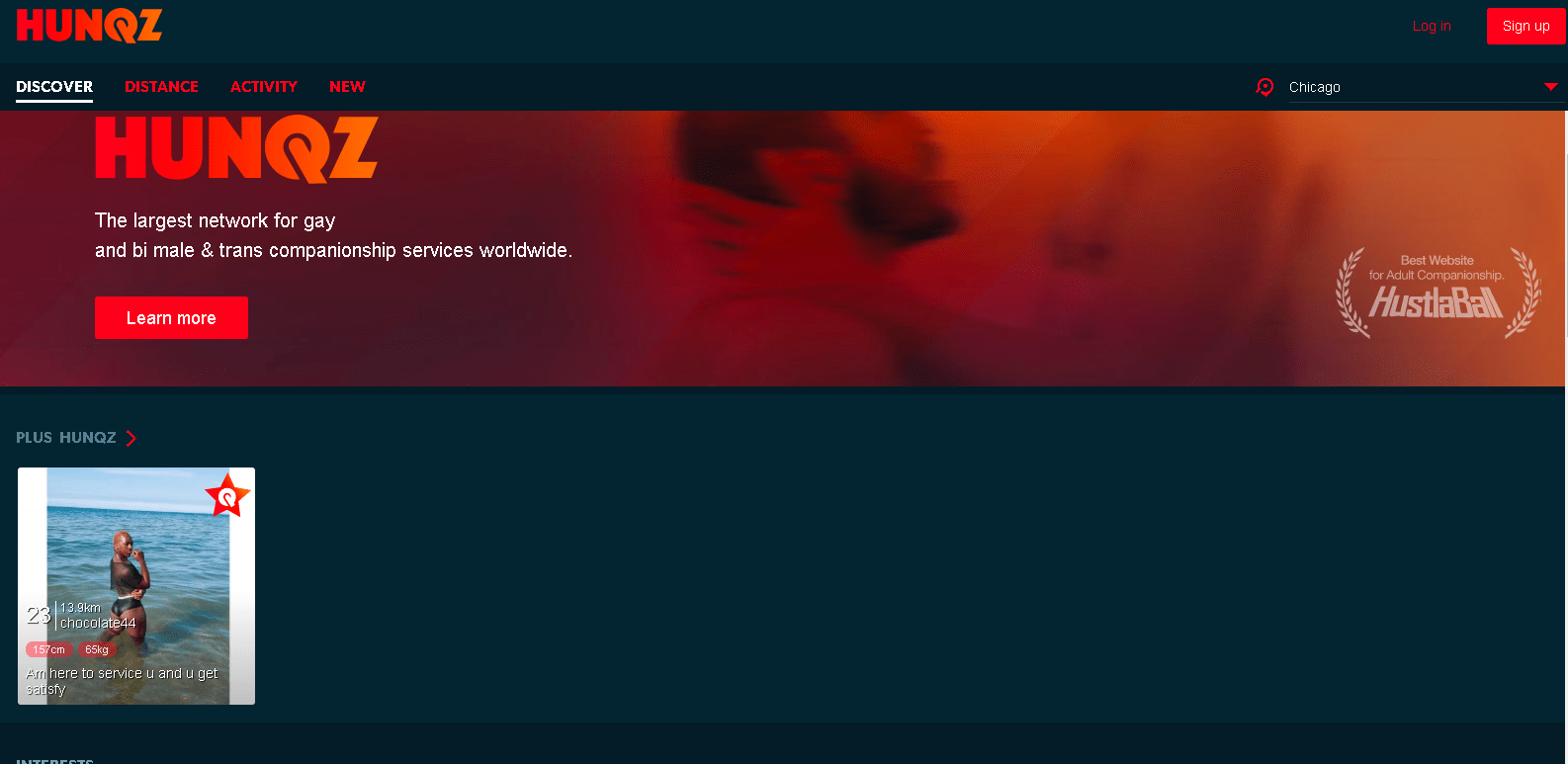 Highlights & Features
Sections for tops, bottoms, BDSM, companion, massage, and more!

Hourly rates and overnight rates advertised

Plenty of homosexual/bisexual guys and trans individuals

Well-designed website

Find escorts near your GPS location

No public nudes allowed
Hunqz is one of the most well-designed websites on this list – it's incredibly easy to browse around and find exactly the kind of guy you're looking for. There are clear sections for tops, bottoms, stocky guys, BDSM, leather, and more!
While the rentboy cannot post nudes, they can post suggestive pictures and tell you their hourly rate and their overnight rate. If you want more info, you need to message them, but at least you get to know the prices straight away.
Overall, Hunqz has quite a diverse range of guys, including all types of men and trans individuals. You can also search by distance and recent activity, so it's easy to find local escorts who are available for bookings right now!
Pros
Intuitive website with specific escort categories

"Escorts near me" function

See prices in advance

Gay, bi, and trans escorts
Cons
No nude photos shown publicly

Escorts tend to be pricier
SleepyBoy
Best Website for UK Escorts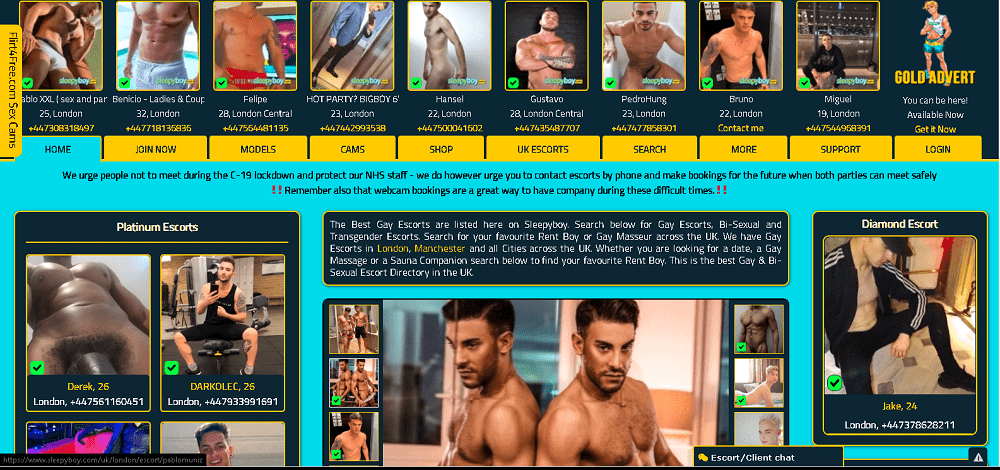 Highlights & Features
Brilliant for UK escorts, especially in London and major UK cities

Nude profile pics allowed

Specific details on sex acts and prices

Website is dated and badly laid out
It's a weird name for a site like this, but Sleepy Boy is definitely one of the best websites for UK escorts. Despite the name, I imagine that most of the escorts are awake throughout the process.
Designed with gay UK escorts in mind, SleepyBoy has tons of listings for London, which is great if you're visiting from abroad. Some guys even list their closest tube station if they offer in-calls.
As well as London, you'll find dozens and dozens of guys in other major UK cities like Manchester, Birmingham, Glasgow, Cardiff, and more.
Sleepy Boy has everything from little sub twinks to dominating daddies, and each escort's profile lists the sex acts like they like, down to very specific details such as "cum eating", "gangbang", and "car dates".
Pros
Designed for UK escorts

Find guys with very specific fetishes

Cheap and decent hourly rates

Great for visitors to London
Jock2Go
Jocks, T-girls, and Twink Boy Escorts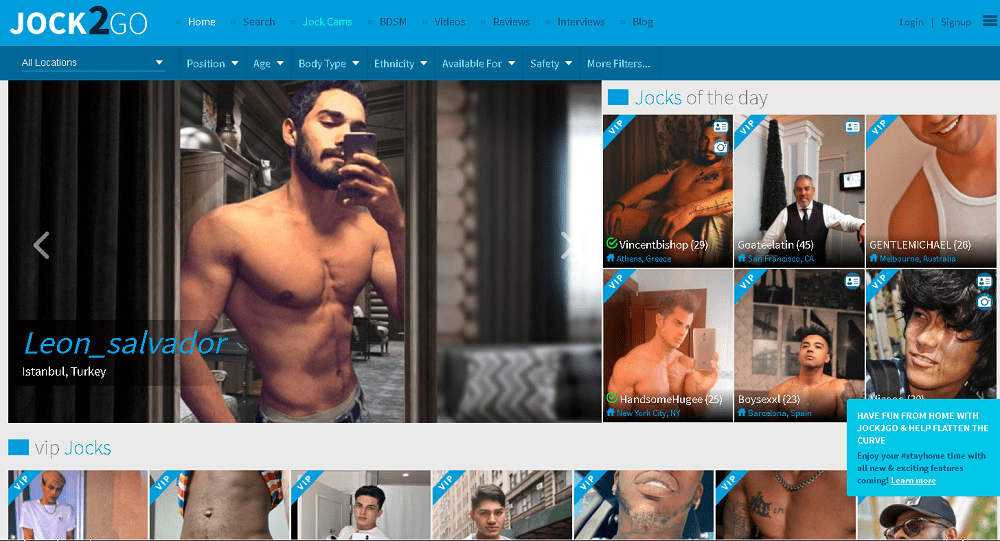 Highlights & Features
Versatile website with photos, videos, interviews, cams

Nude photos allowed publicly

Directly call or email the escorts

Verified ID checks

Filter by sex position, age, body type, ethnicity, condom use, location, etc.

Very popular around the world
Jock 2 Go really has it all… from trans people to twinks, daddies, and gay male massage videos… you can find all your porn and rentboy needs on this website. They even have their own Jock Cams service for escorts who are into camming.
Similarly to Rent.Men, the guys on this site can post nude photos publicly, can advertise their prices, and can share their sexual fetishes and preferences with you.
There are exclusive photos, videos, reviews, and interviews with the escorts, so there's a ton to get involved with.
One of my favorite features is how Jock2Go tells you whether the guy has had his ID verified or not – this helps to reduce human trafficking and underage sex work. With this site, you can pay to spend time with a hot guy in confidence.
Pros
Trans, twinks, daddies, BDSM, massage & more!

Multiple filters for choosing escorts

Live cams feature for online fun

See prices and check verified ID beforehand
Cons
Some guys might not have ID verified

Pictures often heavily photoshopped
FriendBoy
Gay Male Massage and Bodywork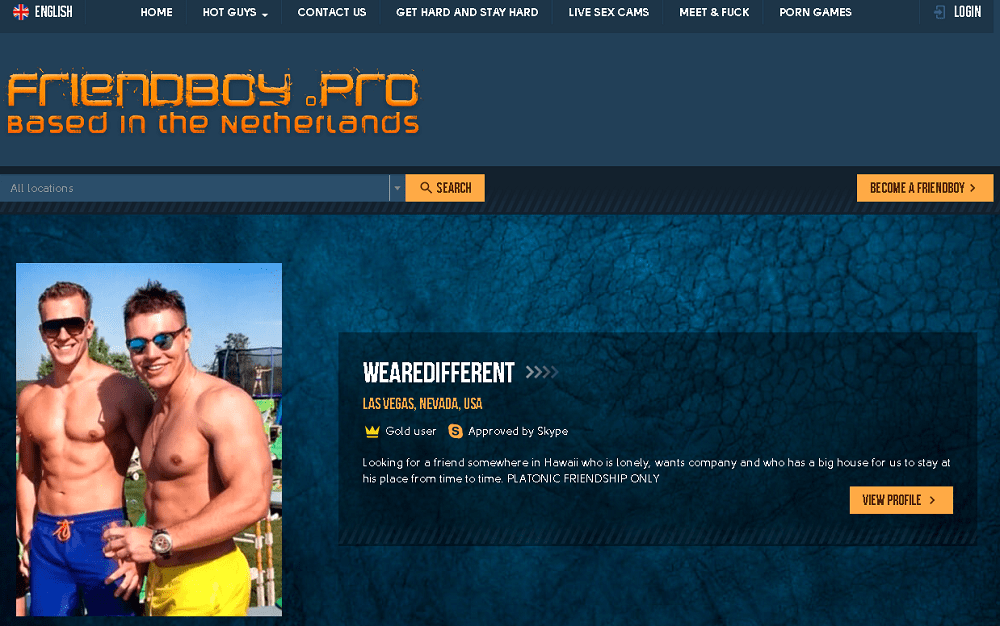 Highlights & Features
Decent for major cities, not good for smaller and mid-sized cities

Website design is subpar

Short bio, location, and preferences

Hot guys with nude photos

Lots of m4m massage and bodywork services
Like all the fun things in life, Friendboy is based out of the Netherlands. This site is not as popular as some of the others on this list, but you can still find dozens of escorts in major cities like London, LA, and New York City.
Each profile has a short bio, a location, and some basic information about the rentboy's appearance. If you want to get more sexual information, you need to get in touch with the guy and see what the jig is.
On the plus side, they do allow NSFW photos, so that's nice.
Pros
Okay for highly-populated regions

Simple short bios for quick browsing

Brilliant for gay massage

Realistic nude photos
Cons
Awful website with pop-ups etc.

Need to contact escorts for more info
What Is A Male Escort?
A male escort is a man who is paid for his company or his time.
Sometimes referred to as a "rentman", "rentboy", or "gigolo", a gay escort may be homosexual, straight, or bisexual, choosing to spend time with male or female clients as he pleases.
These guys are not paid for sex – they are paid for their time. How that time is spent is up to the rentman and their client. They are not sex workers.
Escorts will often accompany their client on a date, come to an event as their plus one, or spend an intimate evening in their bedroom. It all depends on what happens in the time that the client has paid for.
Most of the time, these guys will be self-employed and you can find them via directory websites such as Hunqz or Jock 2 Go.
How Much Is A Gay Escort?
The price of a gay escort depends on numerous factors, such as their services, how often they work, where they live, what you're looking for, and how long you want to spend with them.
Most guys have an hourly rate and an overnight rate. Rates vary wildly, but it's typical to pay at least $100 USD per hour and $500 or more for an overnight stay.
Escorts usually decide their own rates, though there may be room for discounts and negotiation if you ask them nicely or prove yourself to be a regular client.
What Is A Gay Massage?
A gay massage is a relaxing erotic massage service often offered by rentboys and specialists in gay male massage.
Both the client and the masseur will usually be nude, and the masseur will massage the client's naked body. They may offer intense sexual massage such as prostate massage as well as more traditional muscle massage and spiritual services.
You aren't paying for sex, though it could end up being a part of the experience. It all depends on the masseur, the client, and what they agree to for the time they spend together.
How Can I Find Gay Escort Services Near Me?
If you're looking for gay escort services near you, you should try popular sites like RentMen and Jock 2 Go.
These sites are very popular around the world, directing you to m4m escorts of all ages, shapes, sizes, ethnicities, and sexualities.
Should I Worry About Sex Trafficking?
All major "men for rent" websites have strict ID checks in place to stop sex trafficking and underage escorts from advertising on their sites.
Some websites like Jock2Go clearly show you when an escort's ID has been verified, helping to put your mind at ease about human trafficking and underage guys.
Gay Escort Alternatives
Do you want to find a gay sex partner without paying for it? If rent boys just aren't your thing, why not try Adult Friend Finder?
Websites like Adult Friend Finder help you to find real horny guys to hook up with in your local area, as well as swingers and couples looking for threesomes!
Conclusion
When it comes to advertising guys for rent, I think Rent.Men has got the best website for sure. I mean… it's the #1 most popular gay rentboy site in the world!
Rent.Men has also got exclusive photos, videos, live cams, "near me" features, "available now" features and a ton of hot guys to hire!
However, I would say that Jock 2 Go is a very close runner up, offering many of the same services with verified ID checks and detailed listing of condom use, sexual preferences, and more.
Nonetheless, if rent boy websites just aren't doing it for you, you can always try a hot gay hookup site like Adult Friend Finder to get your rocks off tonight.
Whatever you decide to do, remember to stay safe, respect each other, and have fun!

Disclaimer
Please note that Pleasure Seeker is not promoting illegal activities. These websites should be used to find company for non-sexual activities. We are NOT promoting prostitution or advertising sex workers. Always follow the local laws and regulations in your region.
> Top CityXGuide Alternatives 2020: Getting Back on Track