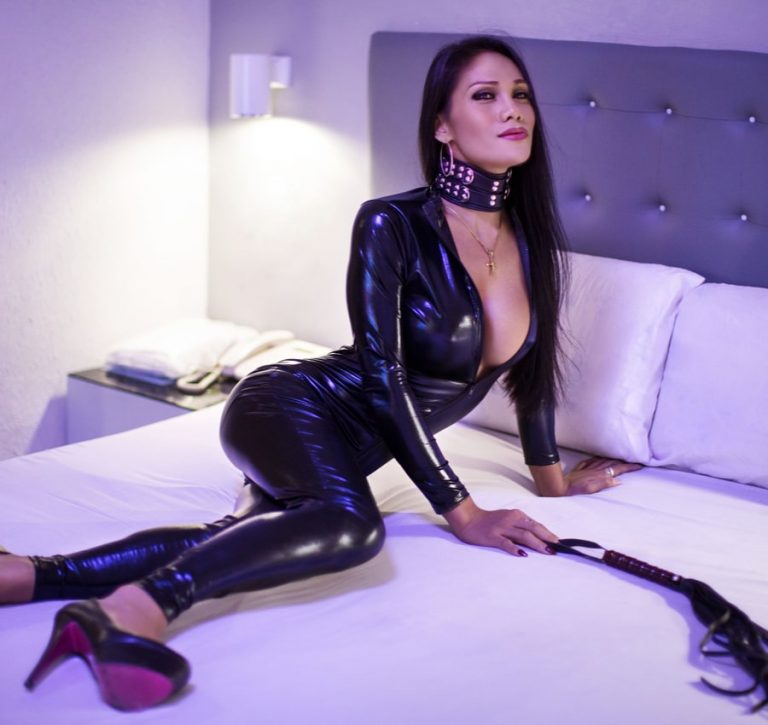 Local TS Escorts can be hard to find – many popular escort websites have a neglected Trans section or don't advertise T-girls at all.
Luckily, there are transsexual escort directories like www.tsescorts.com to help, but the best sites vary according to your location.
Here we look at the 6 best TS escorts sites!
Disclaimer: Many of these sites use words like "tranny" and "shemale" which may be considered offensive to some transgender people. In the context of directories and porn sites, these words are very common. It is not our intention to discriminate.
Top Shemale Escort Sites
TS Escorts
Best Site Overall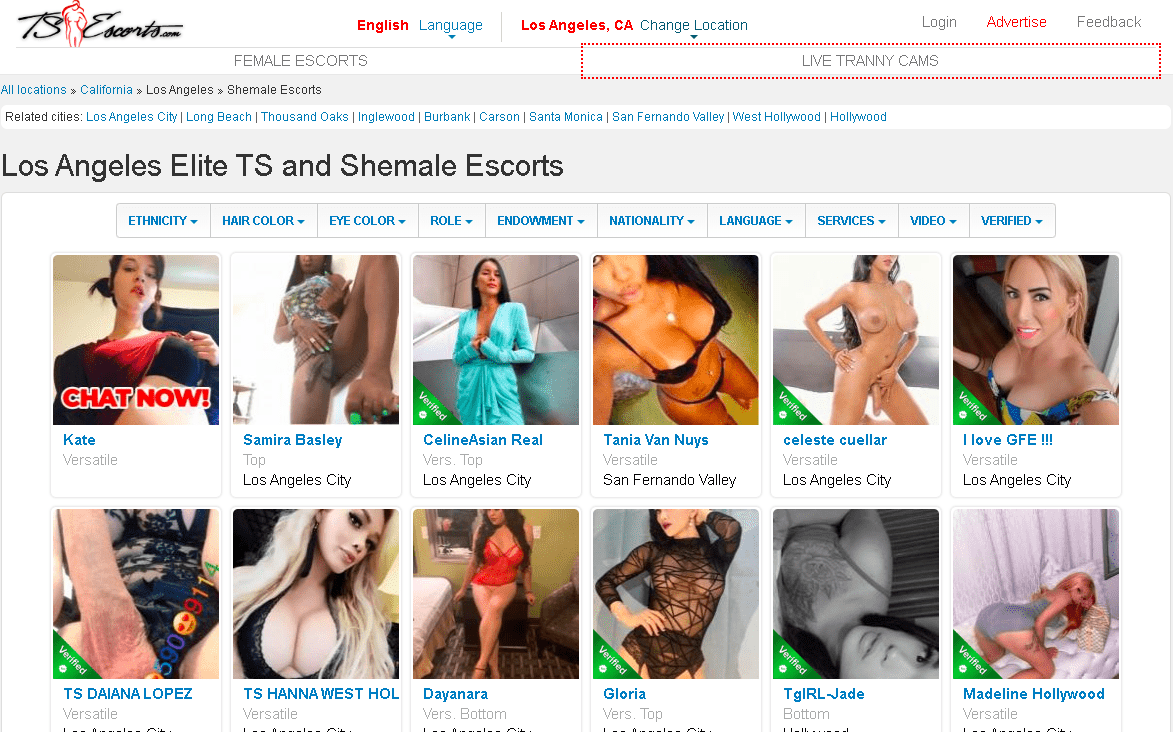 Highlights & Features
#1 most popular website for T-girls

Filter different ethnicities, hair colors, locations, etc.

Pre-op and post-op escorts

Prices can be listed on profiles

Nude pictures allowed
TsEscorts is probably the most popular trans escort search website on this list. For one, it's available all over the world, and it's got a lot of different filters to look through different girls – ethnicity hair color, eye color, bedroom role, location, and more.
From Native American trannies to Ebony shemales, you can find them all.
Each girl's profile tells you whether she is pre-op or post-op and gives you details about her measurements, languages, phone number, and whether she performs in-calls, out-calls, or both.
One of the UK shemale stars on the website also has a bio with the line: "WHY FLY ECONOMY WHEN YOU CAN RIDE A FIRST CLASS PIECE OF ARSE?"
I mean, I'm sold.
Pros
Filter through ethnicity, hair color, eye color etc.

Displays pre-op or post-op status

Popular all over the world (#1 TS escort site)

Nude pictures & videos shown publicly
TS4Rent
Best for Cheap TS Escorts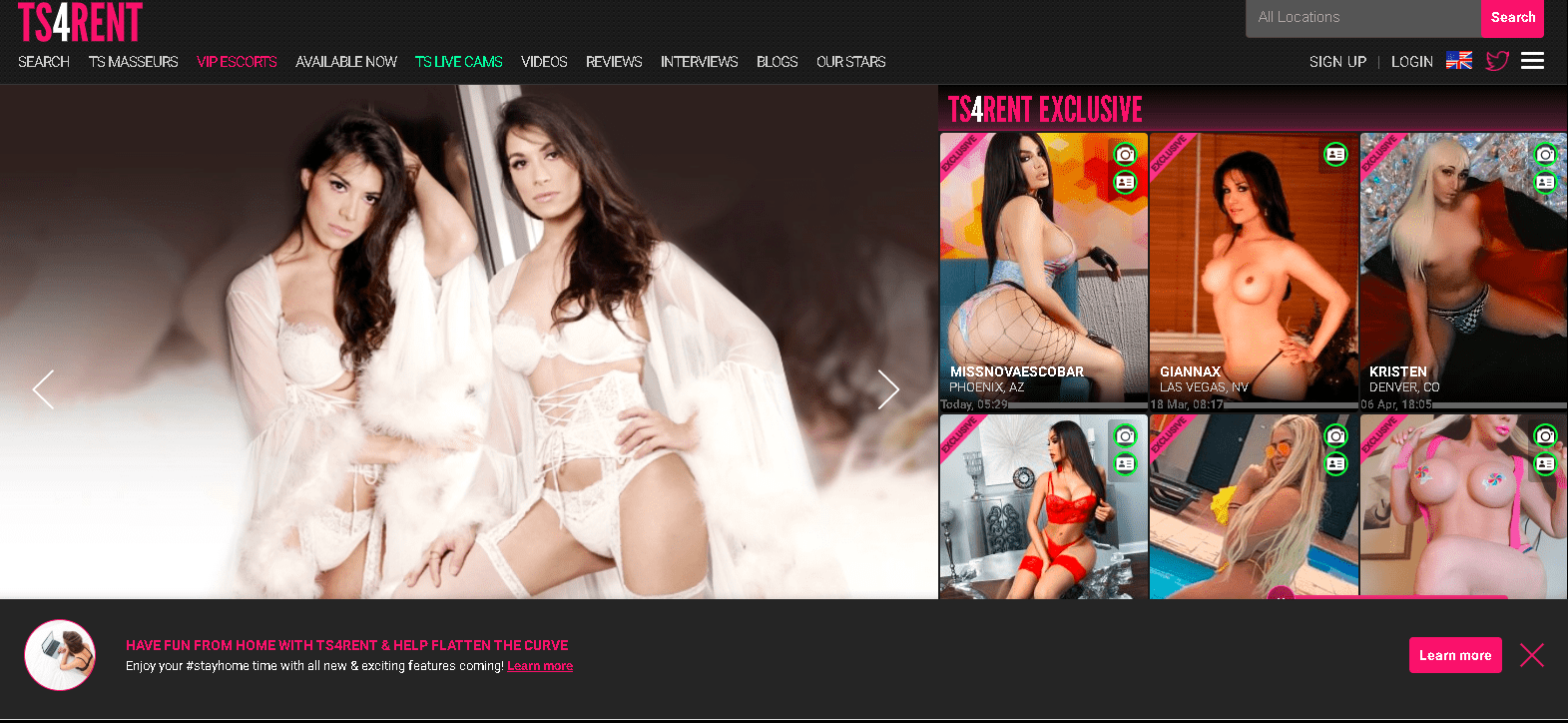 Highlights & Features
Sleek and classy website

Easily call or email girls in your location

"Available now" and massage section

Live camming section too!
TS4Rent is a very well-designed shemale escorts site where you can find hot and horny T-girls at incredibly affordable prices. Very popular in big European cities like London, this site is full of ladies who know how to have a good time.
You can choose to call or email the girls, as well as browse through their profile and multiple naughty pictures. The whole website feels sleek and classy – it definitely elevates the escort-booking experience and makes it feel less seedy.
TS4Rent also has an "available now" section for local tranny escort girls who are taking bookings ASAP, as well as a "TS masseurs" section if you like the idea of a sensual erotic massage from a T-girl.
If all that wasn't enough, they have a trans camming site called TS Live too.
What more can you ask for?
Cons
Interviews & reviews rarely completed

Website is a little clickbaity
TS Dating
Transsexual Escorts All Over the World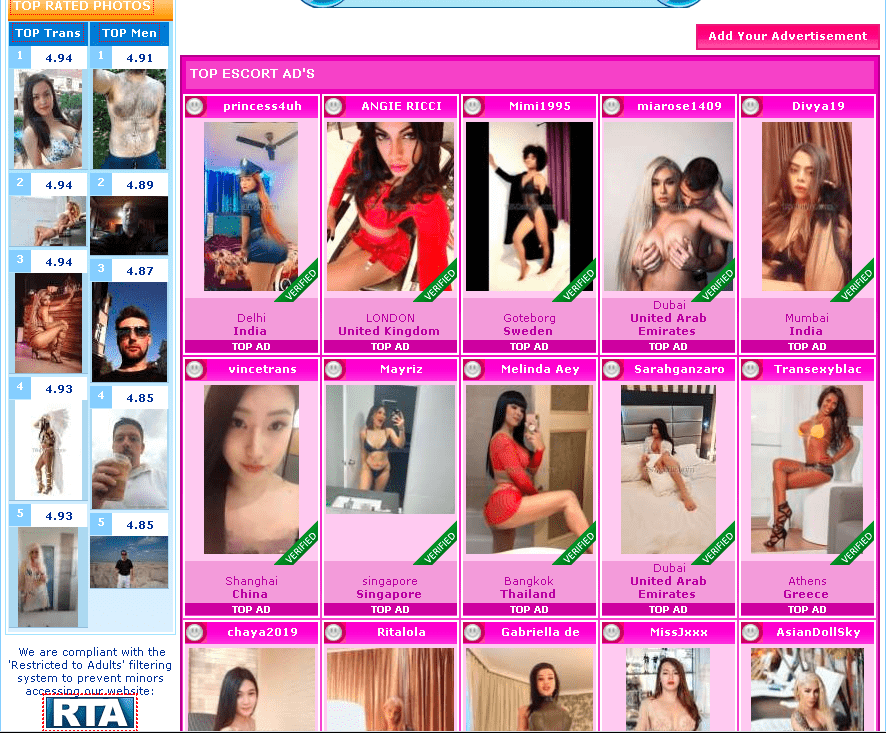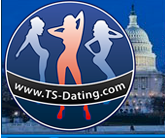 TS Dating is a brilliant website for finding T-girls outside of the US, particularly in areas like Europe and Asia. The site is fairly populated with escorts, allowing you to browse magazine-style ads in the form of graphic banners. It's a bit like you're browsing the back pages of a dirty magazine, which some people might like.
When you find a girl you like, you can browse her naughty photos and read her details. She might tell you what kind of services she has to offer, including things like BDSM, girlfriend experience, sex toys, fetish clothes, client feminization and more.
The only thing that lets TS Dating down? The website is dated and ugly. It looks like it was ripped straight out of the '90s. I can almost hear a dial-up modem.
Pros
Vintage magazine-style adverts

Clearly see the services offered by escorts

Shows verified users

Lots of hot trans escorts
Cons
Dated & annoying website

Not great for the US
EscortWiz
Simple Personals-style Transsexual Escort Ads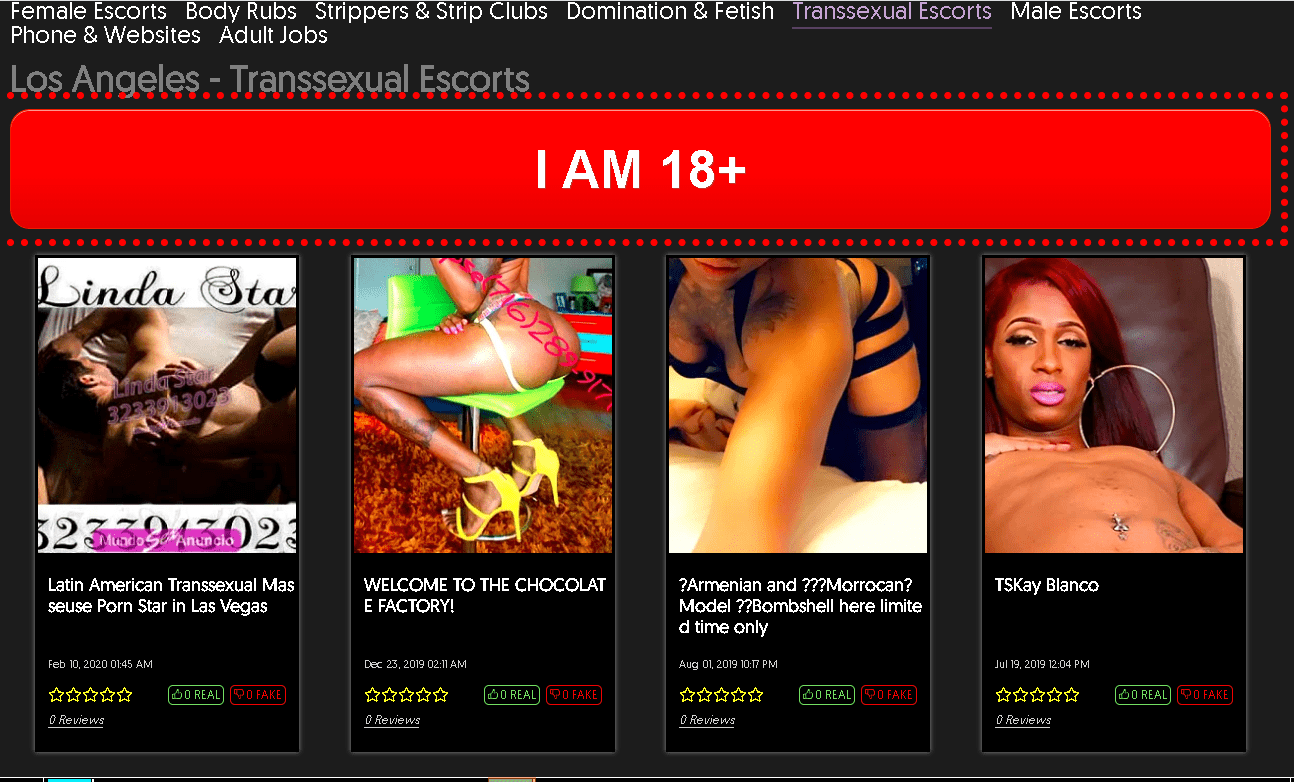 Highlights & Features
One of the top worldwide sites

Probably available in your location

"Real" or "Fake" profile voting options

Reviews of the girls
If you go to EscortWiz, put in your country/state and local region, then go to the "transsexual escorts" section, you will find a ton of T-girls to browse through. There are some old and inactive profiles, but most of the sections are very well populated, even in relatively quiet towns.
One of my favorite things about EscortWiz is how it helps users to find real profiles or professional tranny escorts. For example, there are "real and fake" voting options so users can indicate whether the girls on there are real or fake profiles.
There is also space for client reviews, but it's quite rare that anyone fills them out in my experience. I guess guys hiring escorts value their privacy!
Pros
Easy to find escorts in your location

"Real" and "Fake" voting options

Photos & videos allowed on profiles

Very popular all around the world
Cons
Escort reviews rarely completed

Many old/inactive profiles
EuroGirlsEscort Boy/Trans Section
Finding Transgender Escorts in Europe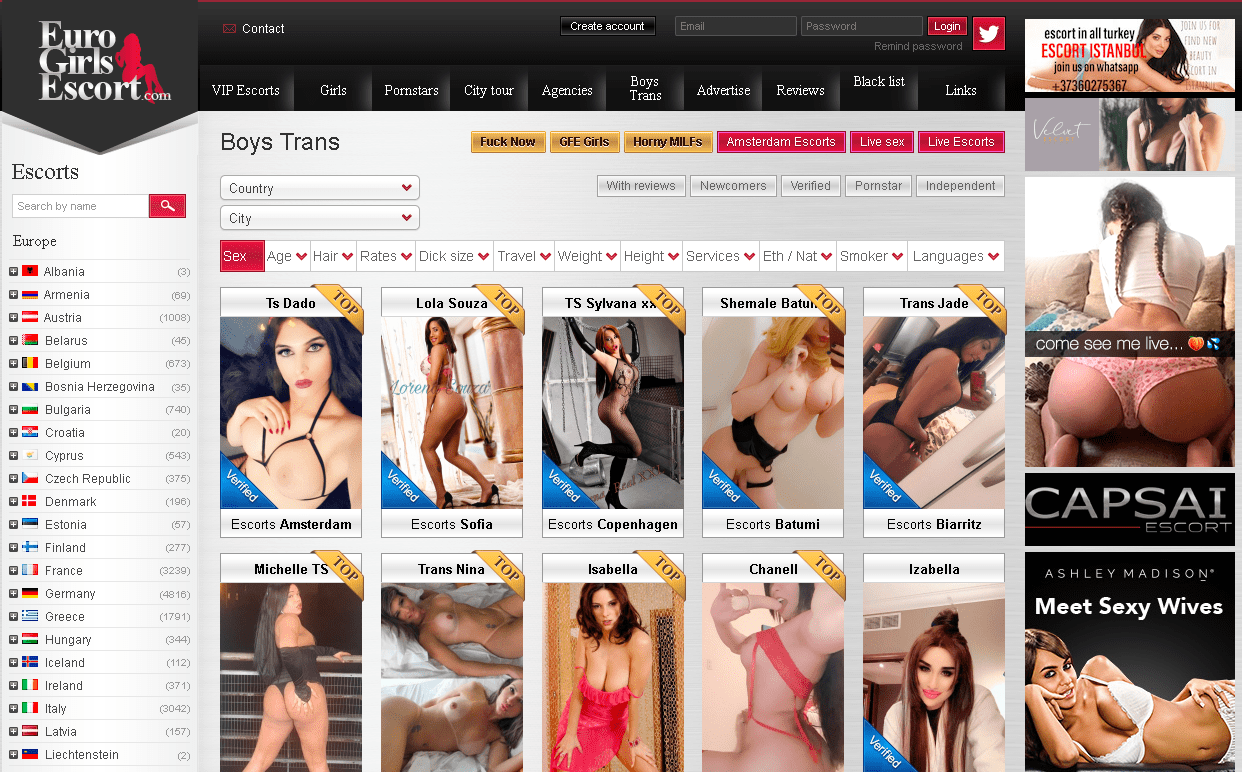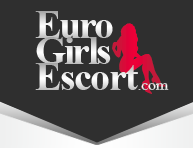 Highlights & Features
Very popular in Europe

Trans girls mixed in with male escorts

Rates and sexual positions clearly advertised

Lots of NSFW photos to check out
If you're looking for trans girls in Europe, look no further than EuroGirlsEscort. While this site is mainly focused on cisgender female escorts, they do have a pretty extensive boy/trans section with T-girls from all over Europe. The site is particularly popular in the UK, Germany, Italy, Spain, and The Netherlands.
The only annoyance? The male escorts are mixed in with the T-girls – it's confusing because you can start mistaking the male escorts for trans men.
Nevertheless, the website is well-designed, clearly advertising different sexual positions, rates, and whether the profile has been verified. It's a very convenient service and there a ton of hot girls with NSFW photos to whet your appetite.
Pros
Brilliant for European TS escorts

Competitive and affordable rates

NSFW photos allowed publicly

Easily browse via country/city
Cons
TS girls mixed in with cisgender male escorts

Only really good for Europe!
Eros Trans section
Best for T-girls in the US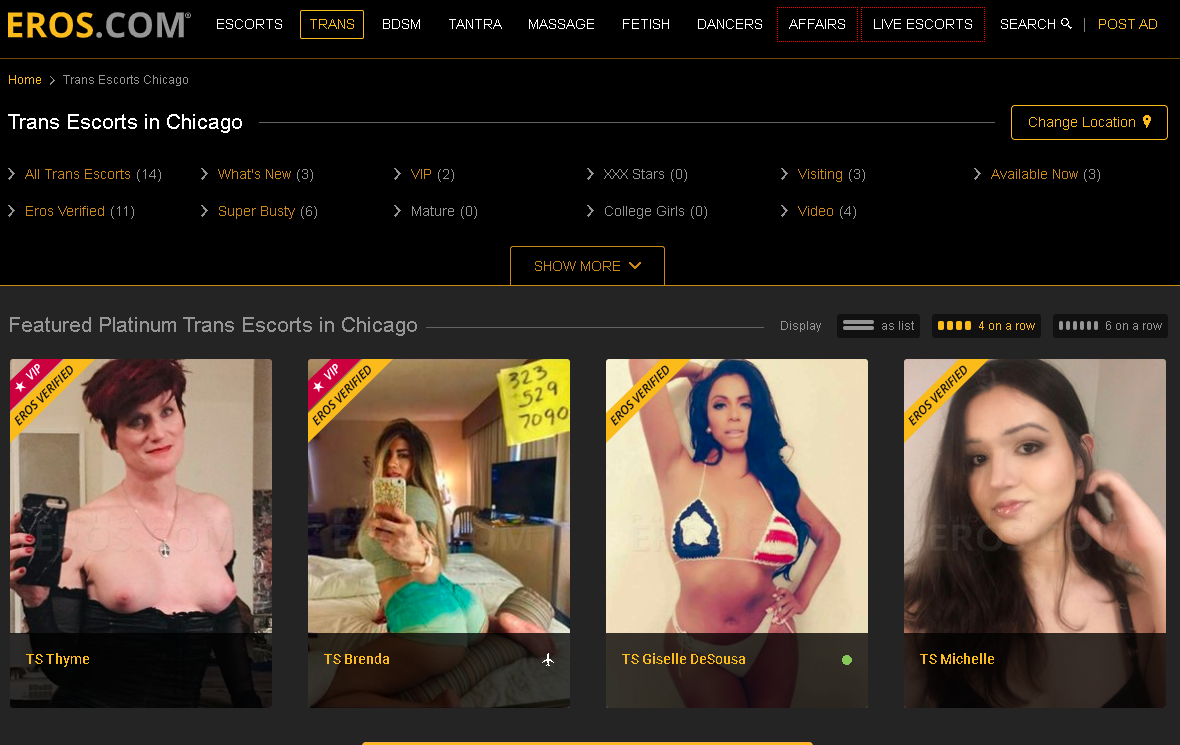 Highlights & Features
Popular directory with subpar trans section

Misleading terminology on profiles

Not clear whether girls are pre-op or post-op

Very popular in the US
Eros is a popular escorting website in the US, and it happens to have a trans section where you can find transsexual escort services online. There are a fair number of T-girls on Eros, but the problem is that the site isn't really designed with them in mind.
For example, the default gender option for t-girls seems to be "transvestite", which implies that they're a cis man who enjoys dressing up in woman's clothing but still has a fully male body.
There are also no clear distinctions whether the girls are pre-op or post-op unless they have nude pictures or mention it in their bio, so a lot of details are left to the imagination unless you message the girl and ask her directly, which is a little awkward!
Pros
Already a well-known escort website

See accounts that are verified

View escorts' in-call location on a map

See who's online right now
Cons
Confusing "transvestite" terminology

Designed more for cisgender female escorts
What's a Shemale Escort?
This usually refers to an escort who was born male but is transitioning to becoming a woman. They may be pre-op (still have a penis) or post-op (have a vagina) or a combination of the two, such as having breasts with a penis.
The most popular type of shemale escort is a trans woman who has breast and a penis – this body type is a particular fetish of many guys and is often found on directories and porn sites.
Occasionally, a "shemale" may refer to an FTM person or transgender man, but this is quite rare in my experience.
Shemale escorts act similarly to female escorts – you pay to spend time with them, whether that means going out on a date or spending an erotic evening alone.
Escorts are NOT paid for sex – you pay them for their time. What happens during that time is down to you and the girl in question.
What's It Like to Have Sex with a TS Escort?
Different girls specialize in different types of sex and positioning. You also have to consider whether the girl is pre-op or post-op:
Pre-op – she still has a penis and can fuck you with it, if you please
Post-op – she has fully transitioned with female genitalia
Combination – she might have breasts with a penis, for example
Some T-girls like to be the top (active partner fucking you), some like to be the bottom (passive partner getting fucked) and some might offer either service.
A lot of guys like to be anally fucked by "shemales" or "chicks with dicks", while others might want to have penis-vagina sex with a fully-transitioned transgender woman.
Ultimately, each T-girl is different and offers different services. They are usually very discreet, fairly priced, and should be treated with respect.
TS Escort Site Alternatives
Want sex with a T-girl but don't want to pay for it? Maybe you should try a hookup site like Adult Friend Finder instead.
Adult Friend Finder has an option for TV/TS/TG people who are looking for a bit of naughty fun! It's not business – it's just good ol' fashioned sex!
Conclusion
Overall, I would say that TsEscorts is the best directory for shemale escorts and TS escorts, featuring detailed filters for appearance while clearly advertising pre-op and post-op status so you can find exactly the kind of girl you're looking for.
Following that, I would recommend Euro Girls Escorts' trans section or suggest checking out Adult Friend Finder if you want to find trans women who are having sex with you for fun rather than cash!
I hope you enjoyed this guide to the best trans directories! Whichever site you decide to use, remember to treat the girls with the respect and decency they deserve.
Stay safe and have fun!
Disclaimer
Please note that we are not promoting sex work or prostitution here at Pleasure Seeker. These websites should be used to find escorts for non-sexual activities only. Follow the laws in your local region at all times.
> Top CityXGuide Alternatives 2020: Getting Back on Track