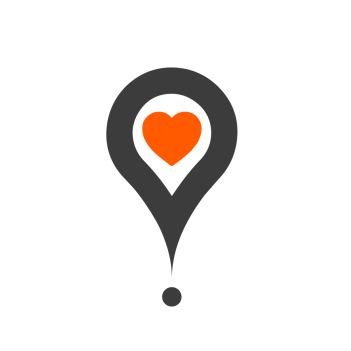 Well hello there, beautiful and exotic, erotic and never lethargic, sexy swingers singles ready to mingle in your bedroom tonight. Plenty of people, both real and fake, have profiles on the WellHello app waiting for hot, sweet, special messages from a person like you.
My Well Hello Online User Experience
The first noticeable issue with the browser on the mobile site is too many crammed features and a notification prompting a bunch of updates that I didn't need, so I pressed no.
Is WellHello A Scam?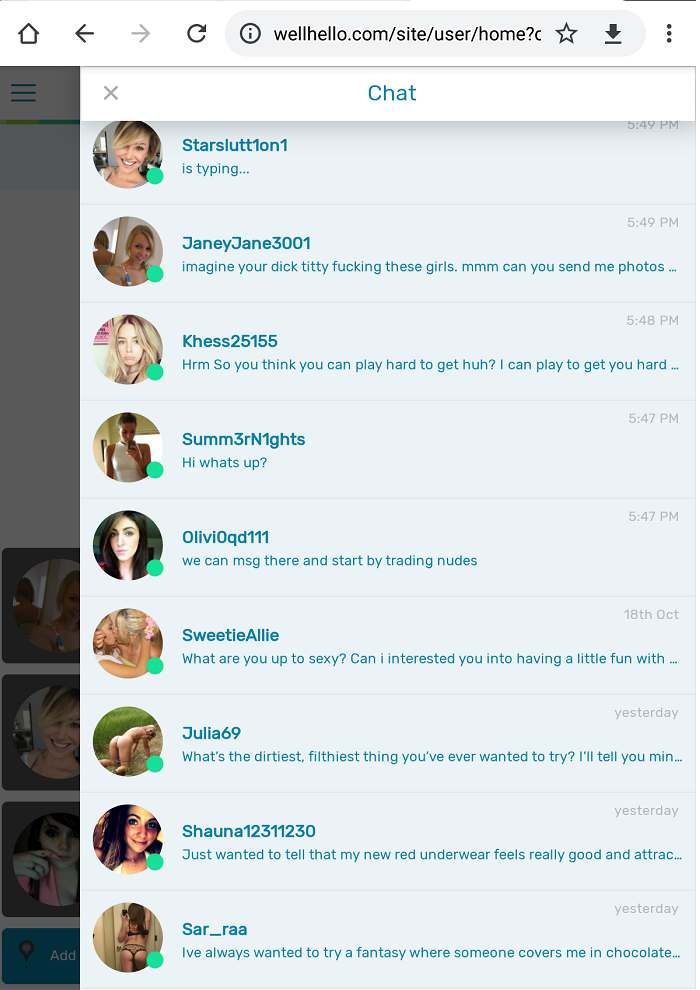 YES AND NO. When I finally signed up for a free account and logged in to my page there was an instant barrage of sensual personal messages from some of the most beautiful local women that were supposedly in my area who really wanted to converse and meet me. I felt handsome, proud, and confident – like a real man. These messages boost my ego and I felt 'fly, but to leave a reply I needed to pay a dollar. A freakin' dollar!
One girl was located 1 mile in my community, and another girl 4 miles, and another girl 10 miles. That's really cool they were located so close and I really wanted to leave a reply so they could contact me by phone, but an issue arose when an avalanche of popups saying things like, "you want to fuck tonight?" and "I want to kiss you," and shit like that just kept coming – something felt 'off' about these messages. 
I consider myself a player with a lot of women in my stable, but even I know women in the real world aren't this excited or even cooperative to talk with a random guy through online dating sites. So, I instinctively questioned the authenticity of these online dating accounts. However, I can't bypass those pages or send messages to anyone to investigate my suspicions further unless I created an account that required a $1 payment. Seemed like a good deal, right? Wrong! I'll get into why later.
This uncanny cooperation leads me to question whether these messages were from real people or fraudulent bots. And for those of you who don't what bots are, they generate online dating messages the moment someone visits these sites as a way to advertise by making it look as if they are getting a lot of action from hot girls or guys. However, this can backfire if people unveil the truth. I'm not saying that WellHello uses bots, but I highly suspect they do.
Advanced Online Dating Search Engine for Specific Terms
Searching for users with specific terms in their profile is as easy as typing a single word and you don't need to upgrade your free membership to do this.
Ages – The toggle moves between 19 and 99 – there are some hot milfs on WellHello!
Distance – The maximum range to find online dating local women is 100 miles from your current location.
You will get real matches with real women sometimes, but viewing the live cams requires an upgrade for a dollar, which automatically signs you up for a one-day trial membership to send messages or chat.
Well Hello User Profiles
The profile of many users on WellHello shows what type of companion they are looking for. Here's some relevant information that you will find on each one.
Status (in a relationship, single, married)

Orientation (male, female, trans, couples, bisexual, heterosexual, lesbian, gay)

Race (Ebony – Black, Caucasian, Asian, Indian, Hispanic)

Height

Build (Athletic, BBW, petite)

Size (Small, Medium, Large)
Filling in this information is completely optional which opens the doors to catfish and the poster can choose to put anything they want instead of using pre-selected responses. So, only believe half of what you read on here.
Creating My Well Hello No-Money Subscription Profile
Creating a totally free profile was pretty straightforward, but only gave me access to limited features. I could browse through the profiles, but communication was restricted unless I paid some money.
My personal profile has my photos, which I can edit, and my username was created by default mixed with the first half of my email and some random letters the system generated. I don't know if it's changeable.
I can see which profiles I liked, what I have searched, a list of my friends added, and friend requests sent out to the girls.
Well Hello Special Tabs
There are a couple of tabs that will direct you to other websites just in case you can't find any love hostesses. Also, some ads that would trick you into believing you got messages on Facebook or some other social media sites, which is a fake scam full of fake profiles and just a way to generate money. Here are some more tabs that you can use to navigate around the site.
Galleries – Pics of all members.
Local Girls – See girls in your local area. Unfortunately, it directs to a website called CamMonster, which I know nothing about. Maybe we'll do a review about it later.
Find a cheater – It directs the Public Seek, a website that searches personal records using phone numbers, email addresses, names, or physical addresses to find a person. This is something that shouldn't connect to a dating site because it might give stalkers the wrong idea. I guess it's all about that money.
Well Hello Payment Details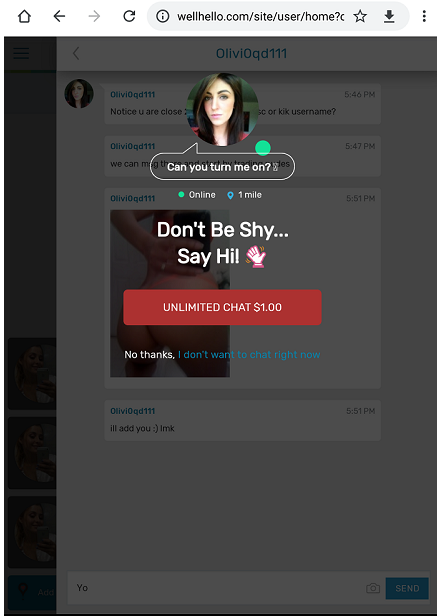 For only $1 you get a one-day unlimited chat pass. However, the associated charges will be $39.95 for a one-month subscription or about $120 for an entire year. Luckily, you can pay without verifying your email, but I'm unsure if that's a benefit or a sign of a flaw. Most legit sites like Doublelist won't even let you past the homepage unless you verify your email.
Most websites offer many payment options, but WellHello only has two and that's questionable, however, my suspicions were laid to rest when the charge was accepted by my PayPal debit card so it must be legit.
But using this site for one day is a short period to become familiar with the site and its features, therefore, I would only use it for a one night stand, meet and fuck situation, or to find a fuck buddy.
One big problem I had with the charges from WellHello is that they took $1 (chimmichun.com) to pay the free trial, but attempted to take $39.95 (wukog.com) to pay the one month trial, which I did not expect. Both charges came in on the same day and at the same time so I can only assume that it's from Well Hello. It makes sense because it was very challenging for me to find the exact membership prices because there were none on the WellHello website. I had to do some Googling to find out what they are.
WellHello Review FAQs
The FAQs on WellHello are mostly account-related questions and answers, so the FAQs for this Well Hello website review will attempt to answer those questions the website failed to mention.
What is go WellHello com site?
A fun dating app for swingers and singles.
What are legit dating sites?
We have an entire article about what they are.
How to delete a WellHello account or profile?
Go to the customer service page and click Contact Us to create a ticket and post a comment about shutting down your account or send an email to info@wellhello.com for help.
Some of the women are real and some are bots and fake profiles. You need to sift through to find the real ones.
Wellhello.com Pros
Website looks real and authentic

User features are straightforward

Has SOME real women
WellHello Cons
Annoying bots sending compulsory messages

Ads

Does not accept e-wallets or cryptocurrency

Profiles are not detailed enough

Some tabs direct to unrelated sites

Need more features

No info on the WellHello website about the membership prices
Concluding Thoughts
This website is ok to hookup with someone. I would love to give it a great review, but can't because some of the features are bad. I understand having bots on a website keeps people interested, but creating a dating scam will drive them away.
The payment process is legit and I would trust it with my bank credit card to create an account and pay it no mind.
But there are better hookup search services out there. I give this one a 1.5 out of 5.
> The Top 11 BDSM Sites: The Best Communities and Personals to get Kinky