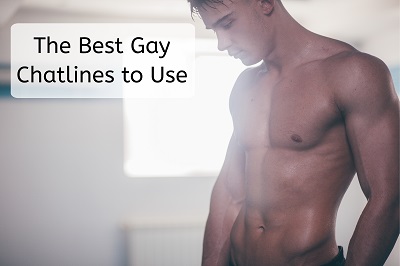 Whether you're looking for romance, flirty chat, or dirty hot phone sex, gay adult chat lines can be a great way to have fun when you're in the mood. So long as you're having fun and being sensible with your cash, cheap phone sex lines offer a safe way to flirt and talk dirty with other local gay men in your area!
Here I'm taking a look at 10 of the best gay chat lines in the USA. These gay phone chat lines cover everything from regular handsome men to sexy femboys and twinks, all of whom have unique and alluring voices. If you've never tried phone sex before, it's a uniquely exciting experience that I'd totally recommend. Let's jump in!
These are some of the best gay chat lines in the USA and Canada. Some come with free trials, but some you have to pay for straight away. Either way, I've included the basic pricing structure so you can decide whether they're right for you.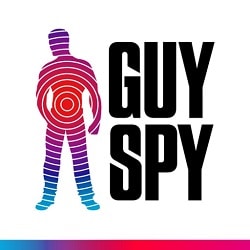 Free 60-minute trial
GuySpy Voice
Although we should not dismiss the work of professional phone sex operators, there's something a little "blergh" about talking to men who are talking dirty because they HAVE to, rather than because they WANT to.
With GuySpy Voice, you're only connected to real hot gays in your local area who also want to talk dirty for fun!
This is one of those free 60 minute trial chatlines, so you can try it out for free and then choose to pay their competitive rates if you like it.
Free 60-minute trial
Guyline
Another cheap phone sex line for gay men which connects you to real local fellas instead of paid workers, Guyline (not to be confused with the guylines that hold up a tent) is a decent adult sex line which is great for flirting with other men. Instead of grouping everyone together, they filter men according to your preferences, and you also have the ability to send flirty voice messages before starting a conversation so you can get a feel for someone before entering a live chat with them.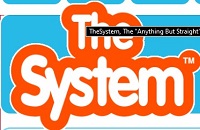 The System
"The System" is a cheap phone chat line that caters to all members of the LGBTQ+ community. I'm not sure why they give it such an ominous name, but whatever. It's a very unique concept because you're paying a flat fee for unlimited access rather than a block of minutes.
Free 3-minute trial
GuyFlirt
If you're just looking for quick and easy phone sex where you get straight to the point very quickly with the hottest guys, then GuyFlirt could be great for you. You're paired with another horny man very quickly, so if you're not too picky, you can get down and dirty in no time. However, at $1.69 per minute, you could spend upwards of $100 in an hour, so be careful!

Free 30-minute trial
PrideLine
Whether you're looking for love, cruising your town, or trying to organize an orgy, Prideline is a decent way to meet real men in your area. They offer a 30-minute free trial and competitive rates, so you can always try it out and see if it's for you before committing fully. You simply enter your area code and then you're put in touch with sexy gay singles based on that phone area, though it's a bit limited if you live in a more rural state.

Free 60-minute trial
Hardline Chat
"Hardline Chat" sounds more like a serious political discussion show than an adult chat line, but I'm no marketing expert! This is a really decent phoneline covering all of North America (including Canada) so it might be particularly useful if you live near the border and you wanna meet guys nearby without restricting yourself. Although there are discounts for new members, there is no free trial, so you do have to bite the bullet and pay if you wanna try this out. Still, it's a pretty cheap phone sex line so you won't need to spend a fortune.

Talk To Me Men
The gay version of TalkToMe, a straight phone sex and camming website, TalkToMe Men is brilliant for guys with specific kinks and fetishes who want to explore them with a professional model. You can search different models' profiles, exploring their photos, interests, kinks, and rates before finding the perfect match for your sexual needs. The prices of these models vary, but some can charge upwards of $150 per hour, so be careful not to get carried away!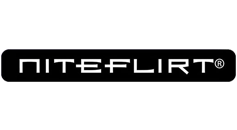 Nite Flirt
NiteFlirt's gay section is great if you just want a really quick and simple phone sex experience. Each model has a profile with a couple of pictures and a bio telling you a little bit about themselves, their specialties, and what they're into. Calls are charged at a set per-minute rate which varies from model to model, so be wary that a 10-minute phone call could cost $10 or $45 depending on who you speak to!

Free 60-minute trial
Interactive Male
Interactive Male feels a lot more professional than some of these other gay phonelines – their website is less clickbaity and less bent on shoving half-naked men down your throat. This is a really well-managed private phone line that would be easy to meet men through, whether you're after love or dirty singles! It covers all of North America, and you're speaking to real men just like yourself. Their website also gives you a ton of advice on using their gay phone line to the perfect guy, so I suggest using it!

Free 30-minute trial
Beeper Love
Beeper Love is a Latin adult chat line primarily designed for straight men looking for Spanish-speaking women. However, it does also have a "men seeking men" section which is decent if you're looking for a Spanish-speaking guy and you're not too fussed which part of the country he comes from.
How to Flirt with Gay Guys on Chatlines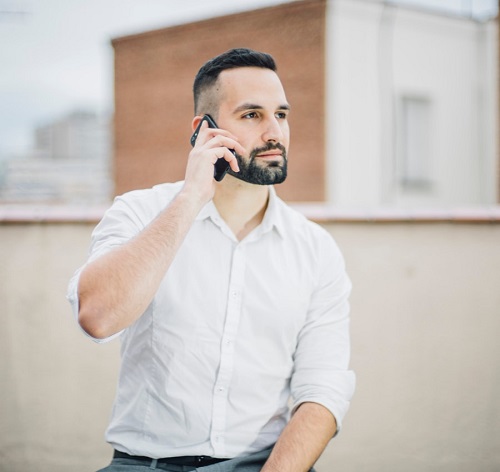 Whether you're speaking to professional models or real men like yourself, calling up an adult chatline can be an intimidating experience if you're not used to it. Here I've compiled a few tips for gay phone flirting and advice on how to stay safe on chatlines.
1. Be upfront
Most adult phone lines come with a "personal voicemail" feature which allows you to record a voicemail telling interested men exactly what you're looking for out of a chat. It's best to be totally honest about your intentions and kinks/fetishes if you're looking for phone sex, otherwise you're just wasting everyone's time. If you're looking for dirty hot phone sex, don't pretend to be coy and shy. Everything is anonymous and this is a place to explore your desires rather than hide them.
2. Prepare some talking points/questions
Unless you're the kind of person who can create conversation out of thin air, you might want to prepare some talking points on a notepad in front of you. Dating experts recommend doing a similar thing when going on a real-life date with someone. This way, if the conversation ever dies down, you can refer to your talking points instead of suffering through the awkward silence.
3. Sound confident!
No matter how insecure you might be about your attractiveness, chatlines are a place where no one knows what you look like. The other person can't see that crooked tooth you hate or that pimple on your face – you can paint yourself as the world's sexiest Adonis if you want to. Flirt with confidence like you have the body of a Greek God. Self-confidence is a very sexy trait; it'll help make your sexy live chat even more exhilarating.
4. Don't give out personal information
Even if you're planning to meet someone in person, don't give out your personal information to anyone. Retain your anonymity at all times or you could put yourself in danger. If you are going to meet a chatline guy in real life, use common sense and meet in a public place, telling a couple of people where you're going. It's the same principle as meeting someone from Grindr or similar gay dating apps.
5. Set a timer
If you're using adult phonelines on a tight budget, consider setting up a timer on your phone which lets you know that you need to wrap up the conversation and finish. It's easy to get carried away in the moment and rack up a massive phone bill if you're not careful!
Gay Live Chat Rooms to Try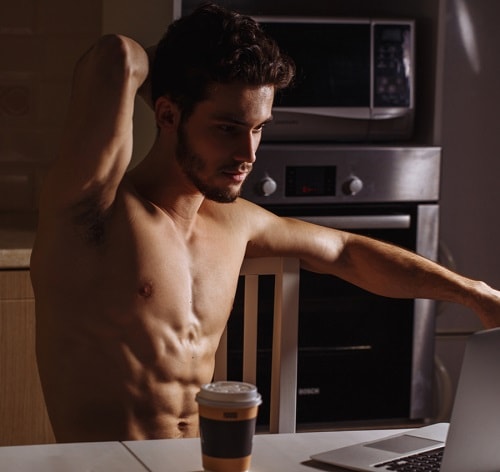 If you're not too concerned about anonymity, there are many gay video chat sites online where you can speak to hot guys via webcam, similar to a Skype call. You get a little bit of everyone on these sites – some are fully-clothed men who want to talk while others are totally naked and looking for another scantily-clad male to talk dirty with and masturbate!

Most of these gay video chat websites are "random", so you might have to skip through guys repeatedly until you find a good match for your interests.

–ChatRandom Gay – ChatRandom Gay is a popular video chat platform which connects you to "random" men from all over the world, although you can select specific countries if you want to
–Skibbel Gay – Skibbel Gay is a random video chat site which is tailored toward naked flirting and virtual sex
–Chat Avenue – ChatAvenue is a video chat website which features a "gay chat" section aimed at guys looking for flirting and casual conversations, though you're likely to see a few cocks too
–Omegle – Omegle is an innocent "talk to strangers" website which happens to be full of horny men and women. You can select the "unmoderated" video section and put your interests as "gay" if you're looking to chat with LGBT+ men from all walks of life.
Check out our list of chatline numbers here for even more gay chat lines to call.
> 12 Best Sugar Daddy Sites to Find Hot Sugar Babies & Rich Daddies