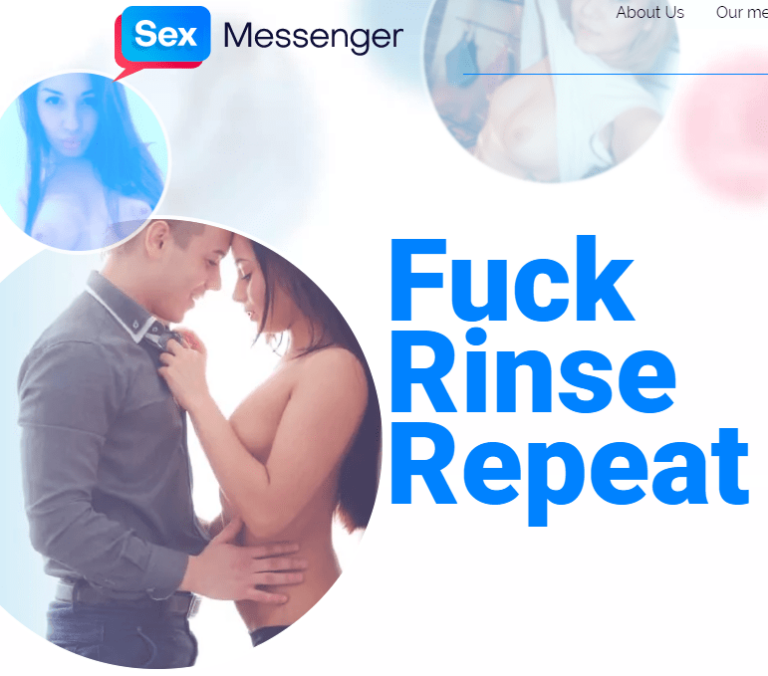 Set your clocks back for Daylight Savings because today is time to give a review about another sex dating website that, at first glance, seems promising.
Is it good like Jerkmate? Um, no.
Is it as good as Adult Friend Finder? What do the five fingers say to the face? *Smack!* Hell no!
SexMessenger.com stepped on the scene with all the usual boring-ass features and filters that you would find on any other dating app, so don't expect too much this go-round.
The process of communicating with someone for sex is simple with an instant message or a chatroom back-and-forth ping-pong game. That's the central concept of this website: send messages and wait to get a response.
SexMessenger.com Review: What Impressions Does the Homepage Give Me?
I approach any review with an analytical mind that aims to answer all questions you may have before visiting a site. Knowing the first impressions of the homepage might not be important, but through my eyes, they are important enough to briefly discuss in a paragraph.
Off the top of my dome, I absolutely love the tagline, "Fuck Rinse Repeat". That's the hook of the site that got me bopping around in the boat with happiness because I connect with that message. I noticed that the tagline is missing a few commas after each word, but that's no biggie because I'm no grammar police. However, this tagline encourages many things; 'fuck a girl, rinse yourself off, and repeat the concept'. I just hope the secondary tagline is, "Use Condoms Often." Because as you know, some free sex messenger ichat apps have sexually undisciplined people burning like the California fires. Yeah, they're hard to put out,
Any question you might have about this website is answered on the homepage. That's a refreshing feeling since you don't have to guess what this site is all about. Just scroll down and read the descriptions. But I had to stop 25% down the page because something grabbed my attention. What could it be?
I've Spent Most of My Online Dating Life, Living In An Auto-Bot Paradise: Does Sex Messenger Have Bots (Not This Again!)?

Bots. Bots. And more bots. They're taking over online sex chat dating websites! I know damn well Yasmine does not want to talk to me! Is she real?
You know, I feel uneasy about auto bots on dating websites. Hopefully, this page is just an advertisement for what I can potentially find. But, I hate bots. So for the homepage to say that there are 2,000 active members in my area, has me bent out of shape. I feel like Gumby.
Every time I re-login or refresh the page, that 2000 active members does not change. I refuse to believe Sonia, Nettie, Edie, and Yasmine are in my area. I know my area very well. Women here don't look sex like that unless they stay in the house all day! But of course, this is just an advertisement page and I need to Sign Up to See More.
The website claims there are 400 Live Broadcasts, more than 100,000,000 hot photos, and 4,500,000 connections. Yo, if that's true, then that's a lot of everything!
Upon messaging people on Sex Messenger I am relieved, and can finally wipe the sweat beads from my forehead that none of them seem like bots. Every person who signs up is required to verify their account, something a bot cannot do. Well, a bot can't do it now, but maybe in the year 3000 that will change.
Signing Up For An Account – What to Expect?
Just like other dating sites, they ask if you are a man or a woman and what are your interests with your chosen party.
Erotic chat
1 on 1 sex fun
Fun
Group sex
I would assume that these choices will connect profiles that have similar interests. I chose 'Fun' and the next page asks for the following to complete an account:
I have a unique username that I use across every single dating website and people never use it. The SexMessenger system, however; a site I've never used before until now, says my username is taken, so that leads me to believe another dating site owns this one. I just found out its Adult Friend Finder. No surprise there.
I chose the most generic password anyone can choose – 1111111. It was accepted. Right now, however, I'm worried if my account will get hacked like AFF got hacked in 2016, so they should know better than not requiring a complex password. Or maybe they are so confident with their security systems that they don't care. Having the option to choose a simple password is a double edge sword, though. One, it's easy for me to remember the password. Therefore, I don't have to continually retrieve it as I do with other dating apps and websites. On the flip side, it's also a security concern because if my girlfriend wants to catch me cheating, she might hit the lottery and guess my password and I'm in deep trouble.
How Much Does Joining A Premium Membership Cost?
$14.95/month (billed at $179.40 to cover the annual pricing)
$19.95/month (billed at $59.85 to cover quarterly every 4 months)
$34.95/month
It also has the extra 12 months for $107.40.
Security Features Worth Mentioning
If you're not the type of person to pay and wanna make money, then Sex Messenger has an affiliate program with CrakRevenue to help you make crack-like revenue. I wonder if the affiliate program is through Adult Friend Finder?
All information you input on the site is protected by RTA and ASACP. RTA sounds like a public transportation authority and ASACP sounds like an animal protection agency. All jokes aside, RTA means the site is "Restricted to Adults" and ASACP means Association of Sites Advocating C h i l d Protection. So, you can conclude that this site attempts to protect everyone who visits.
SexMessenger.com also has an anti-spam policy, so the guys who own the site won't be able to send you messages requesting you to join the weird shit. Moreover, you can't send out spammy messages to women, now they can have peace of mind.
Sex Messenger seems to be a new site in internet years, so it does not come as a surprise they're asking for money right out the gate. You can't use NONE of the main features like sending messages to users without paying something, so I suggest have your credit card in hand. However, if you press the Home icon at the pay screen then you can get a glimpse of the site a bit. That's a little shortcut for all of you people out there.
What's Beyond the Pay Screen? Answer: Adult Friend Finder
You can see what is beyond the pay screen if you go here members.sexmessenger.com/browse or click the Home icon. Why don't you lookie here for a moment; this site seems like the exact same set up as Adult Friend Finder. Except I see a whole bunch of dudes staring me in the face even though I clearly clicked Male looking for Fun with Females. WTF? What a letdown.
In fact, scroll to the very bottom of the page and you will see something that says Adult Friend Finder mobile site. That tells you everthang you need to know. Click it and the page directs straight to the Adult Friend Finder website.
However, I will give credit where credit is due. Sex Messenger tries to be a cleaner version of AFF by eliminating all the BS and fake profiles. I respect that game.
How to Find Members & Engage With the Site
Be very choosy about what you put at the beginning stages of the sign-up process. For example, I pressed Fun and now I'm looking at both men and women in my Live Members Broadcasting feed. I don't wanna see those dudes, dude!
The site automatically shows people who are in your area and around your age. Be sure to select your desired age bracket. I would assume if you select older or younger ages you would get a list of those people. I like that!
I love the fact there are no bots in my conversation feed like on AFF. So, if someone does send me a message it's most likely a real person. Some of the sections in this section are:
Cupid Matches
Ambassador
Friend
Hotlist
Gifts
VIP
Gold Membership
If your message feed gets too long, there's a feature to search for certain keywords in your messages to recall what you've talked about. A good feature for when you're arguing with someone over what you've said in the past and need to bring up a previous convo texts again. Prove them wrong. Bam! You've got the upper hand.
The Search section lets you find people easier through the website by username, sex, likes, or whatever.
The Live Action section has sex models to entertain you. A good alternative for when you ever get tired of playing games with the regular girls and need instant gratification. To fulfill your needs, just buy some tokens and throw them at the digital models to have some fun. Yes, and there are male and female models.
A chatroom exists and the Community section provides a more intimate way to get to know people. I like it.
Groups, Blogs, and Chat have members who talk about everything. Good for versatile chatting.
Contests and Erotic Stories make the website more fun to use. People share all types of crazy shit in the erotic stories part. And they go hard in the contents. Fierce competition.
Sex Academy helps you learn how to have sex better. Some guys and gals don't need help in that area, but some extra information that you probably didn't know might assist in the bedroom. It wouldn't hurt to check it out. If you are in a committed relationship, don't worry, you can still enjoy the benefits of Sex Academy. Introduce some new moves in the bedroom and watch your partner's heart melt with joy.
The Magazine keeps you updated as to what's happening daily in the dating world. Good for keeping up with happenings in modern times.
What's Hot covers what's hot in the streets. You will discover albums, photos, videos of the hottest members on AFF. These are the profiles where other members have voted for. Moreover, this section connects to the hottest adult movies as well. Therefore, if members aren't giving you any play, you can turn on an adult movie and burp the worm.
A Webcam chatroom is a bonus and you can broadcast yours for free. The problem is no one was in the chatroom. I then realized you have to broadcast it for the people invited to your room.
You can find members based on their age, distance from your city, state, or even country, race, and more. These filters are on every page, more or less. However, you cannot directly communicate with a member unless you pay for that premium membership. That's Sex Messenger in a nutshell. It's just like Adult Friend Finder.
Sex Messenger Review: Pros
Straightforward website that does not hold its tongue
Can still use the site without verifying email
Required to prove who you are, which limits the number of bots on the site
The members seem like they are very real people, I was able to converse with some
Members with the word CONFIRMED on their pics are real
Has a similar setup like Adult Friend Finder
Sex Messenger.com App Review: Cons
No matter which tabs I click on it prompts me to join
The FAQ tab does not work
Can't use the site beyond the payment page
No free trial
Expensive
Difficulty to use for newbies: people new to using computers will have a difficult time working this site properly
< 10 Best Threesome Sites and Apps for Finding Group Sex Online