LiveJasmin cam models are hot. What if you could watch them free?
There are, in fact, several ways to get free credit on LiveJasmin.com and interact with your favorite models.
In the following article, I'll show you ways to get free adult webcam credits on LiveJasmin and other sites.
What You Need to Join LiveJasmin Free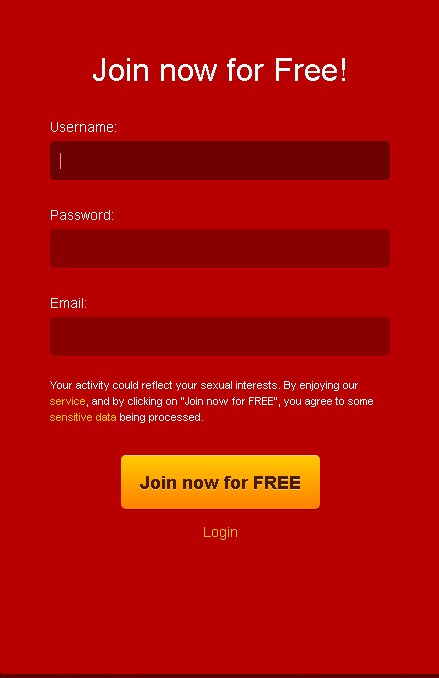 To get free LiveJasmin credits, you will first need to register with the site. Doing so is easy. Click on the gold "Join now for FREE" button in the upper-right of the screen. A prompt will appear that asks you to pick a username and password. You won't have to furnish a credit card.
For your LiveJasmin username, choose something easy to remember. Example: a combination of your initials, your favorite color and the last two digits of your birth year (JCred99). This way, your username will have uppercase, lowercase and numeric characters. 
For your LiveJasmin password, choose a variation of the aforementioned characters. Example: your least-favorite color, followed with your middle initial and the year you expect to die (brownL84). 
Next, enter your e-mail address. You should have an e-mail account exclusively for this throwaway purpose, especially if you sign up for lots of these sites. Gmail is the easiest option. If you have an account for work and/or private talk, open a second Gmail for LiveJasmin and other cam sites. 
After you enter the three fields, click the gold "Join now for FREE" button. You will get an email asking you to confirm your address. Go to your folder, open the message and click the confirmation link. You are now a member of LiveJasmin.
How to Get Free Credits on LiveJasmin
Now that you've registered with LiveJasmin, it's time to get your first round of free credits on the site. There are several ways to get free credits, including the exciting spinning wheel. It's a lot like playing The Price Is Right.  
LiveJasmin will invite you to spin the wheel the moment you confirm your e-mail address. The wheel is similar to the one seen on TPIR. It has 14 viable options between 5% and 99%. These numbers equal discounts on your first credit purchase. 
The first time I spun the wheel, it landed at 99%. Either I was lucky or the wheel was rigged in my favor. Either way, it seems to bode well for new members on LiveJasmin.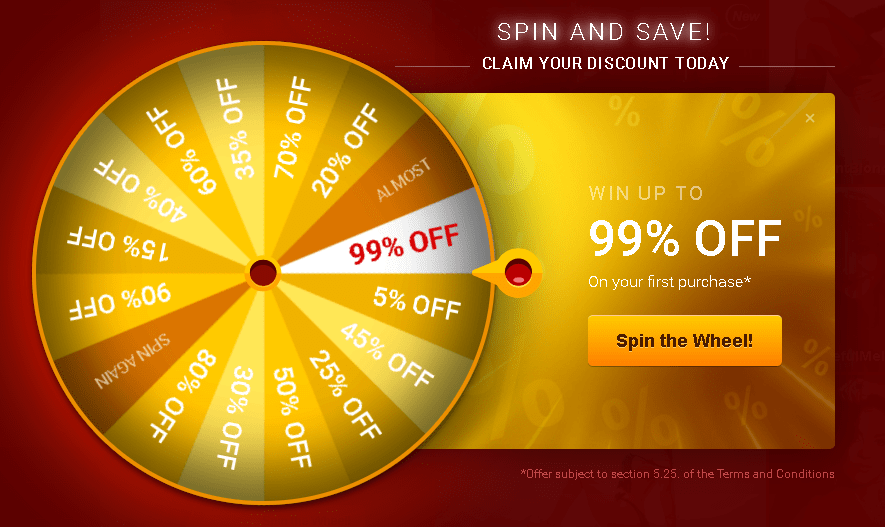 Once you've spun the wheel, you'll have one hour to redeem your discount. A prompt will appear announcing your award percentage with a link that says "claim your reward." Your discount will apply to whichever credit package you choose. Credits are priced as follows:
27.99 = $35.99
67.99 = $79.99
97.99 = $112.99
157.99 = $178.99
If you win 50% on your first wheel spin, you'll get half-off on your first purchase. In other words, 27.99 credits will cost you $18. This would amount to $17.99 worth of credits free.
Each time you re-enter the site, the wheel appears within the table of cam rooms. You can spin it whenever you like to try your luck on a second discount offer. The steps to redeem your prize will be the same as before.
Other Ways to Get Free Live Jasmin Credits
You can add to your credits at any time. To do this, click the "Get Credits" link on the upper-right corner of the LiveJasmin main page. It's the second link in from your username. This will bring up the package selection window, which shows the credit packages at their normal rates. However, there are two ways to get bonuses here.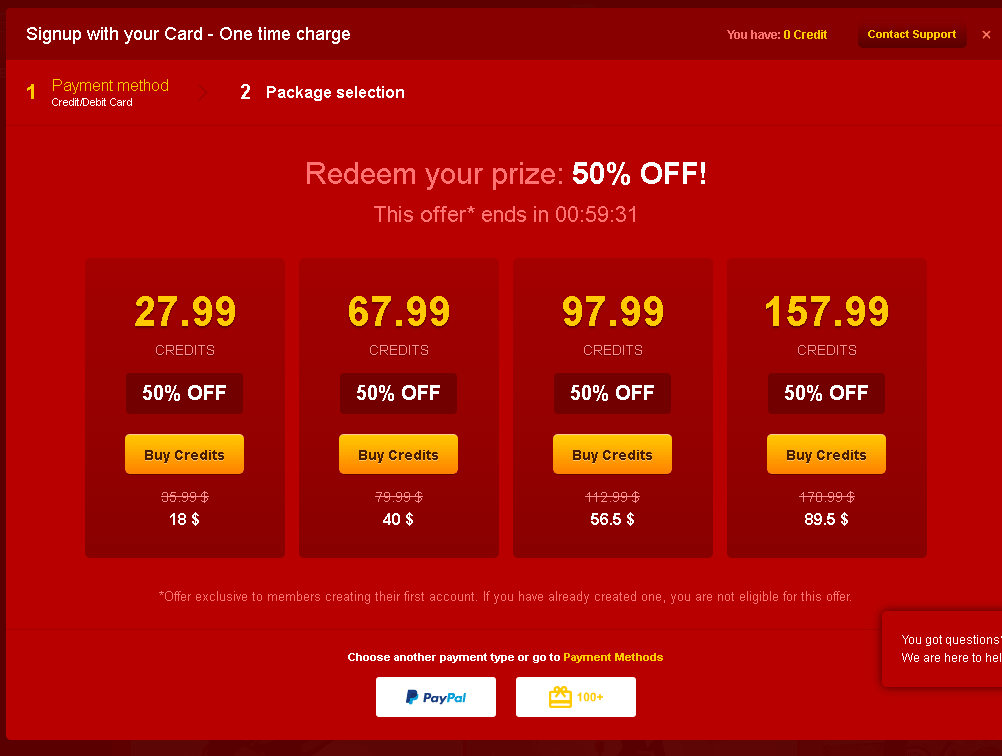 To the left of this window, you'll see an X symbol. If you hit it to get out of that window, you're in for a surprise. Doing so will actually bring up a second screen that says "Options only available NOW." This displays two discounted LiveJasmin credit options: 
9.99 free credits
17.99 credits = $24.99
You will need to enter your credit card or PayPal info to redeem these offers. With the first option, you can add to your free LiveJasmin credits won off the spinning wheel. 
Another way to redeem credits on Live Jasmine is also offered in the Get Credits sequence of windows. Right next to the PayPay button at the bottom of the red box, you'll see a white button with yellow characters that says "100+". 
If you click on that button, it takes you to a screen where you can redeem LiveJasmin credits on major brand gift cards. LiveJasmin uses PayGarden as its payment processor. To take advantage of this offer, PayGarden will only accept store-bought gift cards purchased in the U.S. Prepaid credit cards will not work for this offer.
Avoid Live Jasmin Free Credits Generators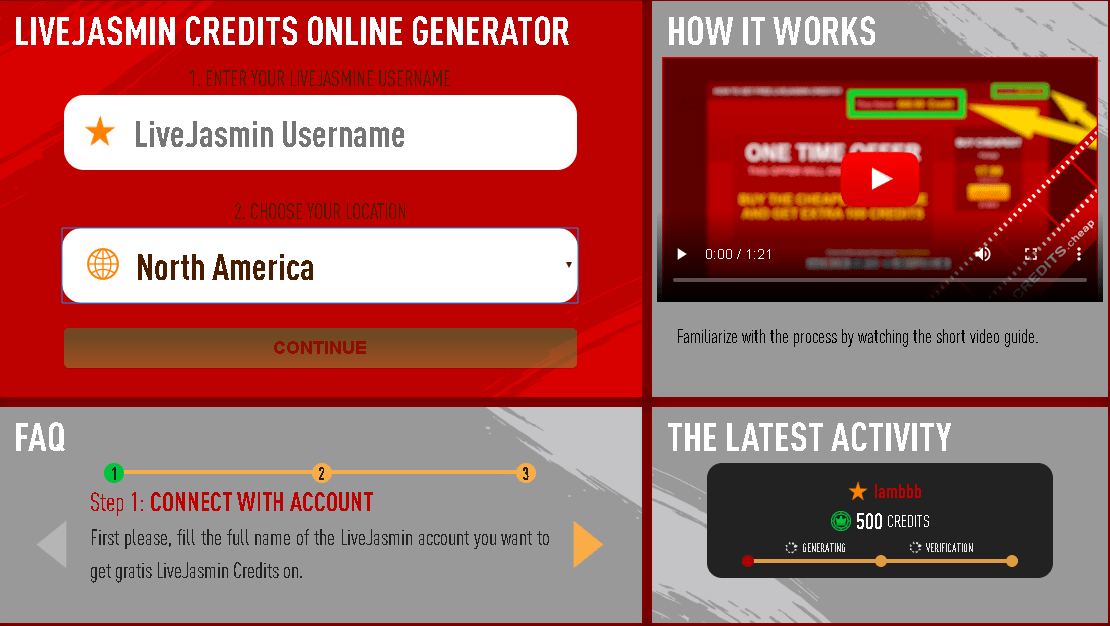 The best ways to get free credits on LiveJasmin are offered by the site itself. Use these and have fun with the cam girls for less money. Whatever you do, avoid third-party credit generators.
Sites that act as LiveJasmin free credit generators are scams. The purpose of these sites is to steal your personal info and sell it to spammers. You won't get any actual free credits from these scam generators. Instead, you'll be led through a sequence of time-wasting questionnaires.
One site to beware of is credits.cheap, which claims it can get you up to 500 LiveJasmin free credits (a $589.90 value). The site logs your IP address and asks you to enter your LiveJasmin username and country. It then acts as though it's retrieving free credit for your LiveJasmin account.
You're then taken to a page that says "FILL OUT THE SURVEY TO GET YOUR FREE CREDIT." Trouble is, there are no relevant buttons to push. It shows four buttons offering $100 gift cards to various businesses. 
The fifth button is the real trap; it says "Install AnonymoSearch and browse the web securely." Don't ever click links like these. They're usually malware traps designed to hijack your computer.
When I logged in to credits.cheap, which is the highest ranking website for the keywords 'live jasmin free credits', I noticed the second URL directed to the website with /ddos as the tail. Ddos is a distributed denial-of-service malicious attack that prevents you from access your internet network. Lucky for me, this did not happen when I visited the site; however, I was alarmed to see such protocol when I clocked 'get the free credits'.
Other Cam Sites Like LiveJasmin With Free Tokens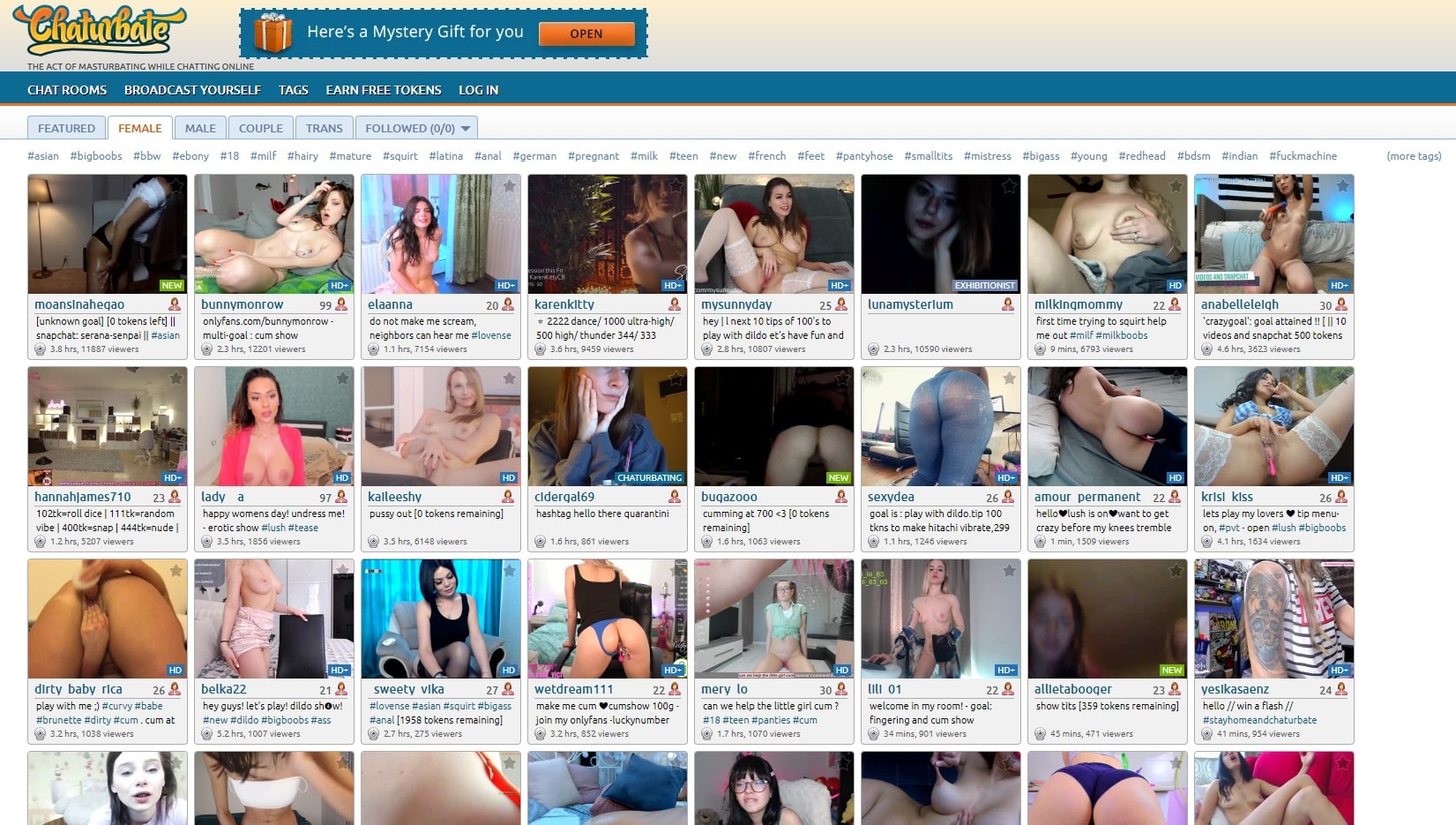 Aside from LiveJasmin, sites that offer free credit to registered members include Chaturbate, MyFreeCams and StripChat.
On Chaturbate, models will interact with you in exchange for cam tokens. You can get these three ways:
Sign up as a supporter member and get 200 bonus tokens
Refer others (10 tokens per referral)
Broadcast yourself
Chaturbate will give you 500 free tokens if one of your referrals broadcasts and earns $20.
On StripChat, free tokens are given away each hour during random giveaways. To participate, sign up and wait for their hourly "Get 50 Free Tokens" button to appear. If you're one of the lucky winners, you must claim your tokens within 20 minutes.
On My Free Cams, you'll get 20 free tokens whenever you get others to sign up. Each time a new referral buys his first round of tokens, you'll get 200 free tokens.
Free LiveJasmin Models, Videos, Account Hacks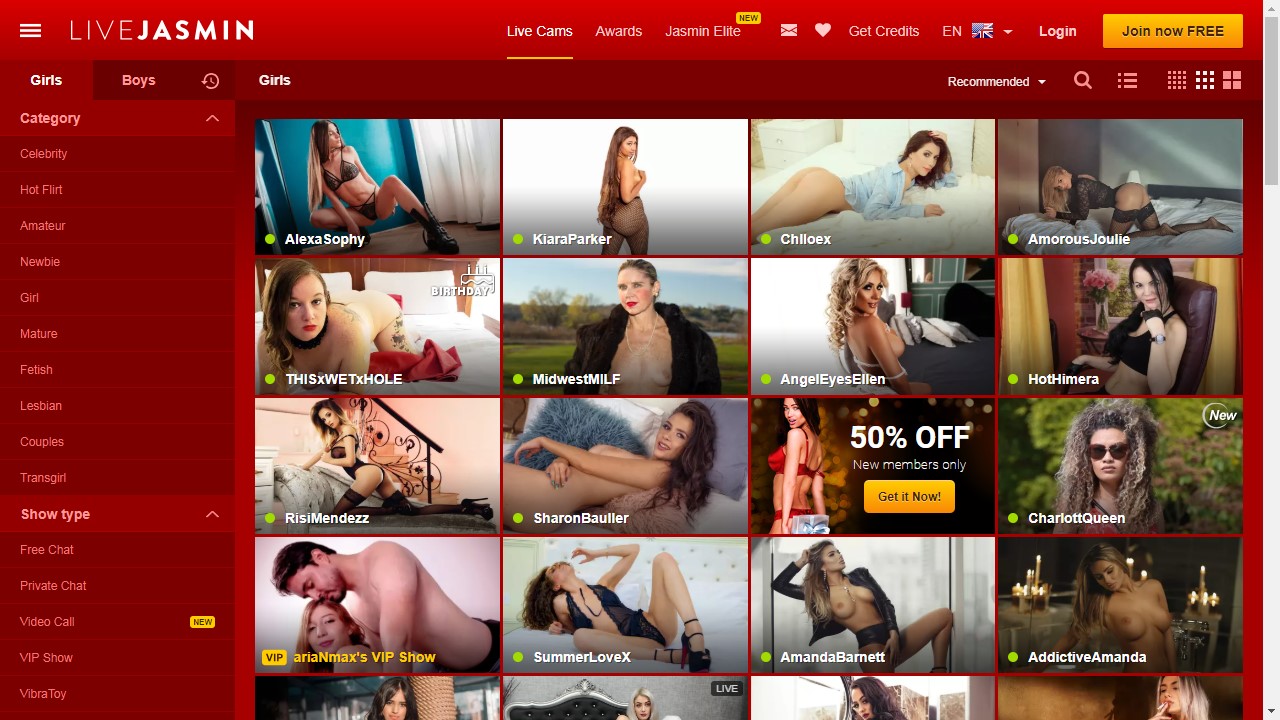 You can watch HD videos and cam shows with LiveJasmin free credit on your account. With free LiveJasmin credit, you'll get extra time with the hottest models. You won't need a code loop keyboard for this. Just a basic or premium LiveJasmin account.
With LiveJasmin free credit, you can watch live videos on your PC or laptop. You can choose any standard video size, including HD 2.7m. (LiveJasmin ensures the legality of its content; underage video is prohibited on the site.) Have fun and enjoy the girls and videos with LiveJasmin free credit.
< Fetish Cam Sites with Live Sex Chat
> How to Get Free Chaturbate Tokens For REAL (Hint: It Doesn't Involve 'Token Generators' or 'Hacks')