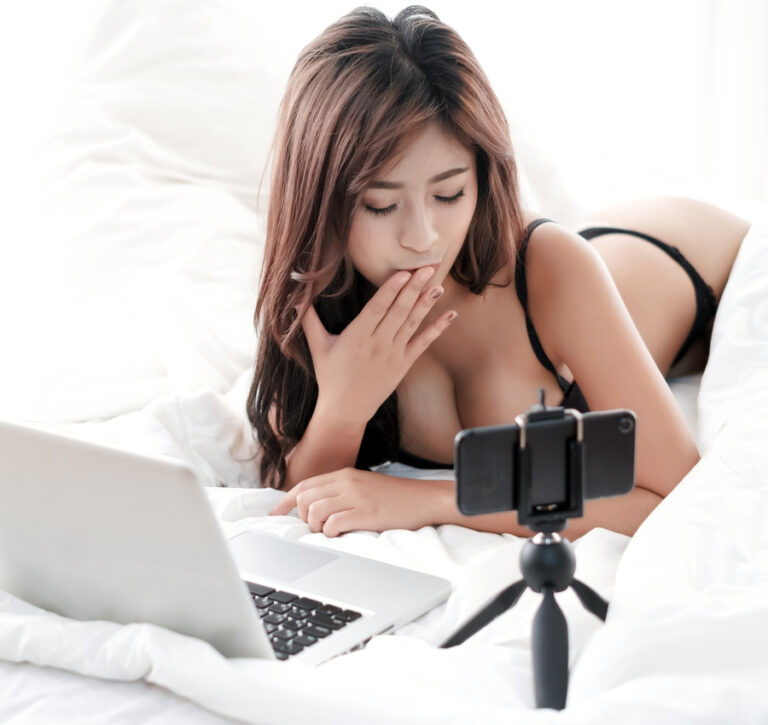 Like any natural man, Asian girls probably make you melt.
Their soft skin, pretty eyes, gentle voices, polite manner. They have that perfect mix of cute and sexy that you rarely see in the West.
But what about their raunchy side? In this article, I'm going to show you the best sites for Asian porn.
The 10 Best Asian Porn Sites
Erito Network
Best HD Asian Porn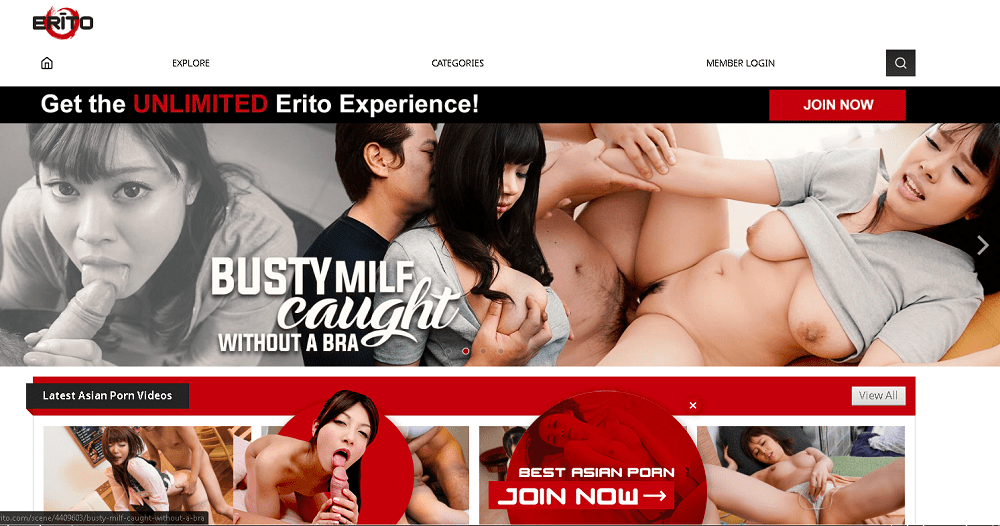 Erito Network has the best Asian chicks who exhibits the true nature of Eastern philosophy – the women are submissive. Watch them as they take dick, get bukkake, and bump pussies in HD, knowing you will always get the best clarity.
Being a leader in Japanese porn, you will only see Japanese chicks doing everything imaginable. There are plenty of porn categories to choose from, and in the Explore section shows only the hottest and latest Asian porn videos.
Since this site is premium, users need to pay for the membership plan ranging from $2 for 2 days to $199 for the yearly subscription using a credit card, which unlocks the full, newest videos.
Pros
High-grade Asian porn

New releases everyday

HD quality stuff
JavFinder
The Best Jap Porn Collection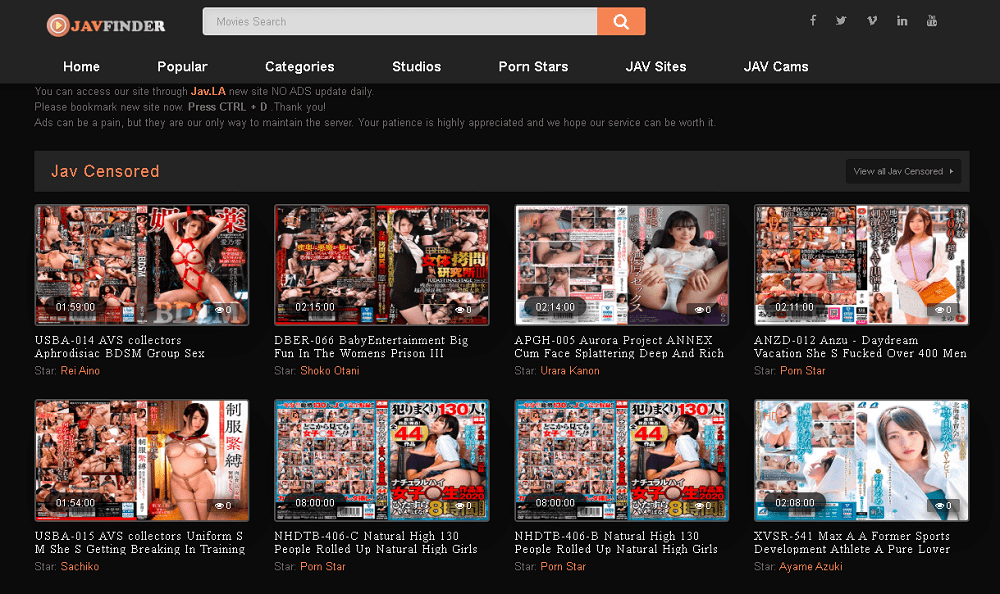 Highlights & Features
Movie preview table

Site filters

Actress tags
JavFinder is one of the premier sites for Japanese Adult Videos. Each video is feature-film length, typically between 110 and 130 minutes long. Across the preview table, you'll see the front and back cover of each blu-ray or DVD on offer. JavFinder is basically a free adult theatre for your living room.
The one drawback is the ads, which seem endless and lead to more ads when you hit "skip." It takes about a minute of clicking to see a film. Warning: some of these videos are blurred out in certain spots unless you join.
Pros
Free Asian porn movies

Long videos

Cute Asian girls
Cons
Tons of ads

Censored videos
Avgle
The Hottest Porn SIte in Japanese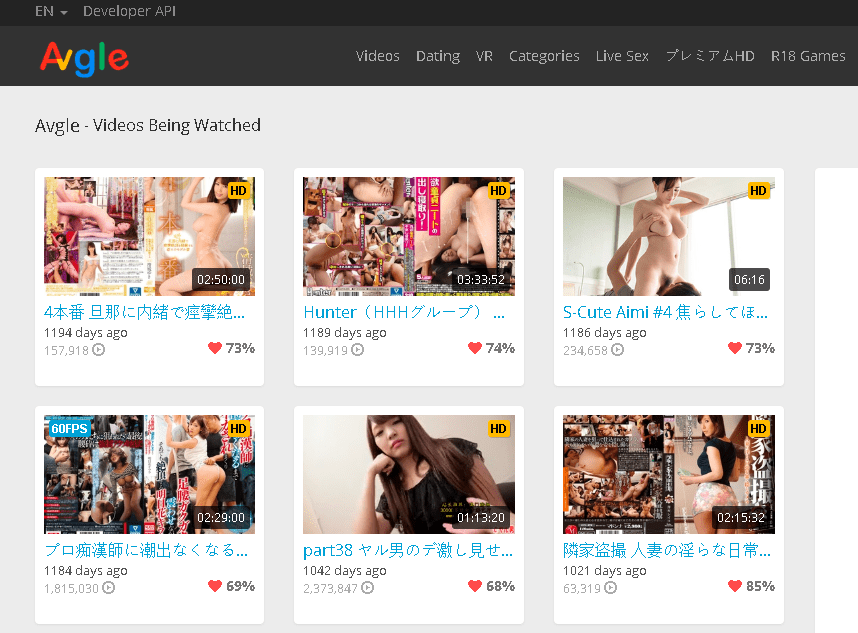 Highlights & Features
Video preview tables

Movie categories

Search filters
Avgle is loaded with Aian porn. Up and down the first page, you'll see preview tables of popular movies, featured clips, hot videos and recent uploads. A lot of these scenes appear to involve office porn. The videos range between 30 minutes and two hours in length.
The site is mostly in Japanese, but don't let that deter you. The preview thumbnails and heart buttons all make sense. Click on a video that strikes your fancy and it will start once the ad completes. Yes, there are some benign pop-ups and running ads, but you can get past them after two or three clicks.
Pros
Tons of videos

Multiple categories

999 pages
Cons
Running ads

No title translation
VJAV
The Easiest Place for Asian Smut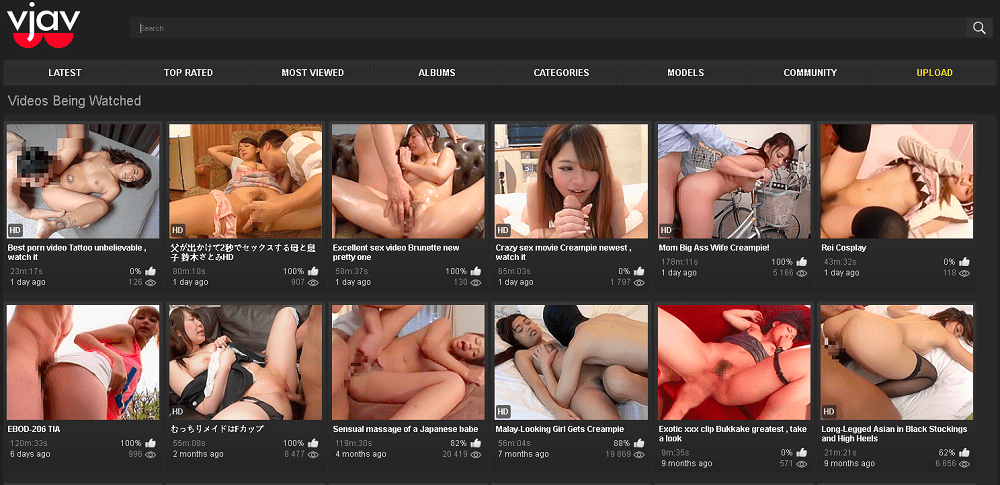 Highlights & Features
Search bar

Filter row

Video thumbs

Model pages
VJAV is laid out like a western porn hub. It has a simple, uncluttered front page with easy to understand tables. Everything is written in English. Across the top is a search bar and row of site filters. Below that is a sequence of preview tables. Scroll down to see the hottest models on offer.
To watch videos, simply click on your favorite thumbnails. They'll come up without a fuss. The site imposes no pop-ups or flash ads. You can also scroll to the actress category and click the profile of whoever strikes your fancy. On her bio page, you'll see thumbnail links to all of her videos.
Pros
Easy layout

All in English

No ads

Cute actresses
HPJAV
A Loaded Hub of Jap Porn DVDs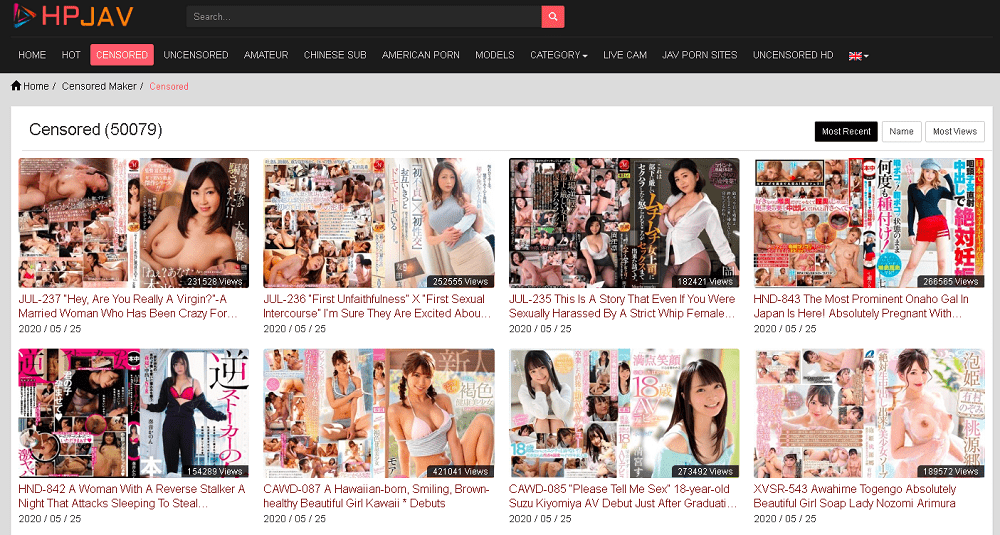 Highlights & Features
Featured videos

Amateur JAV

Uncensored section
HPJAV is another site where lots of Japanese porn DVD covers are on display. Here, however, the play durations are obscured. When you click one of the thumbs on the featured videos table, the movie will come up without a hitch. The clip I randomly choose turns out to be 113 minutes of foreign language fucking.
As with JavFinder, some of the videos on HPJAV are partially censored. Specifically, the dicks are pixelated. I actually like it that way. You still get to see the tits and… all the things you'd want to see. The ads are a bit more annoying than the last couple of sites but not nearly as bad as others.
Pros
Long videos

Smooth performance

Innocent Asian cuties
JavBangers
The Hottest Place for Japanese Sex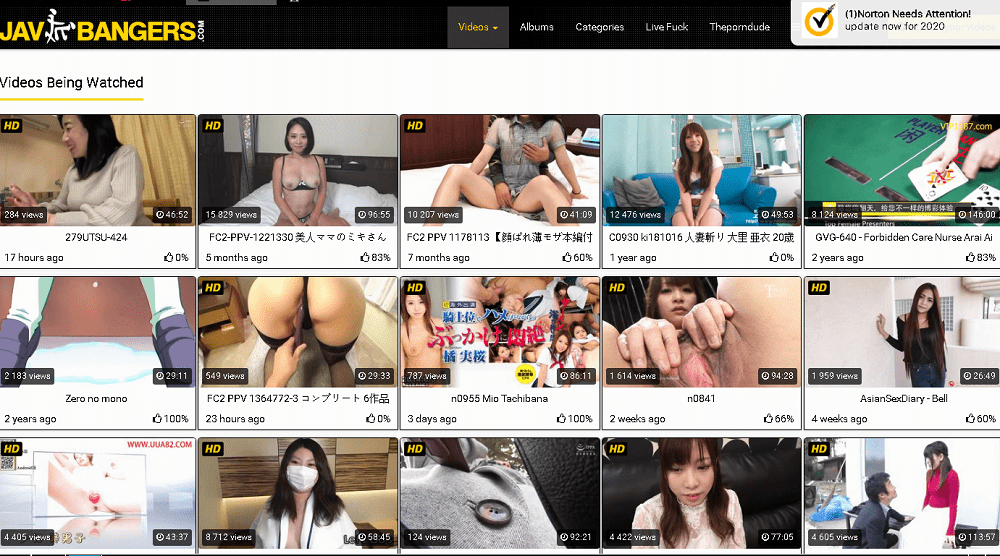 Highlights & Features
New videos table

Video upload button

1,526 pages
JavBangers has tons of free videos up and down rows of tables. The white background makes it easy to read. Half the titles are in English, the others are phonetically transcribed. As with a lot of Asian porn, there's a big emphasis on office scenarios.
When you click a video, everything starts easy enough. However, the clips are slow to load in full. Therefore, if you click down the video, it doesn't respond. Instead, pop-up ads appear. It seems I also get pop-ups each time I pause a video. (Update: five minutes after clicking on a video, I can finally scroll through it to the good parts.)
Cons
Lots of ads

Slow-loading videos
JavDoe
A One-Stop Site for Asian Erotica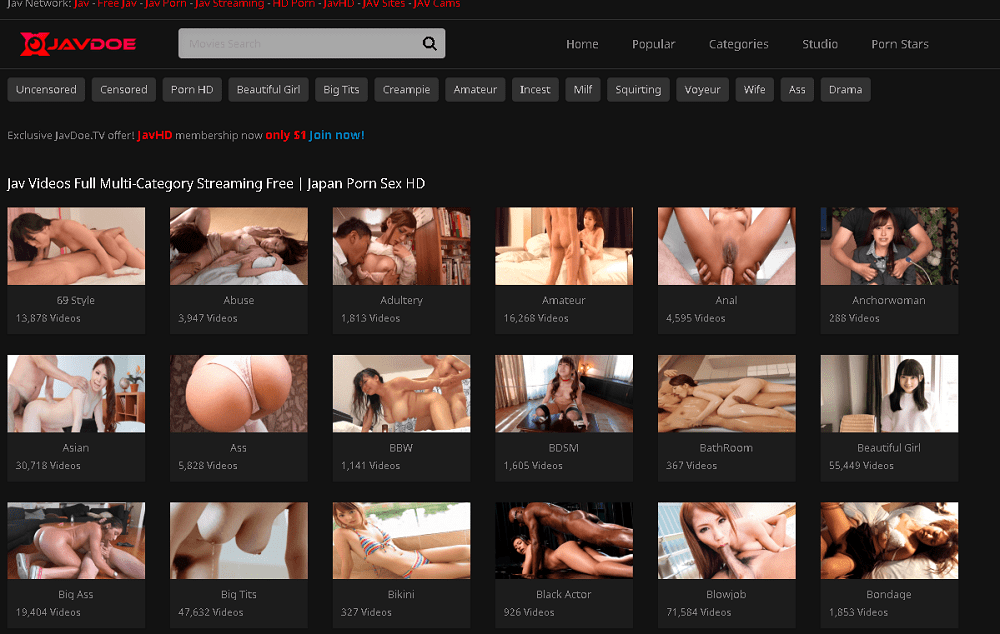 Highlights & Features
Fetish tags

JAV uncensored

JAV censored
JavDoe is another Asian porn site with a layout similar to most western hubs. You'll see thumbnails for HD porn videos, four per row, as you scroll down the page. The main tables are JAV uncensored, JAV censored (the pixelated privates stuff), and International Porn (but why come here for that last category?)
At the top of the page, there are filter tags for various fetishes. The tags include big tits, creampie, incest, MILF, squirting, amateur, voyeur, wife…. some of these seem like American fetishes. When I click on MILF, it brings up videos with young Asian girls and some US clips with older actresses. Mmmm.
Pros
Clean layout

Fast loading

HD videos
Cons
Off-topic content

Slow ads
JavGuru
The Best Asian DVD Porn Scans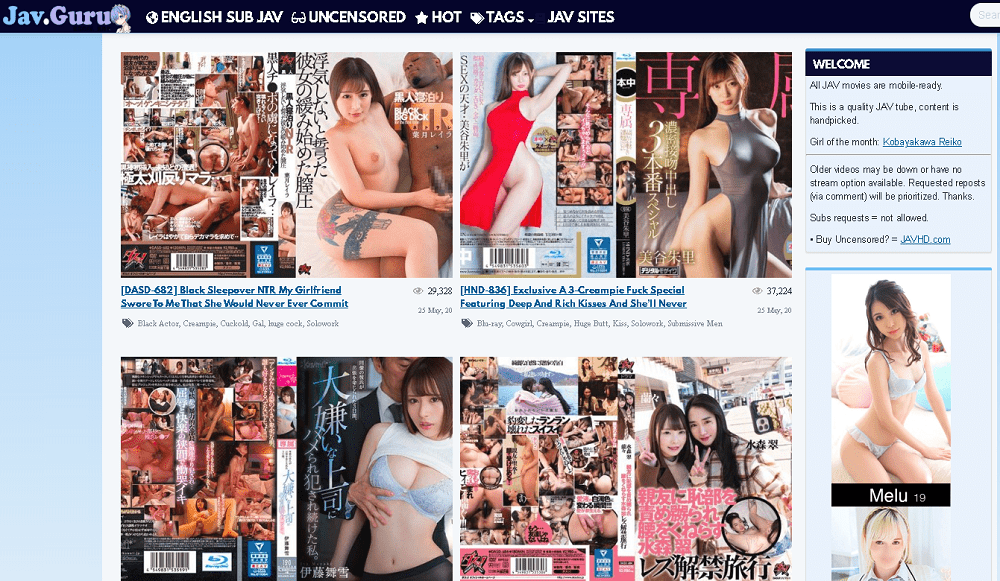 Highlights & Features
DVD preview pages

Screencaps

Series tags
Jav.Guru displays a lot of porn in the biggest Asian category: horny office girls. You just know you've found an authentic Japanese porn site when the previews show innocent Oriental girls in business jackets looking bashfully into the lens. Hair in buns, skirts hiked up, hosed legs on display. None of that American gonzo stuff.
Now the bad news. There don't appear to be any free videos to watch. Click on the DVD cover scans and you're taken to a page of that disc. The most you'll see are large scans of the cover and screen caps from the video. If you click anywhere, scary pop-up windows appear that ask you to allow this or that. No can do.
Cons
No free videos

Lots of pop-ups

Possible malware
JAVQD
A Great Site for Uncensored Asian Porn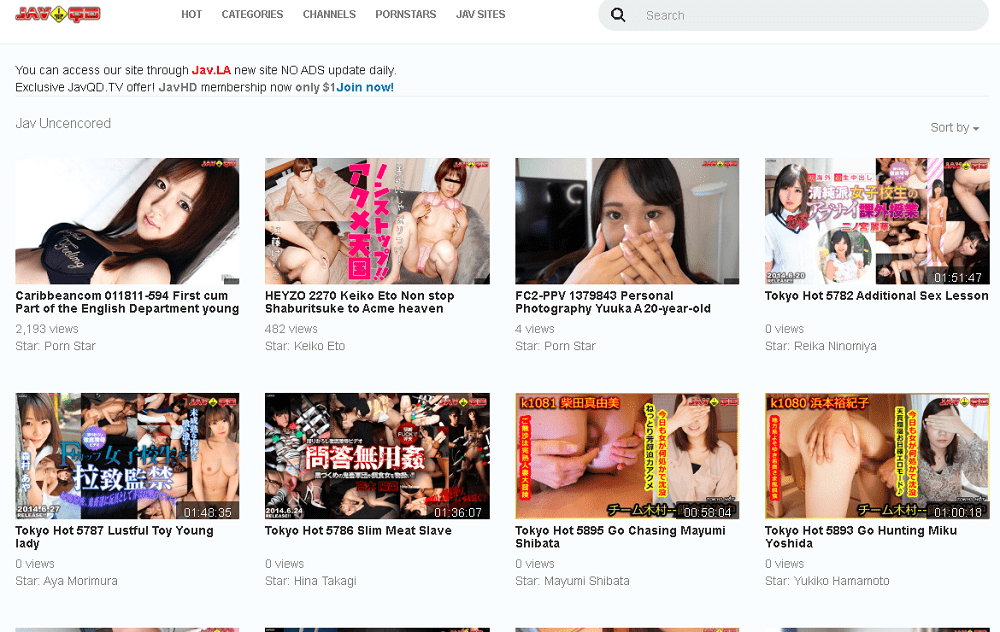 Highlights & Features
Uncensored table

Censored table

Search bar
JavQD sports a simple layout with uncensored video thumbnails in the top table. Scroll down to the next table, labeled "censored", and you'll see a bunch of DVD covers. (Aha! I'm seeing a recurring theme on these sites.) You can also select "categories" from the top bar. (This site has a funny definition of BBW.)
The actual videos don't play well. I click on one of the uncensored clips. After waiting the obligatory five seconds, I hit skip to get past the ad, but a pop-up appears. I do it again and another pop-up appears. And again. Fourth try, the video finally starts, but cuts after five seconds to another ad, which freezes.
Pros
Clean layout

Organized filters
Cons
Hard-starting videos

Persistent ads
KissJAV
(ShyAV): Japanese Porn With a Western Influence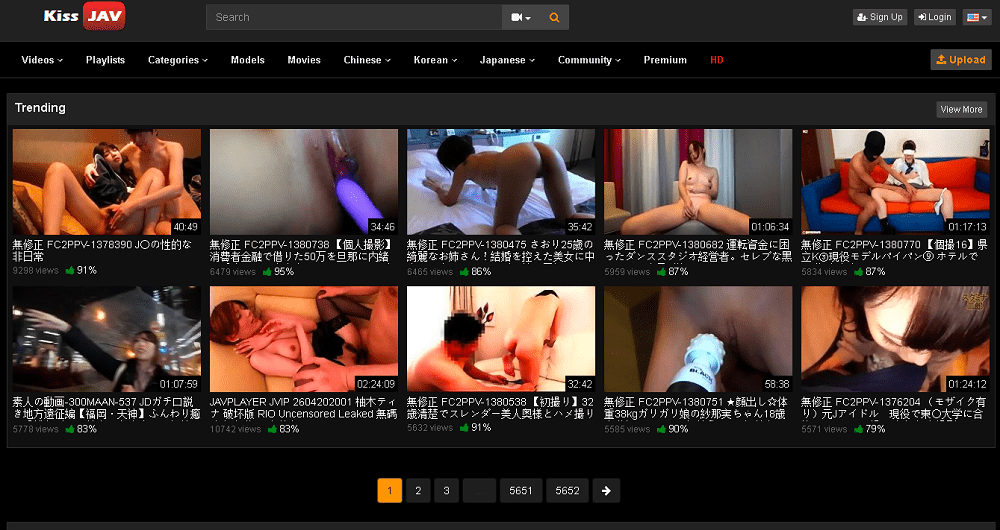 Highlights & Features
Eastern nation search

Categories pulldown

Search tags
KissJAV looks to be one of the raunchiest Asian porn sites. Scrolling down the page, the girls are getting down to business, American style. Flashing tits, sucking dick, fingering holes. On second look, some of these thumbs are missing Asians. Okay, it's a mix of Americanized Asian porn and off-topic content.
Despite the western infection, the titles are mostly in Japanese. The videos play alright, in spite of all the ads. On one clip I watch, even the twat is pixelated (it might just be to obscure the dildo). Anyway, the videos are long. They also have a search bar for porn from different Asian nations: Japan, Korea, and China.
Pros
Truly pornographic

5,645 pages

Trending content
Cons
Untranslated titles

Annoying ads

Off-topic content
JAVMost
The Best Place for Feature Length Asian Porn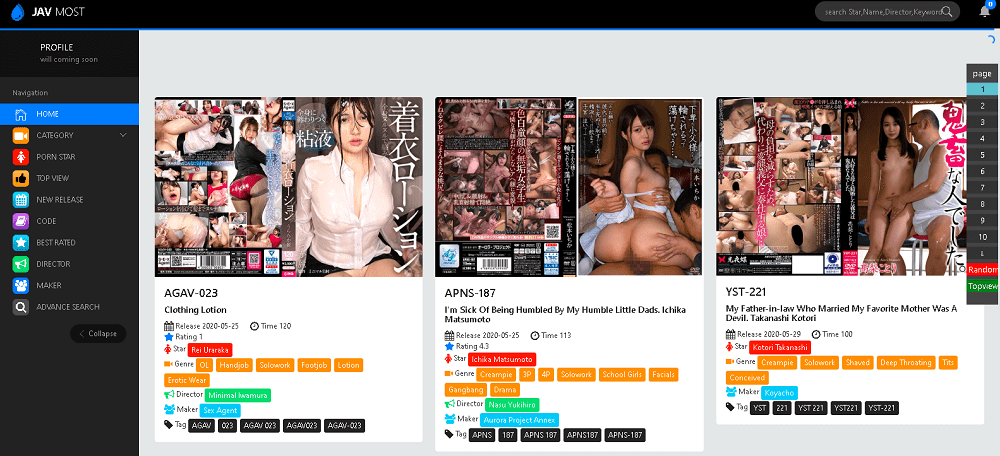 Highlights & Features
Category/page sidebars

DVD scans, info

Search bar
JAVMost has a layout unlike any other Japanese porn site. It looks more like a Facebook feed, with large DVD cover scans that load as you scroll. Information on each title (tags, ratings, genre, duration, release date) is right under each scan. The site has two search columns: categories (left) and pages (right).
The titles are fetching. I selected one recently released movie that loaded fairly quick once I got past the obligatory ads. It's a two-hour office porn movie with a classic Asian theme: a shy, quiet Asian guy stares at a woman's underside, getting closer and closer. She turns around and takes command, milking him dry without question. I like it.
Pros
Organized sidebars

Loads as you scroll

Long free Asian movies
What are the most popular Asian porn fetishes?
Ever notice how wholesome and innocent Japanese girls look when they bare their breasts? Likewise, most Japanese fetishes are mild.
Asian porn films often depict slow masterbation. A scene may involve a girl pleasuring herself quietly in an empty public building, only to be joined by a helping hand with no dialogue.
Mukkbang, a recent craze from the Far East, often has erotic overtones. In Japanese porn, sex scenes sometimes commence under short-legged dinner tables.
Office porn is another big fetish. A lot of Japanese erotica involves young women in classic power suits with high hemlines.
How does Asian porn differ from Western porn?
Asian porn tends to be less in-your-face than American porn. You won't find many instances of boisterous behavior and brash, rough sex in Japanse adult videos. Most of their porn is quiet.
Porn from the Far East in many ways reflects the cultural traditions of that region. In a culture where women are more submissive, Asian porn actresses are quieter and willing to please. Likewise, the men in these videos are more mannered. You won't see much gonzo, party animal behavior here.
The Japanese are also known for their work ethic and business acumen. Quite naturally, office porn is a big theme. Scenes will often involve conservative, shy guys staring silently at women in skimpy business suits. These scenes turn mildly erotic, often without words. This usually leads to sex.
Is the language barrier ever a problem?
Sex is a universal language. You don't need to understand the worlds to connect with a hot striptease, blowjob or fuck scene. If it's just a sex clip, it shouldn't matter whether she speaks Japanese. (Well, unless you need to hear her speak some magic words to climax.)
The language barrier can be problematic if you can't tell how to navigate the site. At the sites in this list, which all offer free videos, that shouldn't be a problem. I found it easy to get what I was after and this was my first time visiting most of these sites. The ads could be problematic, but that can happen with any porn site. Moreover, you can get translator plugins added to certain browsers.
Beware of long, plot-driven Asian porn movies. If there's a lot of dry dialogue between the sex scenes, it'll probably get boring for most of you non-Japanese speakers. Unless there's some eye candy during the non-sex scenes, you'll want to keep one hand free to work the video time bar.
Do they take Western currency?
The sites in this list offer free porn, including long adult movies, so it's really not an issue. Some sites, like JavFinder, will give you more access if you upgrade. They have a $1 trial offer and three membership plans. When you click "Join now," you're taken through English language portals. Most of these sites will know that you're viewing from the west and direct you accordingly.
If a foreign porn site lacks sufficient translation, don't engage in any financial transaction. If you're concerned about Japanese prices and how they add up, check Google for the latest dollar-to-yen value. (It's $1 = ¥107.65 as I write this review.)
> Dating Sites for Women Looking for Sex