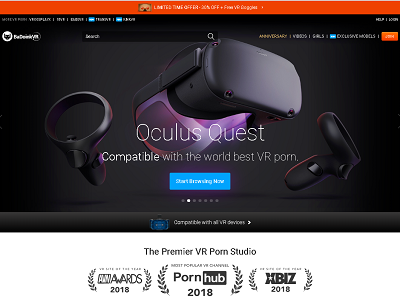 Let me pull out my little pink oink-oink, it's really a horse-like schlong, and have all the fun using BaDoink – one of the best VR (Virtual Reality) porn studio websites on the internet!
I have absolutely fallen in love with the overall layout of BaDoink VR as I can envision myself using it a long time. Might as well put a ring on it and say digital marriage.
The scenes flash before your eyes like a camera as they scroll through different VR video pornstar scenes.
When you move your mouse to any one of these scenes there is a 2-3 seconds preview of about four still photos. Some of them feature lesbians, sex, blowjobs, and threesomes. All angles are POV.
BaDoink Awards
Let me tell ya', winning awards show that a company works hard and accomplishes the goals they set. Therefore, their products are worth taking a look. I learned my lessons the hard way by buying knockoff products that are not worth the purchase prices. Majority of the name brands are worth the extra prices. Trust me. And BaDoink VR is the name brand.
VR Site of the Year – XBIZ and AVN Awards of 2018
PornHub – Most Popular VR Channel
XBIZ – Best Adult Site of the Year
BaDoink VR Porn Stars
BaDoink VR features a wide range of pornstars from across the world in all shapes and sizes. In fact, the website makes announcements on the Join page about new porn videos that will get released soon on a specific date. You could use the 1-day membership to watch them and then decide if you want to commit to BaDoink VR.
Some of the porn stars are well-known on Myfreecams and Chaturbate like Riley Reid. If your favorite model or adult entertainer did a VR scene, then it is most likely on BaDoink VR. You can search for them by Newest, Name, or A-Z in alphabetical order. However, one major con is that if you click on their names you will not get any information about the models. More search features are by sex scenes, including blowjob, threesome, etc and whether the scene is 180 degrees or 360 degrees.
BaDoink VR Sends You Free Goggles in the Mail After Your Confirmed Membership Subscription
Most people like the jingle of the word 'free'. Even billionaires look for cheaper ways to maximize profits with no-cost or low-cost production methods. BaDoink VR offers some Google Glasses with the one-month and one-year memberships and I got mine! I personally do not like the feel of cardboard on my face, but it does the job of projecting my favorite 3D scenes. This free gift makes up for the membership price.
The goggles came by USPS mail so I hope your mailbox is large enough to fit them. Ask BaDoink VR for the tracking number. It's available for members who live in the USA.
BaDoink VR Membership Fees
Since I love exclusive VR porn I preferred paying the monthly price. But BaDoink plays the game fair and square and decided to offer a 1-day trial for only $1 and yeah, I got that free download and was able to stream on my mobile device but it was only a sample version. A bonus video comes with this membership.
The second membership is $24.95/month and that's how I got my free goggles with unlimited streaming and downloading.
They have a yearly option at $7.50/month but it will be charged as a $90 fee with at the beginning of your membership. You will not be penalized for canceling your membership or closing your account and can still enjoy the membership features.
To sign up for a membership, you need to cough up that Visa or MasterCard number. There is a Money Back Guarantee for reimbursement protection in case you decide to change your mind.
Normally, there are special offers on the green banner at the top of the page with a timer before it ends so take advantage of that in a hurry.
BaDoink VR Customer Service
Some porn sites offer email support or have live agents, but BaDoink VR only has customer support that is available with 24/7 through creating a ticket and waiting for a response that goes to your email.
BaDoink VR Scene Upload Frequency
I personally want to see scenes uploaded every day but with a catalog of over thousands of videos 10,000 and 2 new ones updated weekly will keep me entertained on lonely nights when the hookup sites didn't work. Most scene lengths are 5 minutes and others are 30 minutes.
BaDoink VR Theater Mode
I love going to the movies, especially when new releases of my favorites like Fast and Furious and the Purge are available and Theater Mode gives you that 3D/IMAX feel resolution. It brings the cinema to your bedroom. That means enhanced moans and groans from realistic binaural sounds for an immersive listening experience. The selling feature is the congruent head movements where everything on the screen moves with the motion of your head – left and right or up and down. Think of it as a free-floating cursor while flipping through the archives. The only problem is no commenting or recall of the videos.
BaDoink VR Digital Resolutions
Most scenes are 4K, but there are some 5K and boy let me tell ya'…they look so damn realistic to me. They tap into your emotions and feels like you are right there in the scene with the girls. You can get lost in it. Make sure you are using this VR device in a safe place where you cannot trip over the items scattered in your bedroom. You can turn your body and the scene will respond from 180 degrees to 360 degrees. Videos run at 60 FPS.
BaDoink VR Goggles Compatibility
These are the goggles you can use:
PSVR (PlayStation Network) just the ones you can finds at GameStop
Gear VR
Oculus Rift, Go, or Quest
HTC Vive
Daydream View
The HTC Cosmos and Valve Index are coming next for compatibility. There is a Help Center with detailed instructions about setting up your headset. Below that is a FAP, oops, I mean FAQ for answers to frequently concerning questions related to these issues.
Setting up the headset should only take 10 minutes, so you can start jacking off as soon as possible – cum in 60 seconds!
BaDoink VR Extras
You will often see other websites on BaDoink VR being advertised and they are Babes, Kink, 18, Cosplay, and Trans. Those are your extras.
Final Word
BaDoink VR is chugging full speed ahead to the future of virtual reality porn after getting launched in 2015 and making very big strides in this new community. You can enjoy your VR goggles with BaDoink VR. I give this website 10/10.
> Dating Sites for Women Looking for Sex