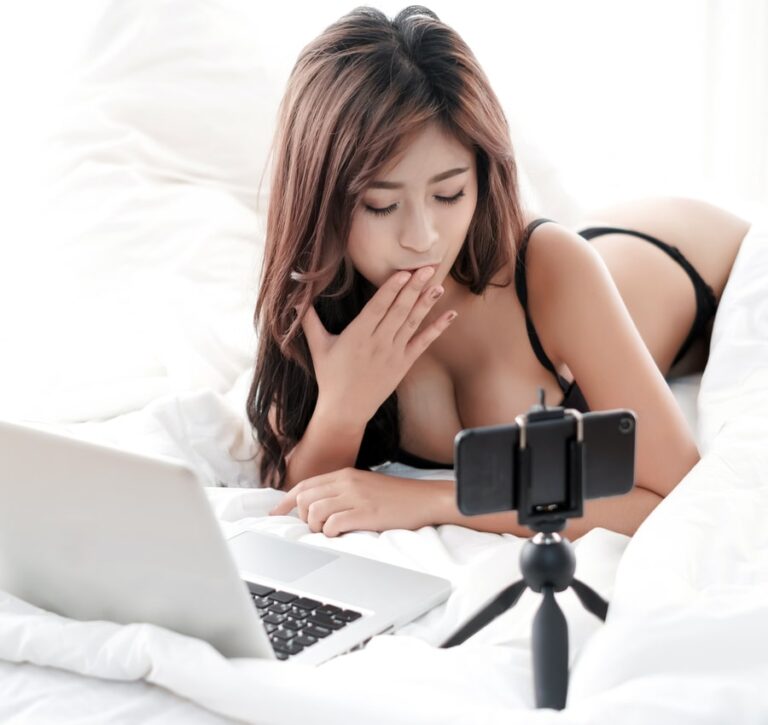 Pandemic or not, it's really such a fucking bummer to be trapped in isolation. Just imagine it: having to diddle your pickle or flick that bean in the darkness like some damn godless animal. It's not good for your self-esteem, is what I'm saying.
Thankfully, we're living in a day and age where you don't have to be a filthy chronic masturbator alone; you could do it with other freaky strangers with the help of technology. So, thank Cthulhu and all the Great Old Ones, because we're living in a world where cam sites exist! Woohoo!
And to make things even better, I'm going to give you the lowdown on the crème de la crème of these filthily delicious online wank socials: Asian cam sites!
So, strap on that strap-on and prepare to spank your oily butt cheeks red, because you're about to find out everything you need to know about the best Asian cam sites out there! Ftagn Cthulhu, R'lyeh!
Chaturbate Asian
An Asian Cam Site for Everyone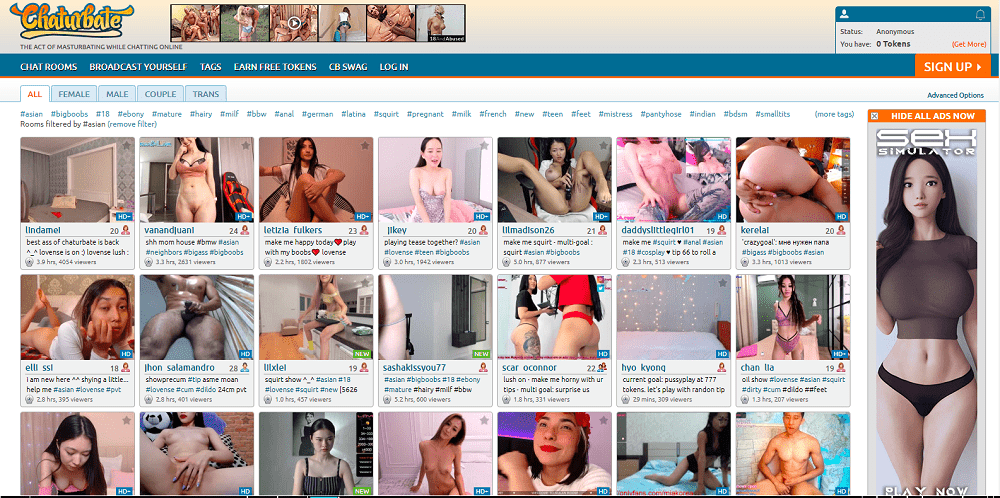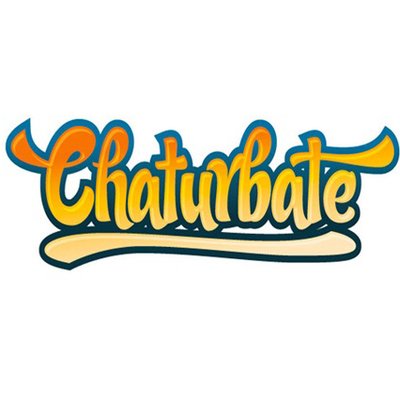 Highlights & Features
This site contains dedicated categories to most genders, which range from Asian girls, Asian boys, and Asian transsexuals, which means it's an inclusive community.

There's also a "couples" section for all you freaky voyeurs out there who like to watch people fuck while rubbing your genitals at home!

This is Chaturbate Asia, and they mean it: you get models from various countries like the Philippines, Korea, Thailand, Japan, and more.

The models work on a "crowdfunded" scheme where your horny ass could watch for free and you and everybody else in any given room will just have to chip in for however much the model asks for before they put on a sultry show.

There are various tags for each room, so you could choose which fetish you're after, whether you're into girls dressed as cheerleaders or pregnant models putting things in their love holes!
Chaturbate has been around since the early 2010s, and it's definitely not showing any signs of slowing down. In fact, it's gradually becoming more and more—well—reputable as far as sex cam sites go, especially with how they have a section especially catering to the best Asian cam girls they have to offer.
I will say this: you can't go wrong with Chaturbate Asian as long as you act right around these enterprising sluts (hot tip for your hot tip: don't call them sluts right to their faces, or if you do, do it sexily) AND, more importantly, if you have the funds for it.
Pros
Diverse selection of Asian cam girls

Affordable "crowdfunding" scheme for viewers depending on model

Caters to most genders
Cons
Site doesn't list where in Asia a model comes from initially

Some of these bitches are just Asian-looking but are just from the U.S.

Some models require multi-tiered payments before you get what you want
Sakura Live
An Asian Cam Site Worth Every Penny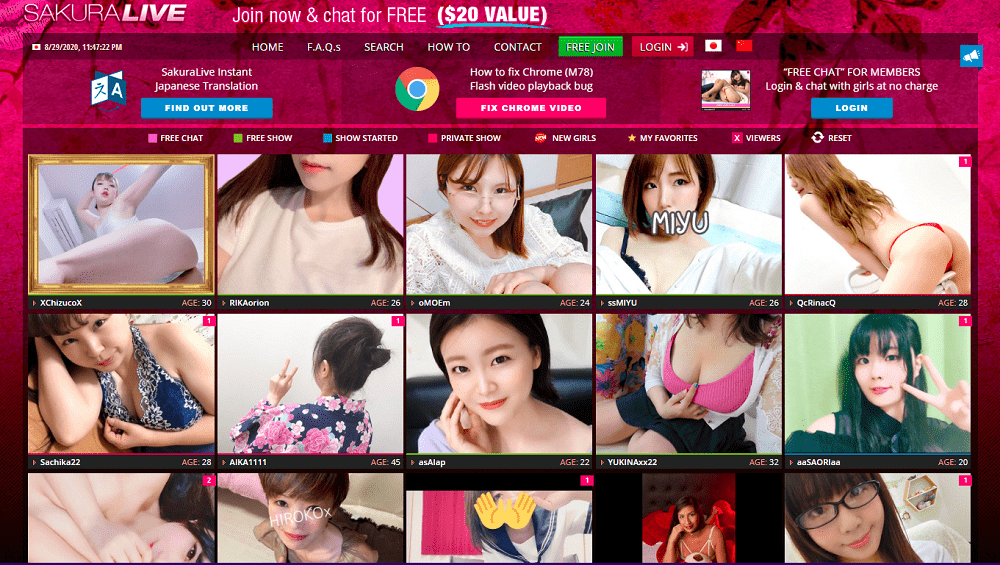 Highlights & Features
Registration is free, so you could join the Sakura Live community at no charge at all. However, it will cost you if you want to enjoy the full features of the site.

Sakura Live works on a token system where you exchange your money for tokens which you then use to enter any given model's chat room.

There's a live one-on-one feature on this site so you could have your Asian cam girl all to yourself should you choose to.

The models here all Japanese, and they're very professional (not to mention hot as hell).

The private one-on-one chat rooms allow you to place commands your model will follow. These include buttons where you're allowed to virtually touch, kiss, lick, or control your model's vibrator.

A translation feature on the chat rooms allows for easy communication between you and that hot Japanese girl in this Asian cam site.
These days, 20 bucks won't get you far in this world. Shit, you can't even get a proper glimpse of Mia Khalifa's overrated titties for that price, let alone subscribe to a proper Asian porn site. But you know what 20 bucks could get you?
How about an almost unlimited selection of the best Asian cam girls from Japan? Because that's exactly what Sakura Live has to offer your wet, throbbing groins. Seriously, this is one site you should check out, and it won't even cost you that much!
Pros
All Japanese performers are high-quality and very professional.

1 on 1 option allows for private fuckery all around.

Sex chat buttons allow a high level of controllability between you and the model.

Translation feature makes it easy to talk to the models even if you don't speak Japanese.

You have the option to use your device's microphone to talk to the girls.
DXLive
A Premium Asian Cam Site with the Top Asian Cam Girls Money Can Buy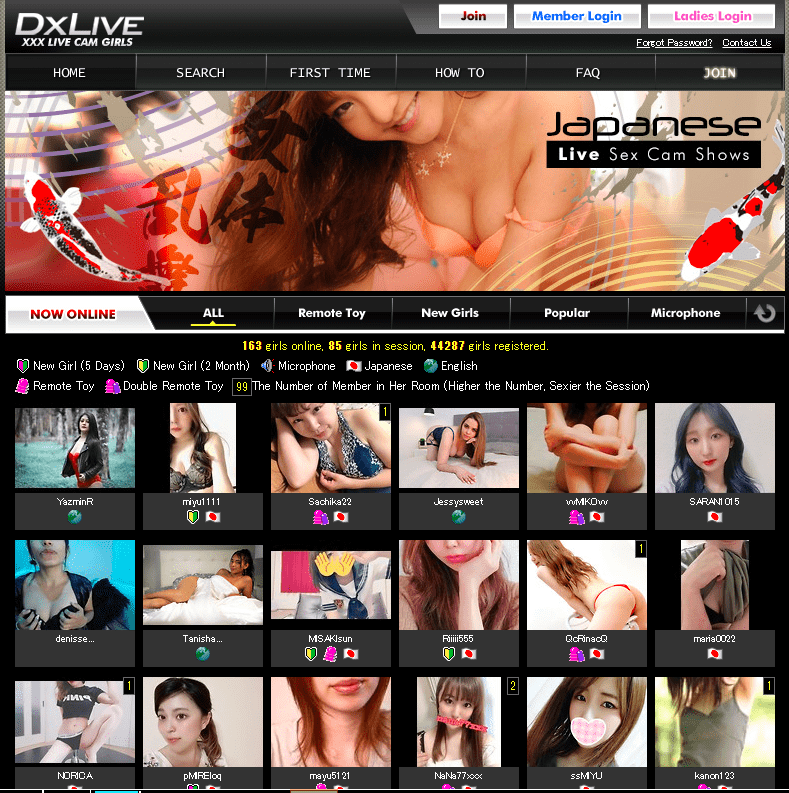 Highlights & Features
DXLive features Asian girls… for the most part. Models from the West, like the United States, could also be found here but they're the minority.

This site also features a majority of Japanese cam girls, which are so damn fine, but you'd also find tasty dishes from places like the Philippines in here as well.

This site doesn't require you to register and make an account. However, you're going to need to buy DXLive points in order to enter the various models' rooms on the site.

There's a 1 on 1 feature here for if you want to have a private show from their models, and it also allows you to keep things more private by toggling the "observer" option where you could see your model but not the other way around.

The best Asian cam girls will make you feel good, and DXLive's models do just that by allowing you to control their sex toys so you could come together!

This is an Asian cam site that mainly works with independent models, so if you're looking to make an extra buck, you could join their Models program by registering with them.
DXLive is one of those Asian cam sites that not only help you relieve all that sexual frustration, but also helps girls all over the world make some money via the Asian cam site hustle. And as such, I have to say I'm impressed with what this site does and has to offer.
I mean, sure, it's going to cost you more than the usual Asian cam sites out there, but think about it this way: you're getting a top tier cam show experience with these models, which is good for your clit or wiener, AND you're helping these independent models make a living. Be a friend!
Pros
These Asian girls will do anything for a price! And you'll both enjoy yourselves while you're at it.

This site has an "observer" feature if you want total privacy when watching a show.

The one on one room allows you to rent a model all to yourself and have them do what YOU want.

Sex toy control feature adds a level of interactivity between you and your chosen cam girl.
Cons
This is not a purely Asian site; there are models from the U.S. here.

Their DXLive points packages are pretty pricey compared to other Asian cam sites.
Live Sex Asian
The Best Asian Cam Girls Not on an Asian Cam Site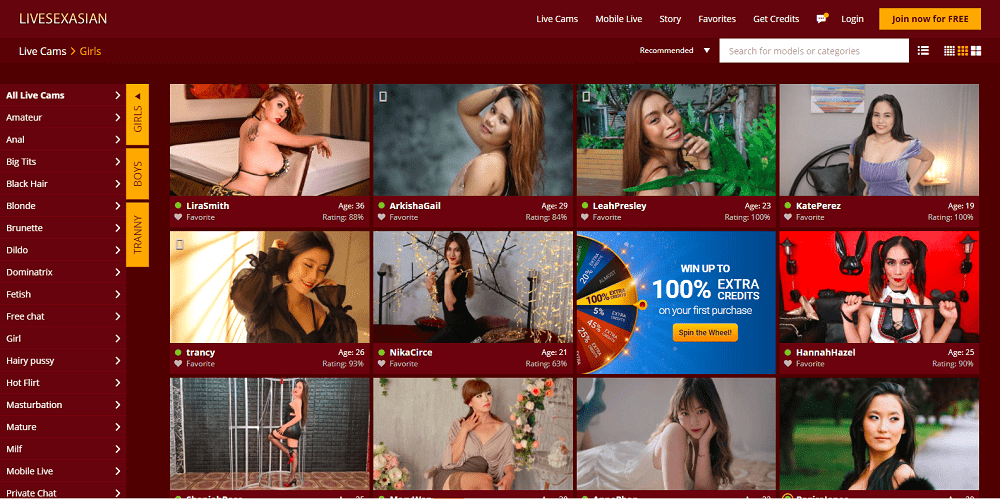 Highlights & Features
Live Sex Asian features models that have more or less Asian ethnicity but are mostly from the United States, so that means there's no language barrier here to speak of.

They require each and every potential cam pervert to register with their site to enjoy any of its features, so that means this isn't for casual cam aficionados.

The best Asian cam girls on this site are paid via Live Sex Asian credits, which you could purchase securely with your credit card from the site.

They also feature coupons and seasonal bonuses when it comes to credits, so you get more value for money.

A cam 2 cam feature allows you to directly interact with any given model from this site.

They have a diverse selection of models with varying preferences and who belong to different genres (like if you want brunettes or Asian models who like anal beads up their buttholes, etc.)
Live Sex Asian is pretty misleading. Sure, it's technically an Asian cam site if you look at their models, but this really is more of a Western Asian cam site than it is an authentic one. Still, I'd be wrong if I said this didn't offer some tasty-ass Asian cam models that will do just about anything for your pleasure.
Pros
Coupons and seasonal bonuses provide more bang for your buck.

Secure payment and discreet transactions ensure no one finds out how much of a horny bastard you are.

Easy to navigate, with site tags and filters that make sure you could find the right model for you.
Cons
Not really an Asian cam site. The girls here are mostly from the U.S. but of Asian descent.

Registration is required so you have to fully commit to this site if you want to experience it.
Cams.com Asian
This is Not Your Average Asian Cam Site!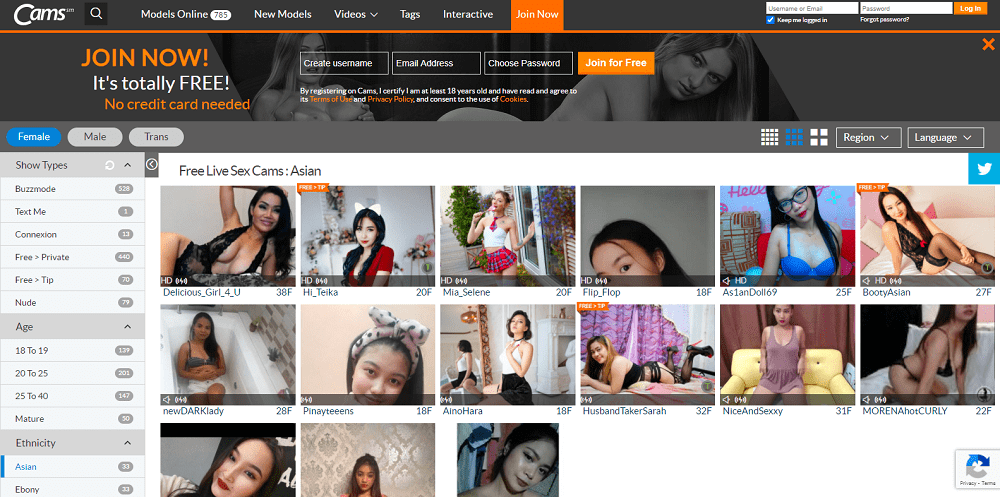 Highlights & Features
It's Cams.com but with an Asian twist, which means you're getting all the features from the site but with exclusive and authentic Asian cam girls doing stuff with you or for you!

They have a dedicated "teledildonics" feature you won't find anywhere else in which you could use their app and Bluetooth to take full control of whatever sex toy a model has.

One of the best things about this site is their body type section where you could choose between thin bitches or deliciously chunky, thick models or everything in between. Whatever it is, you're in for a good time.

They have an HD feature, which makes the visuals so clear you'd want to stick your dick into your webcam.

The models here are highly professional: you won't be faulted to think these girls had training before they went online.

Cams.com's Asian section also has an exclusive Kink section where you could choose which fetish you want to beat that dick or flick that bean to. No judgment!

Membership is a must for this site if you want the whole shebang, but you could casually browse around the rooms.
Cams.com admittedly isn't a purely Asian cam site, but they're as close to it as possible given how they have a section dedicated to the best Asian cam girls they have to offer. As such, you're getting a pretty authentic experience with Cams.com if you're virtually out and about for some dick-stroking fun.
Pros
The kink section contains a diverse selection of various fetishes.

Highly professional models that know what they're doing and would give you the VIP treatment.

The body type selection is a great addition to this Asian cam site, which allows you to storke it to thin and thick girls.
Cons
Membership is required if you want to access its features.

No pre-recorded models, so everything depends on a girl's schedule.
Stripchat Asian
A No-Nonsense Asian Cam Site for All Your Horny Needs


Highlights & Features
One of the standout features of Stripchat's Asian section is that they have a VR section which allows you to watch the models in 360 view and with a higher degree of interactivity… you sicko.

They have an authentic selection of the top Asian cam girls here, although you'll find the stray Westerner every once in a while. It's no deal breaker though.

They have a filter that categorize models by age, which range from teens up to grannies. And you know you're going to want to watch some octogenarian do butt stuff or some shit.

The Asian model sex webcams on this site also feature HD quality video.

You could create an account here for free, but you pay the models using Stripchat tokens that you could buy using your credit card.

The rooms here are almost exclusively group show rooms, so you're out of luck if you want that cam-to-cam experience.
Stripchat's Asian section may not be as authentic as other Asian cam sites out there, but it does the job. And, boy, does it do the job well. Sure, there may be instances here where you'll find the occasional non-Asian, but that's a minor site glitch that you'd find less annoying than amusing.
Pros
The VR section adds a whole layer of interactivity with the models.

The models are authentically Asian, which come from countries like India, Korea, and Japan to name a few.

Affordable credits with some promos that give you free tokens, too.
Cons
No one on one cam show feature here.

You'll occasionally find non-Asian models on the Asian section.
Flirt4Free Asian
An Asian Cam Site with an Organized Library of Top Asian Cam Girls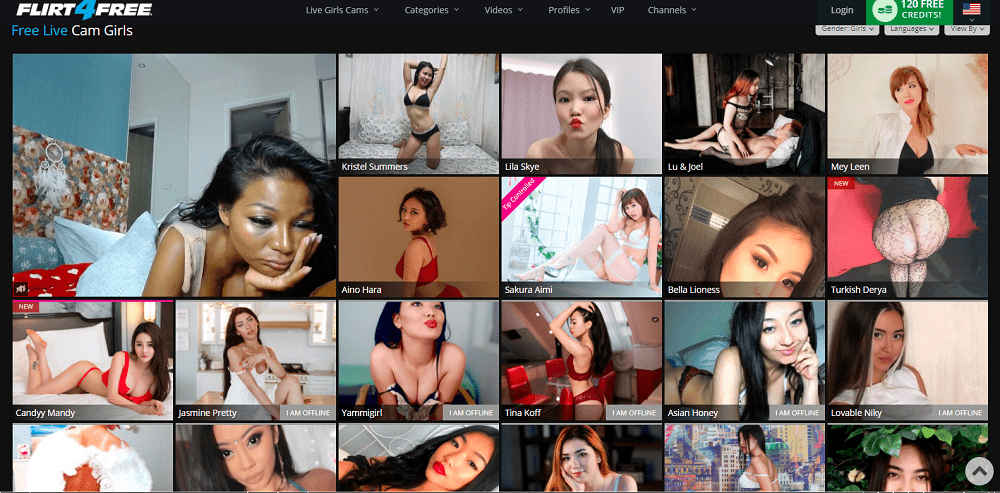 Highlights & Features
Male and female live cams

Flirt4Free Asian features a nice selection of top Asian cam girls you could have fun with, who both hail from the United States or from the continent itself.

This site charges you using credits, which you exchange for real money through their payments section

You could easily hover your cursor on any given model's photo and see how much they charge, what genre they belong to, etc.

Flirt4Free charges by the minute, so how much you spend depends on how long you want to watch these girls.

This site features open rooms almost exclusively.
Flirt4Free's Asian section is organized if nothing else. Rarely do I find a site as properly laid out as this one, given how you could instantly see how they have a stable of professional cam girls complete with ratings and pricing.
Pros
Model thumbnails feature all the info. you'll need before watching.

Wide selection of Asian cam models you could choose from.

Site sometimes give out free credits through promotions.
XLoveCams Asian
Where the Best Asian Cam Girls Don't Always have to Be Live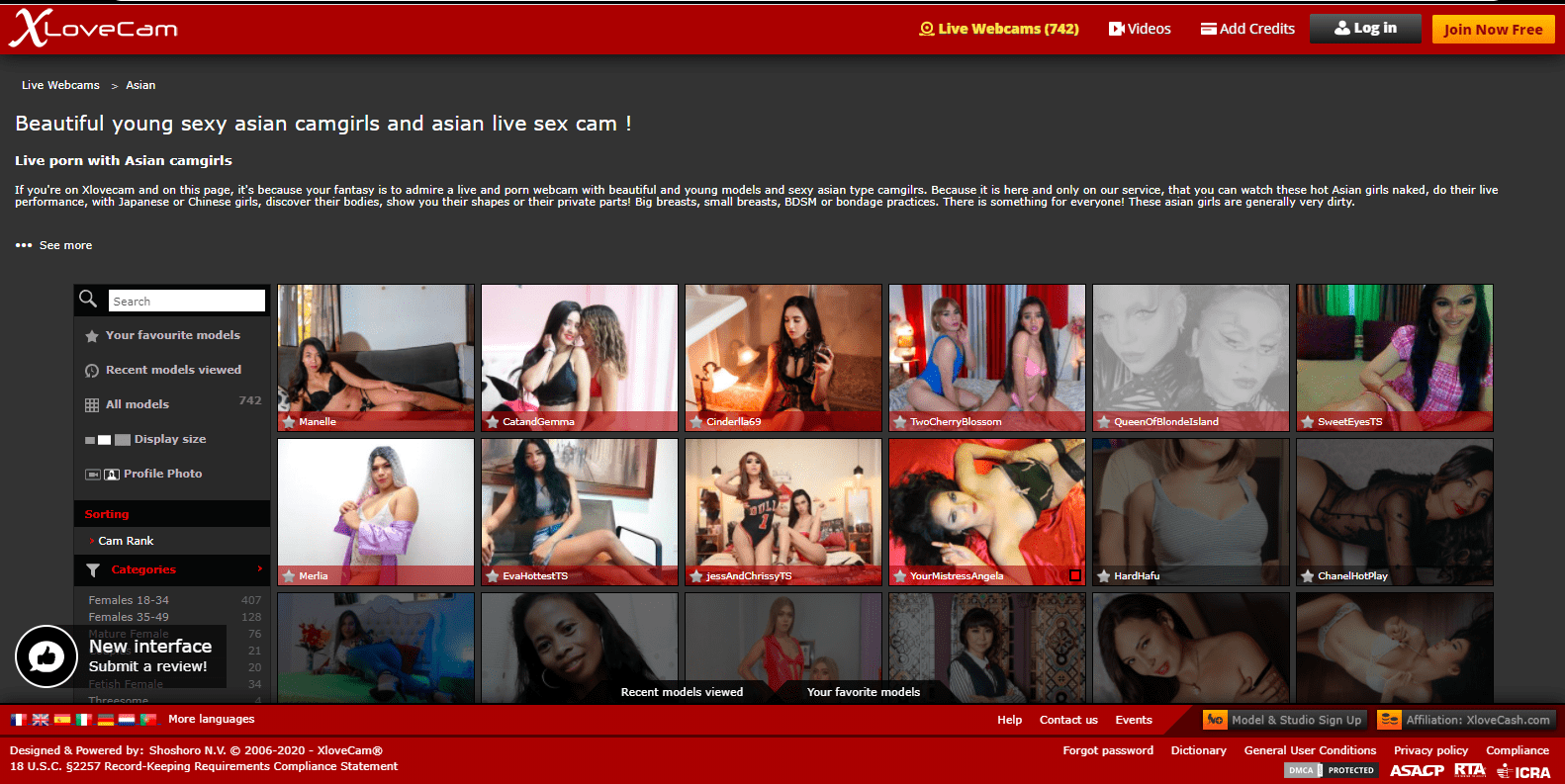 Highlights & Features
This is one inclusive site: it has female, male, and transsexual models on their roster.

XLoveCams stands out from its peers by having a Videos section where you could watch pre-recorded content featuring their models.

Their categories section is diverse, including fetishes and various body types and sexual preferences.

Signing up with them gives you one free VIP video (which is like getting a free lap dance at a strip club, so cool!).

You have the option of going to group or private rooms.
XLoveCams Asian might appear like your usual Asian cam site, but it's got something that sets it apart from its peers, and I'll tell you all about it below. So, keep on reading and find out what this site has to offer, because it's pretty good!
Pros
Nice categories that feature various fetishes and kinks.

A diverse and inclusive site for most genders out there.

Free VIP video for new members.
Cons
Models are just listed as "Asian". There aren't any indicators of their nationality anywhere.

Their credits payment section is unavailable at times.

Not enough Asian girls on live right now.
Asians24/7
Features the Best Asian Cams Where the Pervert Always Comes First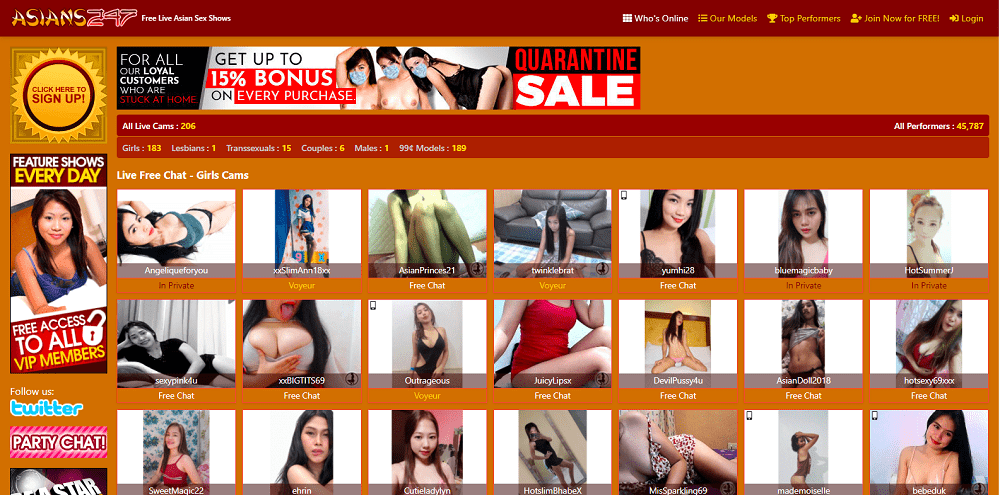 Highlights & Features
A site that legitimately hires girls to work for them as webcam models, so sign up if you're interested.

They have a pre-recorded video section so you could watch their best Asian cam girls anytime, anywhere.

Apart from the live shows, you could also access model albums here where you could see still photos of the girls.

Live shows could either be in open group rooms or you could high roll it and opt for a private cam2cam experience.

They have a refund request feature just in case you have a bad experience with one of their models.
And I mean that in more ways than one. The best Asian cam girls out there provide quality service, and Asians24/7 make sure that their models do just that. In fact, this site is constantly on the lookout for girls looking to make a quick buck using their vaginas virtually!
Pros
Pre-recorded videos allow access to shows more flexibly

Model Photo albums provide add that bang for your buck when you join.

Refund option means you get what you pay for or your money back.
Cons
They don't show any thumbnails or model catalog on the site initially.

Site is overall glitchy, with no models available at all sometimes

Their payment scheme could be clearer.
AsianBabeCams
An Asian Cam Site That Should Be Great… Theoretically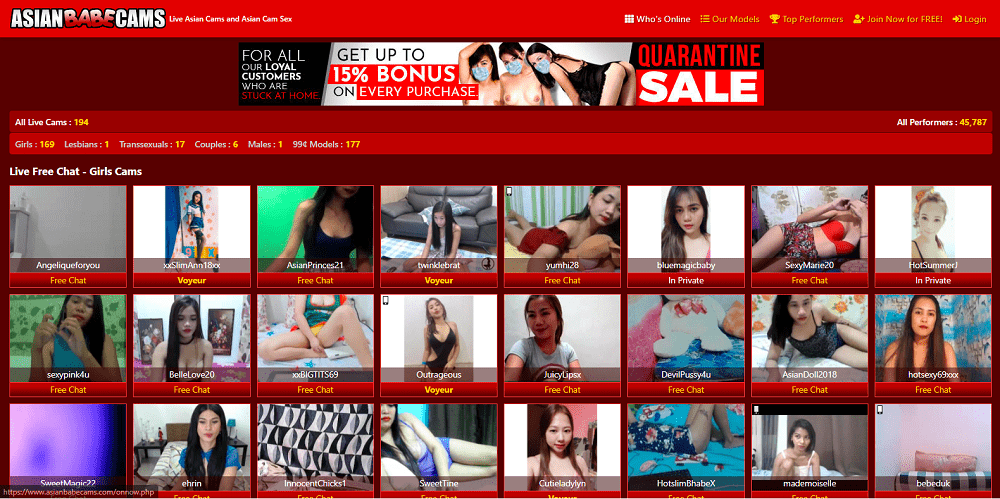 Highlights & Features
There's the added perk of getting model albums here as well, so you could browse stills of the girls. Again, supposedly, because this site isn't active yet.

Prices vary per model here, but all are paid securely through their site using your credit card.

There are 3 chat tiers here: free, open group, and privates.

They have a pre-recorded videos gallery, so you could see their models whenever you're online… supposedly.
AsianBabeCams sounds like a name that has no frills, all thrills to it. It's the kind of site name that tells you what you're in for: you're getting the top Asian cam girls here. Well, supposedly…
Pros
Pre-recorded section allows for flexible viewing schedules

Photo albums are a nice touch

Various chat tiers allow videos for any budget
Cons
Site is still under construction, so you'll have to wait until everything's up.

No available models or galleries as of the moment
Sexier Asian
An Asian Model Sex Webcam Site That's Straightforward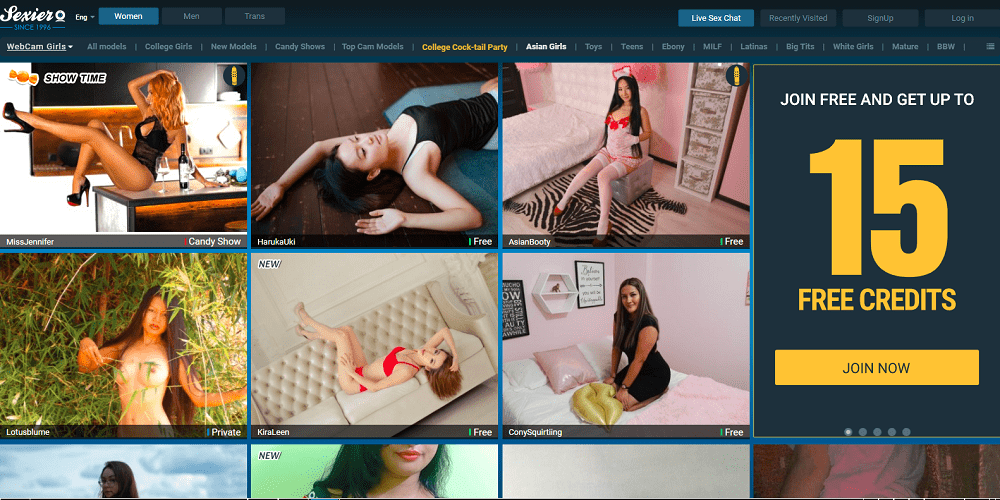 Highlights & Features
One of the best features this Asian cam site has is the fact that they feature models who are experts in "Shibari", which is a Japanese form of rope play that's sexy as fuck.

The models are always in-character, too, and you'll find it delightful to chat with both submissive and Dom types here.

Sexier Asian mostly has a stable of teens, but you'll find MILFS and cougars here and there.

Private chats are available, too.

Not only are these girls hotter than wasabi, they're also great conversationalists!
SexierAsian has everything you need if you're just looking for a sexy good time online, as it gives you everything you need: nothing more and nothing less. You're going to love this one if you're into Asian girls doing sexy things on command. As they say, come for the titties, stay for the conversation!
Pros
Models are very professional and have different kinky personalities you'll love.

Various fetishes are available.

Private chats mix kinky stuff with some nice conversation
Cons
Rates vary depending on the model.

Pretty slim MILF pickings, since they focus on teens.
Why Should You Choose Best Asian Cam Sites?
Why should you choose one of the best Asian cam sites? Because Asian girls are fuckin' fit, and they're hot! Duh!!!
No, well, yes, seriously, Asian cam sites are affordable for the average Joe. Look here, some of these cam girls are from China, Thailand, Philippines, etc. Therefore, you will get the best bang for your buck because the dollar, pound, and euro are more valuable in some of these countries. So, these women will have every reason to gobble up dildos like Thanksgiving turkeys for a fair amount of tokens. However, on the flip side, some of these girls are spoiled like bar girls in Pattaya and won't do anything without you depositing a large number of tokens. Thank those thirsty, old Western  tricks out there! And if you get on a Japanese live sex cam site like Sakura Live, shhiiitttt, I pray for your pockets, buddy. Japan is one of the most expensive countries in the world and you will pay to see some Japanese twat.
But the main reason you should spend your time and money on Asian cam sites is because of the ultimate femininity that you cannot get from Western women with attitudes. Asian women are feminine, submissive, and cooperative to the max, and therefore they won't put up a fight to do things on webcam because she wants to save face. And they are usually appreciative of the money you give, something devoid in Western women who feel like they are entitled to the money. Thanks, feminism!
Best Asian Cam Sites – Conclusion
Well, these Asian cam sites are the best. You should check them out. Some are better than others, but our reviews help ease the selection process. Peace out!
> Dating Sites for Women Looking for Sex