VR Latina started very early 2018. It works with VR headsets (all the major ones like Oculus Rift, PSVR, Gear VR, and for smartphones). New scenes are added every 10 days and they are very much anticipated before release. When a new scene launches users come flocking like geese to watch the 2+ minute preview, flip through the picture slideshow that shows the models and sex acts, and hit the download button fast like a lightning strike.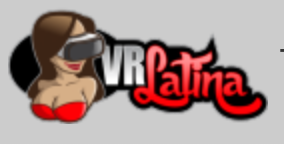 As of right now, there are 110 hot steamy scenes. Average scene length is 40 minutes and download size is 5.5 GB. Some scenes require larger storage space that can range up to 10GB, depending on which headset gets selected. All content is exclusively shot in Latin America.
Enjoy a seductive taste of professional Latin sensations who are not talentless like homemade porn sex cam girls who don't know what they're doing. With VR Latina, on the other hand, you will get a nice selection of the más caliente de los calientes sexo women who have raw fucking skills at your beck and call – and I love it! 
The women generally speak Spanish during their scenes, but are silent for the majority of time because they are too busy slurping, gagging while fluids exchange and flapping and plopping fill the binaural audio. The scenes usually start with seductive models showing off her goods. She might twirl around to give the onlooker a full POV view of the eye candy. Inspect her elements like a specimen and look closely as the streaming video plays out till the very end. Then, some foreplay ensues like sensual rubbing, touching, and playing. The next scene is usually the infamous blow job and then fully engaged doggystyle and missionary positions.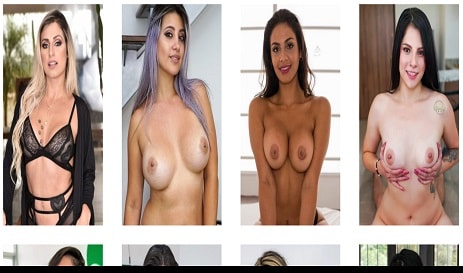 Streaming Resolution on VR Latina
VR Latina porn has videos that run 4K, 5K resolutions that expand the picture to make it bigger, better, and rawer for. 60 FPS is the maximum frame rates for these videos that deliver a consistent motioned streaming with enhanced graphics.
If you are an audio freak like me, then purchase an All-in-One VR headset package that comes with additional earplugs. The binaural sound in VR Latina porn videos raises the frequency and delivers an eargasm that soothes the brain and puts you in a relaxed state.
VR Latina Social Media
VR Latina has a nice chunk of followers on Twitter, almost 10,000 as of today, and will hopefully get more to follow pretty soon. The page has posted information about new VR video releases.
The Instagram page is super wack with less than 100 followers and only shows a couple of model pictures. Hopefully, that number will grow in the future.
The Facebook page seems non-existent at the time. And if you click on the Blog section, it's also a naked page. There is only one article there to read for now.
VR Latina Security
VR Latina scans for malware, so there is no information gets stolen from you when paying for the membership. It seems security is intact. When I put in my payment details in the system I did not have any issues. VR Latina has an SSL certificate that is responsible for protecting every piece of data.
VR Latina Scenes Purchase Methods
Visa

MasterCard

Discover

PayPal

JCB
VR Latina Membership Prices
$67.95 for a year

$37.9 for 90 days

$14.99 for one month

$2.9 for a one-day trial
What's Beyond the Payment Page? (A Real Experience)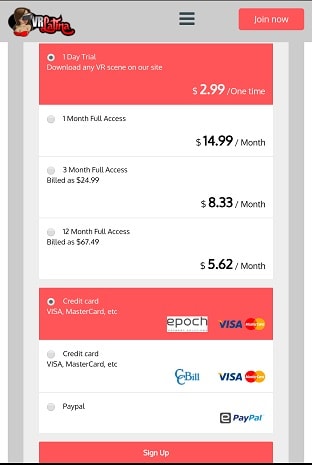 I've probably read thousands of reviews online and I can tell you from experience that many of them like to copy and put spins on the items they are reviewing. Not us. We've used these sites.
To be honest, I was initially hesitant about giving VR Latina my credit card number, but did so due to a message from my intuition. Glad I listened.
I was asked which membership to choose and I chose the $2.99 for one day. I just wanted to test things out. I was then prompted to choose a payment method, of which I clicked PayPal, and was automatically enrolled in recurring monthly payments for $14.99. So, I would have gotten charged that amount if I didn't cancel my one-day membership within 24 hours.
I believe the VR Latina server was malfunctioning when I initially tried to pay a couple of days earlier because the page did not give me an option to choose the membership. And when I entered my name, etc there was an instant error message. I even tried to do this on my tablet and laptop using different browsers and the error message showed.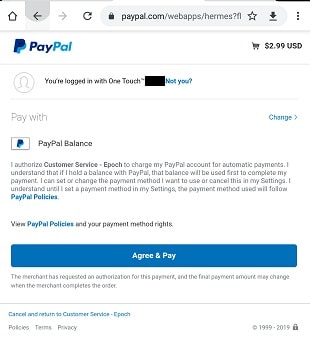 However, today I was able to use PayPal to sign up. Epoch sent me a confirmation email with a statement about my purchase. It's important to know that if you use a credit card you will have the choice of selecting CCBill or Epoch as the payment processors. That adds more protection to the transactions because CCBill's been around for a long time.
How to Cancel VR Latina Trial?
After paying for the membership you can get down to business and download all the videos if you want. I downloaded a couple, which took about 20 minutes to complete. But shortly after that, I canceled the membership. First, I emailed VR Latina and still didn't get a response.
Eventually, I figured out I didn't need to contact them to cancel my VR membership. I needed to contact the payment processor which was Epoch. A friendly and professional rep by the name Shanika came on the phone and walked me through the process. Pretty simple stuff that didn't require additional effort on my part. And sure enough, I wasn't charged after the one-day trial ended.
You can find the number to CCBill or Epoch at the bottom of the payment statement confirmation email. Trust, me you don't want those recurring charges hitting you like a Mack truck.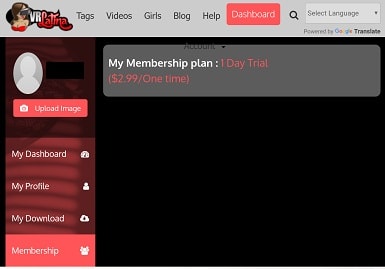 VR Latina Pros
VR Latina Cons
Does not upload as much as they should. If you're paying $14.99 a month you should get more than 1 scene every ten days – other sites upload twice a week

Only 190° view span, not 360° – step up your game VR Latina

Site glitches on some days where you can't choose the payment options – I hope they fixed that kink

VR Latina customer service didn't respond to my inquiry, but Epoch help was instant. You could have let me know that I can't cancel my account with you!

There is a Change Plan icon in the settings on your profile page, but there is no button there to actually cancel or CHANGE THE PLAN. WTF?
Does not show a bio or the country a model is from – other sites have that

Expensive membership just for a couple of scenes every month

Not much talking or entertainment in the videos – I understand, some men don't like to hear that fast Spanish shit all day – they want just hardcore sex
Lacks a basic search feature – hopefully, that gets added later so the scenes are easier to find
Wack browser experience on the mobile site – photos are stretched and doesn't fit properly with the page – need upgrades!
VR Latina Conclusion
VR Latina is a cool site if you like Hispanic pussy. The videos are professionally produced and the site is so much more simple to work. It's still a new site, though, over a year old, and many improvements that should get done. Would I sign up for VR Latina membership? Only if I absolutely loved Latinas and the price was lower.
> HD Porn Sites: 4K Adult Movies for Big Screens